Reading Time:
11
minutes
Goa, without a doubt, is one of the most popular travel destinations in the world. Be it the deep blue sea or the Portuguese heritage, there is something so unique about this state that you will always come back for more! An appealing quality of Goans and their way of life is that they love to celebrate everything! You can find a festival being organized in a village almost all year round. So, besides exploring the beaches, waterfalls, and forts in Goa, take out some time to witness local festivals too. Here are 15 festivals in Goa that you should experience on your next vacation:
1. Feast of St. Francis Xavier
If you have been to Goa or heard travel stories from your friends and family, then the Basilica of Bom Jesus must have come up, one way or the other. It is one of the most popular tourist destinations in Goa because of its baroque architecture and the resting place of St. Francis Xavier. Every year, the Feast of St. Francis Xavier is celebrated at this basilica on his death anniversary. The silver casket is opened every 10 years, so if you are lucky then you might be able to pay your respects to St. Francis Xavier's mortal remains at this festival in Goa in the month of December.
Date: 3 December
Location: Basilica of Bom Jesus
2. Goa Sunburn Festival
It is almost impossible to be in Goa during the Sunburn Festival and not attend live concerts and after-parties. This is one of the most famous music festivals held in North Goa and you need to make the most of it! Since 2007, this has been Asia's premiere three-day electronic dance and music event making tourists and locals have the life the time of their lives. Make sure you book your tickets for the Sunburn Festival in Goa in advance.
Date: In the month of December
Location: Vagator Beach
3. Christmas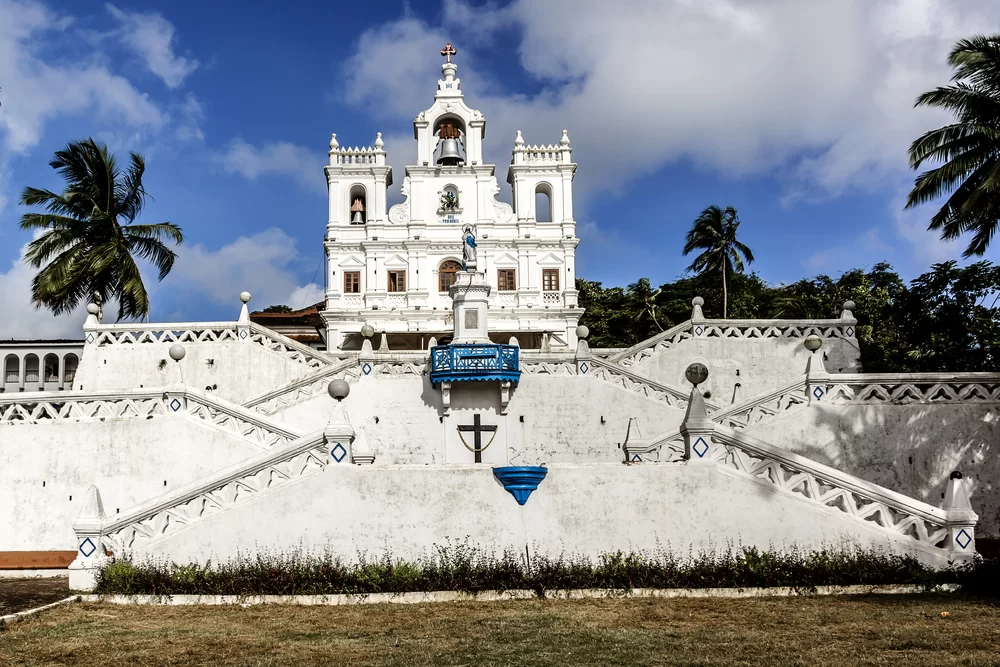 When it comes to attending festivals in Goa, tourists are recommended to plan their trip around Christmas. This is because the entire state is decked up with fairy lights and every street corner is alive with fun activities. With a huge Catholic population, Christmas is taken very seriously. Since it is the most famous festival in Goa, it is suggested to make your bookings in advance because every accommodation gets sold out.
Date: 25 December
Location: Across the state
4. New Year's Eve 
If you thought that Christmas was the only famous festival of Goa, then New Year's Eve will blow your socks off! There is possibly no other state in the country where this event is celebrated with gusto. Be it a casino dinner or a beach party, you can choose the spot and there will be an NYE bash for you. Goa travel package deals are very popular because people can attend the best parties. If you are planning to make your New Year's Eve fabulous, Goa is the place for you.
Date: 31 December
Location: Across the state
5. Three Kings Feast
There are a number of festivals in Goa that the local population have been celebrating over the years. As tourists, you will be able to peek into the cultural heritage and traditions of Goans by witnessing these festivities in Goa. Three Kings Feast is a nine-day event celebrated to honour the Lady of Mount – Virgin Mother Mary with baby Jesus on her lap. Skits are organized by young boys to re-enact the meeting between the three kings of Magi and Jesus Christ with a High Mass at 12:00 PM ending the event on the last day of this festival.
Date: 6 January
Location: Cansaulim, Arossim and Quelim
6. VH1 Supersonic
Another music festival in Goa that would make your vacation an unforgettable experience is VH1 Supersonic. This is among the liveliest music and dance festivals in Goa which you should be a part of on your next vacation! Supersonic claims to be faster than the speed of sound, so it is important to experience its magic as much as you can.
Date: In the month of February
Location: Candolim Beach
7. Grape Escapade
Are you trying to become a wine connoisseur? Grape Escapade is one of the best festivals in Goa for people just like you! This festival is very popular among tourists from all over the world because of the variety of wines available. You can even nibble on some grapes grown in India and abroad. The celebration of wine and its deep connection with the Goan culture is best experienced at Grape Escapade.
Date: In the month of January
Location: Panjim
8.  Monte Music Festival
No, Sunburn and Supernoic are not the only music festivals organized in Goa. People who are into classic music and dance performances are in for a treat at the Monte Music Festival presented by Fundação Oriente and Cidade de Goa every year. Music geniuses from across the country perform at this festival in Old Goa with the Chapel of Our Lady of Mount as their backdrop.
Date: 7-9 February
Location: Chapel of Our Lady of Mount
9. Goa Carnival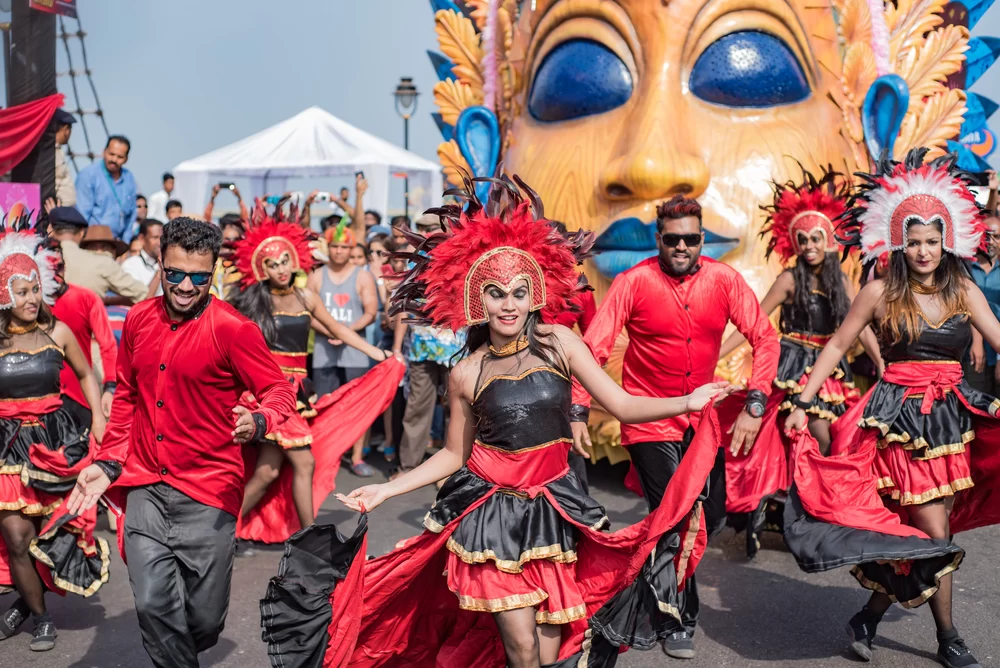 Goa Carnival is not just a festival; it is an emotion expressed in the most vibrant way! You would be lucky to witness the sheer magic of this festival because the entire states come together to celebrate its culture and traditions. Also known as Intruz, the carnival festival in Goa is one-of-a-kind with its quirky costumes, lip-smacking delicacies, bedazzled streets, and so much more.
Date: 13-15 February
Location: Panjim, Mapusa, Margoa, and Vasco Da Gama
10. Goa Food & Cultural Fest
It would be a big disgrace to miss out on the amazing delicacies presented at Goa Food & Cultural Fest, especially if you are a foodie! Think fiery-hot vindaloo, seafood extravaganza, and traditional dishes prepared by the top chefs in the state. Wipe the drool off your face and make sure to book your vacation to witness this food festival in Goa.
Date: In the month of February
Location: Beaches across the state
11. Holi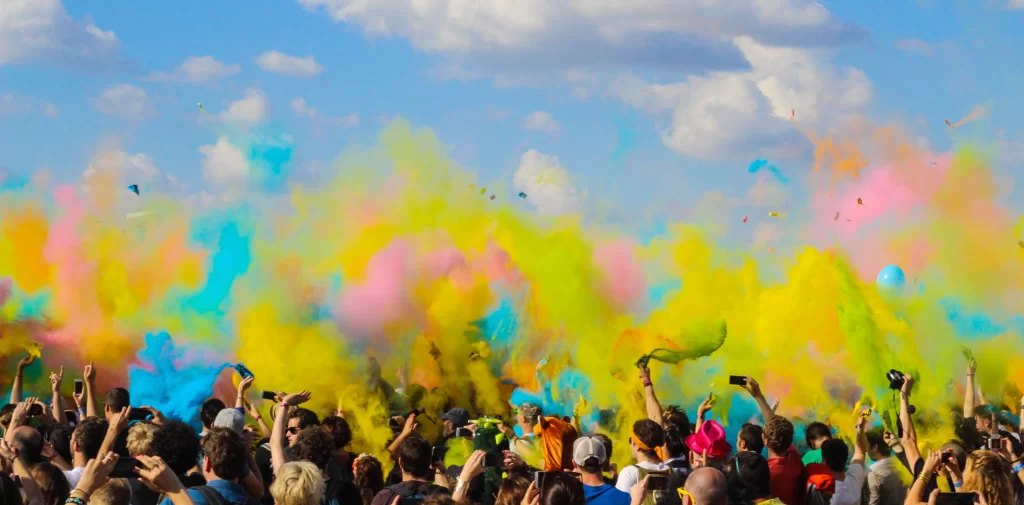 The festival of colours is a much-awaited experience for tourists and locals alike every year in Goa. Holi is celebrated with so much enthusiasm that your capacity to party all day (and night) might just go up a notch. The Sunburn Holi festival in Goa is one of the most sought-after events where all the youngsters like to be at. Along with this, Holi Tandav at Re-Source at Tito's and Holi Weekend at Grand Hyatt are other popular spots in the state as well.
Date: In the month of March
Location: Across the state
12. Shigmo Festival
The Hindu population in Goa have another version of Holi called the Shingmo Festival where they celebrate the homecoming of warriors who fought the invaders in ancient times. A lot of areas in Goa are decorated with colours and flowers to welcome the spring season too. Folk dances and plays are performed all over the state for a fortnight. It is also believed that Gade padap, a spirit, enters the body of the dancers on the last day of the festival!
Date: 21 March
Location: Across the state
13. Sao Joao
By now, it must be quite evident that Goans love to sing and dance. A LOT. Sao Joao is yet another festival that highlights folk music and dance of the Catholic community in Goa. The festivities are organized at the beginning of the monsoon season to honour Saint John the Baptist. You can hear the locals cheering on "Viva San Joao" across North Goa as soon as the Mass is completed at St. John Church.
Date: 24 June
Location: North Goa
14. Saptah Festival
Held in the month of Shravan, this is a Hindu festival that honours Lord Damodar, a form of Shiva, who saved people from an epidemic in 1896. The festivities are held for a week in Vasco da Gama where the locals indulge in rituals to seek blessings from Lord Damodar. Saptah Festival brings out a different side of Goa that you should witness on your vacation.
Date: In the month of August
Location: Vasco da Gama
15. Ganesh Chaturthi 
Ganesh Chaturthi is highly awaited in Goa every single year. This is because the Hindu population are ardent devotees of Lord Ganesha and love to celebrate his arrival in their homes during this festival. The smell of freshly prepared modaks fills the air outside several households in Mapusa. You can attend aartis organized at the temples and seek blessings from Lord Ganesha.
Date: In the month of August
Location: Mapus, Vasco da Gama, and other areas
With so many festivals to experience, you cannot be lazy anymore. Plan your trip to Goa and fall in love with its vibrant culture and heritage.