I'd like to take you on a very special journey, one that winds its way through the vibrant streets of Mumbai and into the depths of my heart. This is a story of memories, joy, and the deep connection I feel with my beloved city—a story that revolves around the magnificent Ganapati Festival. Along the way, I'll share a few fascinating, lesser-known facts about our beloved Lord Ganesha, take you to some prominent Ganpati Pandals in Mumbai and other cities, and provide an overview of Ganpati festival celebrations around India and across the world.
For us Maharashtrians, born and brought up in Mumbai, the Ganapati festival isn't just an annual event; it's a part of who we are. The excitement leading up to the festival is like no other. The entire atmosphere undergoes a magical transformation. Irrespective of whether we do or do not install Ganesha idols in our homes, we scrub every corner and cook delicious feasts. The air fills with merriment, faith, and devotion. For those who install Ganesh idols at their homes, carefully select the perfect idol, the one that will be the centre of their lives for the next one and a half, five, seven, or ten days, as per the family tradition.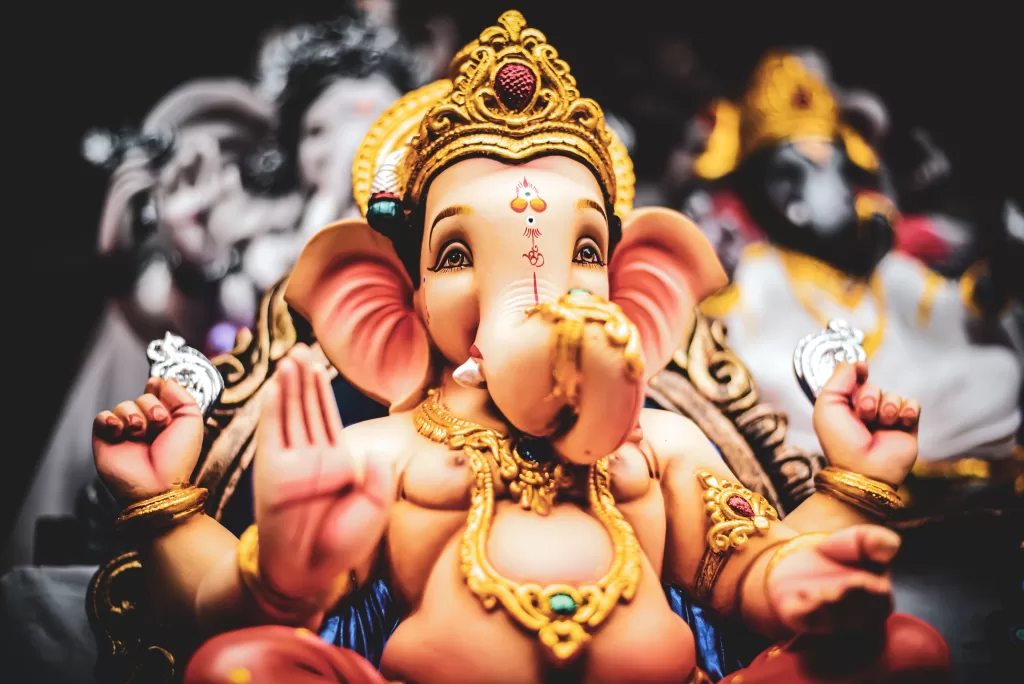 But the real enchantment happens outside our door. As the festival approaches, the city of Mumbai changes before our very eyes. Ganapati pandals, or temporary shrines, pop up everywhere. These pandals are not just places of worship; they are works of art, each trying to outshine the other in grandeur and creativity. As a teenager, my friends and I would eagerly explore these pandals; we still do! They feature themes ranging from traditional to modern, from recreations of ancient temples to thought-provoking displays about current social issues. Each pandal is a unique masterpiece, a testament to the passion and dedication of its creators.
Now, let's delve into the religious significance of the Ganapati Festival and discover some interesting facts about Lord Ganesha:
Ganesh Chaturthi is celebrated with utmost devotion by Hindus across India. The festival lasts for ten days, with the grand finale being the immersion of Ganesha idols in water.
Lord Ganesha is revered as the deity who brings wisdom, prosperity, and good fortune. He is worshipped at the beginning of any important task or venture to remove obstacles and ensure success. The Ganapati Festival is a time when people seek his blessings for new beginnings, making it one of the most cherished and widely celebrated festivals in India.
Let's explore some lesser-known facts about Lord Ganesha:
Lord Ganesha's unique appearance with the Elephant Head:

Lord Ganesha's distinctive elephant head has profound symbolism. It represents the concept of "Ganapati," where "Gana" means the multitudes of the universe and "Pati" means the Lord or Master. His elephant head signifies his vast knowledge and wisdom. So it's said that he got this unique appearance when Lord Shiva, his father, accidentally beheaded him and then gave him an elephant's head.

God of Wisdom:

Ganesha is revered as the God of wisdom and intelligence. His big ears symbolise his ability to listen attentively, while his small mouth teaches us to speak less and listen more.

The Broken Tusk:

Lord Ganesha is often depicted with a broken tusk. The story behind it is intriguing. It's said that when Sage Vyasa was narrating the Mahabharata to Lord Ganesha, who was actually penning down the epic, His pen broke in the middle of the narration. But he couldn't, and neither did he want to interrupt Vyasa in his narration, so he broke his own tusk to use as a pen to write the Mahabharata. This emphasises his commitment to wisdom and learning.

The Modak Connection:

Modak, a sweet dumpling, is considered Lord Ganesha's favourite offering. The significance lies in its shape, which resembles his potbelly. Offering modak is a symbol of devotion and a gesture to seek his blessings.




As we venture through the lively streets, the air is filled with devotion and excitement. The rhythmic beats of dhols, traditional drums, and the cheerful chants of "Ganpati Bappa Morya!" echo around us. People from all walks of life come together to celebrate with great enthusiasm.
Now, let's dive into the details of some of the prominent Ganesh Festival places in Mumbai and other cities: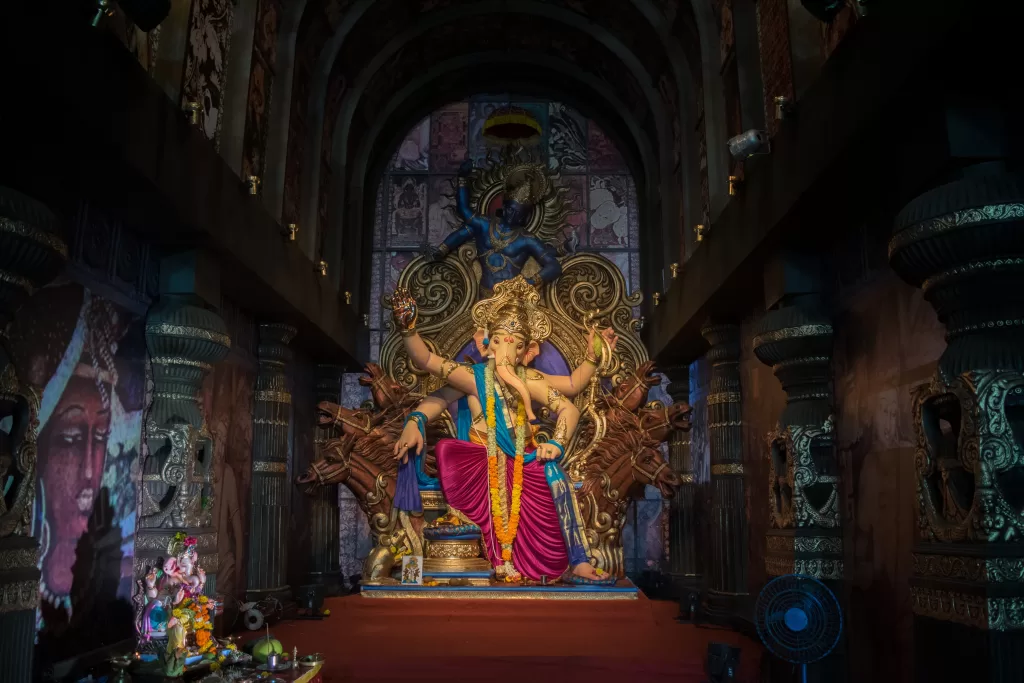 Lalbaugcha Raja:

The Lalbaugcha Raja in Lalbaug is one of Mumbai's most famous Ganesh Pandals. It attracts millions of devotees from all over the country. The sheer grandeur and devotion here are awe-inspiring.

Ganesh Galli Mumbaicha Raja:

Located in Ganesh Galli, this pandal is renowned for its artistic and intricate decorations, most prominently the tall Ganesha idol. The themes change each year, offering a fresh visual treat to visitors.

Andheri Cha Raja:

The Andheri Cha Raja in Andheri West is known for its grandeur and is a popular spot for devotees. It's a must-visit if you want to experience the festive spirit of Mumbai.

GSB Seva Mandal:

With the festivities happening at two venues—one at Wadala and another at King's Circle—the GSB Ganpati is famous for its grandeur and devotion. It is also known for its charity work, making it a beloved place for devotees. Also, a big draw for devotees visiting here is the fulfilment of their wishes, which they ask for from Lord Ganesha, and the huge amounts of glittering gold ornaments that the Ganesha idols are decorated with.
Here are some unmissable experiences during Mumbai's Ganpati Festival: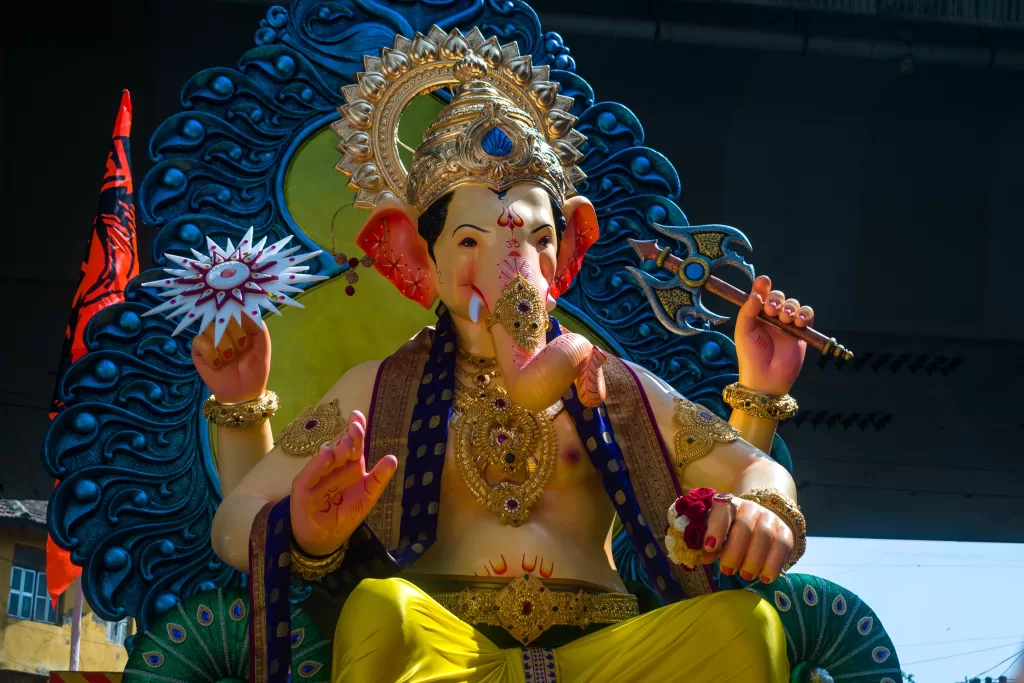 Lalbaugcha Raja Darshan:

A visit to the iconic Lalbaugcha Raja Pandal is an absolute must. Witness the grandeur, the fervour, and the blessings of this revered idol. The queue might be long, but the experience is worth every moment.

Ganpati Aarti at Siddhivinayak Temple:

Pay your respects at the Siddhivinayak Temple. The evening aarti is a soul-stirring experience that fills your heart with devotion.

Ganapati Pandal Hopping:

Explore the diverse themes and creativity at various Ganpati Pandals across the city. Each one has a unique story to tell and a special vibe to offer.

Ganesh Visarjan at Girgaum Chowpatty:

Join the procession for the grand immersion of Ganesha idols at Girgaum Chowpatty. The energy, the music, and the sight of thousands bidding farewell to the Lord are unforgettable.

Enjoy Local Delicacies:

Don't forget to indulge in Mumbai's delectable street food during the festival. Vada Pav, Modak, and Puran Poli are some of the mouth-watering treats you must savour.
Ganpati Festival Celebrations Around India
Pune:

Pune also celebrates Ganapati with great fervour. The Shrimant Dagdusheth Halwai Ganpati Temple is particularly famous. The city is adorned with beautifully decorated idols and vibrant processions.

Kolkata:

In Kolkata, the festival is known as Ganesha Chaturthi and is celebrated with processions and cultural events. The city comes alive with traditional music and dance performances.

Delhi:

The capital city embraces the spirit of Ganapati with numerous pandals and cultural performances. Devotees gather in large numbers to celebrate in unity.

Hyderabad: Hyderabad has a unique way of celebrating Ganesh Chaturthi with towering idols that are elaborately decorated. The city is famous for its stunning processions and cultural events.
Ganpati Festival Celebrations Across the World:
United States:

Cities like New York, Los Angeles, and Chicago host Ganapati festivals, bringing the spirit of India to the Indian diaspora and local communities. These celebrations showcase the diverse culture of India.

United Kingdom:

London's Southall and Leicester have vibrant Ganapati celebrations, showcasing the cultural diversity of the Indian community. The streets come alive with colours, music, and dance.

Singapore: The Sri Senpaga Vinayagar Temple in Singapore is famous for its grand Ganapati celebrations, attracting devotees from all over. It's a testament to the enduring spirit of Indian traditions.
As I wrap up this personal chronicle of Mumbai's Ganapati Festival, I'm reminded of the profound impact it has had on my life. It has instilled in me a deep appreciation for tradition and community. It has shown me that, in the midst of diversity, unity can flourish and love can conquer all differences.
So, if fate ever guides you to Mumbai during the Ganapati Festival, don't miss the chance to immerse yourself in this extraordinary celebration. Let the spirit of Mumbai and the devotion of its people surround you. You won't just witness a festival; you'll become a part of a timeless tradition that defines the very essence of this remarkable city.
Ganpati Bappa Morya!