Reading Time:
10
minutes
The best part about exploring any new place is the opportunity it offers travellers to try various lip-smacking dishes and cuisines that the destination has to offer. The same holds true for the exotic land of the Pharaohs, Egypt.
As varied and rich in history are the most popular places to visit in Egypt, taking you back to ancient times, the food too promises a unique experience with every dish and every bite you take.
Egyptian cuisine shares a lot of similarities with food from the Eastern Mediterranean region but with the legacy of an ancient civilisation influencing culinary habits, the country has created its own distinct flavours.
From savoury dishes to sweets, Egyptian food is central to the country's culture and understanding what makes the cuisine so special can go a long way in helping you plan a gastronomic odyssey in Egypt.
The Food Culture of Egypt
In Egypt, food is a central element of all things social and is considered to be the right way to develop trust, gain honour, and nourish relationships. The colourful cuisine of the country is mainly centred around vegetables and legumes and include flavours of fresh herbs and spices like clove, mint, cinnamon, aniseed, coriander, etc., which are either home-grown along the fertile banks of the Nile or imported from Europe, India, and the far East. Egyptian cuisine goes much further than just the dishes and there are some etiquettes that you should always keep in mind:
If invited to partake in food (whether at someone's home or at a restaurant), it is important that you accept. Unless you have a very good reason, refusing to dine with someone is viewed rather negatively.
If invited to someone's home, you should normally remove your shoes before you enter, dress well and conservatively, as appearances matter to Egyptians, and always remember to compliment your hosts.
At the table, you should wait for your hosts to tell you where you are supposed to sit.
You should eat your meal with your right hand only.
Taking second helpings is considered to be the sincerest compliment and is well-appreciated. Also, if you are done with your meal, you will have to leave some portion of food on your plate. If your plate is empty, the host will keep refilling it.
Food and hospitality are central to the lives of the people of Egypt, so make sure you show your appreciation for the meal.
Salting your food is considered to be an 'unnecessary' gesture in Egypt.
The National Dish of Egypt
If you talk about the most famous food of Egypt, its national dish definitely deserves a mention. Koshary, also spelt as kushari and Koshari, is a masterpiece of calories and carbs and can fill up your stomach in a jiffy.
The dish is prepared with rice, chickpeas, pasta, and brown or black lentils, which are all cooked separately before being combined and topped off with a tomato sauce that gives you whiffs of cumin and fried crunchy onions that add another dimension to the dish. To take the flavours up a notch, koshary is perfected with a dash of condiments like garlic-flavoured vinegar and shatta, which is a peppery hot sauce used widely in the region.
The Staple Food of Egypt
While meats are slowly gaining popularity in the country, it is easy to see that most of the popular food in Egypt is predominantly vegetarian, and revolves around legumes, grains like wheat, barley, and rice, and fresh fruits and vegetables. The common meats that are consumed here include duck, chicken, pigeon, rabbit, and liver and offal from cattle. Egyptian seafood is limited to areas like the immediate banks of the River Nile and along the Mediterranean and coastal areas of Egypt.
Dates are a core part of the country's cuisine, and it is said that cheesemaking traces its roots to the first Egyptian dynasty, and for thousands of years, the people of Egypt have etched and painted an array of fruits and vegetables, starches, and meats that were consumed in ancient times and are still enjoyed today.
However, when it comes to the ultimate staple in the food of Egypt, it has to be the Egyptian version of flatbread (eish or aysh), which is also known as Arabic Bread.
The Traditional Food of Egypt that You Must Try
A typical feast in Egypt will include no less than 10 dishes on any given day. Traditional food in Egypt shows the influences of Persians, Romans, Greeks, Ottomans, Arabs, Palestinians, Syrians, Lebanese, and even some areas of Europe. The traditional food of Egypt that you should try through the day includes:
Breakfast: Shakshouka, Ful Mudamas, and Tamiya.
Lunch: Mahsi, Hawawshi, and Koshari
Dinner: Fiteer Baladi, Molokhiya, Halawa, and Areesh Cheese
You can also follow up your meal with some Egyptian sweets like Zalabya Balls, Konafa, Basboosa, and Um Ali.
Enjoying Egyptian Street Food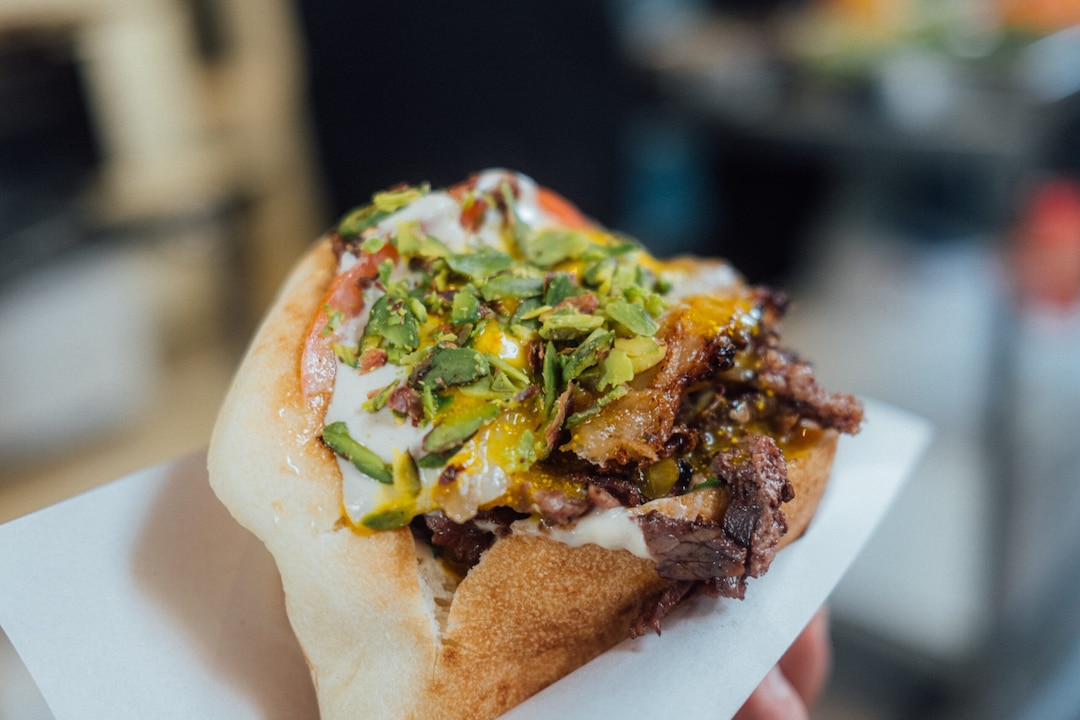 Seeing how famous food is in Egypt, it goes without saying that the streets and lanes of its cities are also full of hidden delights. You can try a huge variety of sweet and savoury Egyptian dishes out on the streets, munching on the deliciousness as you explore the various attractions and sightseeing spots.
Here are the top 10 street foods in Egypt that you should not miss out on during your trip:
Shawarma: Made using turkey, chicken, beef, lamb, or mixed meats, shawarma is marinated, split-roasted, and slow cooked hour after hour. It bastes in its own fat and juices to create a succulent dish that you can enjoy anywhere in Egypt.
Kofta Kebab: Meatballs made with minced lamb or goat meat, onions, and spices, Kofta Kebabs take the Egyptian dishes of koftas out to the streets, grilling them upon skewers that can be picked up and enjoyed.
Falafel: Enjoy the crispy deliciousness of chickpea fritters flavoured with distinct spices like cumin, parsley, and coriander. You can munch on the falafel as they are or plop them in some pita bread, topped with pickled/fresh vegetables. A dash of hummus, tahini or garlic-flavoured yoghurt can make these Egyptian dishes taste even better.
Molokhia: The green leafy vegetable is used to make a slimy soup that is flavoured with garlic and coriander. The soup can be added to pita or rice and is generally eaten with meats like rabbit or chicken.
Mihallabiya: A sweet milk pudding, mihallabiya is a delicious dessert that has quite simple ingredients but creates some of the most delicious flavours for a quick snack.
Mombar Mahshy: A number of street vendors sell these Egyptian sausages that are stuffed with flavoursome spiced rice and are truly a divine treat to grab on your way to the next tourist pot in Egypt.
Lupini Beans: Across the streets of Egypt, you'll find a number of vendors cooking up some delicious lupini beans. While some will offer hot lupini beans with a squeeze of lemon and a pinch of cumin stirred into them, others may have some more exotic versions on their menu as well.
Sweet Potatoes: A delicious snack especially preferred during the winter season, you'll come across many vendors on the streets of Egypt with stacks of smoked, baked, grilled, and mashed sweet potatoes. Whether eaten hot or cold, with a dash of sugar or a sprinkle of salt, sweet potatoes make for a wholesome snack any time.
Egyptian Sandwiches: As unreal as it may sound, sandwiches are quite a popular street food in Egypt. But when it comes to Egyptian sandwiches, they may not be what you expect. Packed with middle eastern flavours and delicious fillings, ranging from falafels to liver, these sandwiches pack a powerful punch.
Egyptian Pizza: Also known as fiteer, which is made of buttered and layered filo dough. Instead of toppings, Egyptian pizza has stuffing, which can either be sweet or savoury.
Vegan Food in Egypt
As is quite obvious by now, it is not at all difficult to find amazing vegetarian food in Egypt. While veganism is not that popular in Egypt, many famous food recipes, dating back to ancient times, revolve around plant-based proteins that are actually vegan. The word "seyami" is an Arabic word that is used to describe the food as dairy-free and meat-free and can be consumed during vegan fasts. So, if you want to eat vegan, just ask for the "seyami" options on the menu.
So, when you're booking your Egypt tour package, make sure you research your destinations and plan ahead, so you can try as many popular and traditional dishes from Egyptian cuisine as you can.