Reading Time:
10
minutes
Kolkata is a lively and happening city on India's east coast that's well-known for its rich culture, commercial nature and mouth-watering delicacies. The city has managed to retain its vintage charm and old-world charisma through the years, while still emerging as one of the most developed cities of the country. It is a pioneer in the fields of drama, arts, theatre and literature with several Nobel laureates contributing to its culture. But even the people of Kolkata need some time off to relax, refresh and enjoy some leisure time, away from the hustle and bustle of this energetic city. And what better place to do so than visiting one of the best picnic spots near Kolkata.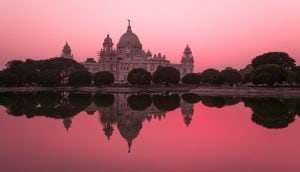 When in Kolkata and looking for a relaxed day out, look no further than the New Town Eco Park in Kolkata. Spread over 480 acres of expansive lands, Eco Park Kolkata is a popular recreational park that is complete with ample outdoor activities that you can enjoy with your friends and family. You must have seen joyful images of Eco Park Kolkata, locally known as Prakriti Tirtha or Nature pilgrimage, which is an amalgam of more than just a few attractions, including ecological zones, visual attractions as well as adventure activities, giving visitors a peek into the rich natural heritage of the state.
Explore the Eco Park in Kolkata
Inaugurated on December 29, 2012, the New Town Eco Park is a sprawling and well-maintained urban park that includes several unique attractions inside for a visual treat. It is the perfect place for a weekend outing with your friends when you are in the mood for exciting activities to engage in. With its tranquil ambience and lush surroundings, the Eco Park makes for an ideal picnic destination for both adults as well as children, and a great opportunity for an outdoor retreat.
The Eco Park in Kolkata has been divided into three parts, namely Ecological Zones, such as the wetlands, grasslands, and forests, Theme Gardens and open spaces, as well as the Urban Recreational Spaces. Additionally, the park also consists of a manmade lake, an ice-skating rink, a butterfly garden and a lot more.
Location
The Eco Park is situated in New Town, a satellite city in the Rajarhat area in Kolkata and is considered one of the biggest recreational parks in India. The exact address for Eco Park Kolkata is Major Arterial Road (South-East), Biswa Bangla Sarani, AA II, Newtown, Kolkata, West Bengal 700156. It is located about 16 Km from the city centre and can be easily reached via bus, taxi or personal car. For the comfort of visitors, the park has two well-defined parking areas, which are metered. Although visitors that are coming to Eco Park Kolkata are not allowed to bring their own food and drink items, there are ample food kiosks located throughout the park.
While visiting the area around Eco Park Kolkata, be sure to pay a visit to the other exciting tourist destinations as well. Nearby attractions include famous museums in Kolkata such as the Mother's Wax Museum, Artsacre Museum of Bengal Modern Art, Pareshnath Jain Temple, Salt Lake Stadium and the popular Science City, Kolkata.
Attractions in Eco Park, Kolkata
There are a plethora of attractions in the New Town Eco Park which are difficult to cover all in one day but will make your visit worth its time. Here is a list of some of the most popular and exciting things to do in the park.
1. Mini Zoo
The Eco Park in Kolkata includes a lot of attractions for the tourists that visit here every day to make their trip memorable. One of these attractions includes a mini zoo, known as the Hiranalya Mini Zoo, which has been welcoming visitors since 2016. Visitors can easily spot Deer and barking Deer here and will soon witness Turtles, an aviary and a pheasantry. This mini zoo in Kolkata's Eco Park is also expected to soon include giraffes, hippos, and zebras among other beautiful creatures.
2. Urban Museum
The Urban Museum displays a spectacular collection of beautiful artwork and pieces that have been used to decorate Durga Puja Pandals. The pieces have been inspired by various themes and times in the history of the city, collectively put on display. The museum in essence encourages maintaining the sanctity of the festival of Durga Puja all through the year.
3. Children's Park
If you have children accompanying you to the park, the best place for them to enjoy and have fun is the Children's Park. With almost everything made to suit the needs of the children and to keep them entertained, Children's park makes for a great outing for your kid. It consists of sculptures, fountains and lush green areas apart from the usual play areas for children to keep their spirits high while they have fun.
4. Seven Wonders of the World
Replicas of some of the most popular wonders of the world are also situated at the Eco Park in Kolkata. From the Taj Mahal and the Pyramids of Gaza to the Great Wall of China and the Colosseum, you will find these replicated structures situated in different parts of the park. So, if you haven't been to any of these wonders yet, and have always wanted to, then you can experience their magnificence here in Kolkata.
5. Gardens at Eco Park
The Eco Park in Kolkata consists of several ecological gardens spread throughout the park which add to its significance. The Butterfly Garden offers a spectacular view of different species of butterflies, as well as of plants that help the butterflies thrive inside the dome. The dome helps maintain the perfect temperature for their survival. The Mask Garden displays various types of masks, in different shapes, sizes, and colours found all across the world. The Bamboo Garden houses a variety of bamboo plantations in various sizes, arranged in a way that creates a serene environment in the garden. Visitors can enjoy other gardens in the Eco Park as well, such as the Tea Garden, Sculpture Garden, Rose Garden and Rabi Aranya among others.
Other popular tourist attractions at the Eco Park include a Musical Water Fountain, which is a major event in the evenings with lights of different colours, the Baul Gram, where you can the performance of indigenous music and dance form of Bengal, as well as the Food Park which offers food items of different varieties for loads of hungry tourists and visitors.
Eco Park Kolkata Timing
The best time to visit Eco Tourism Park in Kolkata is during the months of October till February, i.e. the autumn and winter months. The weather during these months is pleasant, and the abundance of festivities add to the city's charm. Since Kolkata experiences an eastern tropical climate, summers are hot and humid which would make visiting the Eco Park inhospitable. Monsoons, on the other hand, are lovely but experience heavy rains which would again hamper a good picnic day at the Eco Tourism Park in Kolkata.
Please be sure to confirm the timings for the park before planning your visit. The latest known opening time for Eco Park in Kolkata is as follows:
Tuesday to Saturday – 12 Noon – 07:30 PM
Sunday & Public Holidays – 11 Am – 07:30 PM
Monday – Closed
Ticket Prices for Eco Park Kolkata
The entry ticket prices to Eco Park Kolkata vary from Rs. 20 for children to Rs. 50 for adults, depending on the day and varying as per the occasion. The tickets for individual rides and attractions, if applicable, can be purchased at additional costs within the park premises. There is also an option to make an online ticket booking for Eco Park Kolkata in advance before you travel, keeping in mind the safety precautions.
Known for its diverse ecological landscapes and man-made lake, this ecological park has fun elements for your whole family. Spend a relaxing afternoon absorbing the aura of the many gardens and exploring the urban attractions throughout the park, and an exciting evening at the lake waterfront doing a variety of activities.
There are a lot of historical places in Kolkata that you can visit for a culture-rich experience, but if you wish to relax and have some fun, then including a trip to the Eco Park in your Kolkata tour package is a must.