Reading Time:
7
minutes
With the soft chants of maa aashchey mixed with the mild fragrance of pujo'r dhoop flowing in the air, faint dhak reverberating in the hearts of every Bengali, you know that Mahishasura Mardini, ​Devi Mahatmyam has arrived in all her glory. The ten-day festival marks the victory of good over evil. As the legend goes, Maa Durga won the battle against the notorious asura, Mahishasur. Even though Durga Puja has a mythological significance, it is not just a religious festival for Bengalis.
It is an opportunity for them to celebrate their traditions and culture with all joy and bliss. Although the festival is celebrated all over the world, the real charm of this festival is entirely different, almost surreal, in Kolkata. People from all over the world plan a trip to Kolkata just to witness the glory of Durga puja in the 'City of Joy.'
Every part of the city is embellished with beautiful pandals. The idols of Maa Durga are handcrafted by the most talented shilpikars, who give their all to replicate the divine beauty of Maa Durga. If you are a foodie, then Durga puja is your opportunity to treat your tastebuds as the pandals have food stalls with an assortment of Bengali delicacies. From cultural events to celebrity performances, every Durga puja pandal tries its best to top the list of the best Durga puja pandal in Kolkata.
If you are in Kolkata and want to experience the best Durga puja, here's a list to make your pandal hopping a bit easier:
Singhi Park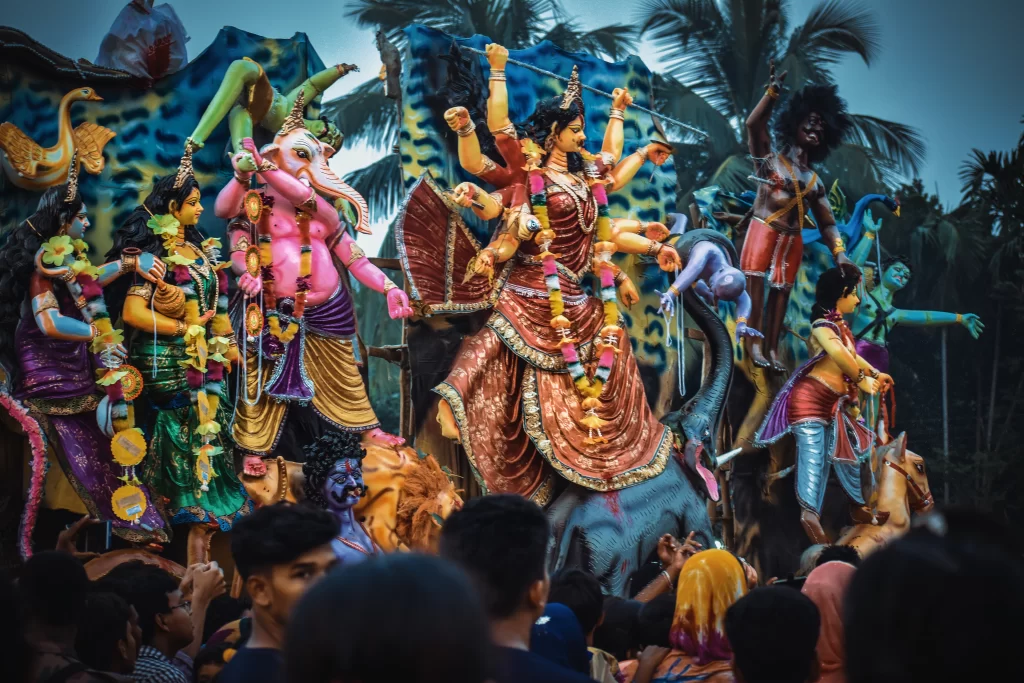 With one of the best Durga puja pandals in South Kolkata, Singhi Park is a renowned name in the Durga Puja season. Park Singhi Park has been organising Durga puja since 1941 and the grandiosity is no small affair. Singhi Park Sarbojonin Durga Puja Committee has been trying its best to scale up with each passing year. Last year, they had Mamta Banerjee inaugurate the Durga puja pandal. If you are in Kolkata to celebrate Durga puja, then Singhi Park in South Kolkata has to be on your list.
Lebutala Park
The history of Lebutala Durga puja dates back to 1936 when some people from Sealdah decided to organise Durga Pujo in Bowbazar on a very small scale, and the rest is history. With something new every year, Lebutala Park tops the list of best Durga puja in North Kolkata. If you are looking for the best Durga puja pandal in Kolkata, routing towards Serpentine Ln in North Kolkata would allow you to explore a plethora of food stalls and a majestic Durga Maa idol.
Jodhpur Park
With one of the biggest Durga Puja pandals in Kolkata, Jodhpur Park Saradiya Utsab Committee has become the favourite of pandal hoppers. They go by a theme every year and even get their Durga idols crafted based on that theme. Known to be amongst the best Durga puja pandals in Kolkata, Jodhpur Park is always a delightful sight for visitors. And the best part, they make sure you have your fill of traditional Bengali street food with a variety of specialities such as Gughni, Mughlai Paratha, Jhalmuri, and whatnot.
Santosh Mitra Square
If you are looking for one of the most expensive Durga puja pandals in Kolkata, then check out the Durga Puja in Santosh Mitra Square. With a distinct theme every year, celebrity chief guests, and a gorgeous Durga Maa idol, Santosh Mitra Square Sarbojonin Durgotsab outdoes other Durga puja pandals and even itself every year. Last year, they had the governor of West Bengal and this year, they have invited Mithun Chakraborty for the inauguration. If you really want to experience the best Dura puja in Kolkata, you must visit Santosh Mitra Square.
Ekdalia Evergreen Club
Topping the list of must-visit Durga puja pandals in Kolkata since 1943, Ekdalia Evergreen Club is another place that has been hosting the best Durga puja in Kolkata for decades. The decoration and lighting, the beautiful Durga maa idol, stalls of the most delicious traditional Bengali dishes and street food, and the location itself make it the best place to experience Durga puja.
Baghbazar Sarbojanin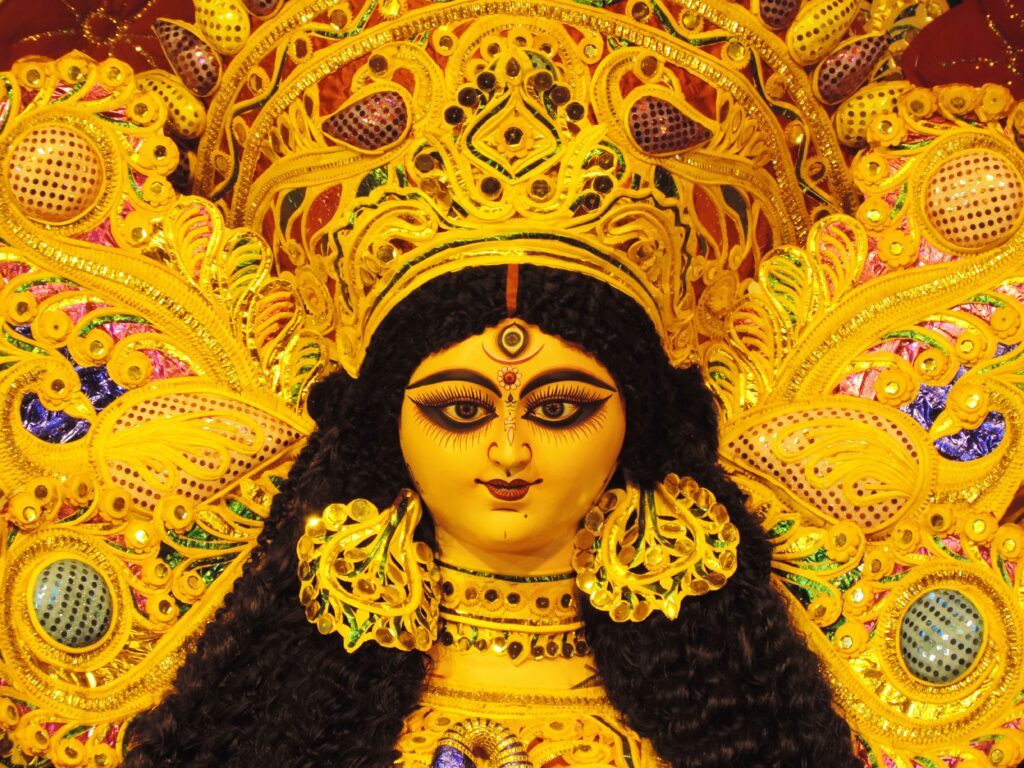 Known best for its fun and extremely essential Sindur-Utsab on Bijaya Dashami, Baghbazar Sarbojanin Durgotsav makes sure that Durga puja becomes memorable for all. Baghbazar Sarbojanin Durgotsav does its best to catch up with the newest trend with a new theme every year. With Governor Of W.B. and Mamata Banerjee as chief guests, Baghbazar Sarbojanin Durgotsav always aims to keep it grand. If you are in Kolkata for Durga puja, it would be ideal to visit on either Saptami or Navami as Ashtami witnesses the highest footfall in Baghbazar.
Manicktala Chaltabagan
Founded by Late Sri Lakhi Chand Jayaswal, Manicktala Chaltabagan has been hosting Durga puja since 1943 and no other place has been able to surpass the grade of celebration. With varied cultural programs, food stalls, grand decor and lighting, Manicktala Chaltabagan Durga Puja Pandal stands among the top Durga puja pandals in Kolkata. If you are on a pandal hopping spree, do not forget Manicktala Chaltabagan Durga Puja Pandal.
Durga puja is not just a festival but an emotion. From mahalaya to bijoya dashami, this brief rendezvous with maa is the most awaited time of the year for everyone. If you wish to witness Bengali culture and traditions at their best, then be in Kolkata and experience Durga Puja at its revelrous best!