Reading Time:
9
minutes
Pondicherry, officially known as Puducherry, is a vibrant city located on the south-eastern coast of India. Known for beautiful colonial buildings, churches, temples, and statues, this is among the country's most famous tourist destinations that enthrall a large number of customers every year. Also called the 'French Capital of India', Pondicherry is a town that has been colonized by the Dutch, the Portuguese, the English and the French; you can see and sense the influence of these cultures today. Whether you are a nature lover or a thrill seeker, a true foodie or a history buff, you can find a lot of things to do and places to visit in Pondicherry.
Being the nearest metropolitan city to Pondicherry, Chennai is the perfect travel base for travellers coming from different parts of the world. If you are planning a trip from Chennai to Pondicherry, here is all you need to know.
How to Reach
Being the popular holiday destination that Pondicherry is, it offers great connectivity to other parts of the country.
By Air: The nearest airport to Pondicherry is the Chennai International Airport. So, simply take a flight if you are travelling from any other city. If the origin of your journey is Chennai, then travelling by road or train are the only options as there is no flight to Pondicherry from Chennai.
By Road: Taking a road route is the best way to travel from Chennai to Pondicherry. The distance from Chennai to Pondicherry is approximately 135 km. You can find a number of direct buses from Chennai to Pondicherry; the other option is to hire a private taxi.
By Train: Pondicherry's nearest railway station is Villipuram which is located at an approximate distance of 35 km. It is connected to Chennai as well as other cities like Tiruchirappalli, Madurai etc. by regular train services. Once you reach there, you can hire a private taxi to get to Pondicherry.
Best Time to Visit
This is an all-year-round destination which means you can plan a Pondicherry trip at any time of the year. This quaint town offers different facets in different seasons.
October to February: Just like most other parts of the country, the winter season starts in October here and lasts till the month of February. During these months, the temperature remains relatively lower which means it is the best time for outdoor activities like sightseeing, beach fun and other water sports.
March to June: Here, the summer season starts in March and lasts till June. This phase is considered the off-season for tourism. However, if you are planning a peaceful getaway while avoiding the crowd, this is the ideal time to plan a trip.
July to September: These 3 months comprise of the monsoon season which is considered the shoulder season for tourism. During this time, you will be able to witness the rain-washed beauty of this beautiful town. However, you cannot indulge in beach activities.
It is best to know what this place holds for you at different times of the year so that you can decide accordingly.
Experience the Beauty of Pondicherry
This is such a diverse place that it offers something for everyone and never disappoints any traveller. Here is how you can make the most out of your Pondicherry trip.
Scuba Diving
Located on the beautiful coastline of the Bay of Bengal, Pondicherry is an ideal spot for scuba diving. With natural coral reefs, rocky pop-ups, man-made folds, and a plethora of marine species, the scuba diving experience you get here is second to none. The most common marine life species you can see up close here include lionfish, grouper, kingfish, moray eels, eagle, manta rays, parrot fish, sea snakes, triggerfish, angelfish etc.
Enjoy a Boat Ride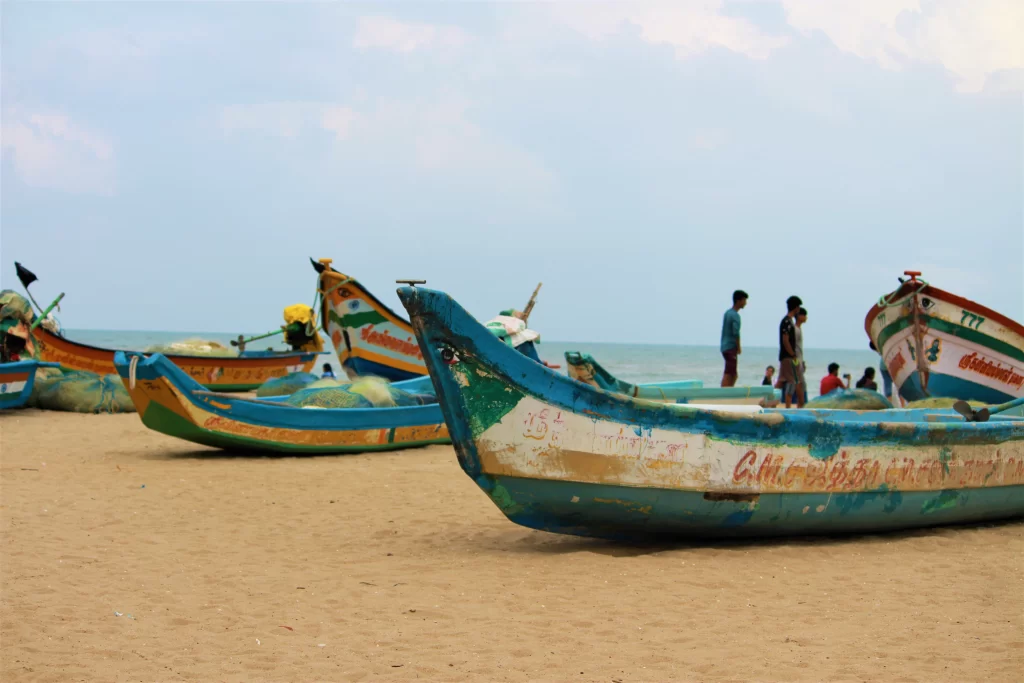 Chunnambar Boat House is the place to go for sunbathing, water sports and a lot of other fun activities. Here you can either spend an afternoon lazing around or take a boat ride to explore the surroundings.
Water Activities
What can be better than spending an entire day enjoying adventurous water activities! If your idea of a fun vacation is indulging in all kinds of water sports and beach fun, then this is the place to be. There are a number of beautiful beaches in Pondicherry where you can head out and have some fun in the sun. The Paradise and Serenity beaches are two ideal spots to enjoy water surfing, thus making Pondicherry a perfect destination for thrill-seekers.
Enjoy Lip-smacking food
Food is an integral part of every trip and Pondicherry is no different. As a matter of fact, it is a true paradise for every food lover. There are so many multi-cuisine restaurants, French cafes and Italian food joints where you can savour a meal and satiate your taste buds.
Visit Sri Aurobindo Ashram
Dating back to almost 100 years ago, this spiritual ashram was founded by Shri Aurobindo Ghosh after he retired from politics. And now, it has become one of the most sought-after tourist attractions in Pondicherry. With a laid-back atmosphere, this is a place frequented by people who seek spirituality.
Explore Ancient Churches
Pondicherry boasts a number of awe-inspiring ancient churches which are equally popular among leisure travellers and pilgrims. These churches are distributed across the tiny coastal town and each of them offers a different yet divine experience. If you want to catch a glimpse of old Pondicherry, you should definitely visit a few of them, if not all.
Go Temple Hopping
Pondicherry is a great example of the cultural and religious diversity of India! Here, you will find some of the most beautiful temples, including the Sri Gokilambal Thirukameswar Temple and the Manakula Vinayagar Temple. The most amazing thing is that the architecture of these temples has a slight touch of French-style.
Visit Auroville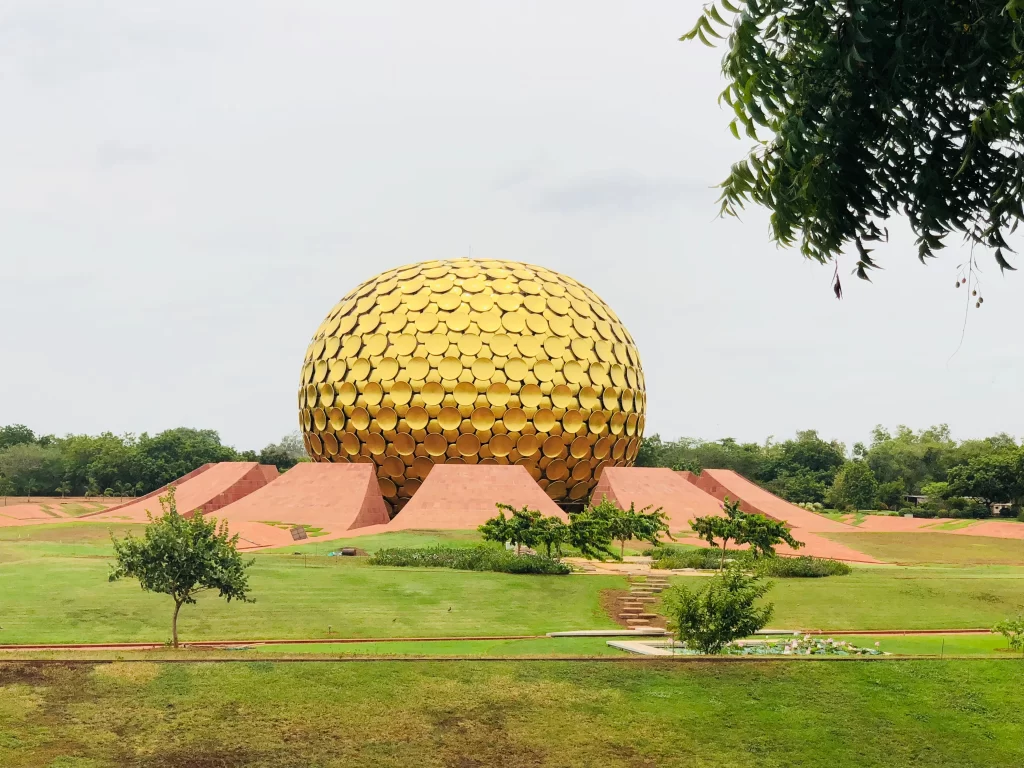 A trip to Pondicherry is always incomplete without a visit to Auroville. This small, experimental township is a must-visit if you wish to spend some time away from the hustle-bustle of urban life and experience serenity. Designed by famous architect Roger Anger, this is a place where people of different nationalities, cultures and beliefs live together and everyone is welcomed here with open arms. The major highlight of Auroville is the Matrimandir, a modern structure. It is also called the soul of the city and is situated in a large open space called Peace. However, it does not belong to any specific religion or community.
Bird watching at Ousteri Lake
Also known as the Osudu Lake, this man-made lake, with its picturesque surroundings, is the perfect place to spend some time admiring nature. This is something a nature lover shouldn't miss out on during a trip to Pondicherry. You can spend some quality time birdwatching or enjoying a mesmerizing sunset view.
Visit the French War Memorial
The French War Memorial is an impressive structure located on Goubert Avenue. It is dedicated to the soldiers who lost their lives in World War I. On 14th July, an annual commemoration ceremony is also held in honour of all those brave soldiers.
Now that you know why Pondicherry should be your next holiday destination,  it is time to start planning your trip. Veena World offers a wide range of specially curated Chennai to Pondicherry tour packages