Reading Time:
10
minutes
The history and beauty of Jaisalmer, which is located deep inside the breathtaking Thar Desert and is dotted with stunning architectural marvels, never fails to captivate travellers. There are several places to visit in Jaisalmer and around the city as well, such as the grandeur of Jaisalmer Fort and Patwon ki Haveli, the calm of the Jain Temples, or the vivacity of the retail areas and interesting desert festivals. Furthermore, desert jeep rides and camel safaris will surely thrill you!
Jaisalmer, a city steeped in history, offers a vibrant array of delicious street cuisine delights, beautiful landscapes, and age-old treasures. There are numerous fantastic restaurants in Jaisalmer that you must include in your Jaisalmer tour package in addition to several shopping areas and different activities to do. It is worth visiting not only for the high quality and authentic flavour of the food but also for the magnificent view that you can enjoy from various Jaisalmer restaurants. It will undoubtedly provide you with some incredible and lasting moments. In Jaisalmer, foodies of all tastes may find a spot to eat.
1. Jaisal Italy Restaurant
This picturesque Italian restaurant, perched atop the Jaisalmer Fort's boundary walls, serves you a magnificent twist on Italian fine dining. The restaurant has a brilliantly lighted open terrace and an inside space with embroidered couches arranged against a Jharokha. The Italian-inspired cuisine highlights the nuanced flavours of classic recipes made with organic ingredients and is considered one of the best places to eat in Jaisalmer.
2. Desert Boy's Dhani
This rustic Indian restaurant boasts a patio with traditional decor and intriguing cultural events, making it an excellent choice for a luxurious dining experience. The restaurant, which is strictly vegetarian, has an opulent setting, with tables set around a stone-paved patio. At Desert Boy's Dhani, you may enjoy a candlelight meal, marvel at the intricacy of puppet performance, and savour the best Rajasthani food. The cultural restaurant celebrates the splendour of local tradition by providing live folk music and wonderful cuisines such as Malai Kofta, Bajre ki Chapatti, mixed vegetable curries, and many more.
3. Trio
This chic fine-dining establishment is located in Mandir Palace. A unique atmosphere is provided by the high-ceiling tent and uniformed waiters. You can taste the chickpea pickle at this eatery, which provides traditional food.
4. Golden Roof
If you're out and about in the city and feel hungry at weird hours, this is among the best restaurants in Jaisalmer. The Golden Roof is open 24 hours a day, seven days a week. The restaurant is located near the fort, opposite Mandir Palace, and offers a stunning, unobstructed view of the fort and market. The golden rays of the setting sun on the fort make the sight and experience unique in the evenings. The attention to detail in the interior design, the low-floor seating arrangement, and the kind personnel make it a perfect setting for tranquil dining. Golden Roof serves delicious Indian food at a reasonable price. It doesn't have a huge menu, but whatever it does offer is fresh and tasty.
5. Fotiya's Restaurant
Fotiya's Restaurant undoubtedly delivers cuisine that tastes like it originated from home. They provide high-quality food in a reasonable quantity, have nice staff, and a pretty chill atmosphere. The tranquil atmosphere helps you feel at ease. It is unquestionably one of the greatest restaurants in Jaisalmer for real Korean cuisine.
6. Free Tibet
Free Tibet Restaurant in Jaisalmer is an excellent dining option for those who want to experience western cuisine. This restaurant serves a diverse selection of multi-cuisine foods, ranging from Indian thalis to French baguettes, momos, and so on.
7. Kuku Cafe Shop
Kuku Coffee Shop is another must-see in Jaisalmer. This excellent tiny eatery is adjacent to the Jaisalmer fort. Visitors appreciate sipping on a wonderful cup of coffee while taking in the breathtaking sunset views. Kuku Coffee is a down-to-earth café devoid of flashing lights, costly chandeliers, or other glitzy ornaments. You'll enjoy the meal. In addition, the pricing is really fair. Overall, Kuku Coffee Shop is a wonderful spot to relax and is among the top restaurants in Jaisalmer.
8. Milan Restaurant
Walk into the Milan Restaurant for freshly prepared Indian food at a reasonable price. Both the Laal Maas and the Tandoori chicken are very delicious and will leave you wanting more. Vegetarians can enjoy the Vegetable Kebabs or Paneer Makhani with steaming hot tandoori naans. While it is not the largest restaurant, the service is typically decent, and the restaurant attracts both visitors and residents due to its excellent value for money.
Mouth-Watering Dishes that You Must Try
Jaisalmer is well-known for its traditional Rajasthani food. The streets of Jaisalmer are filled with the scent of the city's famed street cuisine, compelling visitors to write a list of everything they wish to sample. However, no vacation to Jaisalmer is complete unless you sample all of these meals at least once.
1. Dal Bhati Choorma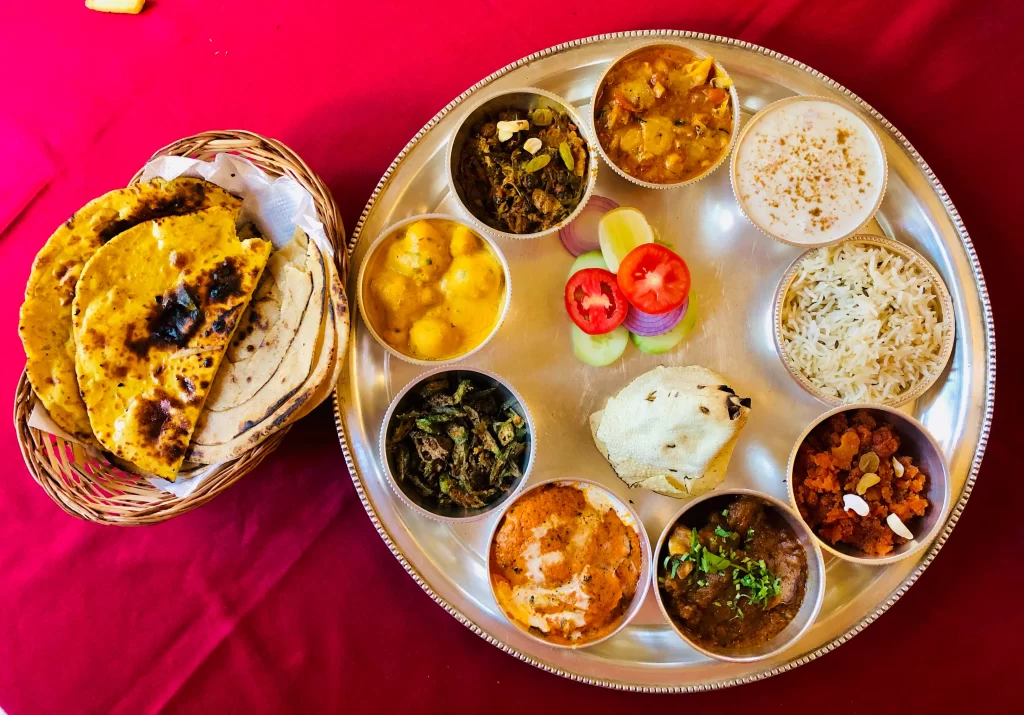 Jaisalmer is well-known for its traditional Rajasthani food. The streets of Jaisalmer are filled with the scent of the city's famed street cuisine, forcing visitors to write a list of everything they wish to sample. However, no vacation to Jaisalmer is complete unless you sample all of these meals at least once.
2. Pyaaz Kachori
Considered to be  Jaisalmer's most famous food dish, Pyaaz Kachori is a staple in practically every Rajasthani home. It is typically consumed with kadi at breakfast. It is no wonder that it rates as the finest street food in Jaisalmer, given its popularity in Ajmer, Jaipur, and Jodhpur. This dish is constructed of maize flour dough that has been deep-fried in oil and loaded with a spicy stuffing of chopped onions. Pyaaz ki kachori, which is high in fat content, may be purchased in a street store right next to the next tourist attraction you visit. When paired with a delicious chutney or kadi, it tastes like paradise on your tongue.
3. Mutton Saag
Mutton Saag, one of the most famous street foods in Jaisalmer, is best served at Trio, the best non-veg restaurant in Jaisalmer, and authentic Rajasthani food. The dish consists mostly of mutton combined with spinach puree and Rajasthani spices. This enticing cuisine will make your trip to Jaisalmer unforgettable.
4. Gatte ki Sabzi
This is one of the most popular Rajasthani cuisines, and you can get an excellent version in Jaisalmer. This excellent dish is made with gramme flour or besan gatta and served in a spicy yoghurt soup. This flavorful food is served with rice or Rajasthani flatbread. The savoury besan gatta, or gramme flour balls, are soft, juicy, and wonderfully pleasant to eat. This classic vegetable curry has become quite popular in North Indian households and goes well with hot garlic naans or tandoori chapati.
5. Makhania Lassi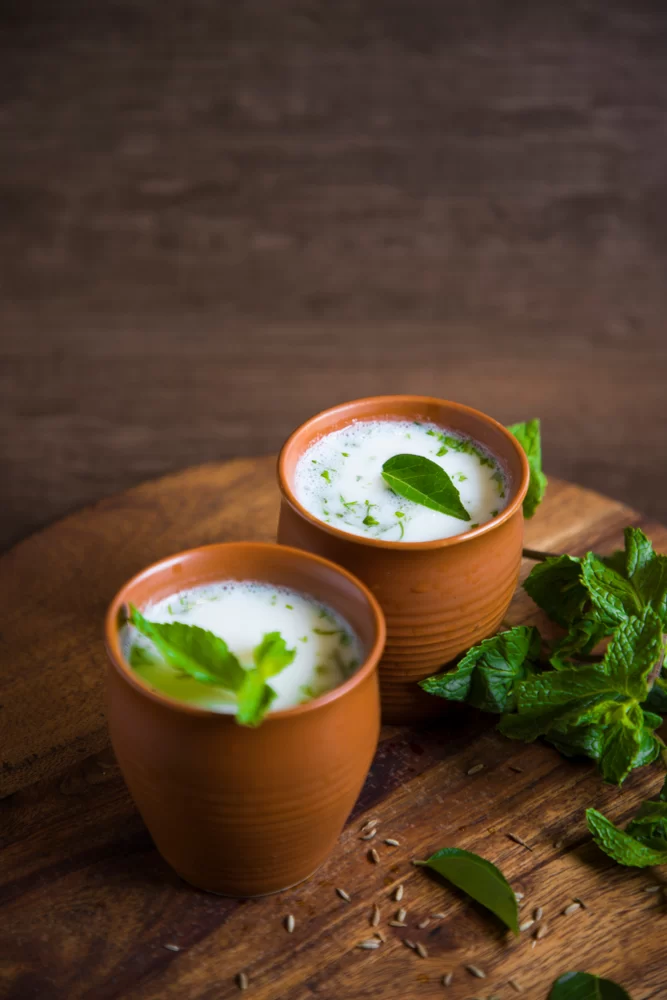 This is an amazingly tasty lassi. The thick yoghurt lassi is loaded with dried fruits, including raisins, cashew nuts, dried cherries, and almonds. The lassi is so thick that you may need to eat it with a spoon. This lassi is packed with butter and cream and is just divine. A tempting, sugar-coated drink will leave you wanting more. The delectable makhania lassi is widely available in Jaisalmer's eateries and cafes.
Jaisalmer, like the rest of Rajasthan's royal kingdom, has a rich background and an intriguing culture. Jaisalmer is located near the Pakistani border, with the desert's dunes extending into the neighbouring country. Jaisalmer, with its majestic architecture and typical Rajasthani demeanour, reflects the real essence and tradition of the state. It boasts one of the most magnificent structures, camps in Jaisalmer, the Jaisalmer Fort, towering palaces, elaborately adorned havelis, a stunning desert backdrop, and many more places for tourists.
Are you planning a trip soon? Make sure you visit these fantastic Jaisalmer restaurants for a superb dining experience with breathtaking views. Plan a trip to Jaisalmer and don't forget to include these locations in your itinerary while you're there.