Extending from north to south, Italy boasts a magnificent coastline encompassing stunning beaches in the Mediterranean. All nestled amidst breathtaking mountain peaks, charming villages, and enchanting lagoons with vibrant wetlands, you'll discover a variety of idyllic spots. Pamper yourself by vacationing on the most beautiful beaches in Italy, hidden bays embraced by majestic cliffs and scenic gulfs and coves.
Top Beaches in Italy
Here is the list of 10 famous beaches in Italy, ranging from renowned celebrity hotspots to secluded, untouched gems, where you can relish the country's abundant coastal beauty and breathtaking seascapes.
Capo Testa
Spiggia Rossa
Isola Bella
Atrani Beach
Guvano Beach
Spiaggia del Troncone
Aquarilli Beach
Spiaggia dei Maronti
Spiaggia della Pelosa
Lido di Jesolo Beach
Best Beaches In Italy For an Idyllic Getaway
1. Capo Testa
Capo Testa is nestled in the north of Sardinia and can be your go-to beach destination because of its stunning vistas. For those who want memorable coastal adventures in Italy, it offers a unique coastal experience with its hidden coves. Not only this for activity lovers, sunbathing, swimming, and snorkelling are all doable on this serene beach. Capo Testa Beach in Italy is a well-known Italian beach from where you can have a clear sight of the famous cliffs of Bocche di Bonifacio, a collection of extraordinary rock formations.
2. Spiggia Rossa
The stunning pink and orange hues set Spiaggia Rosa Beach apart from other beaches in Italy. Among its treasures, Spiaggia Rosa is a perfect destination in Italy for all beach lovers. The fine white sand, azure waters, and surrounding rock formations create a picturesque and dreamlike atmosphere. If you want to behold its captivating fusion of pink and orange extraordinary colour palette, plan a getaway to Isola Budelli with your dear ones. A charming island showcasing a picturesque pink sand beach in Italy adorned with corals and pink stones, elevating the natural beauty of the scenery.
3. Isola Bella
Italian people usually call this beach the "Pearl of the Lonian Sea". This beach is a very famous beach in Italy for its pristine pebble beach, historical significance and lush Mediterranean greenery. This stunning islet is connected to the mainland by a narrow strip of sand, creating a unique and picturesque setting which is worth seeing. It is also home to a nature reserve, preserving the rich marine and plant life. If you ever plan to visit Italy don't miss to explore Isola Bella's breathtaking scenery and cultural heritage which makes it one of the best beaches in Italy to experience.
4. Atrani Beach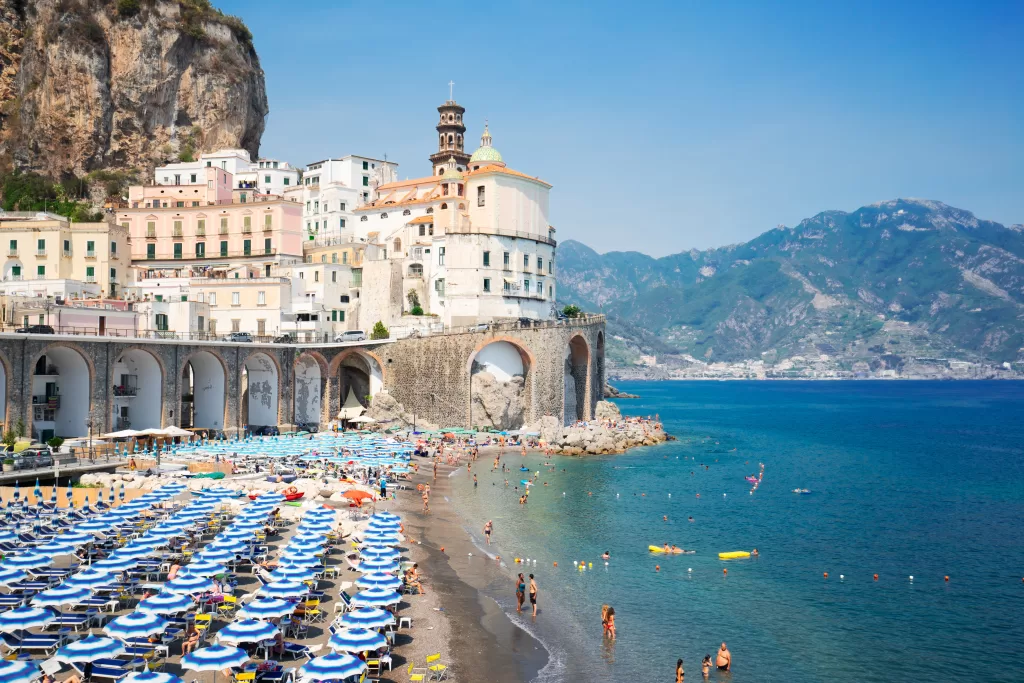 Atrani Beach, often overlooked, is a hidden treasure that captures the essence of Italy. It is nestled near Amalfi and offers stunning views, charming, colourful houses, and pristine sand. The beach in front of the town and other nearby spots offers a perfect setting to unwind and enjoy your time in Atrani. Those who do not prefer to rent sun loungers can enjoy a free section on the beach. The picturesque setting and tranquil atmosphere make Atrani Beach one of the most beautiful beaches in Italy for those seeking an authentic Italian experience. So pack your bags and book your tickets to traverse the hidden gem that delights beach lovers and holds the title of the area's best-kept secret.
5. Guvano Beach
The beach that has gained popularity as a destination for nudists seeking a seaside getaway is Guvano Beach. This beach is quite popular as a nude beach in Italy. However, even if you're not inclined towards nudism and have grown weary of the other beaches in Cinque Terre, you can still visit Guvano Beach. It is not mandatory to sunbathe in the nude; what matters most is behaving respectfully and disregarding others' choices. Embrace the approach and enjoy the beach at Guvano while appreciating its peaceful ambience, regardless of your attire.
6. Spiaggia Del Troncone
Spiaggia del Troncone is another captivating and ideal beach destination. From the charm of this place to the Italian foods on offer, this famous beach in Italy beckons travellers from worldwide. Well, Spiaggia Del Troncone is nestled in the breathtaking Cilento region of Italy and welcomes travellers with amazing views. You must add this beach to your bucket list if you really crave visiting a picturesque haven for relaxation and rejuvenation.
7. Aquarilli Beach
Whether you're seeking a peaceful retreat or adventurous water, Aquarilli Beach is a must-visit destination that promises pure coastal bliss. Noted for its impeccable beauty and located on the island of Elba in Italy, Aquarilli Beach is truly a hidden gem that pays off visiting. The beach is embraced by lush greenery and majestic cliffs, creating a serene and enchanting atmosphere perfect for unwinding. So what are you waiting for? Head to Aquarilli Beach to delve into the soft white sand and crystal-clear azure waters of this coast.
8. Spiaggia Dei Maronti
Nestled in the south of Ischia island, it attracted the attention of Greeks and Romans in ancient times. One of the longest beaches in Ischia is Spiaggia Dei Maronti, located in the southern region near the picturesque village of Sant'Angelo. There are numerous bars, resorts, and hotels near this beach and if you are a die-heart fan of barbeques, add Spiaggia Dei Maronti to your wishlist. The nightlife is also fabulous as the spot area is always geared up to make the most of the sunshine hours on the beach. Overall with its three kilometres of sandy coastline, Spiaggia Dei Maronti offers travellers a perfect combination of relaxation, rejuvenation, and the chance to immerse oneself in Ischia's natural wonders.
9. Spiaggia Della Pelosa
If you ever visit Italy and ask any Italian about their ideal Sardinian beaches, you will surely get to know about Spiaggia Della Pelosa. Once hailed as one of the island's finest sandy shores due to its shallow turquoise waters and white sands. Spiaggia della Pelosa, is around 300-metre beach in Sardinia. Over the course of time, it has experienced some erosion and overuse, causing it to diminish in size. Despite its changes, La Pelosa remains a captivating beach destination in Italy that offers a glimpse of paradise on the shores of Sardinia.
10. Lido di Jesolo Beach
Lido di Jesolo is in a charming town, near Venice, one of the famous cities in Italy, making it a sought-after destination for travellers. The easy accessibility attracts many tourists, especially during the busy season, which can sometimes result in crowded conditions. The beach extends along the sunny coastline within the town limits, making it easily reachable for visitors. This beach offers a spacious expanse of golden sand, crystal-clear blue waters, and excellent amenities, creating an ideal setting for relaxation and fun. Moreover, Lido di Jesolo is well-known for its vibrant promenade lined with shops, restaurants, and entertainment venues, ensuring a delightful experience both on and off the beach.
Are you looking for sun-soaked days by the sea, thrilling water sports activities, or vibrant nightlife? Book an Italy package to experience a perfect blend of natural beauty and lively atmosphere for an unforgettable coastal getaway!