Reading Time:
11
minutes
Thailand is unlike any other destination in the world. With an eclectic mix of cultures, traditions, people, landscapes, and history, this place completely establishes itself as one of the major tourist destinations in the world. From pristine beaches to coral reefs, Buddhist monks to ancient monasteries, dense forests to floating markets, fine dining restaurants to rich street food, Thailand has something for every taste.
Bangkok, the capital city of Thailand, is a perfect blend of culture and modernity. From the towering skyscrapers to ancient monasteries, bustling street food destinations to beach solitude, Bangkok seems never-ending for a seeker.
Bangkok serves as a gateway to the major tourist destinations in Thailand. From here, you can hop a short flight to Phuket, Koh Samui, Chiang Mai, and other popular destinations. You can also board a train or take a bus to Pattaya to visit national treasures such as Ayutthaya, Lopburi, and many other gems around the country.
A Glimpse of Pattaya: The Coastal City of Thailand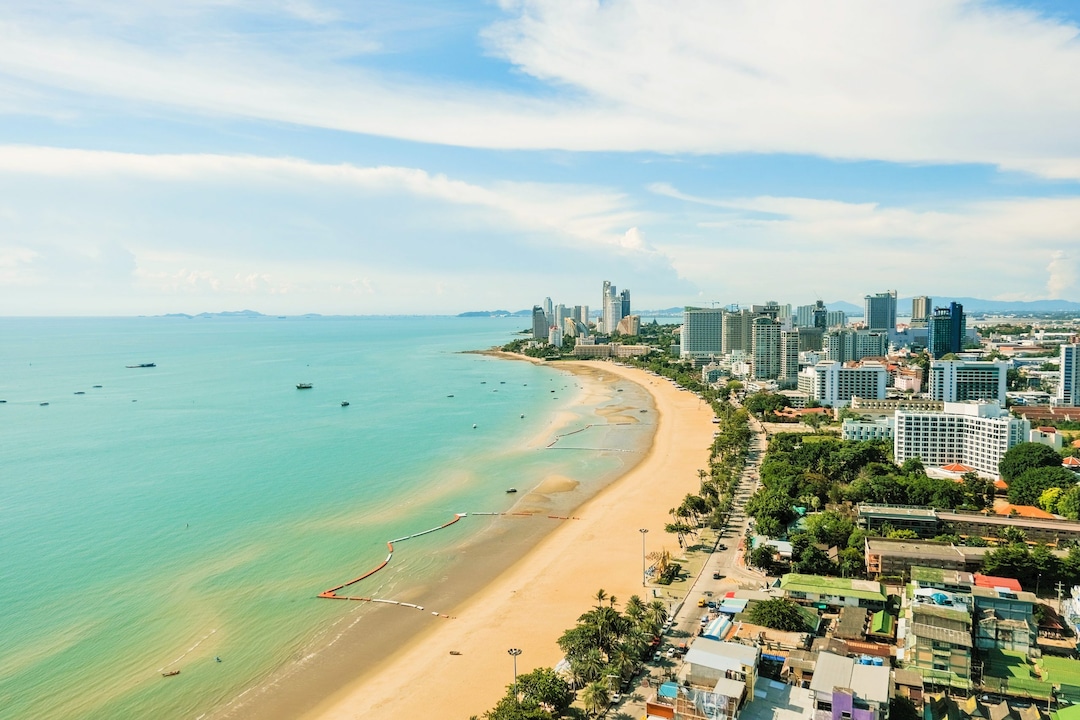 Pattaya is the vibrant coastal destination of Thailand, located at a distance of 140 km from Bangkok. The well-known nightlife and the beautiful beaches of Pattaya are among the major attractions of Pattaya, attracting thousands of visitors every year, making Pattaya tour packages the top-selling packages in the world.
Established around a wide crescent-shaped bay, Ao Pattaya, this exotic island is an ideal destination for adventure lovers with a plethora of enthralling adventure activities provided like windsurfing, bungee jumping, water skiing, cycling, swimming, skydiving, snorkelling, go-karting, sailing, Muay Thai (Thai boxing), paintball Muay Thai (Thai boxing), and much more.
For adventure foodies who don't pay much heed to fine dining experiences and would rather enjoy authentic street tastes, there is no better destination than Pattaya. From Chinese, Thai, French, and Italian, there is a wide and excellent palette of authentic eateries in Pattaya.
With so much to do in Pattaya, let's straight-up jump to sorting the list for the top 8 things to do in Pattaya.
Top 8 Things to Do in Pattaya
1. Nightlife in Pattaya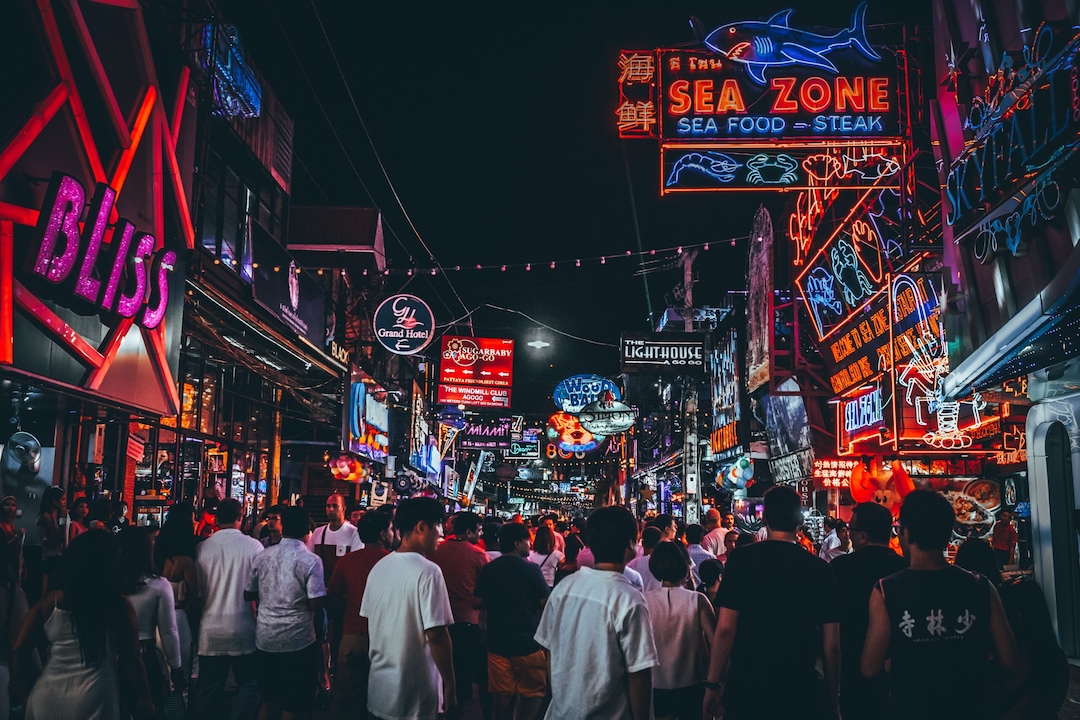 Pattaya nightlife is incomplete without "The Walking Street". The bright glaring of nightclubs, discos, bars, and all the other types of entertainment expands the madness of nightlife even more.
However, apart from this place, there are other nightlife hubs in Pattaya with different types of vibes and attractions.
2. Floating Market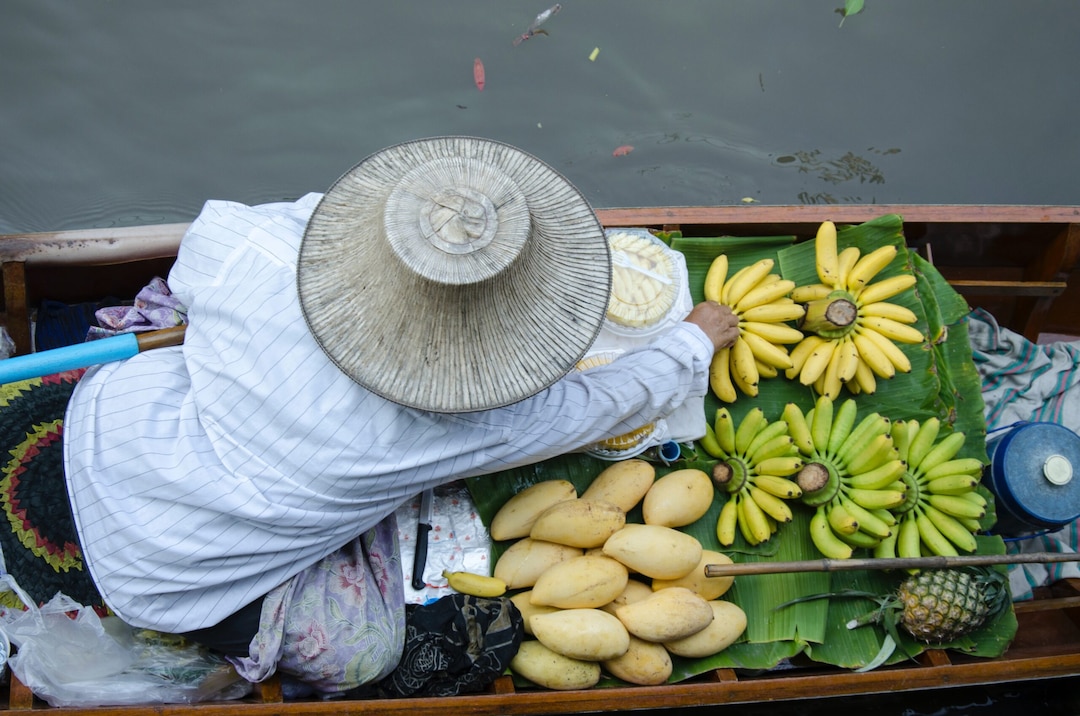 Divided into four sections, the Pattaya floating market represents and sells items from the four major parts of Thailand: North, South, Central, and Northeast. Around 114 vendors in their boats or canoes sell various things like eateries, fruits, souvenirs, local art and crafts, and much more. The boat vendors also sell some authentic Thai food, desserts, and local delicacies.
To get a more authentic experience, you can also hire a man-powered boat to discover the rich Thai heritage and riverside life.
3. The Tiffany Cabaret Show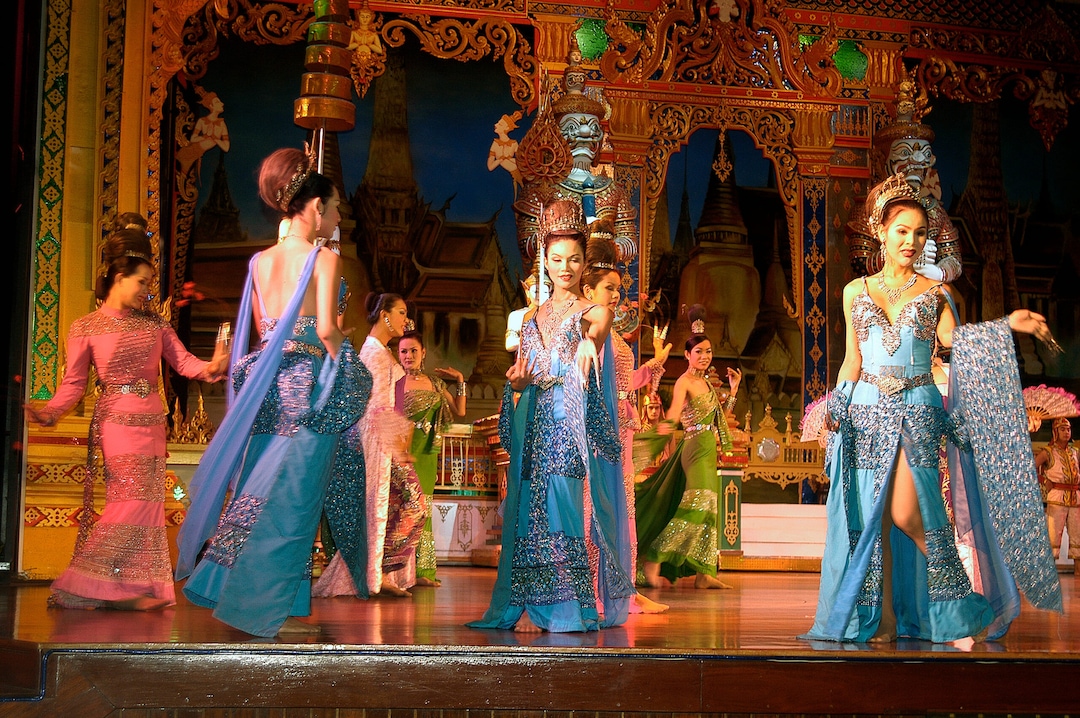 Amongst all the major attractions of Pattaya, the Tiffany's Cabaret Show is undoubtedly an overwhelming experience, contributing to the popularity of Pattaya. This show is organized at a grand theatre. The performers are dressed in long sweeping ball-gowns and plumes of feathers, with elaborate headdresses and skimpy polka dot swimwear. Oozing elegance and charm in their dazzling costumes, these artists colour the whole aura with their astonishing performances. The magical effects of the special lights, stylish costumes, choreography, beautiful music, and special effects by the team make the show even more worth experiencing.
4. Street Food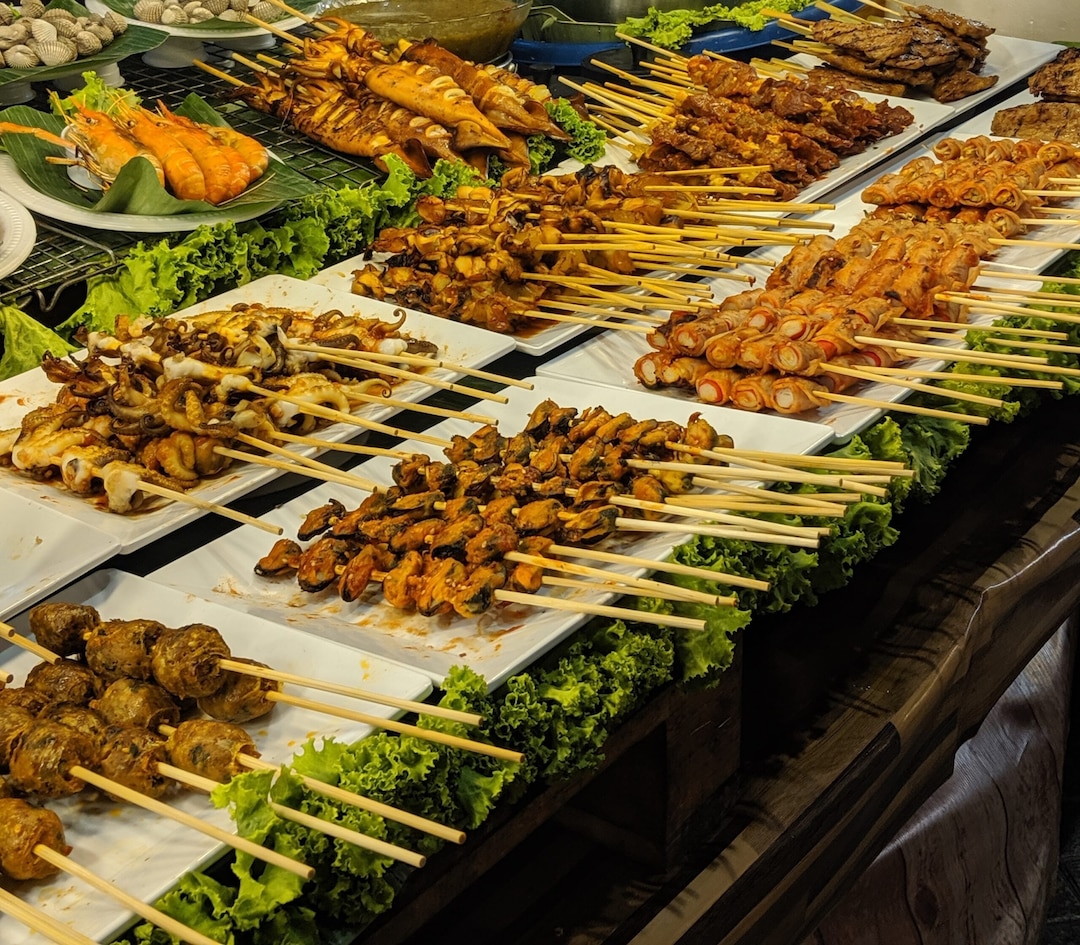 The fishing village of Pattaya is also famed for its pristine white sand beaches and delicious Thai street food. With a plethora of restaurants lined along the streets, it's impossible for a tourist to miss out on authentic Thai cuisine.
The local street food market of Pattaya in particular has a specific soft corner in every foodie's heart all over the world. Once you visit there, you can find everything from local food carts to food stalls, food markets to meatball vendors catering to every budget and taste.
5. The Elephant Village
The elephant village of Pattaya is a perfect destination for animal lovers who want to retain themselves from the hustle and bustle of the city and spend some time in solitude with animals. Opened with a noble cause of providing residence to all the retired working elephants, this magnificent place is managed by a non-profit organization, providing the retired elephants with a life of dignity and freedom.
The community also provides a guided tour or an elephant roundup to the nearby jungles, providing you with a glimpse of large elephant herds. They also provide demonstrations of the daily life of elephants, their training, work and food, elephant riding, and ancient war participation of elephants. Tourists can also play with baby elephants and take photographs with them as souvenirs.
6. The Sanctuary of Truth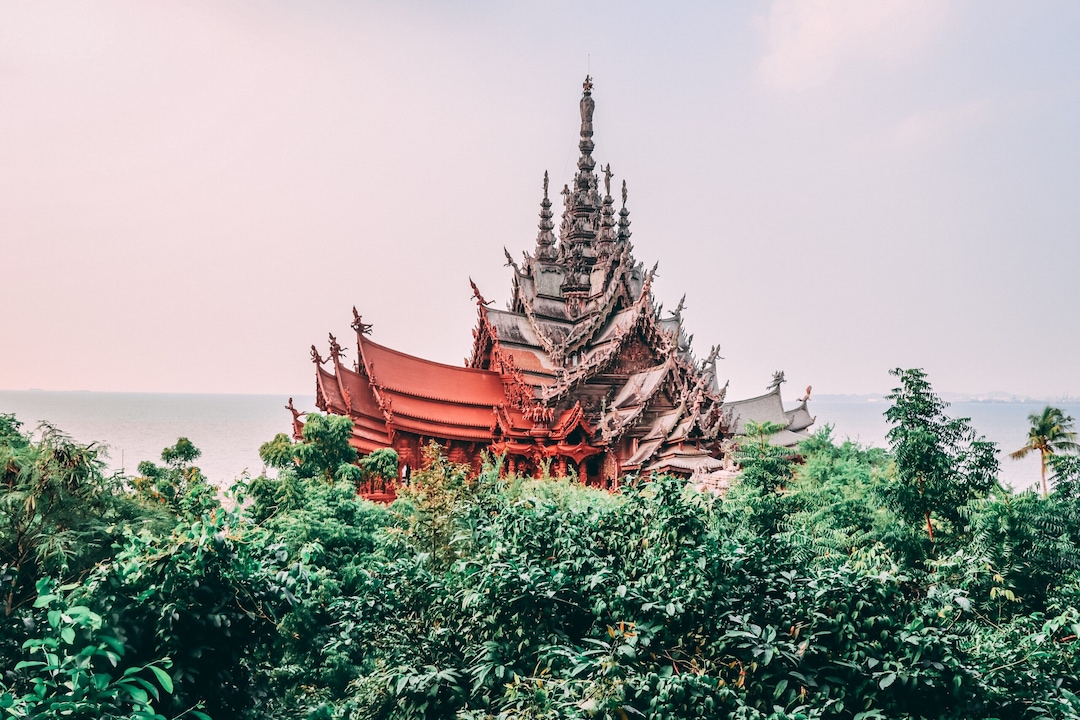 Intricately carved from teak wood, the Sanctuary of Truth is one of the most iconic structures in Pattaya. Rising 105 meters into the sky to the north of Wonga Mat Beach, the entire structure was built to pay homage to ancient religions and philosophies. The astonishing structure has incredibly detailed carvings both inside and outside that need to be seen to be believed.
7. Big Buddha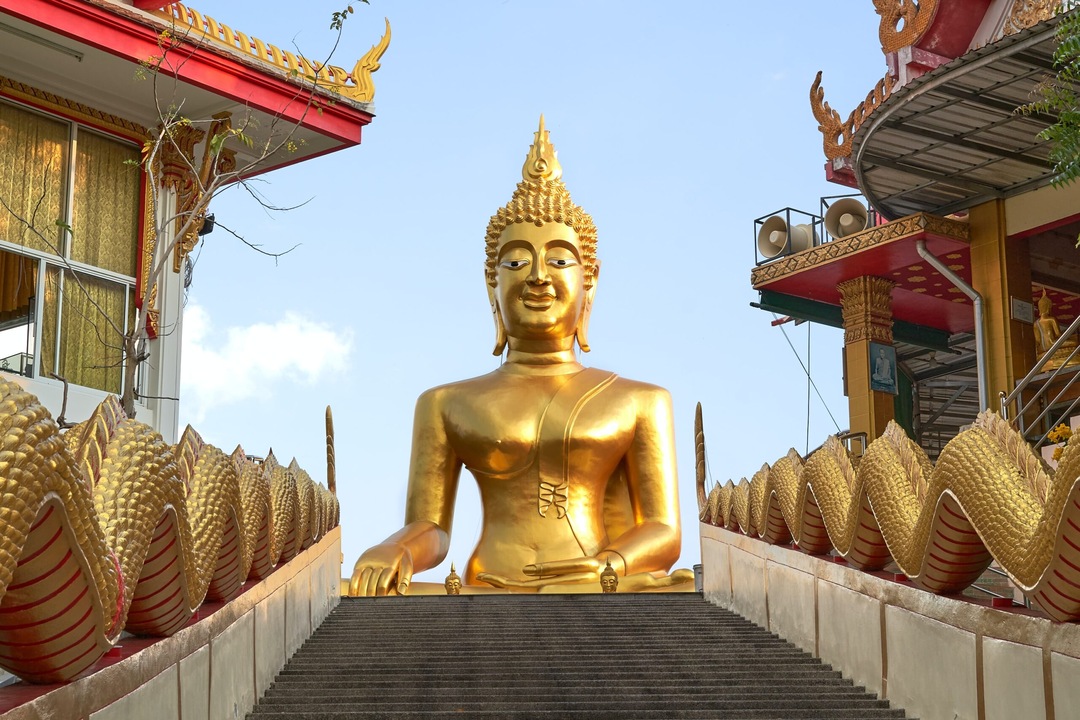 Between Pattaya and Jomtien beaches, on the top of Pratumnak hills, lies the biggest statue of Buddha is the highlight of Wat Phra Yai. The 18 m tall Buddha Statue is not just a major attraction among tourists but is also revered by the locals who come to pray at the temple.
8. Koh Larn (The Coral Island)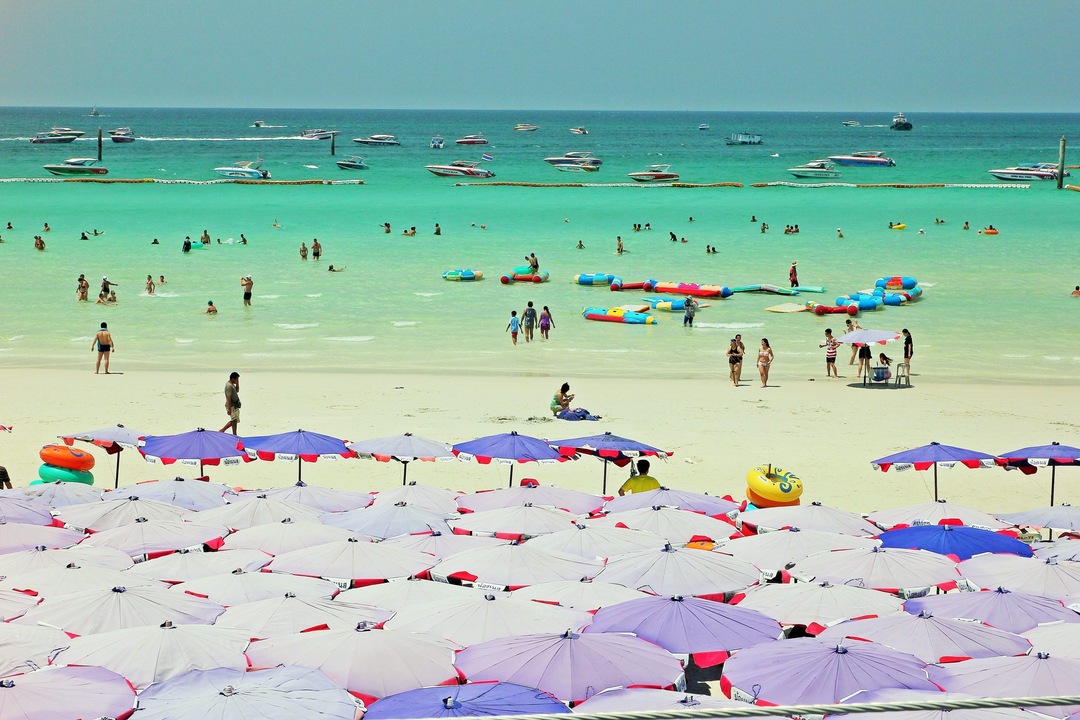 Koh Larn is a peaceful escape from Pattaya. Located at a distance of 30 minutes by boat ride from Pattaya, Koh Larn is home to white-sand beaches and various adventure water activities like parasailing, banana boat rides, and underwater sea walking. The place is also one of the most popular destinations for family vacations in Pattaya.
How far is Pattaya from Bangkok?
The distance from Bangkok to Pattaya is around 147 km which can easily be covered in 2 hours of driving.
There are 7 ways to get from Bangkok to Pattaya – by bus, train, taxi, flight, own vehicle, Songthaew, or a tuk-tuk.
By Bus
Buses from Bangkok to Pattaya are one of the most popular routes taken by tourists in Thailand. The journey by bus from Bangkok to Pattaya usually takes up to 3 hours, depending upon the varying traffic conditions. People who are coming from the Suvarnabhoomi international airport can take up the buses available outside the airport easily.
By Train
The train journey between Bangkok and Pattaya is around 175 km, which takes 4 hours to cover. Typically seven trains run weekly from Bangkok to Pattaya. However, schedules can change accordingly for which you have to keep a check on the train schedules in advance.
By Flight
The Suvarnabhumi International Bangkok Airport to Pattaya distance is around 120 km. People who are coming to Pattaya for the first time can take a flight to Bangkok. To cover the rest of the Bangkok Airport to Pattaya distance they can hire a taxi which is available at a reasonable price from the Suvarnabhumi Airport of Bangkok.
There are no major airports in Pattaya. It is instead served by Suvarnabhumi airport. The busiest season to the destination is considered to be January, November, and December according to which you can plan. However, it's always advised to book flights at least 3 weeks before the departure to get good discounts on some Bangkok to Pattaya air ticket prices.
By Taxi
Pattaya is located at a distance of 147 km from Bangkok. Hardly a 2 hrs drive from the capital city, one can easily hire a taxi from Bangkok to Pattaya. If you are already staying in a hotel in Bangkok you can expect to arrange a reliable taxi service for you, by the hotel, which will charge a reasonable Bangkok to Pattaya taxi fare.
1500 baht is the official taxi meter rate from the city, according to which the Bangkok to Pattaya taxi fare will be charged; however, you can always negotiate the price.
What is the best way to travel to Pattaya?
If you are travelling to Thailand for the first time, you can either avail the specifically curated Bangkok tour packages by travel experts or just explore the place like a bag packer. This way you can also get some amazing discounts along with some premium services.
People who don't have much time and want to cover all the major attractions of Thailand in a few days can go for specially customized Thailand itineraries which provide a great mix of leisure and sightseeing.