Reading Time:
17
minutes
Australia and New Zealand set a benchmark of an idealistic imagery of what Planet Earth should be like! These sacred lands are still untouched and raw, welcoming humans to live their core nature with the harmony of nature's acoustics. They await you to explore these lands with every Australia New Zealand tour. A trip to these lands satisfies your soul that holds an urge to travel the world! The region full of picturesque, popular and yet offbeat places lies in this mystical land, full of flawless natural treasures and is the dearest choice of every travel enthusiast.
A world of new experiences awaits you in this continent of surprises! The Pacific heaven will amaze you with its remarkable scenery and cultural significances. It brings together everything best available into an Australia New Zealand tour, for a one of a kind memory and travel story that can be shared with your loved ones. The Australian continent is an all year round destination with so much to offer every time that, travelling here just once wouldn't be enough! With never-ending options of what these Pacific lands can offer, here is the list of top places to visit in Australia and New Zealand that will give you some serious offbeat travel goals:
1. Fraser Island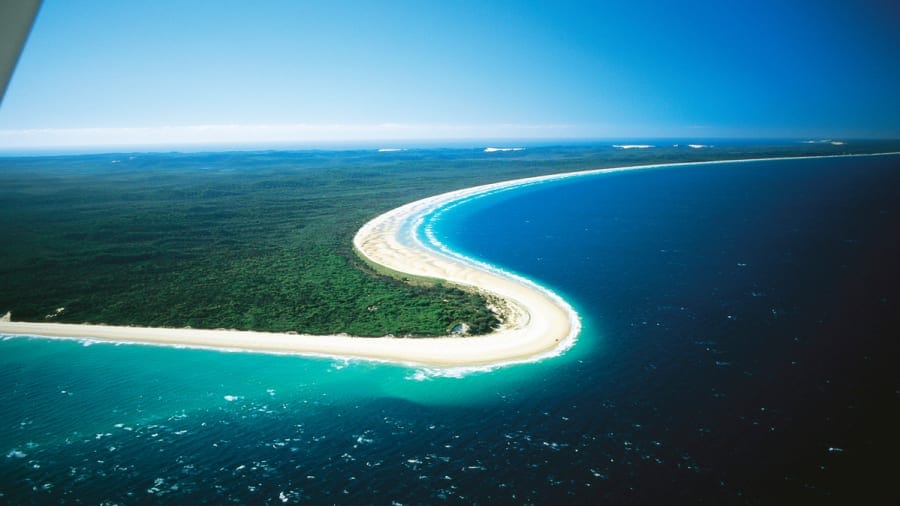 Famed as the largest sand island in the world and one of Australia tours' top outdoor adventures, Fraser Island is a renowned World Heritage Site! The euphoric land of perfectly crafted beaches with pristine sands and turquoise waters is something that leaves every traveller spellbound. Freshwater creeks, lakes and springs, towering sand dunes and ancient mystical rainforests crowned with an amazing diversity of flora and fauna.
2. Great Otway National Park

Draped in rugged coastland, beaches, summits of the Otway Ranges and the dazzling 3 cascades of Triplet Falls, Great Otway National Park is truly Australia's land where the ancient mythical giants met the ferocious waters! Every moment you spend in this mystical forest land will connect you back to your true roots and even Mother Earth, as part of our Australia tour packages. Indeed, the most picturesque dreamy escape in the lush green realm awaits here!
3. Freycinet Peninsula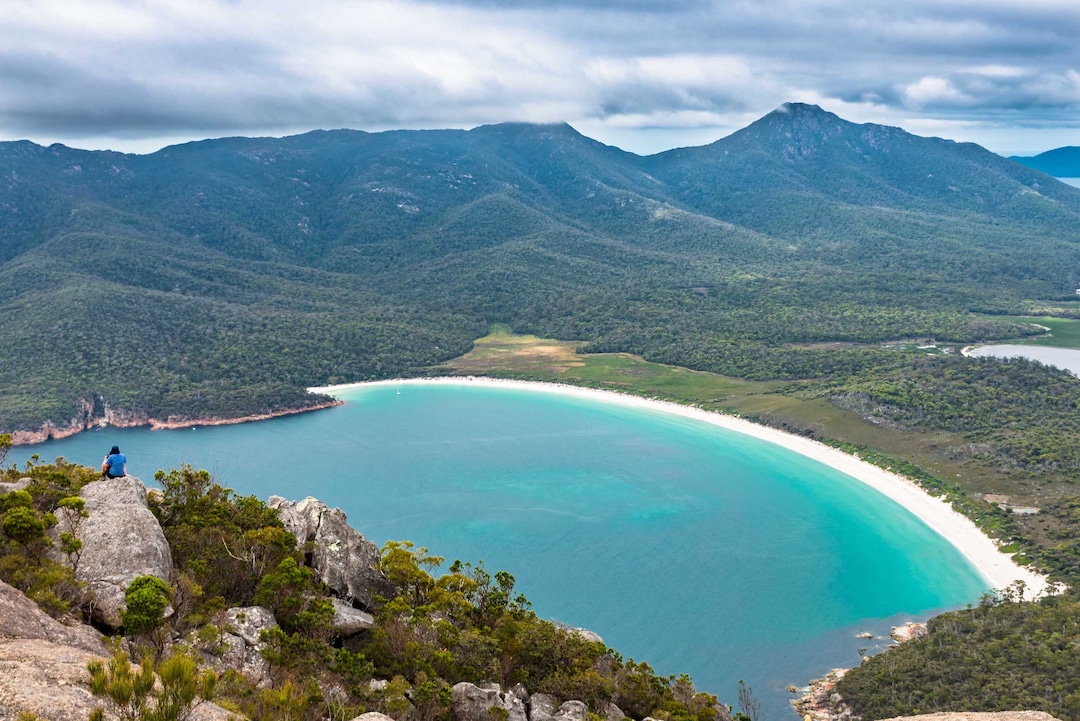 Located on the eastern coast of Tasmania, Australia, the Freycinet Peninsula is crowned with Freycinet National Park. Something which is straight out of the most cinematic travel video, this is one of the most incomparable locations on earth and also one of the best places to visit in Australia! Being here will remind you what perfectly sculpted nature would look like. The naturist traveller, hunting for his dream escape cannot afford to miss this miracle!
4. Broome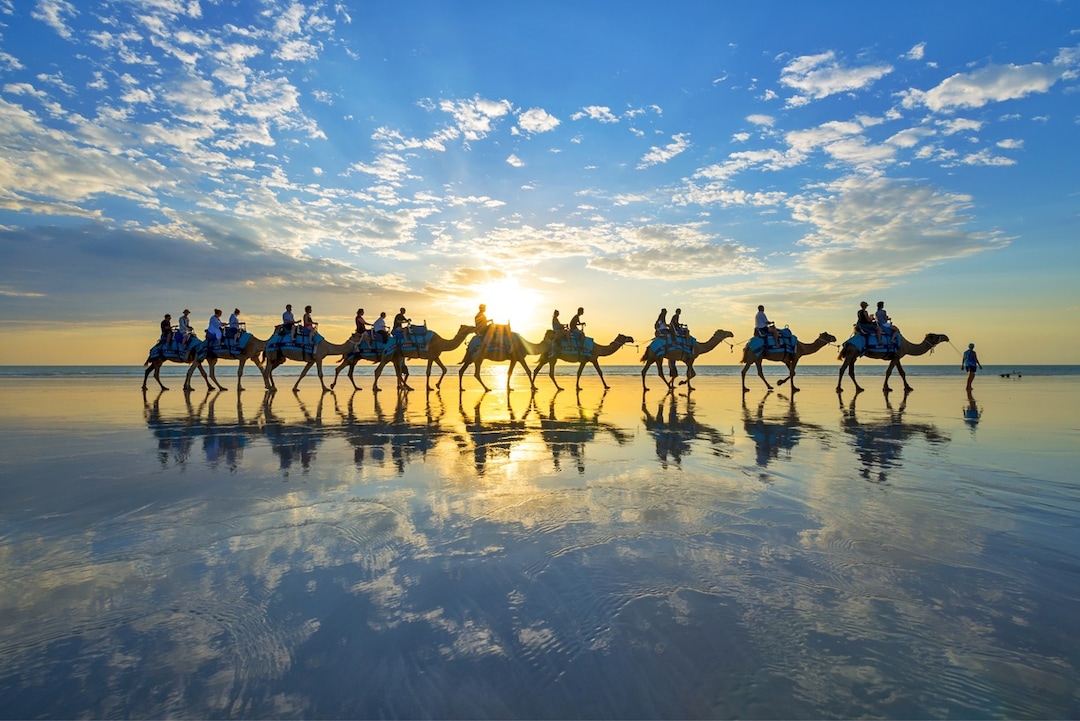 Broome is a popular beach lover's paradise and a resort town, located in the Kimberley region of Australia. Take camel rides on the Cable Beach, and experience how it feels to be a part of a painting, as the silhouettes of the ride are captured on the canvas of the sunset. Explore the Broome Historical Museum, Broome Crocodile Park and the Staircase to the Moon, a spectacular phenomenon which can be witnessed between March and October, where the moonlight paints a delusional optical illusion of steps leading to the moon! This Sunset Land is remarkably something that should be experienced once in your life with our Australia tours!
5. Great Barrier Reef

Scuba-divers dream paradise! Great Barrier Reef is the largest living thing on Earth and famed to be visible from the space. This ecosystem comprises overall thousands of reefs and hundreds of islands made of over 600 types of hard and soft corals which are the natural kaleidoscope of our planet. With the mosaics of countless species of colourful fish, molluscs, starfish, turtles, dolphins and sharks, this true heaven even for aquatic life! A phenomenon which is titled to the top of most traveller's bucket list, the Great Barrier Reef is one of the main reasons for many Australia tours.
6. Mooloolaba
Located close to Brisbane, this tourist resort township on the Sunshine Coast of Queensland is everything you could possibly desire in a beach holiday. With most calming waves dancing on the serene sands and lively ambience with multiple events, this destination will redefine beach culture to you, all over again. Experience perfectly crafted nature and the peace that soothes your soul and yet at the same time, get excited to travel, explore and celebrate life along with our Australia tour packages!
7. Paronella Park – Devil's Pool – Josephine Falls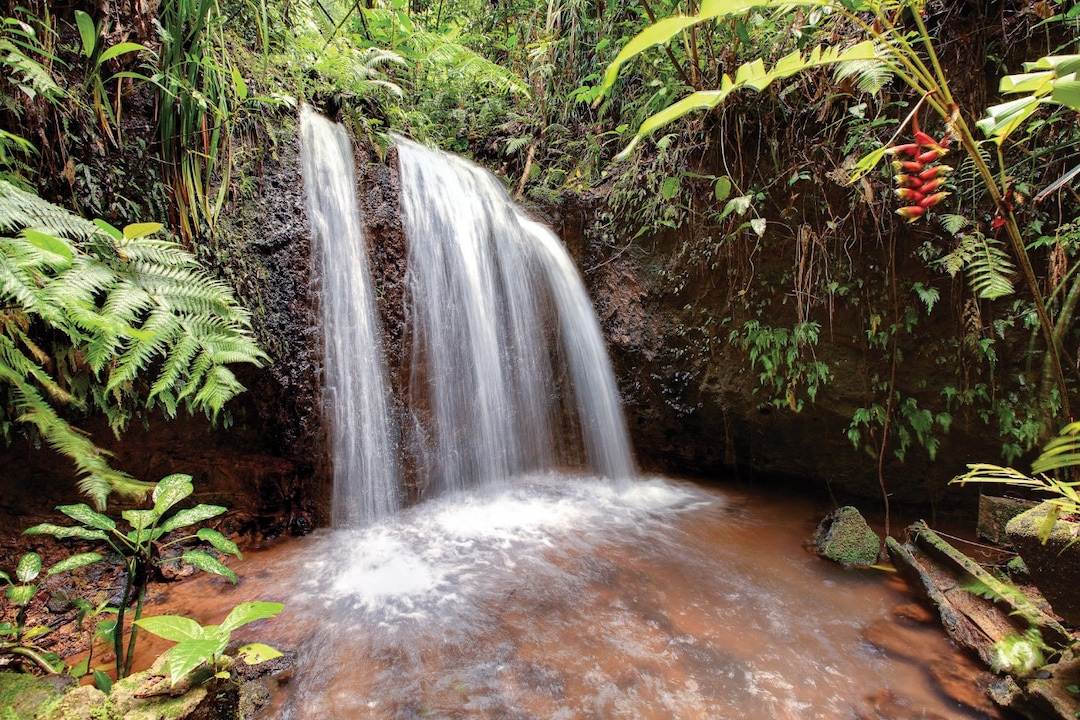 Paronella Park remains a unique eco-friendly experience where a magical, unforgettable place nestled amongst heritage gardens is brought to life. Explore the thrilling attraction of Devil's Pool. It is also known as the Babinda Boulders. And, can be experienced by customizing it in the holiday packages Australia. This natural pool at the conjunction of three streams near Queensland will surely hit the adrenaline rush to its epitome! Along with these two attractions, explore the cascading Josephine Falls and swimming hole, which are ranked amongst some of the most beautiful waterfalls in Tropical North Queensland Australia. The beauty of all of these combined sets a perfect Trinity experience of natural embrace which can be experienced along with Australia tour packages.
 8. Catseye Bay, Hamilton Island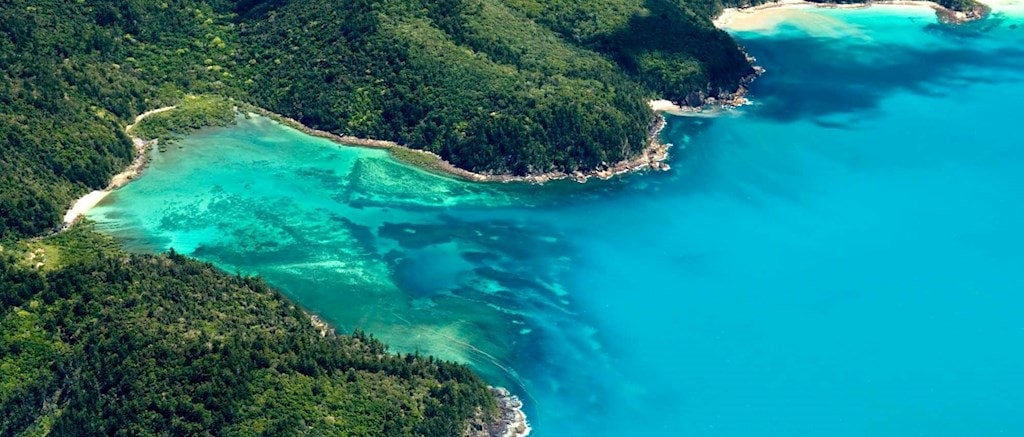 The northernmost land on the continent drenched with indigenous culture, with around 17 communities and so much history, makes the Catseye Bay of Hamilton Island, one of the most culturally intriguing sites amongst all Australia destinations. Experience the swimming holes, rainforest, rock art, fishing and pristine beaches, just like Captain Cook! Explore beaches, rainforests and major cities, surf-bashed coastlines of the west and at least 50,000 years of Aboriginal culture when you travel to Catseye Bay!
9. Noosa Everglades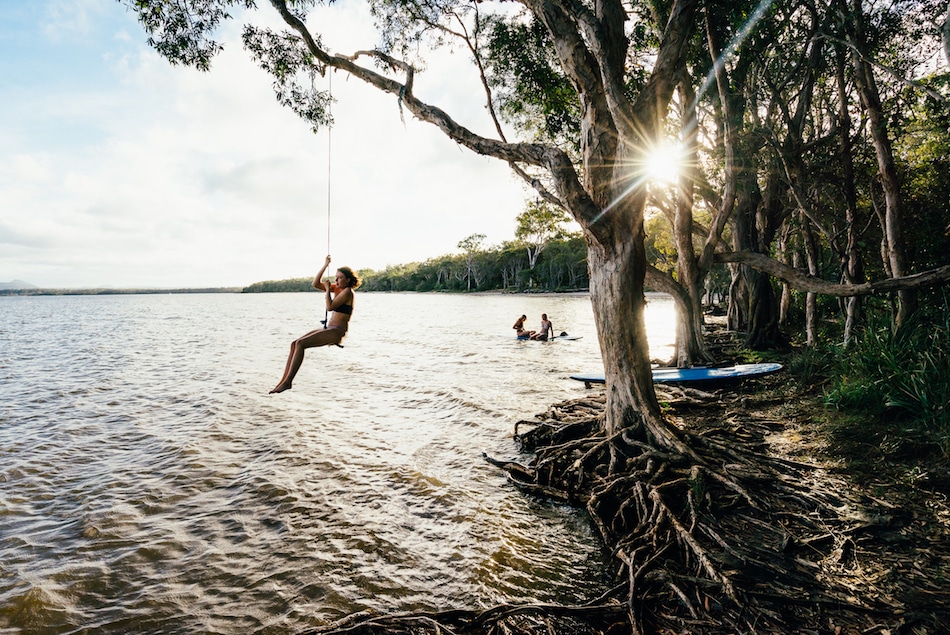 Entitled for being one of only two 'Everglades' systems on Earth, Noosa Everglades is a world of water, wilderness, wonder and a lesser known secret amongst many Australia destinations. With perfectly crafted serenity, Noosa Everglades is a perfect imagery of paradise. The River of Mirrors, famed for the attribute of painting amazing reflections in the water, lies in the upper reaches of the Noosa River. This scenic stretch of pristine waters, magnificent flora and fauna is must-see for the offbeat travellers.
10. Flinders Ranges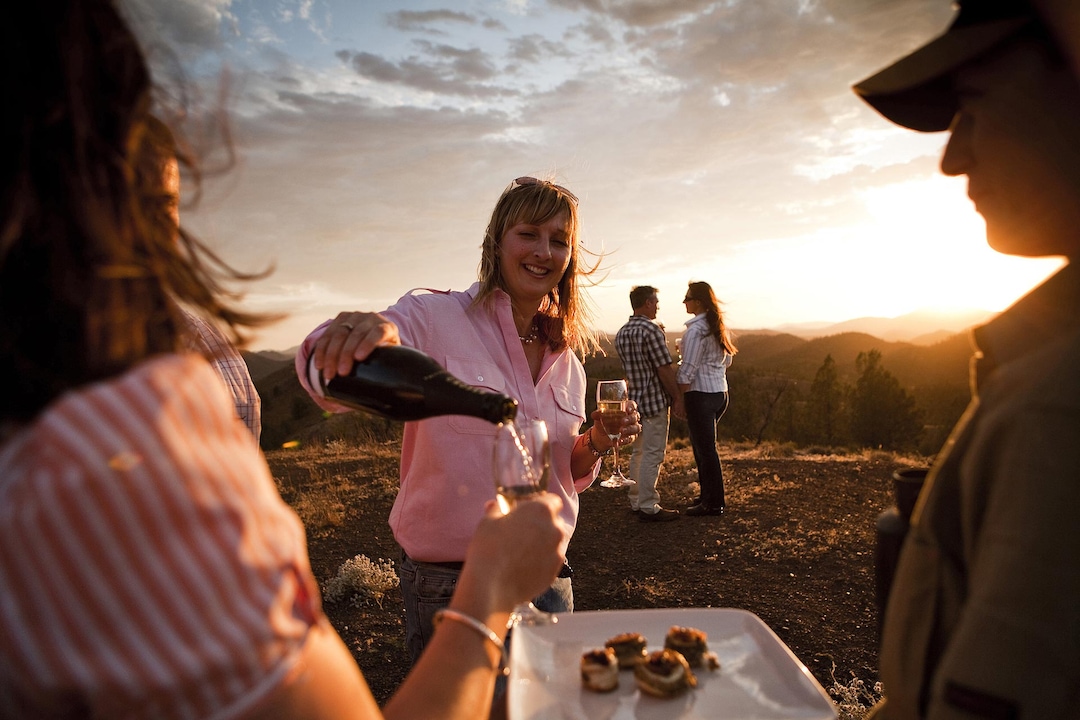 Flinders Ranges is easily one of the most picturesque wine regions of Australia. Exploring Australia destinations without pampering your taste buds with its finest wines, is truly an incomplete experience! Take a balloon ride over the Ranges and witness the spectacular aerial view of the region. This phenomenon can be included in your customized holiday packages to Australia.
11. Wyadup Rocks – Injidup Natural Spa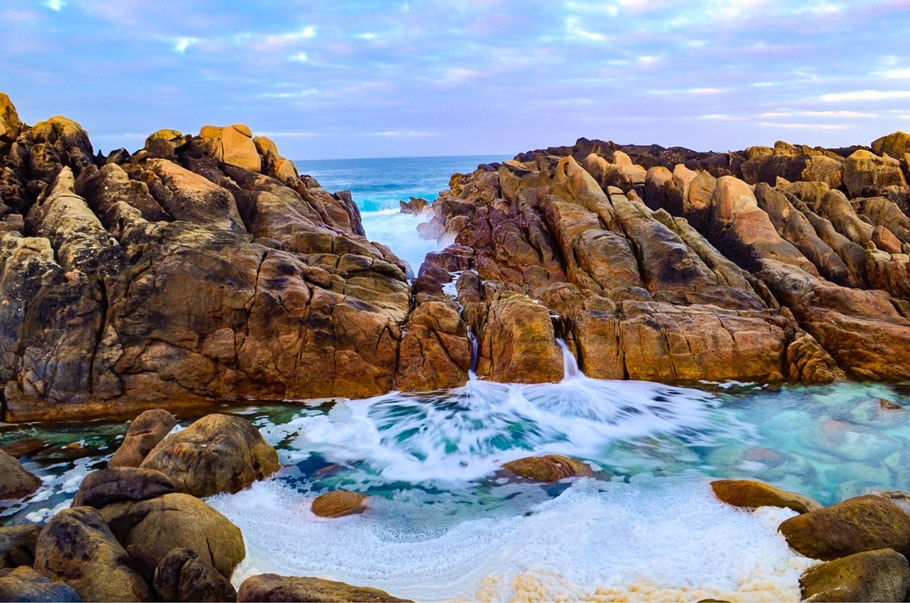 A hidden gem of the South West region in Western Australia, Injidup Natural Spa is an exceptionally beautiful natural phenomenon. The stunning tranquil water gushing over the rocks, forming a refreshing arena of the refreshing spa. It can be included as part of your customized holiday packages to Australia. A hidden rock pool treasure, Wyadup Rocks, is the true lesser known secret and yet something that a picture-perfect postcard would look like!
12. Matapouri, Northland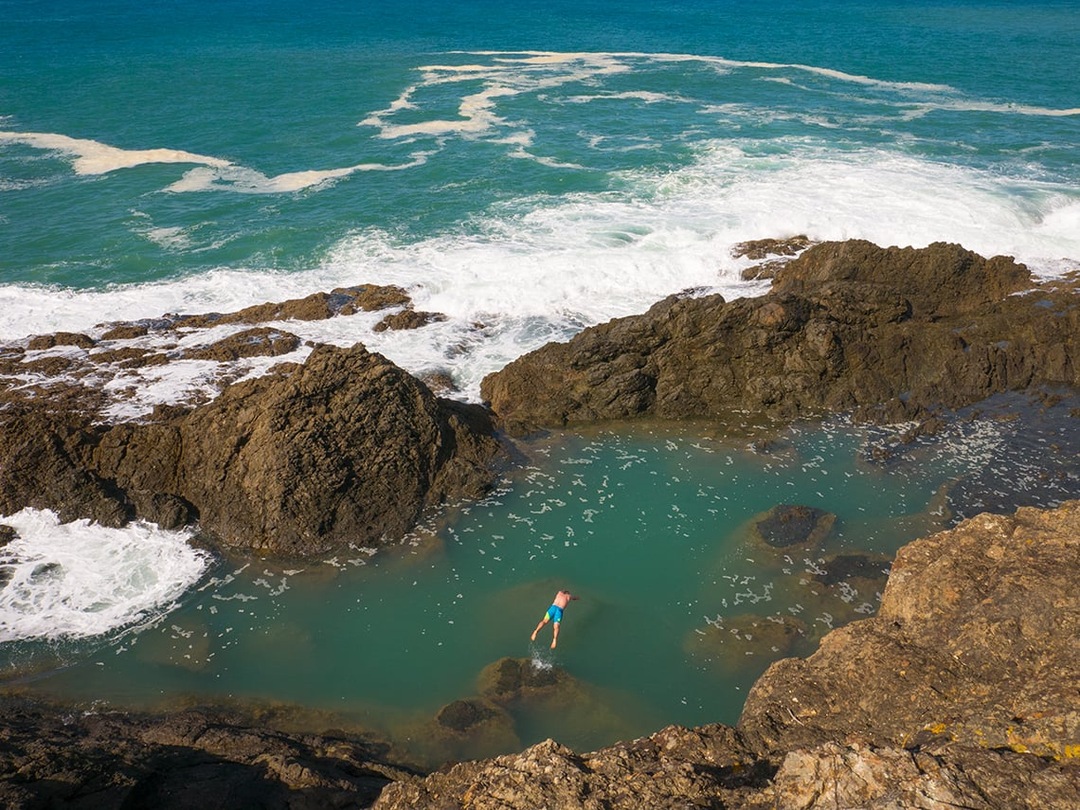 A coastal settlement in Northland of New Zealand, Matapouri is something that is straight out of a fairy tale. The Mermaid Pools are the popular landmarks of the land. They are huge hidden emerald rock pools that are deep. So deep, that you can right on, dive in! This alluring destination offers idyllic, picturesque and treasure with its topography!
13. Roys Peak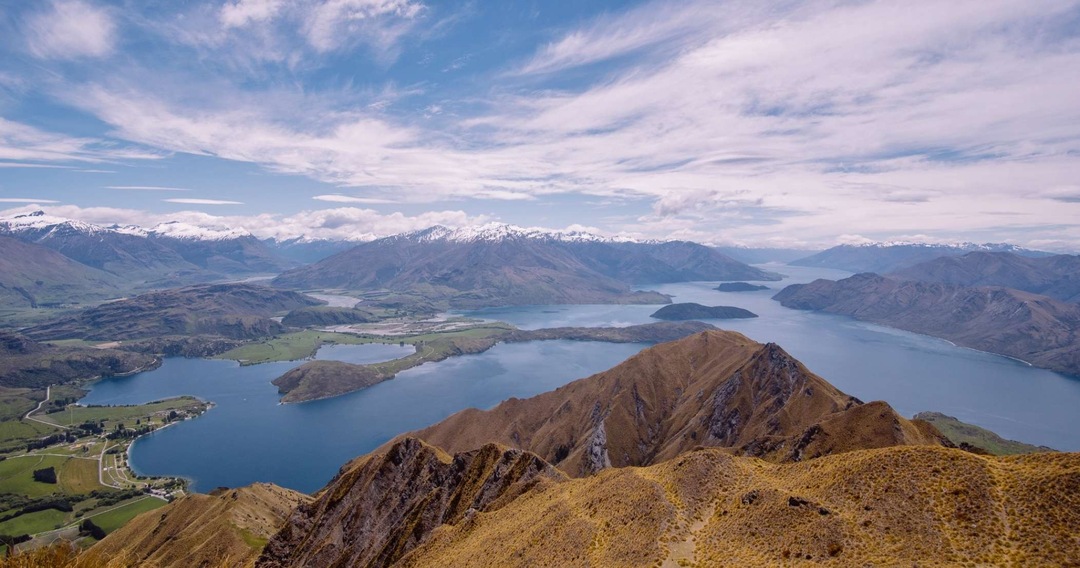 A hikers' paradise with a breathtaking reward at the end, is what the legendary attraction of Roys Peak is all about! Challenge your adrenaline rush and set for the 6-hour return hike; the adventure with enchanting scenic rewards await you right here!
14. Skyline, Queenstown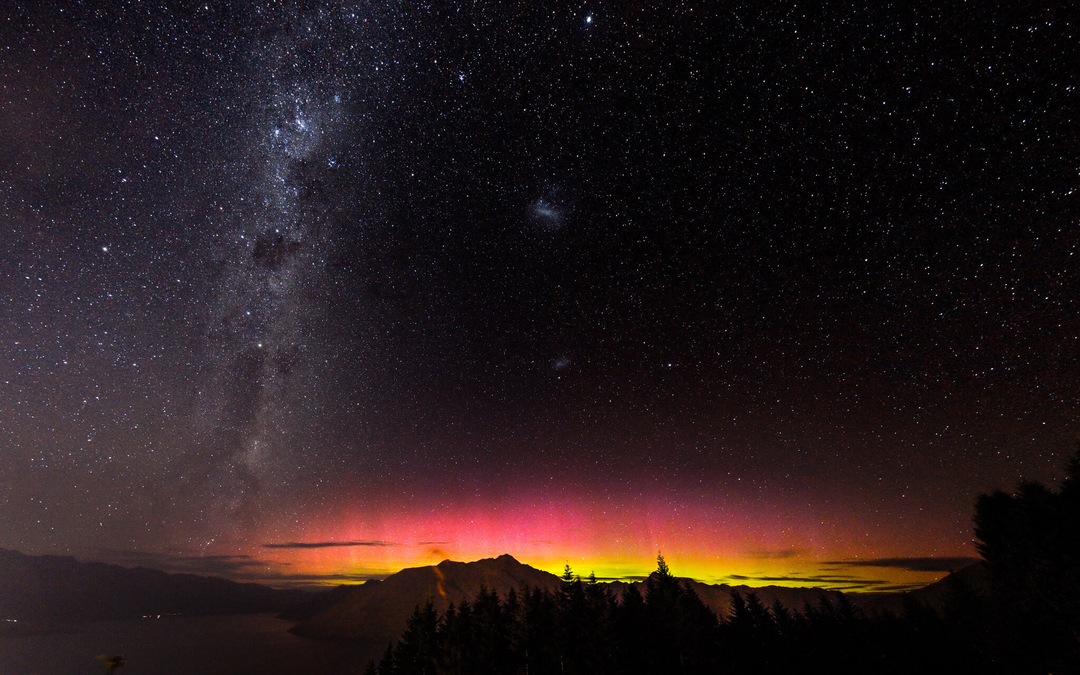 Explore Queenstown, known as the 'Global Adventure Capital' of the world and famous for its adrenaline-rushing adventure sports. It is truly a destination that is irreplaceable around the globe! Take a journey into the hidden world of crystal clear skies of Queenstown. The Skyline Queenstown is famed as the perfect setting for a unique Skyline Stargazing encounter. The aesthetic synchronization of the universe will take you on a specially-constructed area high above the Gondola, where you witness an unbelievable array of the night sky!
15. Waitomo

A village on the North Island of New Zealand, Waitomo is famed for its extensive underground cave systems. The magic begins when thousands of glow-worms light up the caves, giving it the name of Glow-worm Caves. The Waitomo Caves are an amazing spectacle of the Glow Worm Grotto which can be explored on a silent water boat ride. This phenomenon has become one of the most popular places to visit in New Zealand. Explore the untapped attraction of Lost World of Waitomo, which will redefine exploration for you. Indulge in Black Water River Rafting, which is one of its kind in the world!
16. Hell's Gate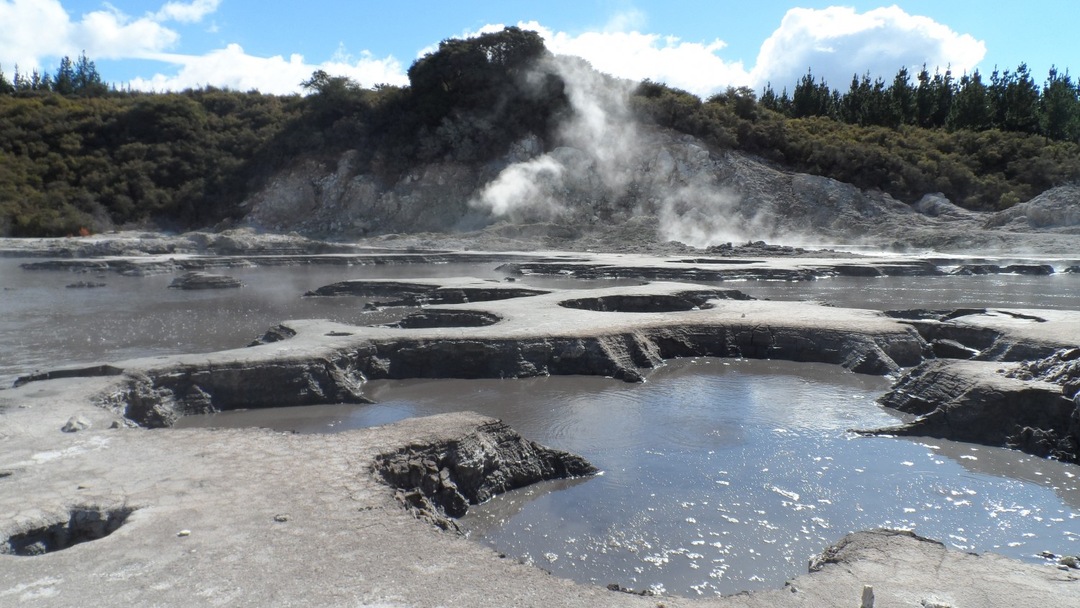 Hell's Gate geothermal attraction is Rotorua's most active geothermal park. It is known to be the "awesome beast" of New Zealand's geothermal attractions. Hell's Gate geothermal attraction features boiling hot pools and erupting waters of 100 degrees Celsius, forming the natural steaming fumaroles and hot water lakes. The dramatic phenomenon of Hell's Gate is one of the most intriguing attractions of New Zealand.
17. Fox Glacier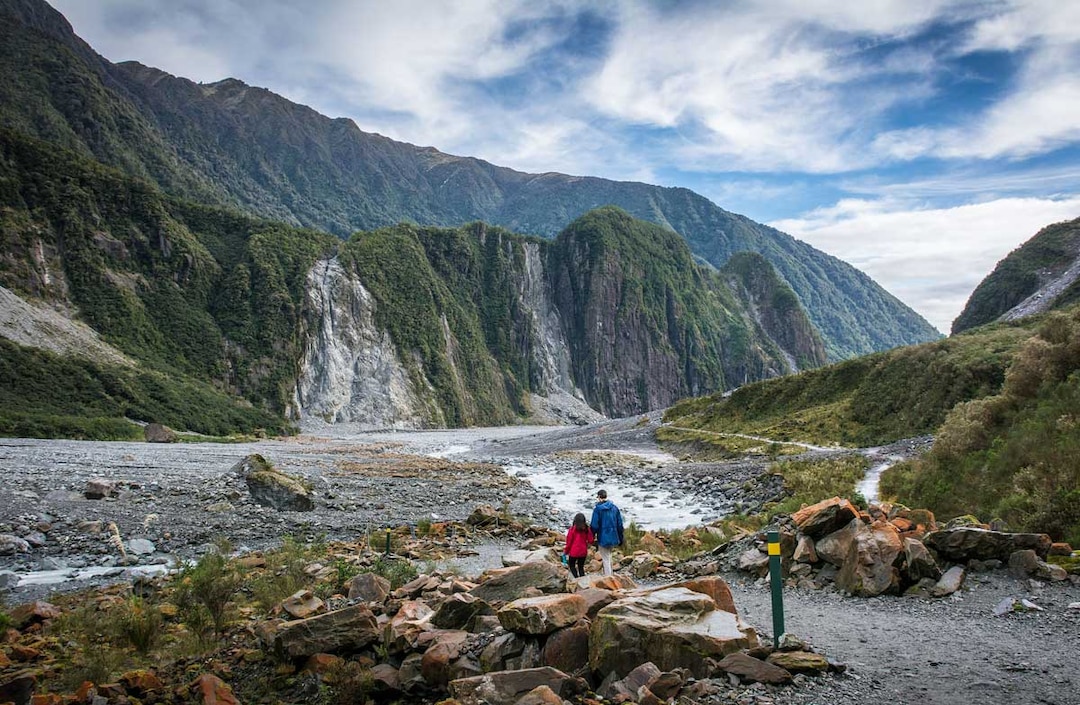 A 13 km long glacier, located in Westland Tai Poutini National Park on the West Coast of New Zealand's South Island is this popular Fox Glacier. Experience it along with New Zealand tours. Indulge yourself in the Flying Fox Heli Hike activity which will trace the perfect adventure of a lifetime for you! Along with this, explore the scenic attractions around here, like Lake Matheson, Glacier Valley and Gillespies Beach.
18. Milford Sound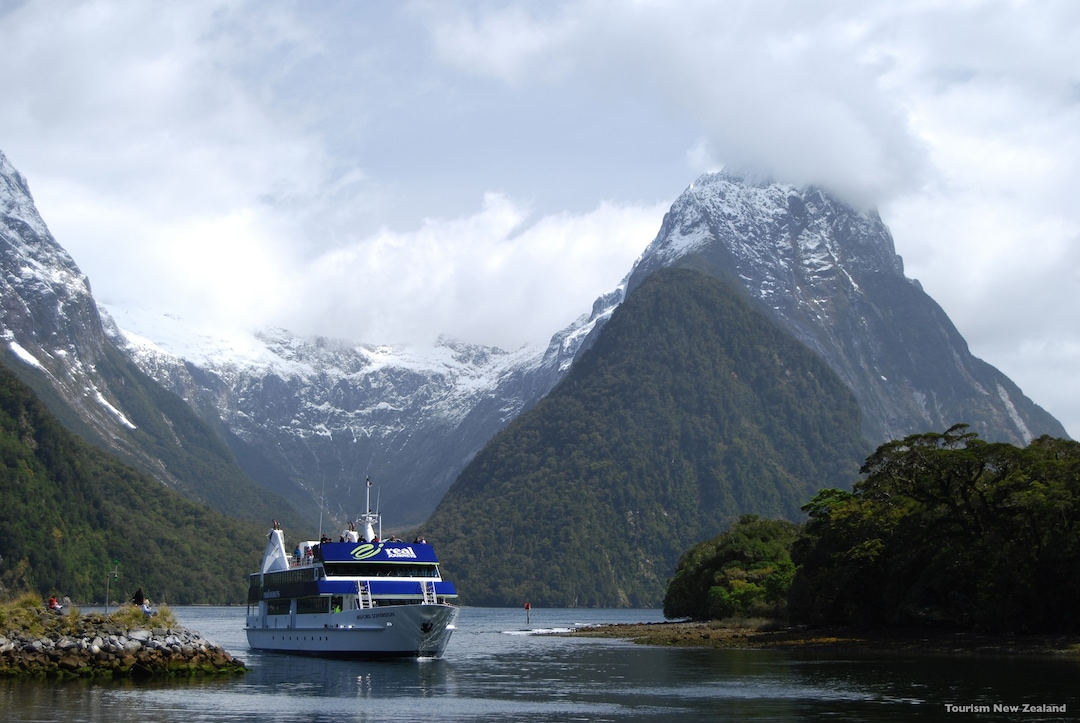 Milford Sound is New Zealand's most famous tourist destination with unparalleled natural beauty. A scenic ride aboard the Milford Sound Cruise through the Fjord National Park along with an experience of the spectacular views of Mitre peak, Brown Waterfall and many more breath-taking waterfalls are unimaginably perfect.
19. Kelly Tarlton's Sea Life Aquarium – Auckland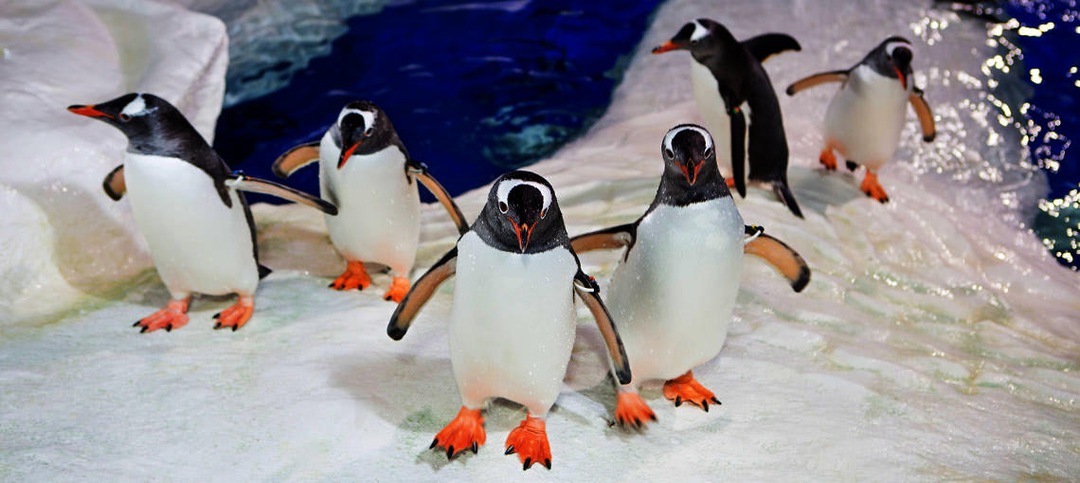 Kelly Tarlton's Sea Life Aquarium is a public aquarium in Auckland, New Zealand and is home to the most incredible marine life from the Pacific and Southern oceans. New Zealand's only sub-Antarctic penguins are also the happy residents of this undeniably beautiful and one of a kind Aquarium. This aquarium is equally mesmerising to every one of simply any age group!
20. Bottle Lake Forest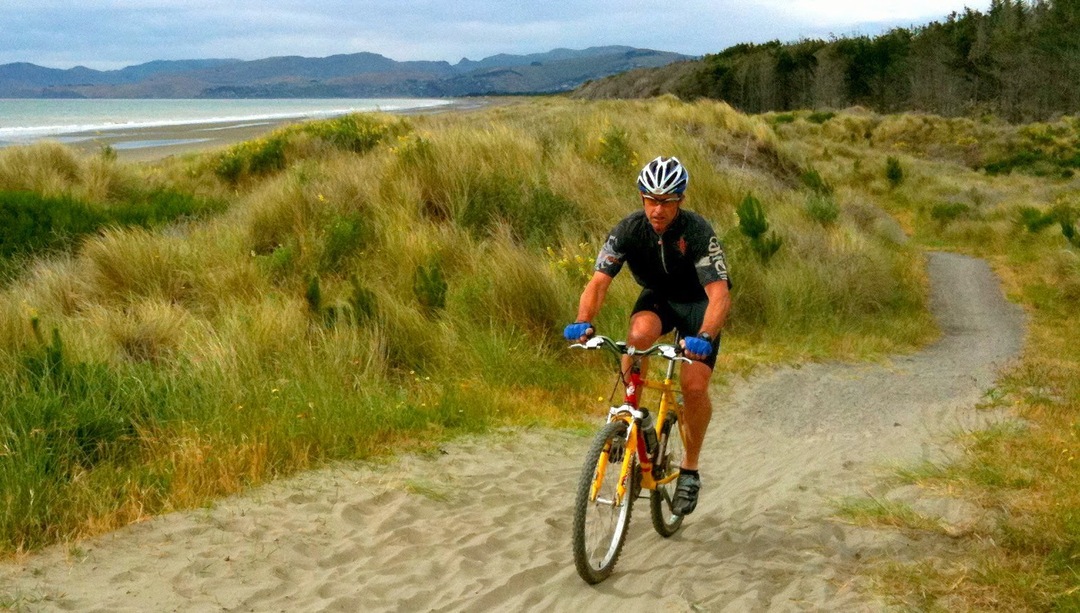 Quench your thirst for adventure! Head for a one of a kind mountain biking experience on the Bottle Lake Forest with New Zealand tours. These popular tracks are the green & blue tracks which trace trails to hit up your adrenaline rush. The scenic ambience of the tracks with trees and beautiful lakes give a lively spirit to the adventure!
21. Great Barrier Island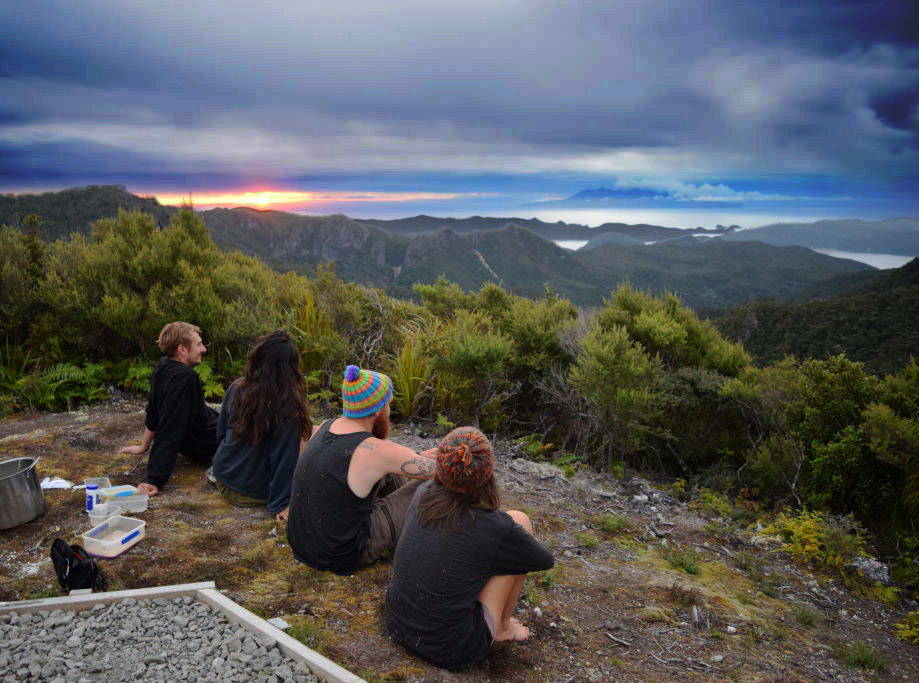 Great Barrier Island is one of the most magical places to visit as part of New Zealand tours. It has remained untapped and one of nature's best keep secrets! Hidden in the embrace of this land, the white sandy beaches flaunt gushing tranquil secret waterfalls and relaxing natural hot spring. Great Barrier Island is the only island in the world to receive Dark Sky Sanctuary status. Great Barrier Island is undeniably a stargazer's dream come true! Set your nights to trace the patterns in the sky and enjoy being so close to the universe!
Australia is a land of savage beauty. In addition with big gifts of adventure and even bigger horizons which can be witnessed with our holiday packages Australia! Whereas the name New Zealand itself gives most travellers the adrenaline rush that they live for! The aesthetic synchronization of art, history and culture at both these destinations has given birth to incredible heritage. Australia is famed as the island dream of almost every traveller with endless places to visit.
Whereas, New Zealand is known for being one of the cleanest and greenest countries in the world! And what more, truly a phenomenal travel destination to explore! Blessed with rugged mountains, remote valleys, beaches, glaciers, fjords, and enchanting forests, it is the perfect example of abundant natural beauty. Live the island dream of the Pacific with intricately handcrafted Australia and New Zealand tours of Veena World. We thrive to empower you with the most fascinating memories and invite you to relish our legacy to travel, explore and celebrate life!