Reading Time:
9
minutes
Yumthang Valley is a place tucked away in the northern part of Sikkim where heaven meets Earth. The sheer simplicity of this tourist destination is the reason why a lot of tourists flock to it every year. While some avid travellers have Yumthang Valley in Sikkim on their bucket list, others might not even be aware of its existence. This is because of the limited knowledge about this piece of paradise that makes it the perfect place to vacation with your loved ones. Making friends with nature is possible here because you will not find "urbanization" robbing away your chance to see unique flora and fauna here. One important to note here is that you will need a Protected Area Permit to visit this valley that can be arranged by a well-established travel company. Mentioned below are some key points that will help you look for the best Sikkim tour packages with Yumthang Valley in their itineraries:
Best Time to Visit 
Yumthang is fondly known as the valley of flowers due to the distinctive species of Rhododendrons that grow in this part of the country. Keeping this in mind, it would be wise to plan your vacation when you can see Yumthang Valley, Lachung in all its glory. Since it is situated at an altitude of 3,564 metres, weather conditions are mostly cold. So, the months of December, January, and February would be very chilly to truly appreciate this travel destination. A benefit of vacationing in the latter half of February is that you can witness the Losar Festival celebrated by the people of Lachung every year. However, if your goal is to have a peaceful vacation and Yumthang Valley in December might be too cold for you, then a trip can be planned in the autumn season that lasts for a short time in October and November. The best time to visit Yumthang Valley is during the summertime when the flowers are blooming, and the climatic conditions are pleasant. Yumthang's title as the valley of flowers is justified in the months between May and June. The temperature in Yumthang Valley ranges from 14 degrees Celsius to 20 degrees Celsius with a few rain showers in isolated regions.
How to Reach Yumthang Valley
As the flowering season in Yumthang Valley is when most tourists plan their vacations, it is best to plan your vacation in advance. The nearest airport to this hilly region is in the capital city of Sikkim, Gangtok. You can take a bus ride or book a private taxi from the airport to Yumthang Valley and enjoy picturesque views of the Himalayas. An enjoyable train journey can also be arranged to this tourist spot. Lachung's railway station is 25 km away approximately.
Things to Do in and around Yumthang Valley
Having an unforgettable vacation in Yumthang Valley, Lachung is a dream that can come true if you know the place in and out. Referring to a reputed travel company is the right way to make your trip truly magical. There are a number of places to visit in Lachung with so many fun activities for people from all age groups. Here are 6 exciting things to do in Yumthang, the valley of flowers, and places nearby:
1. Explore the Valley of Flowers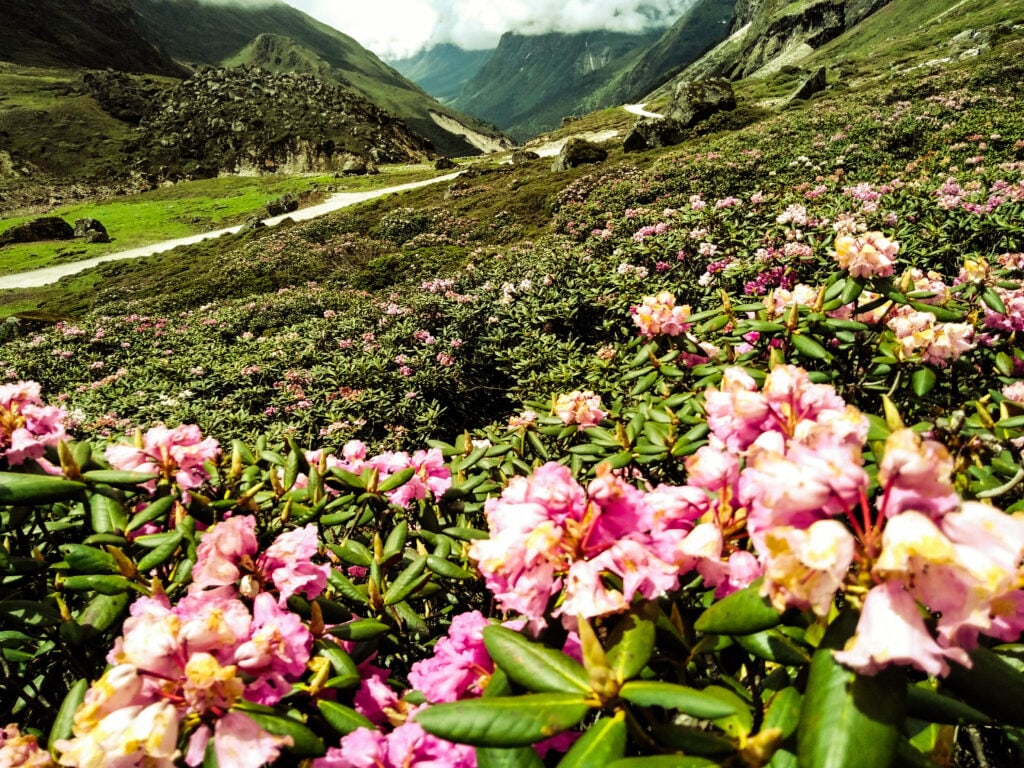 First and foremost, you must scout tour packages with a special focus on Yumthang Valley. This is because it is one of the most enchanting places to see in Lachung. It is impossible to be in or around Sikkim and not explore Yumthang Valley! You can walk along the hills of Lachung and reach this valley covering about 25 km in a couple of hours. Yumesamdong Hot Spring situated in the valley of flowers, Yumthang is where a hot bath can rejuvenate your mind, body, and soul instantly. Click insta-worthy pictures or just soak in the beauty of this place, the choice is yours.
2. Spend a Day at Gurudongmar Lake
One of the most mystical lakes in our country, the Gurudongmar Lake is set at an altitude of 5425 meters above sea level. This is a travel destination that you simply cannot miss out on while exploring Yumthang Valley in Sikkim. The time taken to reach this freshwater lake from Lachung is 3 to 4 hours, so the ideal mode of transportation would be a taxi or a self-driven car on rent. Make sure to leave your accommodation early so that you can see the astounding beauty of Gurudonmar Lake in daylight.
3. Plan a Trekking Tour of Zero Point 
Besides Yumthang Valley in Sikkim, you can trek at another hilly region called Yume Samdong. The only difference is that trekking in this part of the state can take up a lot of your time. This is because reaching Zero Point in Yume Samdong is strenuous to a great extent. In fact, getting permission to even walk around this region is very limited. But if you are a trained trekker, then there is no other place to test your metal! Located 50 km from Lachung, Zero Point's trekking trail must be on your itinerary after getting a permit from the authorities since it is too close to the Indo-China border.
4. Marvel at the Bhim Nala Falls
Did you wish to see waterfalls so mesmerizing that they could make your skip a beat? Nestled in Khedum village of Lachung is Bhim Nala Falls set at such a height (275 meters) that Amitabh Bachchan's name is used as a reference point! Locally known as Bhewma or Red Snake Falls, the entry charges per person are Rs. 10 respectively. Most tourists travelling to and from Chumthang Lachung Road take some time out to spend at these waterfalls.
5. Discover the Magic of Lachung Monastery 
Buddhism is widely practised in and around Yumthang Valley, Lachung. Even before Independence, the locals managed to build a monastery for themselves in 1880 called Samten Chorling. In today times, friendly lamas' welcome tourists to see their way of life at any time of the year. If you are timing is right, then you can even see the Lamas dancing to melodic tunes in an annual festival organised by the Lachung Monastery!
6. Get to Know the Locals in Chungthang
A village situated at the confluence of the Lachung and Lachen rivers, Chungthang is a must-visit destination while vacationing in Yumthang Valley. Homestays are available with local families who are always eager to meet people from all parts of the world. You can devour local delicacies at their humble abodes and learn about their culture in the best way possible. Chungthang Monastery and Naydo are two tourist spots where you can some time with your family and friends as well.
A paradise for nature lovers, Yumthang Valley is the place to be in for your next vacation! So, do not procrastinate anymore and plan your trip right away.