Reading Time:
10
minutes
Making plans to spend the winter in Schengen? Adventures in skiing and arctic sports are inextricably linked to European winters. Although many individuals believe that visiting Europe in the winter is not their cup of tea due to the restricted experiences, a trip to Germany in the winter is an unforgettable travel experience.
During winter, the mountains, ancient cities and castles in Germany are breathtakingly beautiful. It presents a picture-perfect snow-covered landscape, making it even more enchanting. When you combine that with better prices and smaller crowds, you will realise that this is a country you should explore while the temperatures are dipping.
Book your Europe tours, including winter wonderland Germany, gourmet food hub France, the pivot of fashion Italy etc to make memories for a lifetime with friends, family or your better half. Let's get on the journey to explore some of the best and most mesmerising places to visit on your Germany tours.
Zugspitze Mountain
The Zugspitze Mountains, the highest in Germany and sparkling white on a chilly winter day, must be visited for the ideal winter break in Germany. Zugspitze's stunning surroundings, as well as the variety of activities and adventures it offers, appeal to all adventure seekers and winter travellers. In actuality, winter is the busiest travel season at Zugspitze. Skating and skiing are two of the most well-liked winter pastimes. But the vista from the top of the mountains attracts people who enjoy minor adventures. The simpler means to get to the peak are via cable car or cogwheel. Views of the snow-covered peaks of Austria, Switzerland, Italy, and Germany are stunning from the summit. You will never have a more magical alpine experience than at Garmisch Partenkirchen.
Explore Christmas Markets
When spending your winter holidays in Germany, don't forget to visit Christmas markets in various cities of Germany. If you're not familiar with the idea of Christmas markets, it's a custom in Europe where little marketplaces are set up in towns all throughout the continent during the holiday season. Typically, they provide local versions of mulled wine, seasonal cuisine, as well as gifts and other items you can buy for your loved ones. The booths are typically styled in an antique manner, much like ancient wooden structures from bygone eras. During winter in Berlin, the Christmas Market at Charlottenburg Palace is considered one of the prettiest.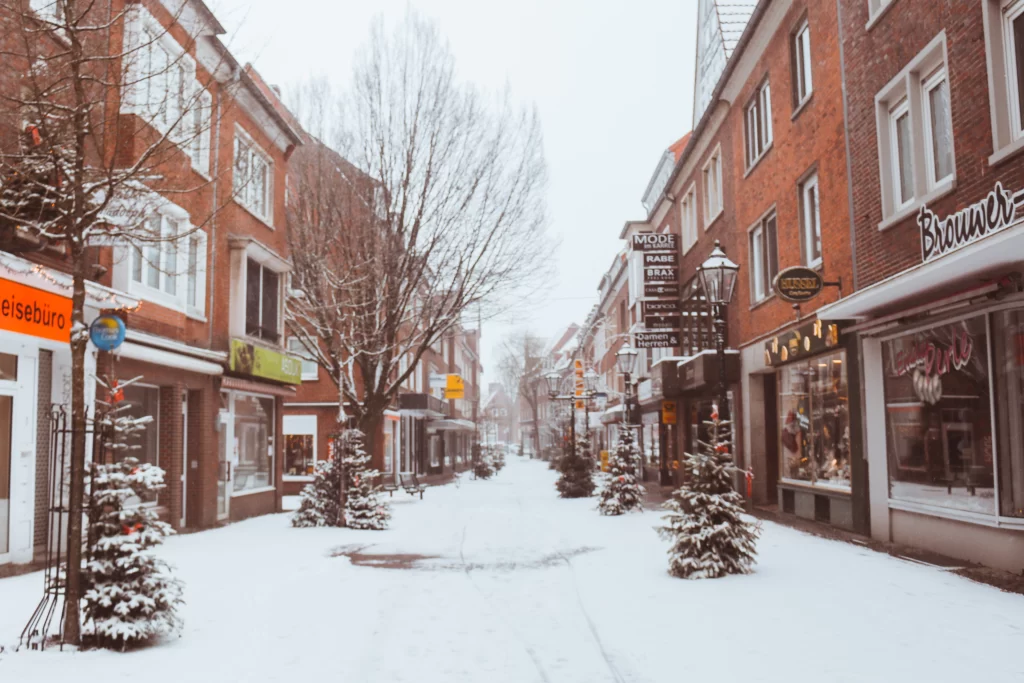 Baden Baden
Looking for a stress-relieving getaway instead of winter activities since you're sick of your routine? It's time to travel to Baden-Baden, the most picturesque spa town in the Black Forest. Baden Baden, which was found in Roman times, is thought to have been a favourite destination for Romans as they investigated the region's natural thermal springs and learned about its healing properties. Some of the most serene and relaxing hot spring spas can be found in Baden-Baden, which has a number of hot, steaming springs perfect for keeping you warm during chilly weather. In this idyllic German town, you can relax and enjoy therapeutic hot spring spa treatments at some of the best spas in the country, including Friedrichsbad and Caracalla.
Experience the Christmas Season on a Christmas Tram
Imagine a journey accompanied by a perfect atmosphere, lip-smacking delicacies, mulled wine, and soulful music to make every moment memorable. Sounds great, right? In many parts of Germany, winter time is bone-chilling as the temperature drops down to extremes (less than 0 degree Celsius), so the most comfortable and convenient way to explore the cities is by tram. Therefore, in winter, Berlin, Munich, Dresden etc Transport Companies offer trams during the winter season and offer the perfect setting, keeping in mind the joy of the season.
The Harz Mountains
Not to miss this place during winter time in Germany. Visit the Harz – Germany's northernmost low mountain range – to drink in its natural beauty: its meadows, transparent lakes, pine forests and deeply carved valleys. What better way to see the scenery than from the comfort of a time-travelling train? The narrow-gauge Harzer Schmalspurbahnen, a working steam train, connects the towns of Wernigerode, Nordhausen, and Quedlinburg. Although its main function is to move locals about, a side benefit of its labours is the infinite panorama — the chocolate-box splendour of Harz — that glides by the windows as you relax and look out.
Hamburg
From colourful parades to ice rinks popped in beautiful lights, Hamburg remains alive and energetic even as the temperatures drop. One of the finest cities in Germany to visit during winter break with your near and dear ones, Hamburg hosts a number of celebrations, including church performances, Christmas markets, and other events. Whether you're visiting Germany with family or friends, you'll be charmed by the historic city's contemporary holiday energy. As you head for the winter sky, inhale the scent of wine and cinnamon. At Planten un Blomen Park, one of Germany's largest ice skating rinks, you can skate and dance on the ice while the stars are out. Later, unwind in warm tubs while listening to a calming choir.
Dresden
During the winter, the temperature in Germany can drop to roughly -50 degrees Fahrenheit, and after Christmas, a number of attractions close down. Plan a trip to Dresden in the wintertime if you are the type of traveller who can maintain a calm demeanour and does not mind venturing out in the snow. This ancient metropolis is home to a large number of museums, palaces, and other notable landmarks that are accessible during the winter months. Castle Moritzburg, in particular, is a must-see destination because it is an enchanting water castle.
Partnachklamm
What a spectacular way to spend your winter holidays in Germany at an impressive canyon that lies just three kilometres southeast of Garmisch-Partenkirchen named the Partnachklamm or Partnach Gorge. There is something magical about this gorge along the River Partnach, which is 702 metres long, regardless of the time of year. But the winter adds a special touch of iridescence you can't find during any other time of year. Featuring frozen cascades, crystal icicles clinging to jagged surfaces, and sheets of white powdered snow draping the landscape, this attraction feels other-worldly. It is one of the few gorges in Germany that stay open year-round, especially during winter. It is a great place to hike even for beginners and is absolutely magical to view.
Mosel Valley
The Mosel Valley, which is situated in southwest Germany and stretches into France and Luxembourg, is full of charming cities and fantasy castles. The villages of Cochem and Burg Eltz are especially beautiful in the winter, offering gorgeous river vistas, historic castles, and lots of hills for hiking—all of which become even more wonderful when dusted with snow.
The best time to visit the castles and historical monuments in the Mosel Valley is in the winter when the fog and snow add to the mystique and the places are nearly completely deserted and free of the summertime throng. The region's Christmas markets, particularly the traditional ones at Zell an der Mosel and Bernkastel-Kues, illuminate the valley in December.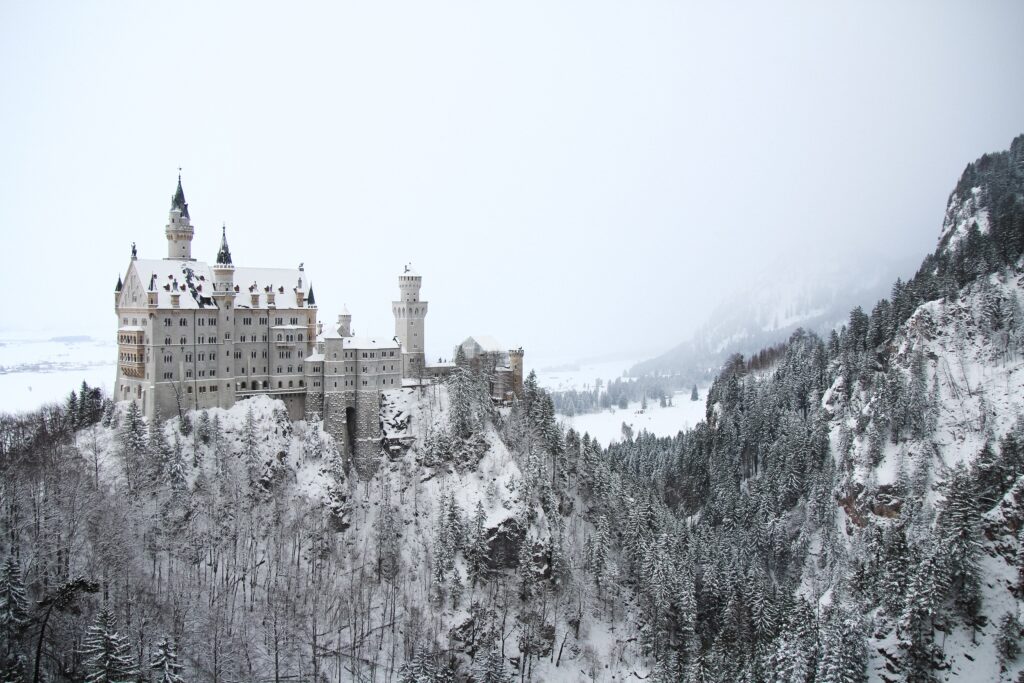 Phantasia Land
This park has been frequented by a plethora of famous people over the years. Your journey won't be complete without at least one adventure at Phantasia Land, no matter the season. This amusement park is located close to Cologne and is open throughout the winter months. It is known for having some of the greatest rides, attractions, and performances for the whole family. This marvellous park also provides guests with a one-of-a-kind eating experience. Take a spin on one of the exciting coasters like the Black Mamba, Taron, or Raik. Also, make sure to pay a visit to the Mystery Castle.
There is something magical about the lush forests, fairytale castles, and picturesque towns of Germany making it a winter wonderland blanketed in snow. All these things combined with outstanding beer, Christmas markets, and an abundance of winter activities will make you wonder why you haven't been to Germany sooner. Indulge in adventurous skiing and sledging activities, get yourself clicked in a fairytale castle and explore the winter festivals in Germany