Reading Time:
6
minutes
Wish to spend the rest of the year making memories with unusual travel adventures? Travel is no fun when it is a safe bet. Whether you are going for luxury or hitchhiking, a little fun, a little twist and a little quirkiness is what makes your trip a journey. Whether you're thinking of country-hopping in Europe, volcano touring in Indonesia, going on safari in Africa, or bungee jumping in New Zealand, the world is your oyster! Look no further as we have rounded-up some of the world's quirkiest, wildest and most offbeat experiences that you have to see – or try – to believe!
River Bugging – Llangollen, Wales, United Kingdom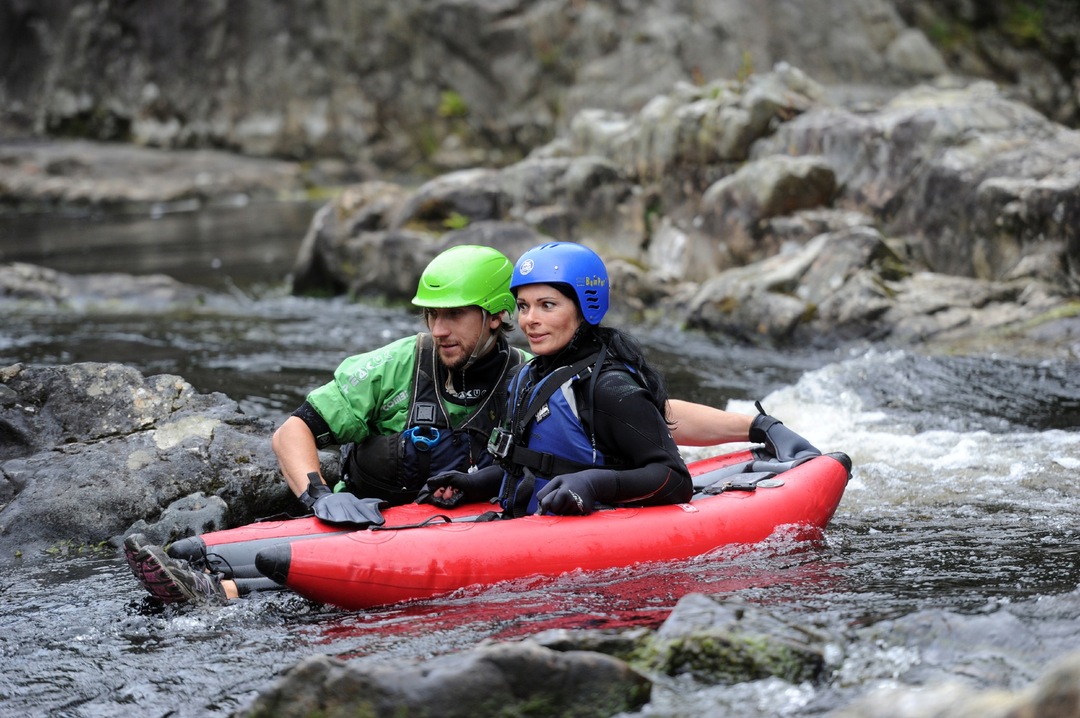 Image courtesy: thecourier.co.uk
You might have experienced whitewater rafting at many weekend getaways in India but every gone for whitewater bugging? Experience whitewater bugging in the quirky holiday destination of Llangollen on this guided excursion. Get equipped with all you need to navigate the river, don your equipment and sit back in your bug to shoot the rapids and take in the Welsh scenery along the way. As long as you know how to swim, you need not worry. During this session you'll experience the best of the River Dee. Floating down on your own bug you'll get up close and personal with a number rapids and experience a thrilling session.
Shark Cage Diving – Cape Town, South Africa

When we talk about quirky vacation ideas, we hardly play it safe. If you want one of the biggest adrenaline rushes that you will ever have, don't forget to go for shark cage diving. There are a few places around the world that offer shark cage diving and Cape town in South Africa seems to be one of the top locations to offer the crazy experience. During your session, you are lowered into the water in a strong cage with a professional diver and given an underwater camera to get some close-up selfies of you and the giant reef sharks – the perfect selfie for your Instagram! Shark cage diving is not for the faint-hearted; although you are safe in your cage, it is still an intimidating experience that will get your heart pumping!
Visit Stonehenge – Wiltshire, United Kingdom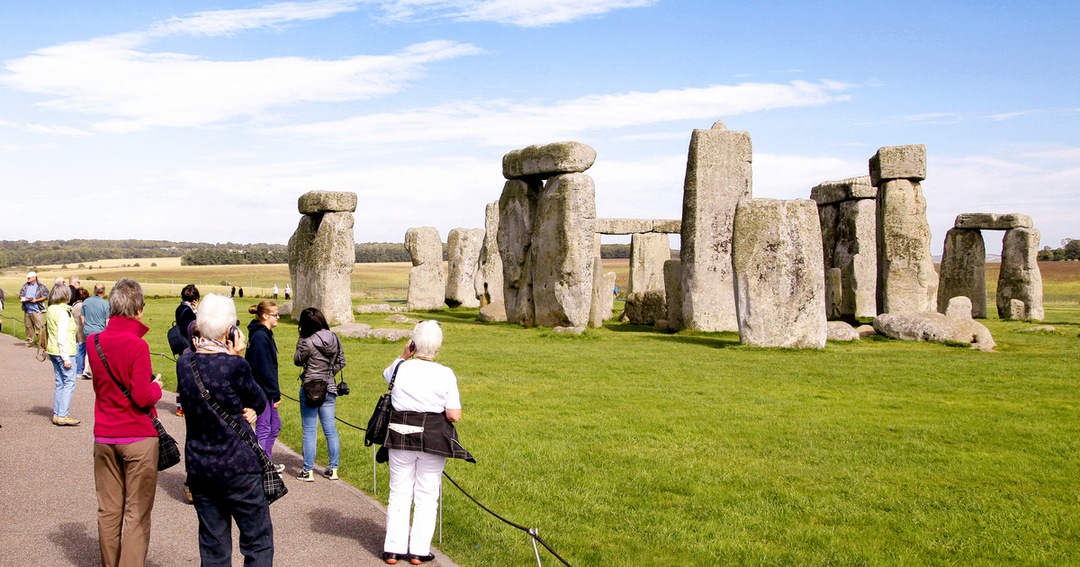 Image courtesy: getyourguide.com
Now when you Google this place and see the images, you might think it is just another archaeological site being flocked by tourists. But let us tell you more! The spiritual, sacred site of Stonehenge is in Wiltshire in the U.K. It's estimated that the huge stones that are placed in a circle were transported there around 3100 BC. It is a popular tourist attraction, regarded as one of the wonders of the world. Stonehenge has become a major attraction to those who are spiritually inclined, a popular place to celebrate the equinoxes and solstices, occasions when you might experience singing, dancing, rejoicing, worshipping and even clairvoyants giving psychic readings to passers-by. Psychics can help visitors still their minds, get in touch with the energy that surrounds the place, and even connect with the spirit inside themselves. As pagans and druids believe that the stone circle was once used for ceremonies and rituals, it's a place people visit to discover their own spiritual path.
Mud Bathing in New Zealand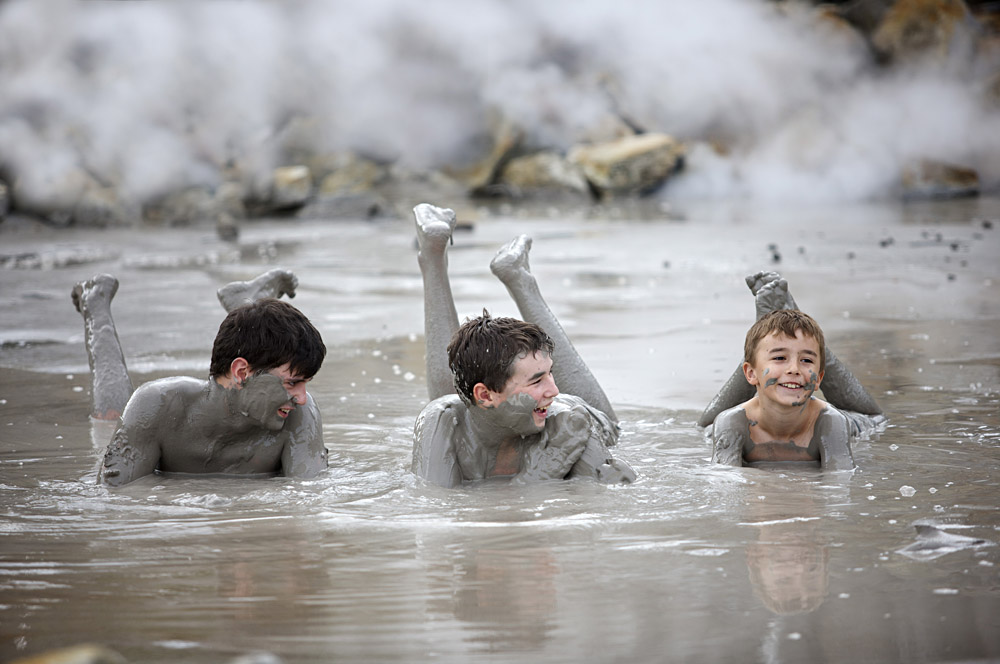 Image courtesy: blog.goway.com
Treat yourself to a 1-hour therapeutic mud bath and sulfur spa package at Hells Gate Geothermal Park. Located in one of Rotorua's most active geothermal zones, Hells Gate features mud bath treatments that leave your body rejuvenated and skin smooth. Have the option to cool off with a dip in waterfall pools after your treatment, and enjoy the ease of round-trip hotel transfers. Hells Gate mud spa is a historic New Zealand experience. The healing properties of the thermal mud and sulphur mineral water have been used by local Māori for over 800 years. Open and clean your skin by lathering it in our unique mud, before exfoliating and cleansing with a soak in the sulphur spa.
Great Barrier Reef – Queensland, Australia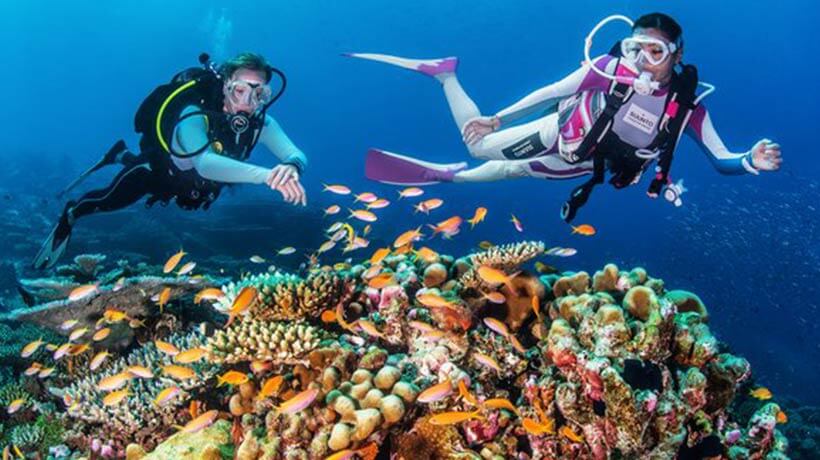 Image courtesy: quicksilvergroup.com.au
A blend of beauty, quirky travel destination and incredible marine life – that's Great Barrier Reef for you. Discover the outer Great Barrier Reef on a 2-day tour from Cairns, including accommodation in deluxe tents pitched aboard a giant pontoon. Activities available include snorkeling, glass-bottom boat, and semi-submersible tours, and an underwater observatory with great views of the ocean's inhabitants. View the sunset, sunrise, and stars from this remarkable location, as well as plenty of Australia's colorful marine life.
Hydro Attack Individual Experience – Queenstown, New Zealand

Image courtesy: hydroattack.rezdy.com
Now this one is in true sense one of the most unusual and quirky holiday idea one can ever get! Dive deep into the waters of Lake Wakatipu and explode into the sky as a passenger in the thrilling Seabreacher X watercraft. Like a stunt plane on the water – sit back in the cockpit, look out through the F-16 fighter grade glass of the semi-submersible shark and get ready to feel the g-forces as the expert pilot gives you an experience you'll never forget. Each shark boat takes one passenger so trips are one-on-one with our pilot. One thing's for sure, a ride in a Hydro Attack shark gets the heart pumping. So it's time to scream in the shark machine. Brace yourself for stunts and high speeds in this unique 'shark machine', one of the only ones operating commercially in the entire world. Experience exciting side-rolls, long dives and 360-degree spins in this private thrill ride.
Crude Oil Spa – Baku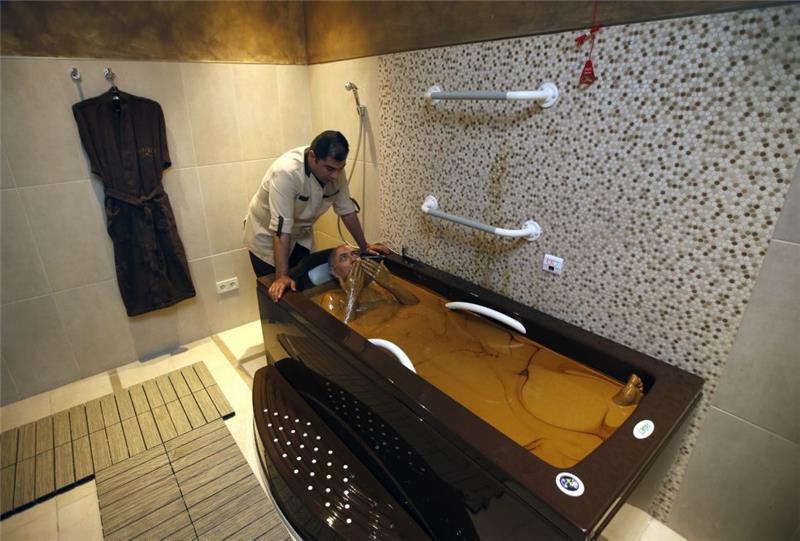 Image courtesy: naftalan-booking.com
Expect the unexpected during this 2-day private exploration of Baku, allowing you to discover the city's timeless history and participate in surprising experiences like crude oil spa visit. Step back in time to explore the timeless treasures of Baku's UNESCO World Heritage-listed Old Town and experience medieval architecture, incredible mountain scenery and warm hospitality. You'll also get to observe the natural gas vents of the Absheron Peninsula and visit Villa Petrolea, a historic district created by the Nobel brothers. And this is the only place in the world where you can experience the Crude Oil Spa.
Become a Ninja – Tokyo, Japan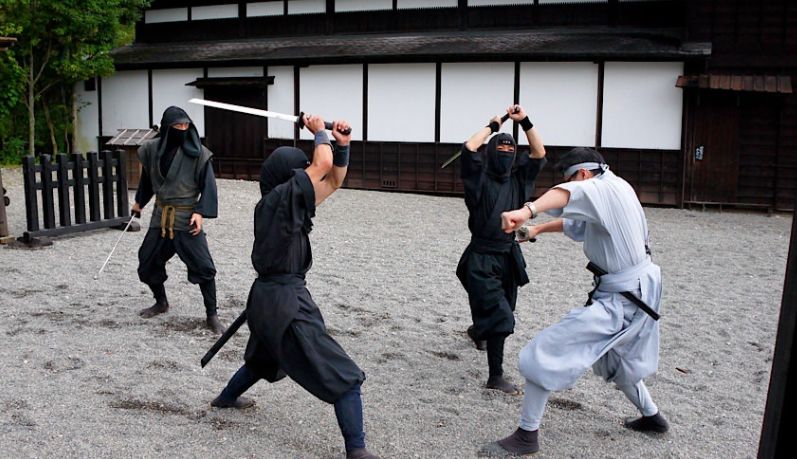 Image courtesy: triplisher.com
This one-of-a-kind quirky getaway will have you learn the ancient arts of the ninja during this fun-filled introduction to key ninja techniques, culture and weapons. Get suited up in an authentic 'ninja gi' outfit as you begin your mental and physical training with an instructor in the ways of the ninja. Among the skills you'll learn during your session are meditation and 'Kuja-kiri' (well-wishing), the 'Embu' (ancestor dedication) and an introduction to ninja weapons like the blowgun and 'shruiken' (ninja star), among others. You'll also gain a newfound appreciation for key ninja philosophies like protecting others, community and freedom.
Written by: Aashima Kadakia
Creative ninja and a true follower of 'Work, Save, Travel, Repeat', I love to travel, experience places and bring back stories for a lifetime. Born and brought up in Ahmedabad, I like to visit the same old places, the same cliched tourist spots and destinations, but choose to see the unexplored in the old places. Always inclined towards the mighty mountains in their debate with the beaches!