Reading Time:
17
minutes
The mystical land of Nepal holds mysteries of nature, mankind and mountains! This tiny land-locked nation between Tibet and India, encompasses a healthy mix of cultures from its neighbouring countries, making it one of the most heart throbbing encounters one can experience. Above all, Nepal is a travel experience for anyone and everyone! Be it snow-capped Himalayan mountain peaks or centuries-old ancient Hindu temples, lush green rainforests or quaint Buddhist monasteries; Nepal is a distinctive choice and preferred destination for all kinds of travellers. Such is the vibrant beauty of the country that it leaves every visitor spellbound! Most noteworthy, it is known as the Abode of Mt. Everest – where life begins and where life comes full circle.
Some of the best Nepal tour packages reflect its true identity which is known by many wonderful names such as 'Devbhoomi', 'Roof of the World', 'Hiker's Paradise' and 'Birthplace of Gautama Buddha'. Furthermore, each of these names has a profound meaning that truly describes the essence of this land! Let's have a look at some of the best places you can visit in Nepal, to fall even further head over heels with this Himalayan beauty,
1.) Kathmandu Durbar Square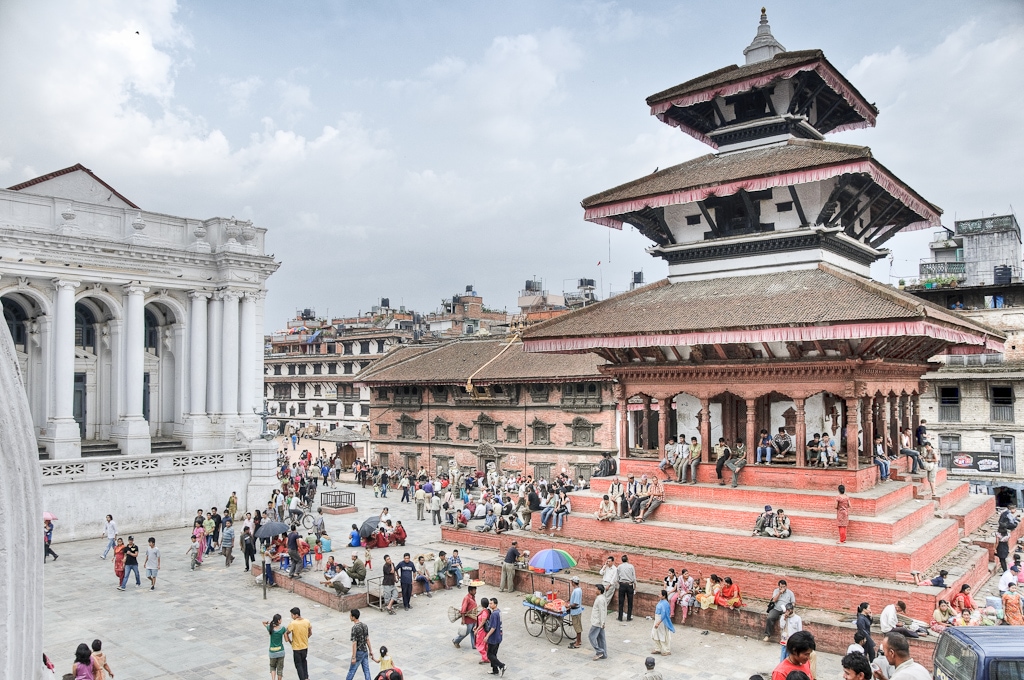 The heart of Kathmandu city is adorned by an illustrious Durbar Square! During ancient times, this square was used for the coronation of kings. It was from here that they ruled over their kingdom! Also known as Basantapur Durbar Square, this UNESCO world heritage site consists of temples, shrines, palaces and courtyards belonging to the Malla and Shah Dynasty. Many temples date back to the 16th century and some of the older royal palaces have been around since the 3rd century. Even more, the square is a remarkable specimen of traditional Newari architecture! The popular square still remains one of the best places to visit in Nepal in spite of several temples and towers being destroyed in the fateful earthquake of 2015.
2.) Swayambhunath Stupa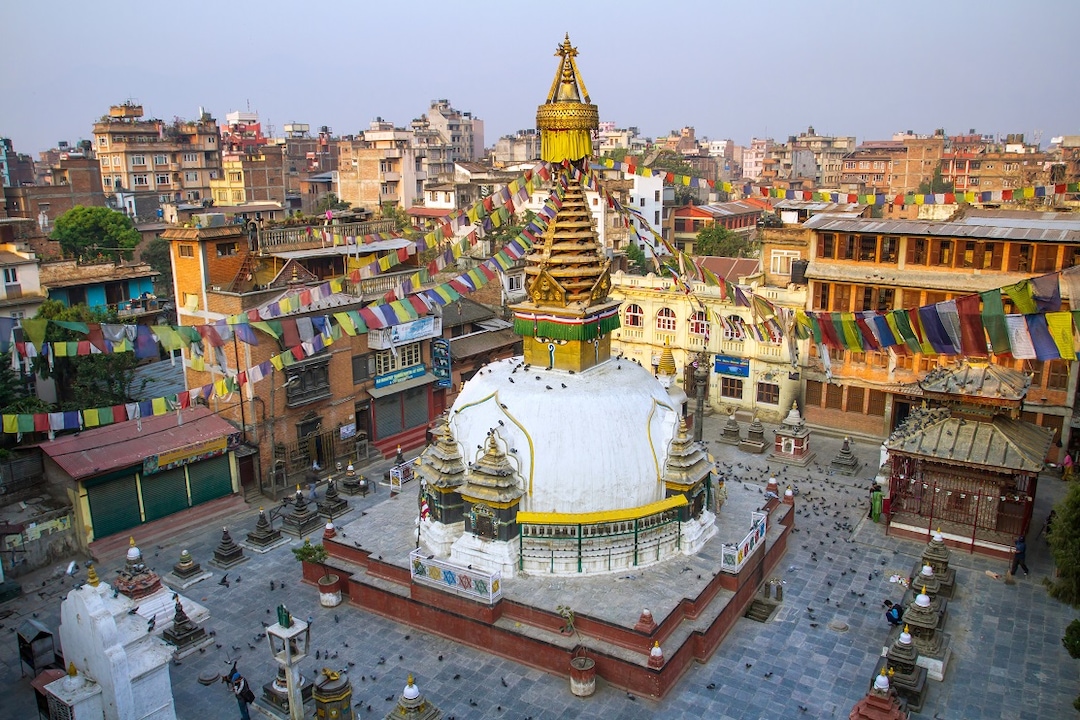 Perhaps the most ancient and prominent of all sacred shrines in the Kathmandu Valley! Swayambhunath Temple is placed on a hillock overlooking Kathmandu city and comprises of a white-washed dome topped with an ornate spire. The four sides of the structure resemble the four iconic faces of Buddha as he looks over the valley and protects the city. The white dome is said to represent the earth and the 13-tiered gilded spire stands for the 13 stages to Nirvana. It is also known as the 'Monkey Temple' owing to a large number of monkeys that are found at this temple. Locals swear by it and travellers often recommend this remarkable site that is certainly a must-visit as part of your Nepal tour packages.
3.) Boudhanath Stupa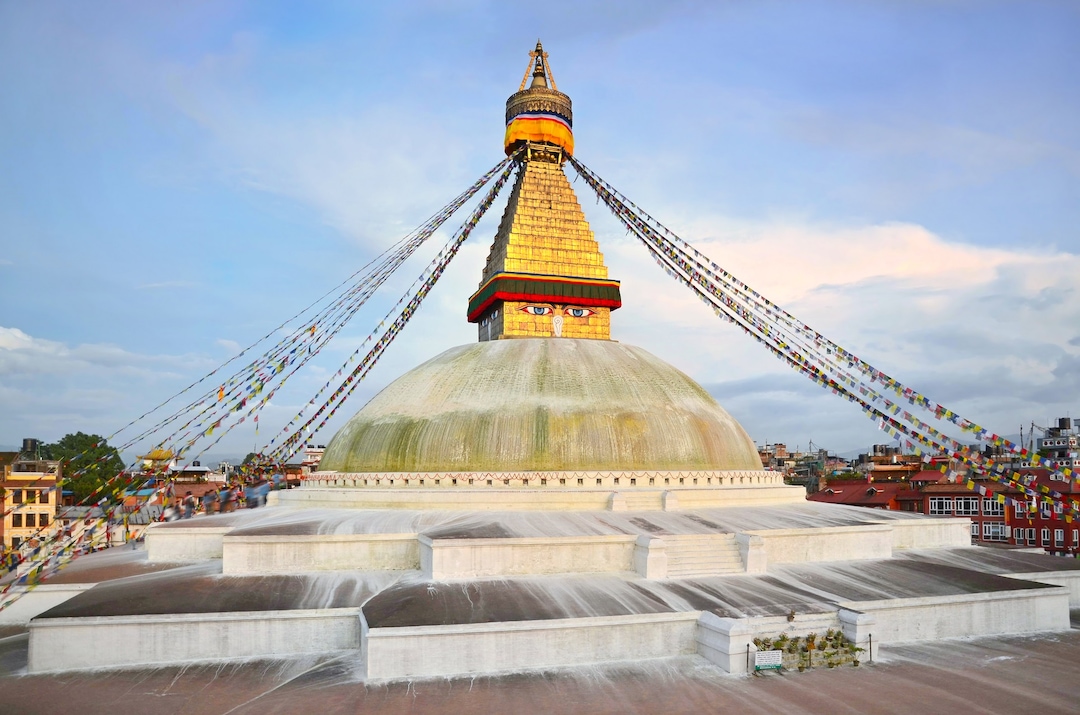 Also known as 'The Great Stupa', Boudhanath is the most prominent landmark of Kathmandu and easily one of the largest stupas in South Asia! The stupa is 36-metre-high and is clearly visible as soon as you land at the Nepal International Airport (almost as if it is an icon representing the country). The Stupa represents the Mind of all Buddhas (Past, Present & Future). It is believed that those who pray at the Stupa with a pure heart, create good karma for themselves. As a result, it is said that their wishes are fulfilled!
Having said that, Boudhanath is a very popular pilgrimage site for Buddhists from all over the world and one of the most popular Nepal places to visit! The Stupa is surrounded by several monasteries making it the centre of Tibetan Buddhism in Nepal. Be it morning or evening, the huge white dome buzzes with energy and worshippers go around the Stupa in reverence often lighting butter lamps and or simply praying in complete devotion. A sight you must definitely not miss if you want to experience one of the best Nepal tour packages!
4.) Pashupatinath Temple
Your Nepal vacation is incomplete without including the iconic Pashupatinath Temple as part of your Nepal holiday package! Located in Kathmandu Valley, Pashupatinath Temple is a UNESCO world heritage site that serves as the abode of Nepal's national deity, Lord Pashupatinath (commonly known as Lord Shiva). Apart from being religiously significant, the temple is also historically prominent and a fine masterpiece of Hindu temple architecture that dates back to 400 A.D. The Shiva Lingam at this temple is unique in such a way that it faces all four directions. Much like the Swayambhunath Stupa (talk about God being one). Such is the beauty and uniqueness of this temple, that it is easily one of the most popular and must-visit Nepal points of interest!
5.) Budhanilkantha Temple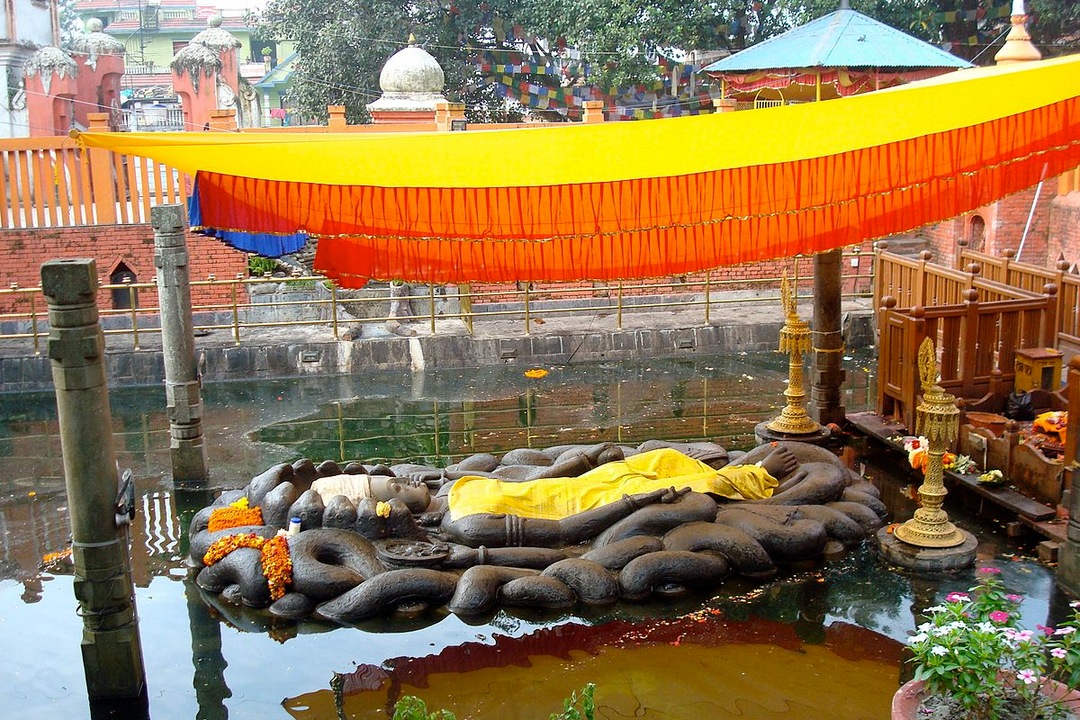 A unique temple situated at the foot of Shivpuri Hills in Kathmandu Valley! Budhanilkantha is a holy shrine consisting of the largest stone statue of Lord Vishnu reclining on a bed of Nagas (snakes). The 5-metre long statue has been carved out of a single granite rock and dates back to the 5th century Licchavi kingdom. Visit this temple to witness a unique specimen of intricate artwork and a magnificent Vishnu sculpture that almost resembles the image of the Buddha! Interestingly enough, the temple is called 'Budhanilkantha' but the name is not derived from Buddha. It means 'Old Blue Throat' which actually refers to Lord Shiva ('God is One' vibes again!). With such allure and spiritual significance, this temple should definitely be a part of your Nepal holiday packages from India!
6.) Bhaktapur Durbar Square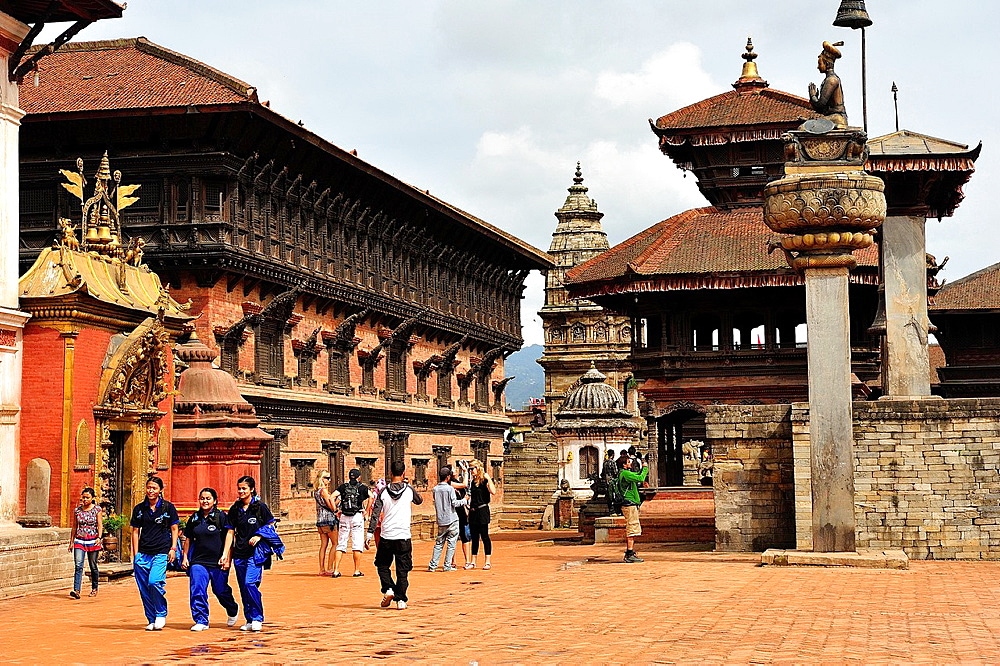 Along with Kathmandu Durbar Square in Nepal, the historical square that finds its place in the list of UNESCO's world heritage sites is, Bhaktapur Durbar Square! It is a well-known plaza located in front of the royal palace of the erstwhile Bhaktapur kingdom. Easily one of the best places to visit in Nepal due to its historic and architectural importance, the plaza boasts of attractions such as Palace of Fifty Five Windows (Pachpanna Jhyale Durbar), Vatsala Temple (only the huge bell remains intact after the 2015 earthquake), Statue of Bhupatindra Malla, Bhairava Nath Temple, Lion's Gate and the world-famous 'Golden Gate' (Lu Dhowka). The Golden Gate is said to be the most magnificent, intricately decorated and one-of-its-kind specimen in the entire world. When you do plan your Nepal travel packages from India, make sure to include the Bhaktapur Durbar Square as part of your itinerary!
7.) Chitwan National Park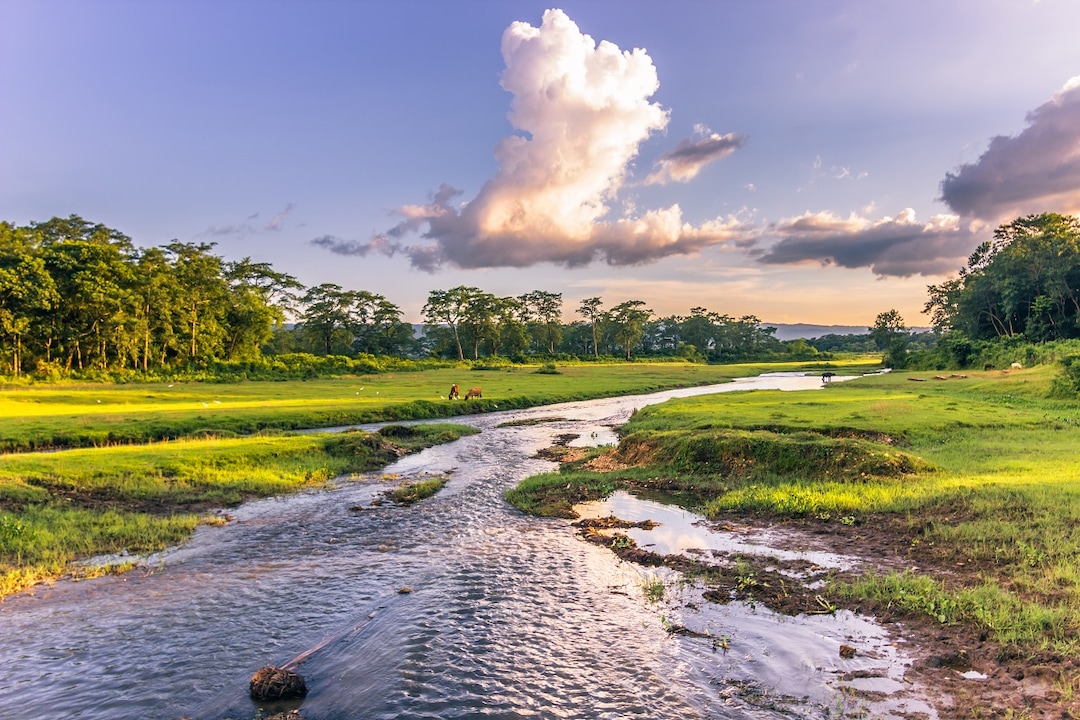 The word 'Chitwan' means 'Heart of the Jungle'! One word is enough to get us acquainted with this beautiful national park that lies at the Himalayan foothills. Chitwan National Park is a protected area in south-central Nepal that is well-known for its Terai landscapes and amazing biodiversity. The very first national park of the country and one of the most interesting places to visit in Nepal, it is home to a large and diverse variety of mammals, amphibians, reptiles, fish and birds. The park is also well-known for its conservation efforts of the one-horned rhinoceros, royal Bengal tiger and the Gharial crocodile. You can enjoy an elephant ride through the grassy plains and enjoy animal sightings at this park. You can also take advantage of an exciting canoe ride in the Narayani River which is considered to be amongst the best things to do in Nepal!
8.) Annapurna Mountain Ranges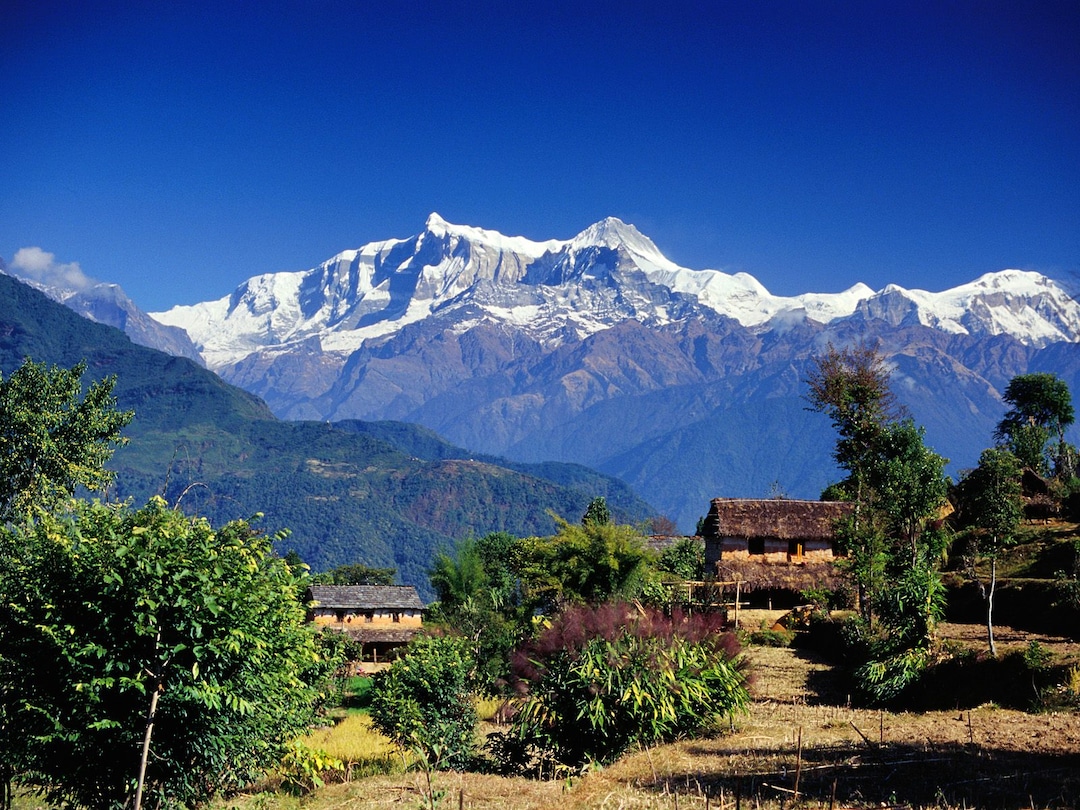 Pokhara is the base of the mighty Annapurna ranges and a city which deserves to be on your list of Nepal places to visit! The second largest city in Nepal after Kathmandu (in terms of population), it is often regarded as one of the tourism capitals of the country. This could be attributed to the proximity of Pokhara to the Annapurna mountain ranges; also why most trekkers and mountaineers use Pokhara as the base for undertaking the Annapurna Circuit (trek within the Annapurna mountain ranges).
Even if you do not scale the mighty mountain, you are greeted by its magnificent sight from many vantage points in Pokhara. One of the best places to view the Annapurna ranges is Sarangkot. A popular sighting amongst the mountain peaks is Mount Fishtail (locally known as Machapuchare) whose shape resembles that of a fishtail. This mountain is considered to be sacred by the locals and therefore, climbing here is prohibited. Keep your eyes open and your mind clear for one of the best mountain sightings that you can experience as part of your Nepal holiday package!
9.) Phewa Lake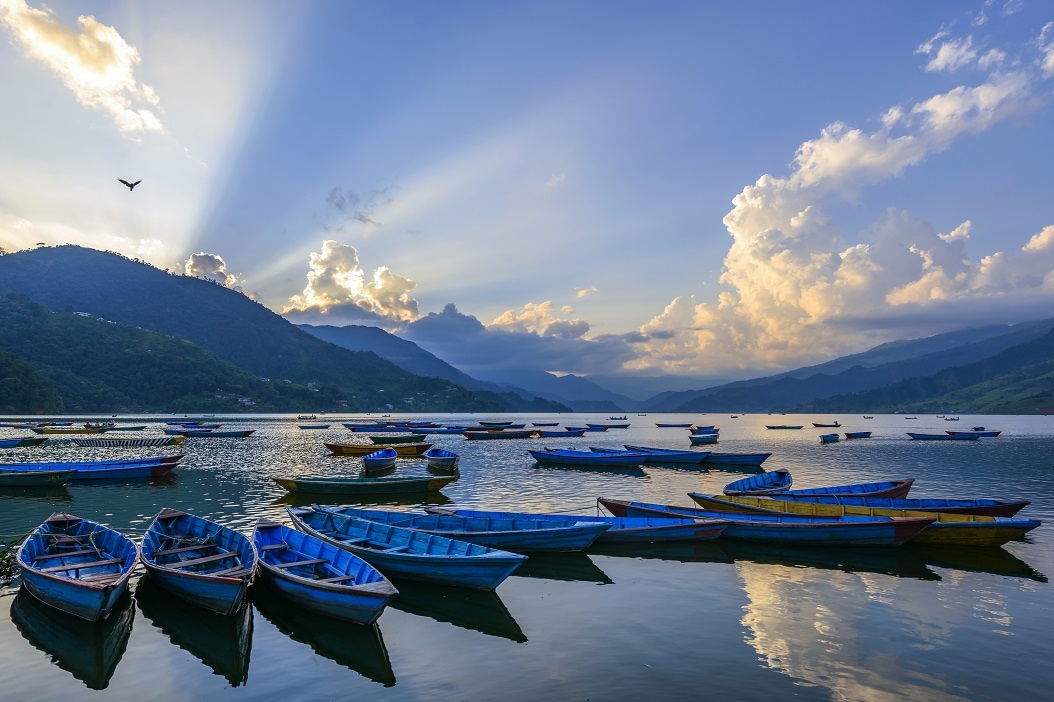 This freshwater lake is one of the major reasons why tourists love travelling to Pokhara! Phewa Tal or Phewa Lake, located in the southern part of Pokhara Valley, is the second largest lake in the country. It is the most popular of all Nepal points of interest and the most visited lake in the country by locals as well as tourists. The lake is well-known for the reflection of Mount Fishtail (Machapuchare) and several other peaks of the Annapurna and Dhaulagiri ranges, on its surface. Besides being a popular tourist attraction, the lake water is also used for generation of electricity. The popular Tal Barahi Temple, a prominent Hindu shrine dedicated to Lord Vishnu, is located in the middle of the lake. Boating at Phewa Lake is also considered to be one of the most peaceful and exciting things to do in Nepal.
10.) Lumbini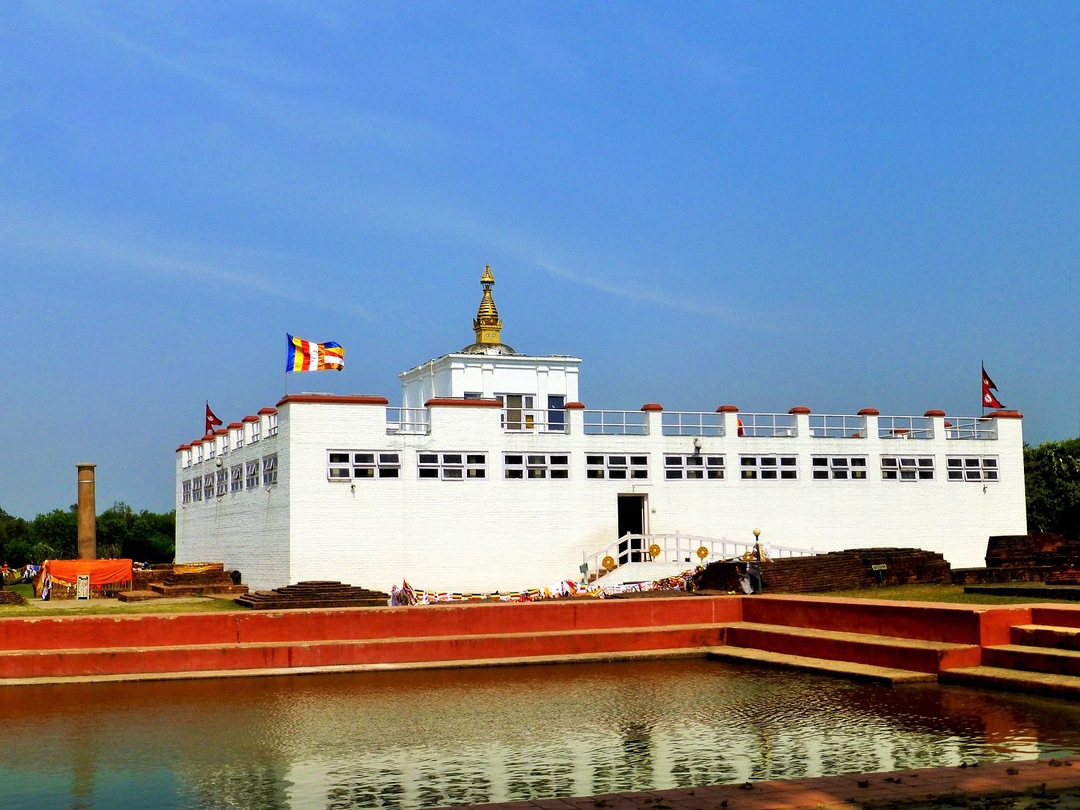 The Birthplace of Gautama Buddha! Need we say more? Lumbini is a well-known Buddhist pilgrimage site in Nepal where Queen Mayadevi gave birth to Siddhartha Gautama in 563 BC. After achieving enlightenment in 528 BC, Gautama Buddha founded the religion of Buddhism! Today, there are over 25 international monasteries in Lumbini where you can study Buddhism and meditation. According to many historians and archaeologists, Mayadevi Temple in Lumbini Gardens is considered to be the exact birthplace of Gautama Buddha. It is believed that Siddhartha Gautama is believed to have taken his first seven steps and given his message of peace to humanity. A place that solves the very question of what to do in Nepal, Lumbini is where you can find your inner peace and sense of fulfilment!
11.) Sagarmatha National Park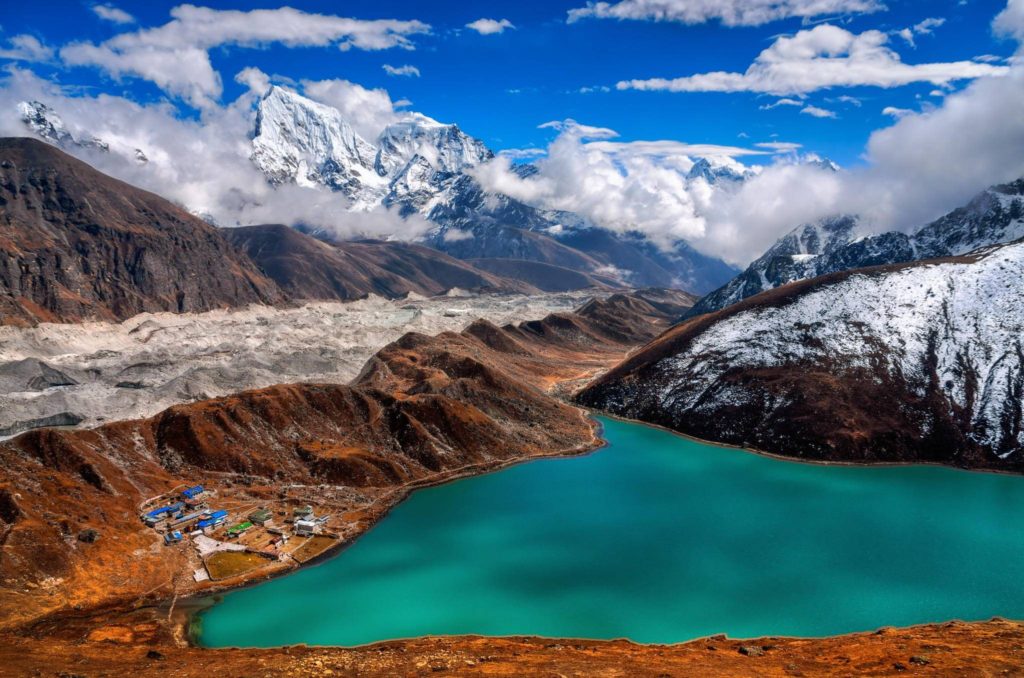 If you are someone who seeks adventure and believe that mountains are your calling, then you must visit the Sagarmatha National Park. Dominated by the mighty, Mount Everest, it is the first national park in the country to have obtained the status of a natural world heritage site. The park is also an important bird area, protected and recognized by the BirdLife International global organization. There are several tourist trails, mountain gorges, rivers, lake, rare flora and fauna that dot the landscape of the national park and increase its natural beauty manifold. A beautiful world in itself, the Sagarmatha National Park can surely be one of the extraordinary Nepal places to visit as part of your Nepal tour package from India.
12.) Everest Base Camp
Admit it… You have always been fascinated by Mount Everest! Even if you are not a mountaineer by heart, the mere mention of Mount Everest fills your heart with wonder and makes your eyes sparkle. Now imagine that feeling multiplied a thousand times and you can maybe begin to imagine what it's like trekking to the base of the highest mountain in the world! Nepal offers you the chance to be on top of the world with the Everest South Base Camp.

The trek begins from Lukla (a small town in Khumbu valley) towards the Sherpa capital, Namche Bazaar and onwards along the Dudh Kosi River Valley. It further goes up to Dingboche (a small Sherpa village), Gorakshep (another small settlement) and finally ends at the flat field below Mt Kala Patthar and Mt Pumori. This is the Everest South Base Camp!
What you encounter here are spectacular close-up sights of Mount Everest from the opposite side. That is the entire purpose of this trek; to be able to stare in amazement at something which you thought was once impossible but now, within easy reach! That is the magic and allure of the Himalayas and Mount Everest! The complete trek to the base camp (and back again) takes about 2 weeks depending on your speed and energy. It is highly advised that you plan such Nepal travel packages with complete care, information and absolute preparation.
*Physical as well as mental capability and stamina is of prime importance when you undertake such treks. It is highly recommended that you consult your doctor/physician before the trek and make sure that you are fit to climb such high altitudes.
Nepal is an alluring mystery waiting to be discovered and lived! Peace, culture, devotion, mountains and nature, all come together in perfect harmony to create a rhythm that stays in your heart forever. A travel experience unlike any other, India's neighbour in the North extends its warm welcome and awaits to embrace you in the lap of Himalayas…