Reading Time:
8
minutes
We don't know about all the boys here, but we are sure every girl has dreamt of a fairytale wedding. Pardon us for generalizing here, but didn't our heart skip a beat when we saw Priyanka Chopra in that reallllllyyyy long veil standing on the stairs of Umaid Bhavan Palace in Jodhpur? What could be more romantic than a royal palace wedding? You don't need to book Lake Como because destination wedding in India can give all the foreign exotic places a run for their money. The land that was once known for everything royal by the kings, is home to many lavish palaces and forts that are rich in history, refinement, elegance and opulence and are among the most spectacular and sought after wedding venues in the world.
Yes, most of them are in the royal state of Rajasthan, but read on to know more about the best destination wedding palaces in India that promise to give you a fairytale wedding, literally.
Alila Fort, Bishangarh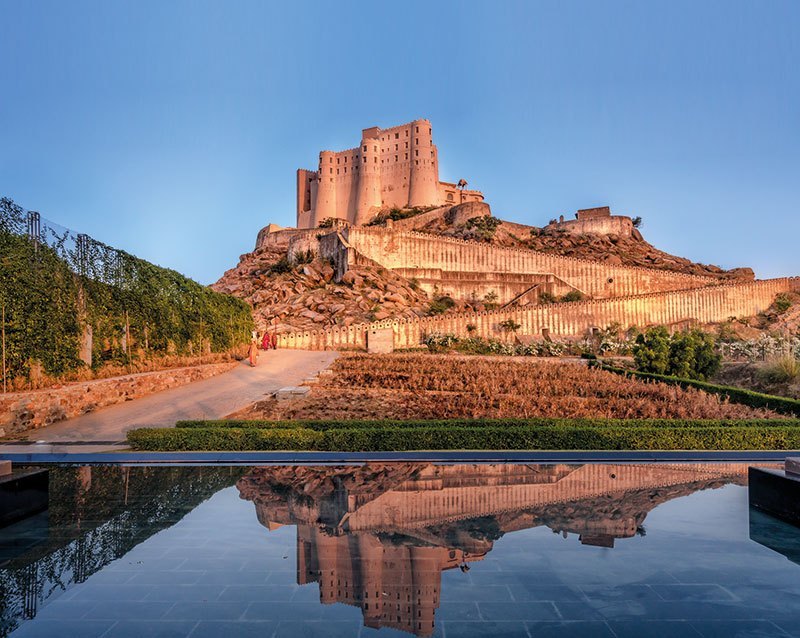 Image courtesy: vervemagazine.in
Here's starting the list with the newest entrant in the list of destination wedding in Jaipur. Live the dream of a fairytale wedding amid the sublime splendor and romance of Alila Fort Bishangarh. Located at Bishangarh Village in Jaipur, the fort provides one with 360 degree views of the Rajasthan landscape. The magnificent fort is perched upon a granite hill and provides the best venue to host a destination wedding that's royal in true sense. Enjoy the exclusivity of having the whole resort to yourselves, ensuring undisturbed privacy and undivided attention for you and your guests. Enchanting indoor and outdoor locations play host to every meaningful ritual, and that magical moment when two lives entwine, surrounded by love and the magnificent Aravalli hills at one of the most magical wedding venues in Jaipur. Every detail, from dining and decoration to photography and entertainment, is exquisitely tailored to create a spectacular once-in-a-lifetime celebration that's everything, and more, you could imagine.
Umaid Bhawan Palace, Jodhpur
When in Rajasthan, the regal appeal of the place can never be ignored and you'll find some beautiful locations to discover, amongst which, the Umaid Bhawan Palace is one of the most magnificent ones. The palace has been hosting big fat weddings since time immemorial and if, like us, you also got mesmerized by the Nick Jonas-PeeCee wedding, all you need to do is go check this one out for your upcoming shaadi. Set against the backdrop of the Blue City of Jodhpur, this architectural marvel boasts of one of the grandest ballrooms in the world- The Marwar hall. The 4,500 square feet Marwar hall has a same sized ballroom at the opposite side called the Mewar Hall. Together they are a sprawling 9000 square feet of event space.  If you wish to have your wedding outdoors, the Baradari lawns that extend to 17500 square feet making for one of the most perfect wedding destinations of India. The Baradari Lawn also features an exquisite Marble Pavilion. Umaid Bhawan has alluring royal 64 rooms or suites to offer to its guests and can hold up to 900 guests in its lawn and banquet. The lush green gardens with dancing peacocks and subterranean Zodiac Pool this five-star hotel is a perfect location for a royal destination wedding.
Taj Falaknuma Palace, Hyderabad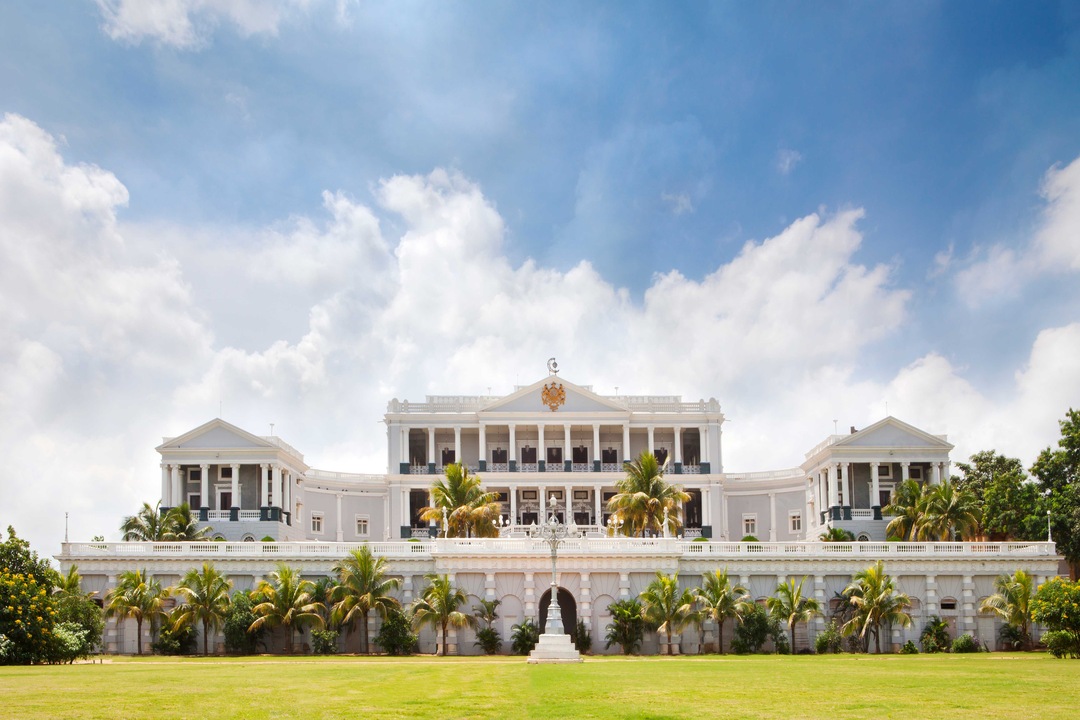 When you are searching for destination wedding packages in India, we're sure no list is complete without the mention of the Taj Falaknuma Palace of Hyderabad. The royal city of Nizams has the very charming Taj Falaknuma Palace to offer to the to-be-married couples for a larger-than-life wedding celebration. This regal palace is quite a hot favourite among celebrities for their big fat wedding celebrations. Atop the hills, 2000 feet above the city of Hyderabad, the Taj Falaknuma Palace is a sight to behold, the erstwhile palace of the Nizam of Hyderabad, specifically Nizam Mehboob Ali Khan, considered to be one of the wealthiest men in the world. What could be a more glamorous and historical destination for a wedding? This 5-star luxurious property is spread over 34 acres of land with sprawling gardens and banquet halls to hold various ceremonies. Capture the magic of bygone eras, walk in the steps of past Nizams and Begums and have a royal wedding at this monumental venue.
Mundota Fort & Palace, Jaipur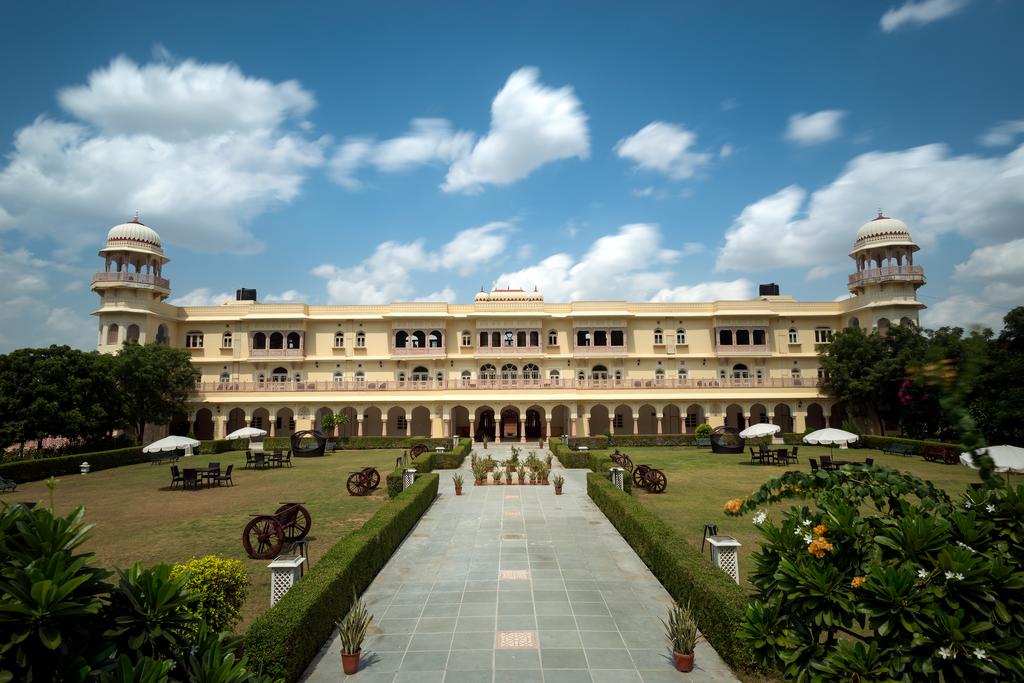 Image courtesy: booking.com
The 500-year old Mundota Fort & Palace is no less than a historical wonder. Perched on the top of a hill, this palace is full of opulent gardens, pavilions, terraces, courtyards, etc., and undoubtedly is a paradise for the couples who dream of a royal wedding for themselves. Hosting your wedding amid the splendid interiors and exteriors of Mundota Fort and Palace will only enhance your joys with their splendid arrangements. Located in Jaipur, this venue enjoys a gorgeous surrounding that enhances the charm of the celebrations. It is on top of the Aravalli Range and overlooks a breath-taking scenery that makes for a gorgeous backdrop to your wedding ceremonies. The nuptial ceremonies are planned so perfectly that it looks like a fairytale that comes to life and the Mundota Fort will be a beautiful destination to unravel the budding romance through your vows. However, you don't need a wedding invitation to discover the city of Jaipur. Book your Jaipur holiday package here!
Taj Lake Palace, Udaipur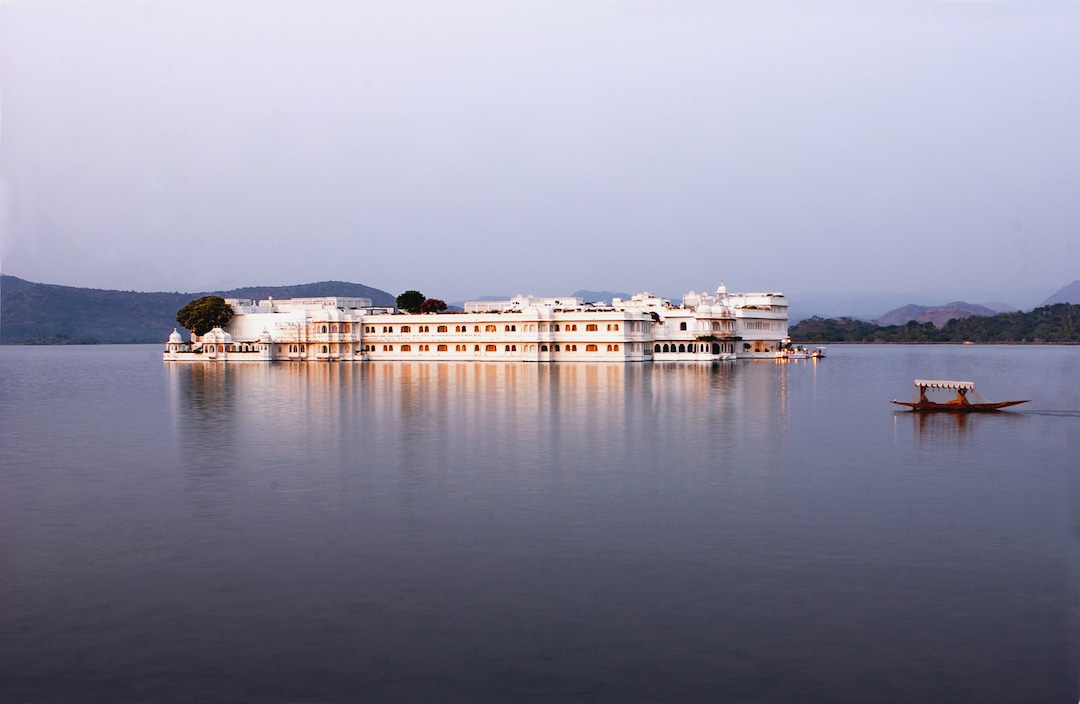 No search for palaces in India for weddings is complete without the Taj Lake Palace in Udaipur. The gem of Udaipur, Taj Lake Palace hosts some of the most talked about weddings in India. This pristine white palace, built on the equally pristine waters of Lake Pichola, was once the palace for royal parties. You could say it was untouched as well, after all, its royal butlers are descendents of the original palace retainers. With a view that allows for uninterrupted sunrises and sunsets, this hotel has the reputation of being one of the most romantic in the world. Once the summer palace of the king of Mewar, Taj Lake Palace is perfect for an intimate wedding. Guests will be escorted to a ferry to cross the lake. Take your vows in the beautiful Taj Lake Palace and fulfil your dream of a royal Udaipur palace wedding.
Jagmandir Island Palace, Udaipur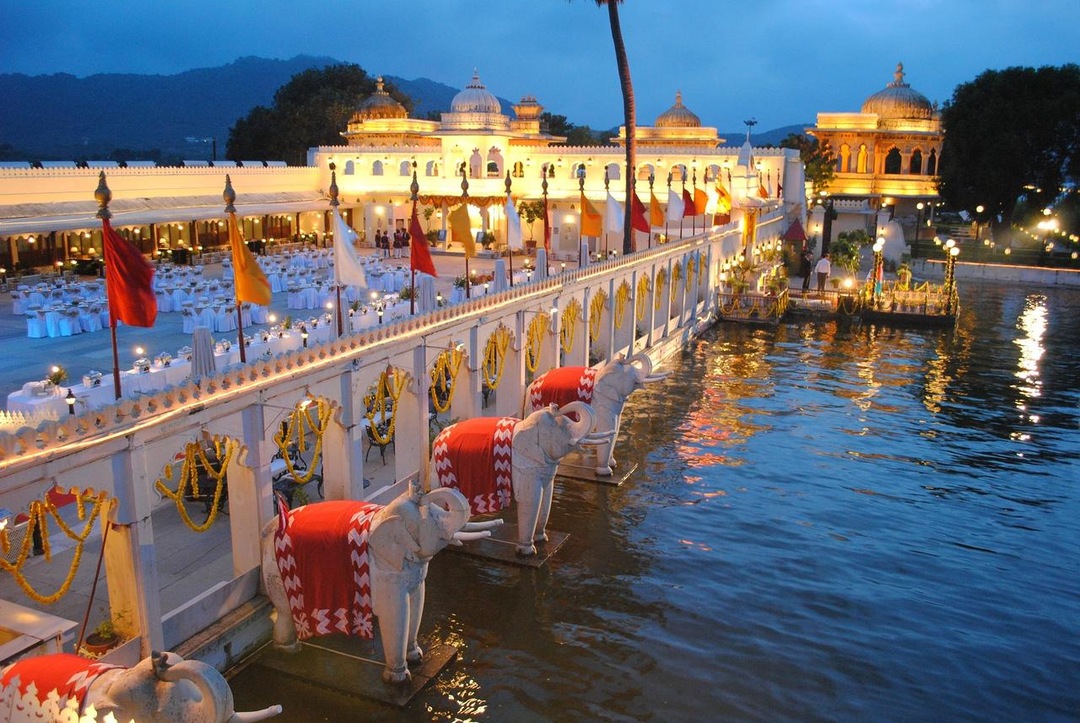 Image courtesy: booking.com
This 17th century palace is one of the most popular wedding destinations not just in the country, but all across the world. The Hinduja-Mahtani wedding that took place here in 2015, is one of the biggest weddings of the recent times to date. Located on an island within Lake Pichola, the Jagmandir Island Palace offers the most picturesque royal backdrop for a nuptial. Often referred to as a 'swarg ki vatika' or 'a garden of heaven', Jagmandir Island is a premium choice for having a royal destination wedding in Udaipur. The Jag Mandir palace is a great setting for weddings and receptions alike. Soak in the tranquility of the quiet waters surrounding you, and enjoy walks around the grand facade and verbena scented gardens. If you are already mesmerized by Udaipur and can't wait to explore this city, book your Udaipur tour package here.
The Oberoi Udaivilas, Udaipur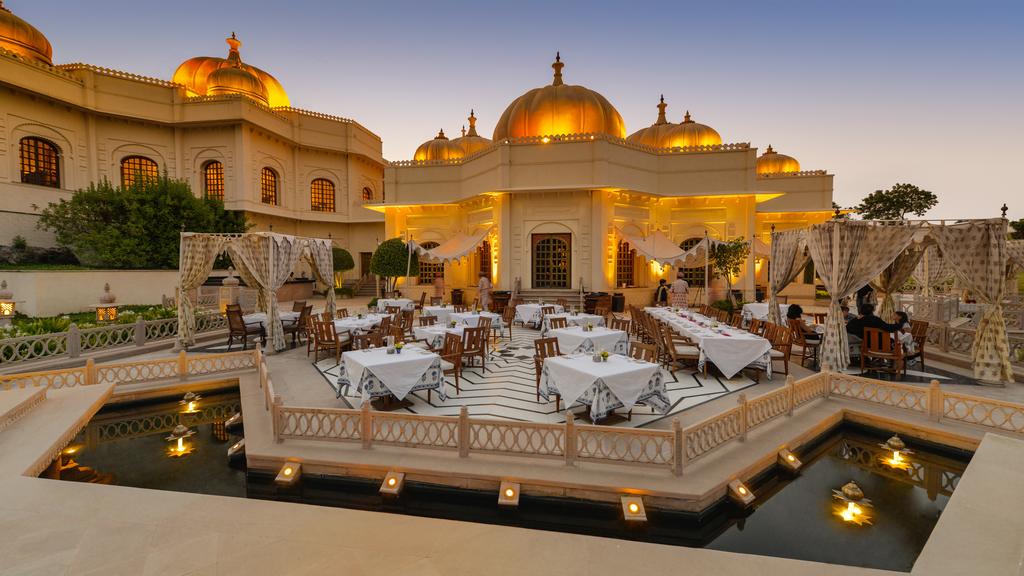 Image courtesy: booking.com
Udaivilas is the first luxury hotel that comes to anybody's mind, the moment you say Udaipur. This hotel became one of the most sought after wedding destinations in India after it was beautifully showcased in the successful film Yeh Jawaani Hai Deewani, which was shot here! And there are no doubts about it being one of the top wedding places in Udaipur. While this 5 star hotel doesn't organize the main day event, it lets you have your pre and post wedding ceremonies here. Its beautiful lush green lawns make for a marvelous backdrop to capture the most memorable moments of your special day!
Laxmi Vilas Palace, Bharatpur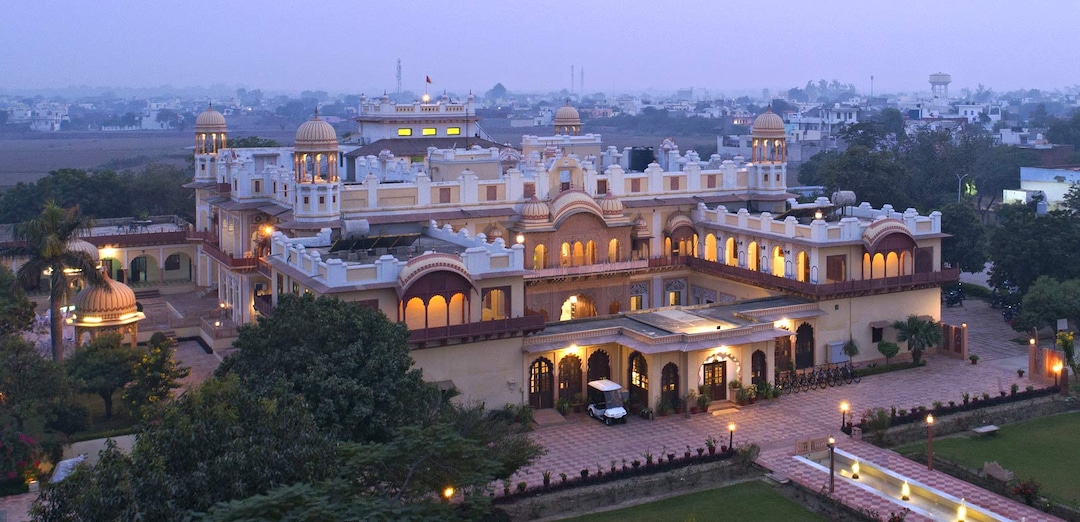 Image courtesy: laxmivilas.com
For centuries, the Laxmi Vilas Palace has been a witness to almost every eventful happening that took in the princely state of Bharatpur – Royal weddings, affairs of the court and the Royal duck shoots. It has played host to dignitaries like the Duke of Edinburgh, Shah of Iran, King of Nepal and Shah of Afghan. Feasts and festivities lasted for days, and the Palace kitchen ensured that the only gourmet cuisine arrived at the dining table. The same traditions of hospitality have been kept alive till the present day, in the form of wedding destinations. In 1994, when The Laxmi Vilas Palace was converted to a hotel, the heritage property has made guests experience royalty with its hospitality. Book your wedding in the picturesque backdrop of this erstwhile princely hotel and let your wedding vows be etched in history for a lifetime.
Suryagarh Palace, Jaisalmer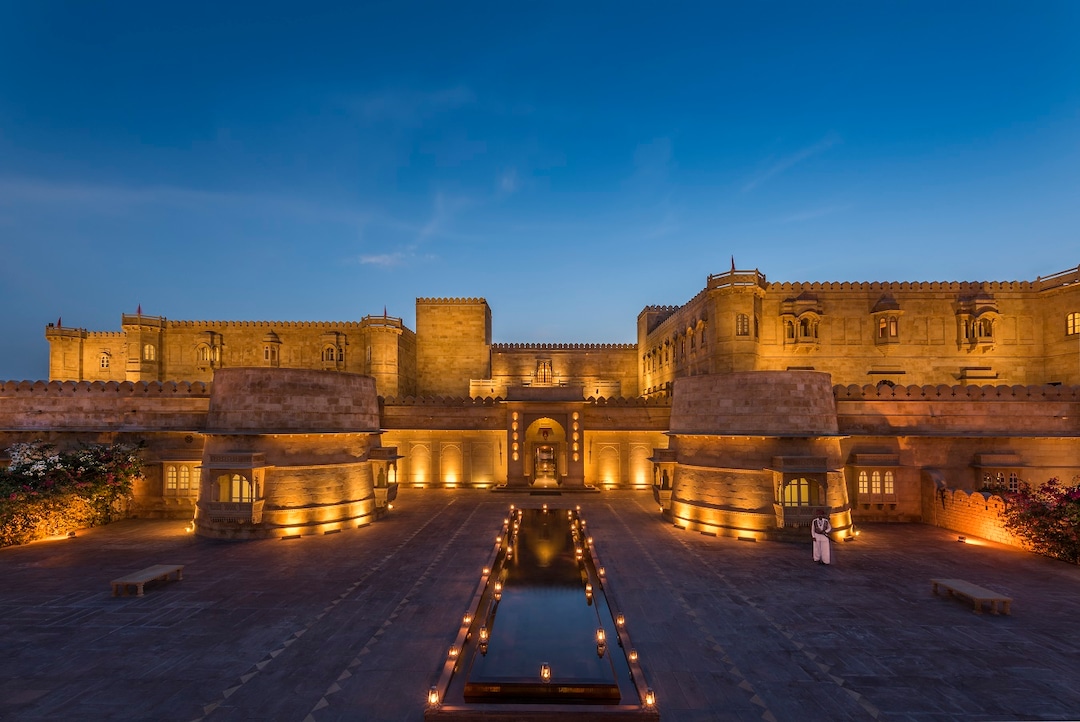 The first sight of this palatial and luxurious palace hotel will make you believe in love at first sight. There are very few hotels which could provide an experience that in all honesty celebrate its home city, Suryagarh was conceived with this noble idea and it is indeed a glimpse of Rajputana way of life. Nestled amidst the Thar Desert, the Suryagarh Palace in Jaisalmer is one of the most romantic wedding destinations that will give you a royal experience. The boutique hotel allows couples to exchange the vows in the sand dunes and at the same time, provides them and their guests a taste of the rich tradition of the city. Suryagarh has an array of wedding venues for your many ceremonies. The combination of courtyards, terraces, gardens and banquet rooms will give a different feel to every event, plus you wouldn't have to repeat any venue.
Neemrana Fort Palace, Alwar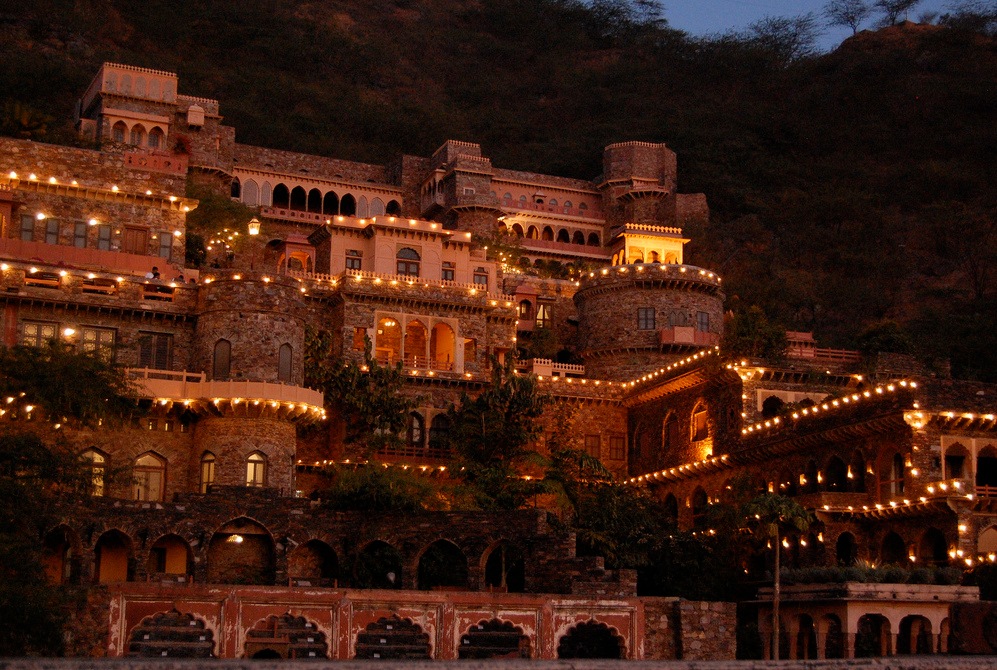 Image courtesy: traveldglobe
This 15th-century heritage hotel in Alwar district of Rajasthan is one of the most vibrant historical sites to get married. With highlights like a Roman amphitheater, hanging gardens, etc., this picturesque palace offers more than 23 magnificent locales to choose from for the wedding venue. The Neemrana is a seven wings palace which is built over 12 layers stretching across a vast 2.5 hectares of lush green gardens.
With trending destinations, come trending wedding themes. We are sure you must be brainstorming with your wedding planner for an out-of0the-box theme. So let us suggest you one! Check out the Cherry Blossom wedding theme guide here that will make your wedding oh-so-perfect and all things romantic. Pre-wedding shoots, anyone?
Cover image courtesy: pachargrouphotels 
Written by: Aashima Kadakia
Creative ninja and a true follower of 'Work, Save, Travel, Repeat', I love to travel, experience places and bring back stories for a lifetime. Born and brought up in Ahmedabad, I like to visit the same old places, the same cliched tourist spots and destinations, but choose to see the unexplored in the old places. Always inclined towards the mighty mountains in their debate with the beaches!