You just need to glance around at the number of upscale shopping malls that have cropped up in India over the last decade to understand the magnitude of the shopping revolution. Have you ever pondered how we got by without them a decade ago? There is no doubt that there are many historical places and water parks in Delhi, but malls have enchanted the majority of the city's population throughout the years, and the Delhi-NCR region now boasts some of the top malls in the country.
Over the last decade or so, we've seen a large number of malls spring up around the city. People from all across the country have been drawn to Delhi's colourful street shopping marketplaces, state emporiums, and high-end designer stores. However, the expansion of shopping malls in Delhi over the last several decades has resulted in a change in the city's shopping scene away from these traditional retail attractions. From luxury goods to gadgets, food to entertainment, these establishments offer it all. So, whether you're searching for the ideal outfit, the latest gadget, or some crazy entertainment, these prominent shopping malls in Delhi have it all.
1. DLF Promenade
DLF is one of the country's most innovative shopping malls and is one of the most famous malls in Delhi. Aside from Delhi, there are several luxury shopping complexes in Noida, Gurgaon, and Chandigarh. DLF Promenade is a stylish Delhi shopping mall located in the heart of one of the city's best shopping districts, Vasant Kunj. DLF Promenade is one of the best malls in Delhi-NCR. This is the place to be for folks who are brand and trend-savvy. The selection of clothing, footwear, handbags, and so on that you will find at this mall is difficult to find elsewhere.
The DLF Promenade is the ideal mall to shop, dine, and relax in. It has everything from high-street retailers to glitzy restaurants and cafés. The mall is growing increasingly popular due to its location, connectivity, retail and dining options, and events. Aside from a wonderful shopping experience, the kids may enjoy a variety of games and activities at Kiddyland. Movie buffs may also have a great time at the 7-screen PVR ICON Cinemas, while those looking to unwind can go to "The Hub."
How to reach?
One can take the nearest metro to the mall, which is Vasant Vihar, and then can either take an auto or a cab as per their convenience.
Timings: 10:00 am to 8:00 pm
2. DLF Emporio Mall
DLF Emporio Mall was created as a luxury-associated brand, delivering a one-of-a-kind retail experience that emphasises exclusivity, space, and aesthetics. It is one of the biggest luxury shopping malls in Delhi. It offers top-tier brands like Kenneth Cole, Bang & Olufsen, Bottega Veneta, True Religion, Burberry, Versace, Giorgio Armani, Cartier, Chopard, and many others. There is absolutely no other place where such a diverse range of designers, luxury goods, lifestyle items, and services are available under one exquisite roof. This modern and attractive mall is one of the malls near the Delhi airport and has all of the main food chain businesses as well as numerous high-end restaurants. The restaurant "Setz With A Bar" provides cosmopolitan food from seven different nations. When it comes to defining one of Delhi's luxury malls, you can't go wrong with Emporio—unquestionably, it's one of the best malls in Delhi for refined shopping. So, if any newlywed couple is looking to gift their better half something luxurious, then DLF Emporio should be one of the must-included malls in your Delhi honeymoon package.
How to reach?
This is interconnected with DLF Promenade so just hop from that one to this.
Timings: 11:00 am to 8:00 pm
3. Ambience Mall Gurgaon
Ambience Mall on the Delhi-Gurgaon border is one of the city's most famous shopping destinations, stretching for a whole kilometre. From Zara and H&M to Calvin Klein, Anita Dongre, and Bobbi Brown, you can find it all at Ambience. Add to that the numerous food options available here, which range from Chinese and North Indian to Mexican and Italian, and it's clear to see why this mall is so popular.
How to reach?
The Moulsari Avenue station is the nearest one to Ambience Mall, Gurgaon, in Delhi, and then one can either take an auto from there or a cab as per their convenience.
Timings: 10:00 am to 11:00 pm
4. Ansal Plaza Mall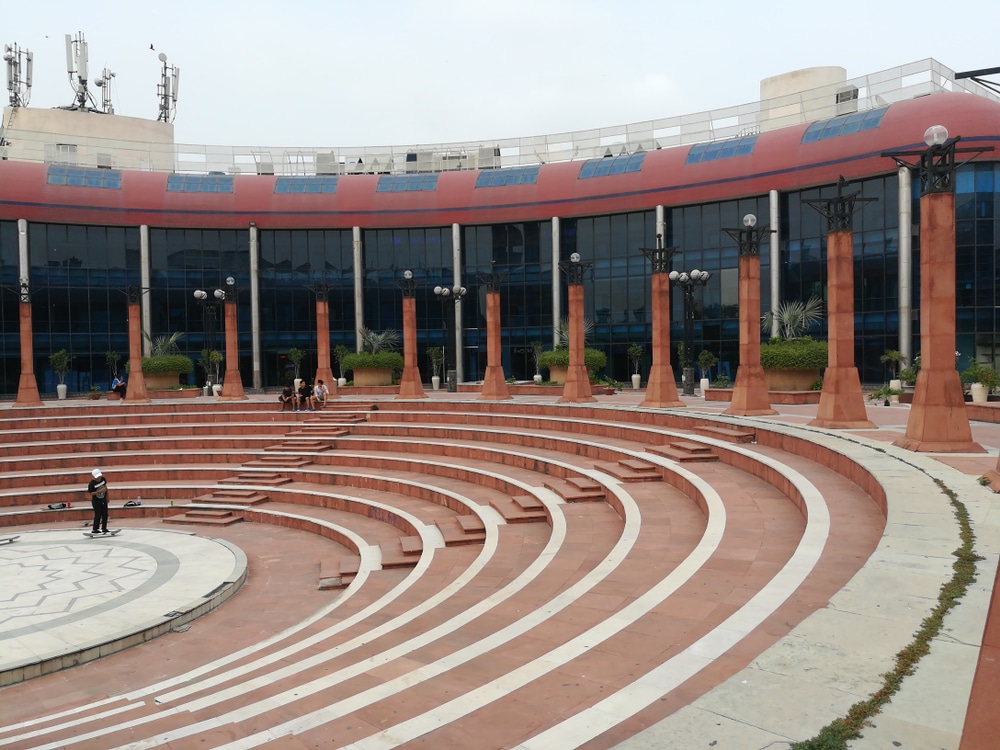 Ansal Plaza, one of the oldest malls in South Delhi, is a renowned shopping destination in the city. Ansal Plaza, which spans 35 acres, is one of the largest shopping malls in Delhi. The mall is circular in shape, featuring an amphitheatre and a central stage. On weekends, Ansal Plaza transforms into a cultural destination, with customers getting the best of both worlds—shopping while taking in the natural atmosphere of the amphitheatre and centre stage. Ansal Plaza, located near the South Extension Market, is a section of the South Delhi retail district.
At the heart of the mall is an amphitheatre where a variety of events are held on a regular basis. It's also an excellent area to spend an evening stargazing. The mall was renovated a few years ago, and it now includes some of the city's most attractive rooftop eateries, including Triple8, Taksim, Sky High, and Orza. Decathlon is one of the mall's most popular stores. Color Plus, Lacoste, Samsung, Shoppers Stop, and Meena Bazar are among the main retail brands that call it home.
Ansals Plaza is more than simply the best shopping mall in Delhi; it also has some of the most well-known cafés and restaurants in town, like Slique, Aquila, Skigh High, Limitless Cookhouse, etc. Ansal Plaza has become a favourite hangout for South Delhi teenagers, with the mall offering a variety of cafés and eateries to choose from. Ansal Plaza is more than simply a market; it's a full-service shopping centre that must be included in the Delhi tour packages. Ansal Plaza, with its mix of contemporary buildings, businesses, and natural areas, offers the best of both worlds. If you're lucky, you might see live music being played on the main stage. The place's overall experience is what makes it the top shopping destination in Delhi.
How to reach?
One can take the nearest metro to the mall, which is Hauz Khas, and then can either take an auto or a cab as per their convenience.
Timings: 9:30 am to 9:30 pm
5. Select Citywalk
Select City Walk Mall is one of Delhi's most prominent retail malls. It is one of New Delhi's greatest retail malls. The air-conditioned mall, which spans 1.3 million square feet, features a magnificent outdoor planted space, giving it a distinct atmosphere. It is a popular shopping centre since it contains an all-inclusive mix of brands as well as a variety of cafés, restaurants, bistros, and bars.
This is one of the best shopping malls in Delhi, which is located in the city's Saket district and is home to a variety of foreign and domestic brand retailers. Aside from fun and activity zones for children and a large PVR theatre, the mall also boasts a massive food court with a plethora of food brand restaurants.
How to reach?
One can take the nearest metro to the mall, which is Malviya Nagar.
Timings: 10:00 am to 11:00 pm
6. The Chanakya
The Chanakya is your one-stop destination for all things fab in Delhi, with world-class restaurants, worldwide and domestic premium brands, and a state-of-the-art cinema. The Chanakya, located in the centre of the city, is one of the malls in Delhi where you can buy the most expensive brands and see newly released movies in the multiplex. Many other brands are present: Hermès, Nicobar, Rolex, Ted Baker, Grass Roots by Anita Dongre, Diesel, Thomas Pink, and many others. The PVR ECX, which sprawls across 21,673 sq ft has a seating capacity of 1001! Pretty cool, eh?!
How to reach?
One can take the nearest metro to the mall, which is Sarojni Nagar, and then can either take an auto or a cab as per their convenience.
Timings: 11:00 am to 10:00 pm
Above all, being the capital city, Delhi lures with its iconic style and luxury. Apart from these amazing malls, there are a lot of weekend getaways from Delhi for a short trip. Curious about visiting the National Capital region? Check out Veena World travel packages and customize your vacation to Delhi and begin planning right away.