Reading Time:
11
minutes
Pondicherry or Puducherry, whatever you prefer calling it, is a quaint little town set on the shimmering coastline of the Bay of Bengal. Some come to Pondicherry for a history lesson while others come to the town to seek spirituality. But other than bustling streets, colourful villas, tree-lined boulevards and a beautiful promenade by the sea, Pondicherry also has a strong influence of English, Portuguese, French and Dutch in its cuisines. Before diving into the best places to eat in Pondicherry, here's some light on the history of this beautiful town.
Pondicherry is popularly known as the French Quarter which is a culturally rich Indian Union Territory near Tamil Nadu. In the mid-1670s, when the French set up a trading outpost in Pondicherry and when India became independent in 1947, the town was under British, French and Dutch control for over 250 years. Pondicherry got liberation from French rule in 1954, but a major chunk of French culture managed to remain in Pondicherry, which is present in the town even today. Over the years, the town has become home to a number of cafes and restaurants with rooftops or shaded patios and restaurants in Pondicherry, where you will be able to see a flock of locals and tourists enjoying their meals. If you are planning a Pondicherry trip anytime soon, we have rounded up a list of some of the best cafes and restaurants in Pondicherry that are sure to tingle those taste buds.
1. Le Club – First French Restaurant in Pondicherry
Le Club is located in the White Town on the main Pondicherry beach road which happens to be the first French restaurant in Pondicherry. Le Club is an excellent place to hang out and one of the top restaurants in Pondicherry, as the cafe is a popular hotspot on the marine drive serving authentic French cuisine.
Location: Hotel De Pondicherry, 38, Dumas Street, White Town, Pondicherry
Cuisine: French, Continental and North Indian
Must Try: Mushroom Soup, Ceaser Salad and Pasta
2. Cafe Des Arts – Best Breakfast Place in Town
Cafe Des Arts is one of the best cafes in Pondicherry to chill out in the French Quarter, which is adorned with chic yellow walls, graffiti art and plenty of vintage objects scattered around. The cafe is not just a beautiful backdrop for your Instagram pictures but also serves some of the best food in Pondicherry that is truly lip-smacking. Cafe Des Arts is a beautifully conceptualised cafe that will is sure to give you a laidback vibe while you enjoy the view while sipping coffee or reading a book.
Location: 10, Suffren St, White Town, Pondicherry
Cuisine: French
Must Try: Ratatouille Sandwich, Crepes and Baguette Bacon amd Egg Sandwich
3. Bay of Buddha – Astonishing Views of the Lighthouse
Perched atop Hotel Promenade, overlooking the ocean, the Bay of Buddha is much famed to be one of the best places to eat in Pondicherry. With an old lighthouse in the backdrop, the Bay of Buddha restaurant serves everything from traditional Thai cuisine to exquisite Vietnamese dishes. The Bay of Buddha is a rooftop restaurant that offers an enchanting view of the Bay of Bengal along with panoramic views of the White Town.
Location: The Promenade, 23, Goubert Avenue, White Town, Pondicherry
Cuisine: Asian, Indonesian, Vietnamese, Thai, Korean, Malaysian and Chinese
Must Try: Prawn Crackers, Chicken Satay, Sushi and Pad Thai
4. Le Rendezvous
The Le Rendezvous restaurant in Pondicherry is run by a mother and daughter and was designed as a place where people could come and sit while enjoying a variety of tempting cuisines. This French restaurant in Pondicherry offers everything from unique coastal cuisines to delectable fusion food with local flavours.
Location: 30, Rue Suffren, White Town, Pondicherry
Cuisine: French, Continental, Goan and Mangalorean
Must Try: Jamaican Mojito, Pork Ribs and Mashed Potatoes
5. Coromandel Cafe and Restaurant
The Coromandel Cafe was formerly known as La Maison Rose, which is adorned by pastel pink and green walls serving everything sourced from the local farm. Coromandel Cafe and Restaurant is one of the most beautiful cafes in Pondicherry inside out, with an old-world charm design and aesthetics. You can try Pondicherry street food and some of the best French and Italian cuisines at the Coromandel Cafe and Restaurant.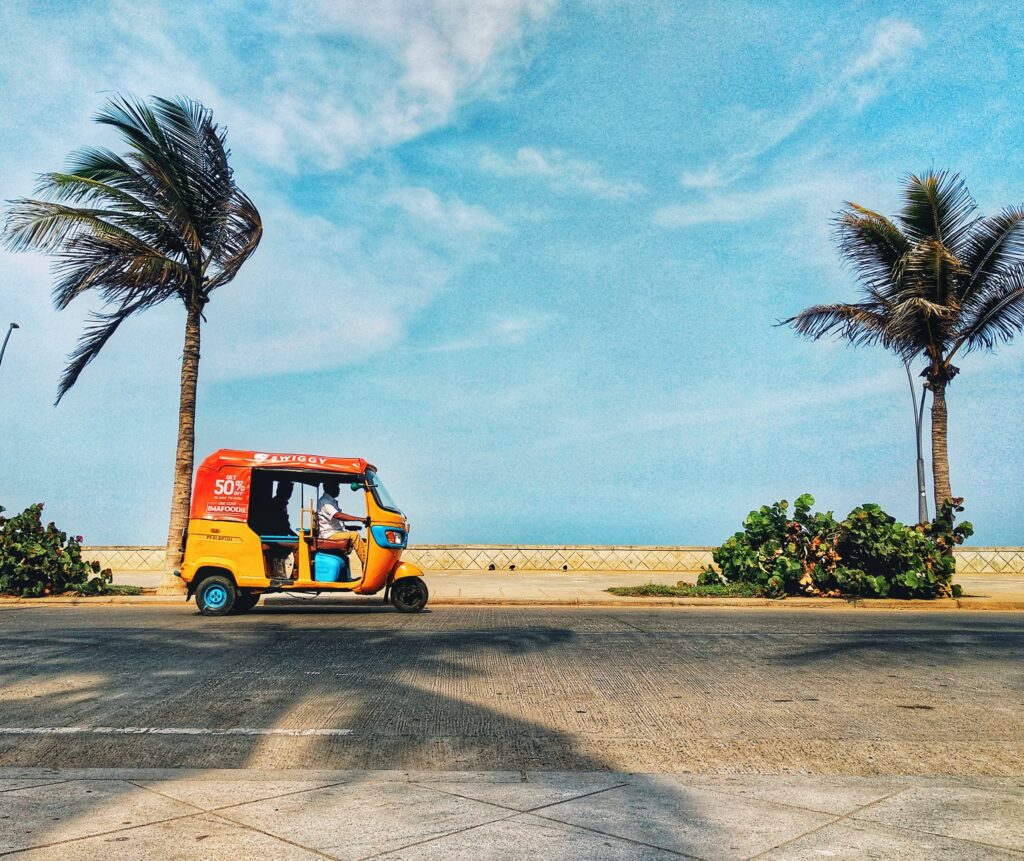 Location: Rue Suffren Street, White Town, Pondicherry
Cuisine: British, French and Italian
Must Try: Fettuccini with Buttered Mushrooms, Flatbread with Pink Hummus and Posh N' Pink Tagliatelle
6. Surguru
Known for serving the best dosas in the town, Surguru is a popular vegetarian restaurant in Pondicherry, located in the city centre. The variety of dosas you are going to find at this restaurant is unimaginable. The food you find at this place is also value for money.
Location: 104, Sardar Vallabhai Patel Salai, Heritage Town, Pondicherry
Cuisine: South Indian, North Indian and Chinese
Must Try: Ghee Masala Dosa, Palak Dosa, Paper Dosa and Pongal
7. Le Cafe – Picturesque Views
Le Cafe in Pondicherry is not just famous for its scrumptious food but also is famous for its beautiful views. You can order a coffee and a croissant and enjoy your food while enjoying the picturesque views. When in Le Cafe, don't miss out on their famous Miss Saigon Bowl.
Location: WRJP+J8M, White Town, Pondicherry
Cuisine: Breakfast, Fast Food and Continental
Must Try: Miss Saigon Bowl and Green Thum Sandwich
8. Satsanga – Mouthwatering Seafood
Satsanga is one of the top ten restaurants in Pondicherry that serves guests delectable seafood in Pondicherry straight from the sea and organic vegetables from their local farms. The ambience of the restaurant makes Satsanga one of the best restaurants in Pondicherry in terms of hangout places in the town.
Location: La Bourdonnais Street, White Town, Pondicherry
Cuisine: French, Italian and Indian
Must Try: Ginger and Honey Prawns, Ratatouille, Moussaka and Beef Steak
9. Baker Street – Popular Breakfast Point
Baker Street is one of the best breakfast places in the town where you can find an exquisite range of puff pastries, croissants, danish, brioche and so much more. The Baker Street restaurant opens its gates early in the morning, so make sure to beat the crowd and settle down with your meal.
Location: 123, Bussy Street Near Clock Tower, MG Road Area, Pondicherry
Cuisine: French
Must Try: Macaroons, Burgers and Pita Pockets, Sugary Palmiers and Filling Sandwiches
10. Bread and Chocolate
Bread and Chocolate in Auroville is hands down one of the best chocolates and bread in town. The restaurant serves the yummiest of Pondicherry food from trendy Buddha bowls, sandwiches and breakfast bowls loaded with freshly plucked fruits. If you are visiting this restaurant, try going early on weekends to avoid crowds and grab your favourite food before it runs off the shelf.
Location: 6, Marine Street, White Town, Pondicherry
Cuisine: Continental and Fast Food
Must Try: Breakfast Smoothie Bowl, Chocolate Croissant, Affogato and Sourdough Sandwich
11. Cafe Xtasi
Cafe Xtasi is famous food joint in the entire Pondicherry for its thin crust pizza prepared in a brick oven. You will be spoilt by choices when it comes to the variety of pizzas, pastas, appetizers and chocolaty drinks. The Cafe Xtasi is located on the busy streets of MG Road where you get to order pizza in a half and half style with different toppings on each pizza. Cafe Xtasi is one of the best French restaurants in Pondicherry.
Location: 245, Mission St, Opposite VOC School, MG Road Area, Pondicherry
Cuisine: Continental
Must Try: Garlic Bread with Cheese and House Special Pizza
12. Carte Blanche
Although Carte Blanche is popularly known for its breakfast buffet, the cafe also perfectly makes for a romantic dinner if you are visiting Pondicherry on your honeymoon. The cafe is lit up beautifully with colourful fairy lights and lanterns which take you back in time. Don't forget to taste their wines and different variety of desserts once at Carte Blanche.
Location: 17, Romain Rolland St, White Town, Pondicherry
Cuisine: Tamil, French, Portuguese and Vietnamese
Must Try: Tamarind Fish Curry, Ratatouille and Sand Lobster
13. #Dilliwaala6
#Dilliwaala6 is the most Instagrammable restaurant in Pondicherry where you will see a beautiful courtyard and outdoor seating adorned with a funky and colourful scooter, a spiral staircase and a huge poster. At #Dilliwaala6 restaurant, even the simplest cuisine like Daal Tadka tastes delicious!
Location: Door No. 6, Marine Street, White Town, Pondicherry
Cuisine: North Indian and Street Food
Must Try: Punjabi Thali and Multani Paneer Tikka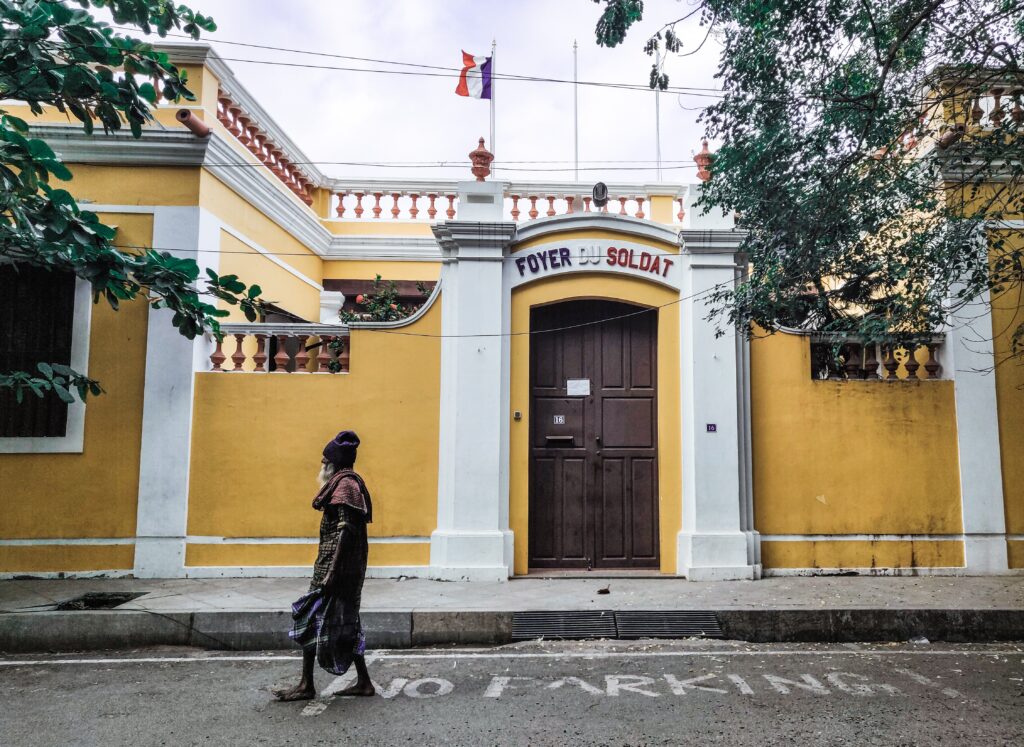 Did you like what you read and planning a Pondicherry trip already? Add our curated list of some of the best restaurants to eat in Pondicherry to your list when you plan to visit the town anytime soon. Pondicherry is also home to some of the best hotels and resorts which will make your visit worth it. When you decide to book your package with Veena World, you get to enjoy your holiday in the best resorts of Pondicherry along with a tailor-made tour around the town. You can even customise your trip according to your choices with Veena World's customised holiday option. Head out and treat your palate!