Reading Time:
8
minutes
In the southernmost tip of our country lies a town that charms every tourist who visits it. Known as Kanyakumari, this town is named after the goddess who listens to the prayers of young women for a blissful marriage. During the British Raj, it used to be known as Cape Comorin with fishing as the main source of livelihood for its people. Every year, millions of people flock to this enchanting place in search of peace, gratitude, and adventure. An enriching experience of cultural heritage and natural beauty is why Kanyakumari tour packages are sold out so quickly so often! There are a number of resorts near the beach in Kanyakumari where you can stay with your family or friends. Along with that, having a well-planned itinerary that gives you the freedom to relax and explore without getting exhausted is highly recommended.
Best Time to Visit Kanyakumari 
Kanyakumari is the perfect example of a tropical paradise in South India. Although you can visit this town all-year-round, the ideal time would be when the temperatures are cool and pleasant. The months between October and March are supposed to have "winter" in Kanyakumari. This is the time when the weather conditions are pleasant during the day with a nip in the air at night. Summer lasts from March to May when the temperatures can get very high. If you do not mind the heat, then you can get great deals at some of the most luxurious resorts in Kanyakumari at that time.
Here are 10 of the most popular resorts in Kanyakumari where you can stay with your family and friends: –
1. Thabasiya Resort
Picture this wonderful POV: sitting on a treehouse with a hot cup of chai and freshly prepared idiyappam. Listed among the best resorts in Kanyakumari, Thabasiya is a sight for sore eyes. You have the option of choosing between a standard room or a suite depending on your budget at this property. Regardless of what you choose, the amenities provided in both types of accommodation are top-notch. Making the most of your vacation is possible here with a luxury spa service, outdoor swimming pool, multi-cuisine restaurants, and many other amenities.
2. Annai Resorts & Spa 
Annai Resorts & Spa in Kanyakumari is a haven for people who love the sea. This is because this property has sea-facing villas that are simply beyond comparison. What's more? You get to unwind your body and mind with an Ayurvedic massage provided by trained spa professionals that too in the comfort of your room! Touted as one of the top beach resorts in Kanyakumari, a stay at this luxury accommodation with your friends or family members would be an unforgettable experience.
3. Sparsa Resort 
When we talk about the most luxurious beach resort in Kanyakumari, Sparsa is the first name that comes to mind. Another 5-star property that believes in creating an environmentally friendly space for its patrons, Sparsa Resort in Kanyakumari is adorned with flower gardens and walking trails. It is among the most popular Kanyakumari resorts with an outdoor swimming pool as well. Situated at a stone's throw away from Mahatma Gandhi Mandapam and Baywatch Water Park, you can conveniently plan your Kanyakumari sightseeing tour while staying at this luxury resort.
4. Ave Beach Resort
Looking up resorts near Kanyakumari can be a little tedious for people who are not familiar with the area. While there are several high-end properties in and around this town, you can consider residing at this property that offers direct access to the beach. Ave Beach Resort believes in providing a memorable stay to its patrons via the outstanding service it consistently provides. You will get to try delicious food at its restaurant, take a dip in the pool, and spend some quality time with your loved ones without getting disturbed by the outside world.
5. Anantya Resorts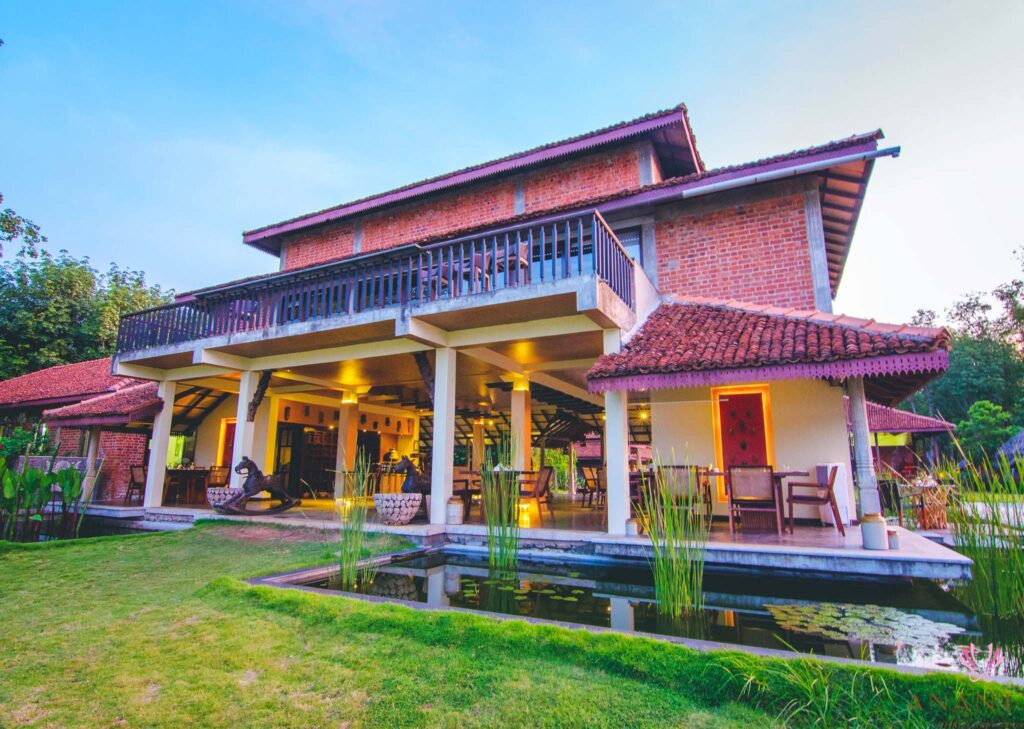 One of the best ways to relax in Kanyakumari is at Anantya Resorts, an eco-friendly luxury property that will make you forget all your worries instantly! With 31 lake-view villas, modern amenities, and various multi-cuisine restaurants at your disposal, this is among the most lavish 5-star resorts in Kanyakumari. The sheer beauty of Anantya Resorts, Kanyakumari is the sole reason why a lot of tourists spend a few days extra in the city. If you have a customizable itinerary that permits you to stretch your vacation, this resort is the place for you.
6. Indien Hermitage
Celebrating the Dravidian style of architecture in all its glory, Indien Hermitage is a unique luxury resort near Kanyakumari. Situated near a hill, the entire property is made of red bricks that give it an old-world charm. After exploring the most famous places to visit in Kanyakumari such as Kumari Amman Temple, Vivekananda Rock Memorial, Thiruvalluvar Statue, etc., you can refresh yourself by watching the sunset at this luxury resort's magnificent garden.
7. The Gopinivas Grand
Recommended by several tourists from across the world, The Gopinivas Grand is a budget-friendly resort in Kanyakumari that provides world-class facilities to its patrons. This property is renowned for its excellent location as you can easily reach all the tourist attractions within minutes. It is among the few beach resorts in Kanyakumari that are easy on the pocket. That being said, there are no compromises in the services provided at this property.
8. Tri Sea Resort
Tri Sea Resort is one of the oldest resorts in Kanyakumari with a reputation that remains to be rock solid. With more than 100 guestrooms maintained beautifully to this day, this budget-friendly resort provides all the modern amenities to its patrons. The location of Tri Sea Resort is undoubtedly one of the best you can find as it is nestled close to the Triveni Sangam – the confluence of three oceans. Ideal for family vacations and corporate holidays, this one's a no-brainer!
9. Sea Face Resort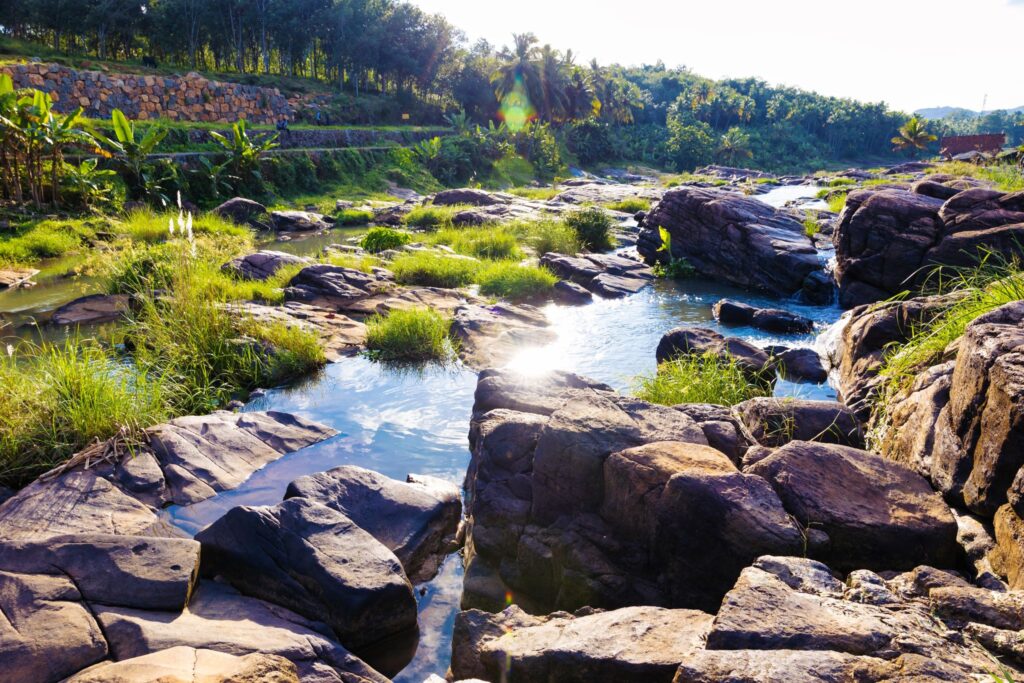 Most tourists who explore Kanyakumari know that East Car Street is the place to be in. The Sea Face Resort is situated right in the heart of this area. Buzzing with activities, restaurants, and street markets, you can have a gala time with your loved ones here. Families and groups of friends with a limited budget can book their accommodation at the resort since it is one of the most affordable beach resorts in Kanyakumari.
10. Hotel Rajam
Keeping the cottage-style architecture alive to this day, Hotel Rajam is another beach resort in Kanyakumari with reasonably priced accommodations. You will get to have a lot of privacy as its cottages are well-spaced out. Tourists who love seafood preparations must try the dishes prepared at this resort.
With so many resorts in Kanyakumari to choose from, that 'long due vacation' has to happen soon! Book your holiday package right away and explore this mystical coastal town right away.