Reading Time:
9
minutes
When travelling to a new place, trying out its authentic dishes is something that can help you understand its culture better. When in the Philippines, you simply cannot resist the scrumptious Filipino food. With a wide range of ingredients, flavours, and aromas, the Philippines food is simple and delectable. Filipino cuisine and culture are extremely rich and diverse as it influenced by Spanish, Chinese, Indian, and Malay Kingdoms' cuisines. So, it won't be an exaggeration to say that each bite of traditional Filipino food is similar to a flavour bomb that is ready to explode in your mouth.
So, when you are planning out your itinerary for places to visit in the Philippines, the number of street food joints and restaurants en route will make your palette dance in joy and glee! The sheer magic of the cuisine in the Philippines is so distinctive that you will surely come back for more. Here are 12 lip-smacking Filipino dishes that you cannot miss out on when in the Philippines: – 
1. Adobo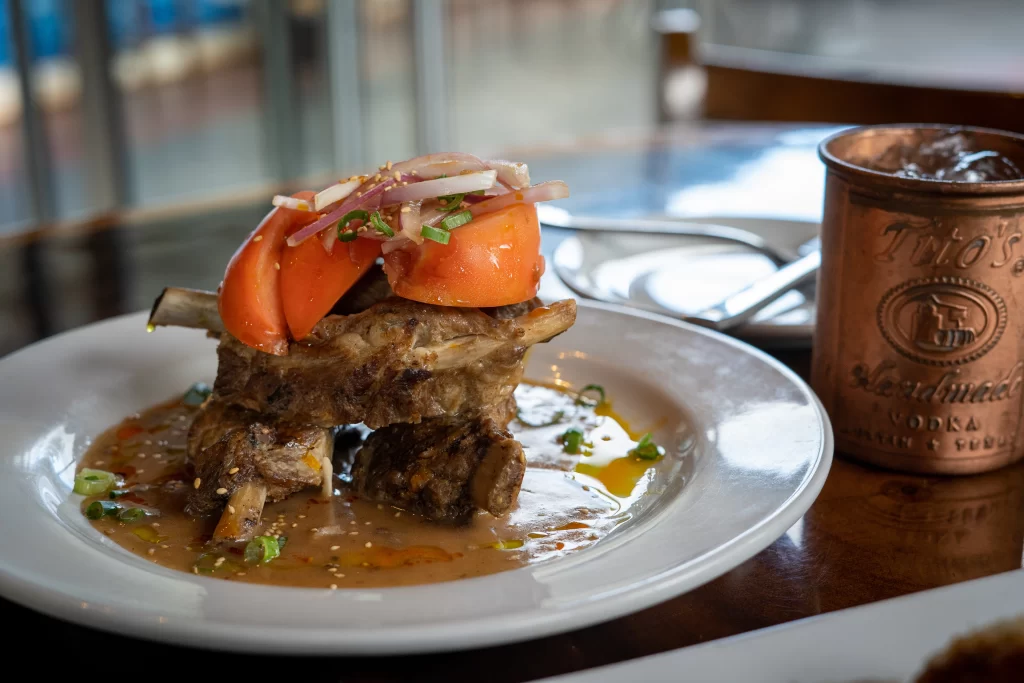 Adobo – the best Filipino food of all times is also known to be the unofficial national dish of the Philippines. Prepared with pork, chicken, or both simmered in soy sauce and vinegar along with black pepper, bay leaves, and crushed garlic, Adobo is ubiquitous in the Philippines. As with any popular dish, Adobo also has a bunch of different versions. However, they are all relished with nothing else but rice. As one of the most famous Filipino food items to try, this one should be on your bucket list for sure!
2. Bicol Express
If you are someone who cannot resist lip-smacking spicy food, then Bicol Express is just the right pick for you. This creamy stew originally comes from the Bicol region of the Philippines. Bicol Express is a Filipino dish that has three main ingredients – coconut milk, chilis, and pork. It is prepared by cooking pork cubes in coconut milk and chilli peppers until you get a rich, creamy, spicy and scrumptious stew that can be enjoyed with rice. It is among the best foods to try at a local joint in the Philippines where several helpings will be given to you without even asking!
3. Kare-Kare 
If you have booked your India to Philippines tour package, Kare-Kare is one dish that you must try and we shall tell you why! This Filipino food originated from South Indian chefs who resided in the Philippines when the British occupied the country. Although the Philippines is famous for its stew, Kare-Kare is more of a curry that is prepared with peanut sauce, oxtail, or other meatier cuts of beef. The amalgamation of South Indian and Filipino flavours is best highlighted in this food item of the Philippines.
4. Lechon 
Let's be real now, Lechon is as popular as Adobo in the Philippines, if not more! You will not find a single local whose "top 5 famous foods list in the Philippines" will not have Lechon in it. This Filipino dish is a must-have in any grand Pinoy gathering or fiesta here. And you can easily find it, owing to size and appearance. After all, coming across a fully roasted pig with crisp skin on the outside and tender meat inside is remarkable. If you are drooling already, then we won't even blame you for it.
5. Sisig 
In the Philippines, nothing goes to waste, and this is the idea behind Sisig. Made with pork's cheeks, head, and liver, Sisig is served sizzling on a hot stone plate. So, if you are in a restaurant in the Philippines scouting the food menu and see steam rising off the cast-iron skillet, you would know that someone has ordered Sisig! This dish has a crunchy yet chewy texture that is truly irresistible. Filipinos usually enjoy it with a cold beer, so make sure you order one too.
6. Chicken Inasal
Inasal has a very peculiar flavour thanks to its exciting and unique ingredients. With tender grilled chicken flavoured in a special marinade of vinegar, kalamansi, ginger, and lemongrass, Inasal is a dish like no other. The achuete (annatto seeds) oil is brushed on the meat and even poured over the plain rice that is served along, making it a wholesome meal. As far as famous foods in the Philippines go, this one's on the menu of almost all restaurants and shacks.
7. Lumpia 
Lumpia is one of the safer options for people who do not like to experiment a lot. Influenced by Chinese cuisine, Lumpia is a dish that is basically the Filipino version of a deep-fried spring roll. Stuffed with a mix of veggies and minced meat, it is served with sweet and sour dipping sauce for added zest.
8. Pancit Palabok
Pancit Palabok is a fiesta served on a plate! Served at birthday parties and get-togethers, this is a dish that is meant to be enjoyed with some amazing company. It is prepared with a thick layer of rice noodles dressed with a rich orange sauce, annatto sauce topped with pork, hard-boiled eggs, scallions, and shrimps. With so many ingredients, flavours and textures, there is something for everyone in Pancit Palabok, making it an amazing party meal.
9. Arroz Caldo
Arroz Caldo is one of the healthiest Filipino dishes and is usually a preferred breakfast option and often serves as a wholesome afternoon snack. Arroz Caldo is basically a rice porridge that gets its aroma from fried garlic bits, chopped green onions, chives, and ginger. It can also be served with chunks of chicken and hard-boiled eggs. The dish is well-known for its soothing effect on the stomach and its wide-ranging health benefits.
10. Bulalo
On a typical rainy day in the Philippines, you will find people slurping a nice hot bowl of Bulalo. Made from freshly slaughtered Batangas beef, the broth of Bulalo is loaded with flavours of fish sauce, onions, and peppercorns. The beef shanks that have been boiled for hours also lend their taste to the aromatic broth. Perhaps why it has such a calling name for it!
11. Bistek Tagalog
Bistek Tagalog is the perfect blend of salty, sour, and sweet deliciousness This Filipino dish is made from thinly sliced beefsteak braised in soy sauce, calamansi juice and then fried with garlic, ground black pepper, and caramelized onions rings. Each and every ingredient of this dish offers a distinct aroma, balancing all the flavours perfectly. A soul-satisfying food item in the Philippines that you will enjoy after a long day of exploring around.
12. Kilawin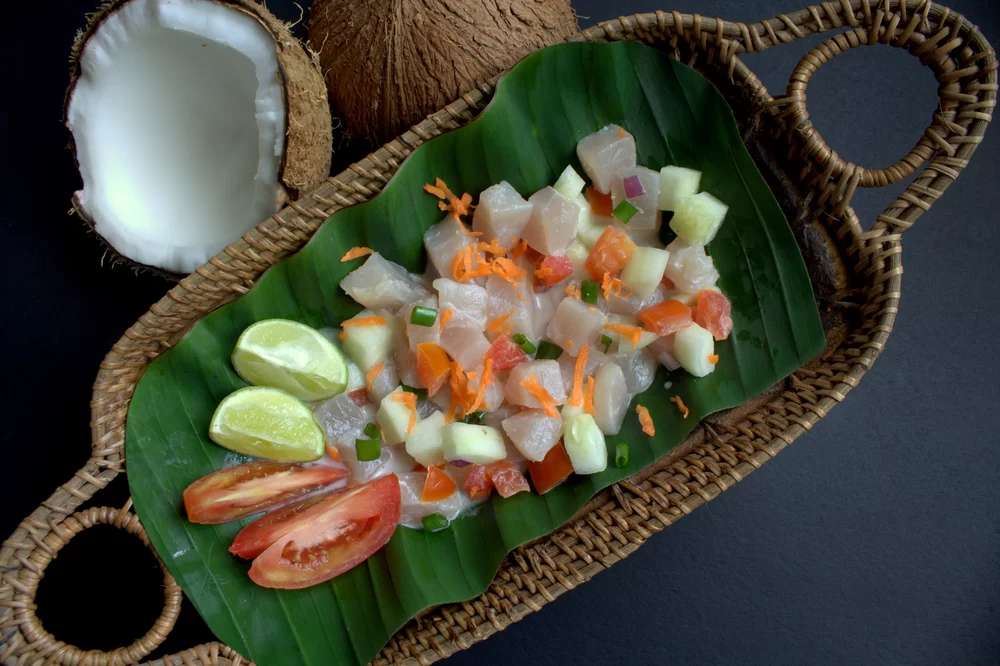 Kilawin is basically a ceviche but with Filipino flavours. The dish is typically made using tuna and tanigue which is cured in kalamansi and vinegar. For an even better texture and tang, onions and chillies are added. Kilawin is usually served as an appetizer or as pulutan (beer chow). You may also come across a similar dish with a similar name – kinilaw that makes use of raw meat. While both are great, some people usually do not like raw meat or seafood.
Filipino cuisine is all set to become the next big thing in the culinary world and all for good reasons. And we are sure that having a look at these appetizing Filipino dishes, you are already salivating on your screens. Plan your trip to the Philippines where you can try all these delicacies as much as you like!