Reading Time:
10
minutes
Norway, popularly known as the Land of the Midnight Sun, is a captivating country in northernmost Europe. The country's mountains, waterfalls, rivers, fjords, and coastline are absolute paradise. The country has one of the best living standards in the world. Norway is a popular tourism destination for visitors from all over the world. The country's natural beauty attracts those seeking adventure as well as those seeking calm and serenity. Despite its apparent difficulties, the country's tourism economy is rapidly booming.
Due to its high heights, Norway enjoys a lot of daylight from early May to late June, earning the nickname "Land of the Midnight Sun." In fact, significant parts of the country enjoy up to 18 hours of daylight per day. However, the days here are relatively short from late November until late January. To reap the maximum benefits out of their trip, many first-time travellers prefer to go through a Norway travel guide so that they don't miss anything.
Among Indians, Norway has become the most well-known and beloved tourist destination. With each passing day, Indians' curiosity and interest in European and other foreign countries are growing. However, to set foot in Norway, one requires to get a Norway visa for Indians, which generally is a Schengen visa. In this guide, you will learn about Norway visas and how to get one effectively.
Need for Norway visa for Indians
A tourist visa for Norway from India is required to enter the Kingdom of Norway. Tourists have to choose the type of Norway visa for Indians in accordance with the nature and purpose of their journey.
Types of Norway Visa for Indians
The following are the types of Norway visas:
Schengen Visa
The Schengen visa allows for a stay of up to 90 days in a six-month period. The visa permits you to travel across the Schengen area. Schengen visa is the best Norway visa for Indians. Not only Norway, but you will also be able to travel to Spain, Italy, Netherlands, France, Germany, Latvia, Iceland, Denmark, Sweden, Greece, Finland, Lithuania, Switzerland, Czech Republic, Estonia, Poland, and many more. Moreover, even if you enter or leave a Schengen region many times, you will not experience many restrictions.
National Visa D
The national visa allows you to stay in Norway from 91 to 180 days. The issuing of a Visa D might be for a variety of purposes, but not limited to a researcher, temporary worker, guest researcher, volunteer, or student. The national visa D might be given for a single or numerous entries based on the nature and purpose of your travel.
Transit Visa
The transit visa is not the same as the Schengen or national visas. The transit visa is different by the fact that it is only valid for a few days at most. It is often issued to tourists and travellers who just want to explore the country only one time. Travellers with a transit visa can enter the country while waiting for a connecting airplane, train, or ferry.
When Should You Submit Your Visa Application?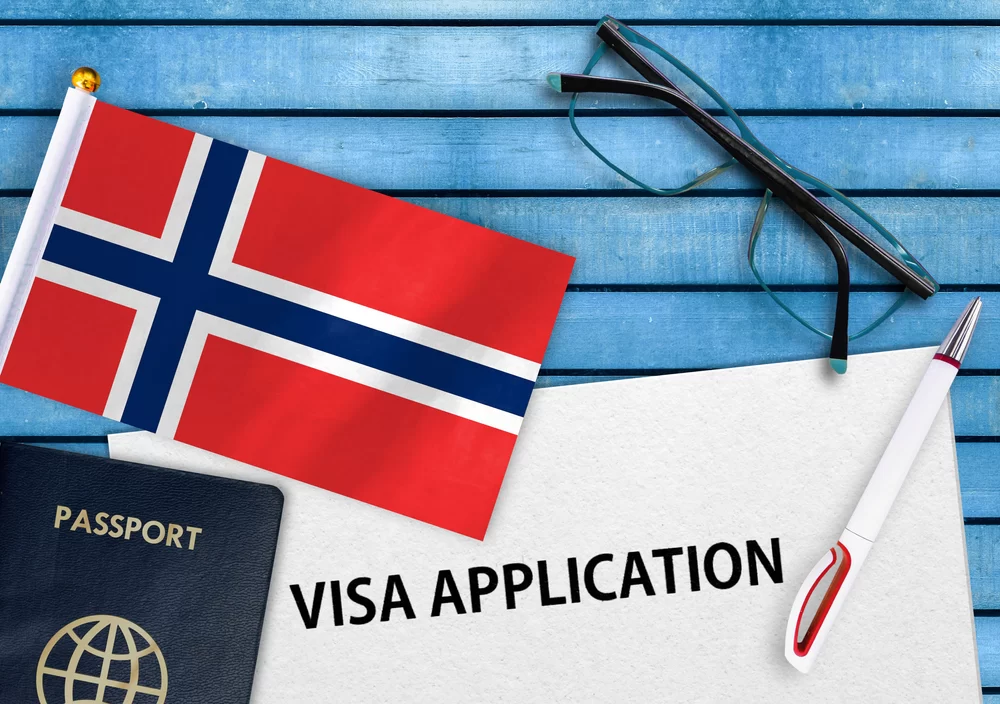 It is recommended to submit your visa application two weeks before you suppose to travel. This time period is the latest when the Embassy will receive and process your application. So, it is important to give yourself at least two weeks' time to submit your application.
The earliest you can submit your Norway visa application is 90 days before you are supposed to travel.
Application Process to Get Schengen Visa for Indians
Find out how to apply for a Norway visa for Indians in this step-by-step guide. You must apply for your visa by following the steps outlined below in order to get it approved. Here is the visa process for Norway from India:
The first step in applying for a visa is to determine the type of visa you require and the appropriate category based on the purpose of your stay.
Secondly, you need to fill out an application form. But, you must physically present the application form to the Norway visa application center when applying for a visa. Applicants are not allowed to submit the form online. Alternatively, you can just print a blank application form and fill it out offline. In case you feel comfortable filling out the form online, you can do it and then print out the form to submit offline.
After that, submit the application form to the corresponding branch of the Norway visa center. As previously mentioned, the form must be filled out 15 days prior to your departure date. You can also submit the form 90 days before your travel date. You must book an appointment in advance to provide the form.
Along with the application form, some other important documents are required to get your Norway visa approved.                                                         
Documents Required to Get Norway Visa for Indians
All of the documents listed below are required for your Norway visa to be approved. This part should be read thoroughly; if you forget to bring any of them; your visa application might get rejected. Here are the Norway visa requirements for Indian citizens:
Applicants must bring a completed copy of their application form with them.
You must carry two recent passport-sized photographs of yourself.
You are also required to show your passport that has the remaining validity of at least 6 months.
Photocopies of the return flight tickets and departure are also required to be sent at the time of application.
While submitting the application form for a visa to Norway, you will also require a cover letter explaining the nature of your trip, financial proof, and employment verification.
You'll also need to present proof of your identity.
5 Best Things to do in Norway
Now that you are ready to explore Norway, here are some of the best things you can do:
Train ride
Norway offers some of the most beautiful railway trails in the world. A train journey is one of the greatest ways to see Norway as it allows you to see the amazing countryside, attractive laid-back villages, and spectacular views of lush green hills and fjords.
Witness Northern Lights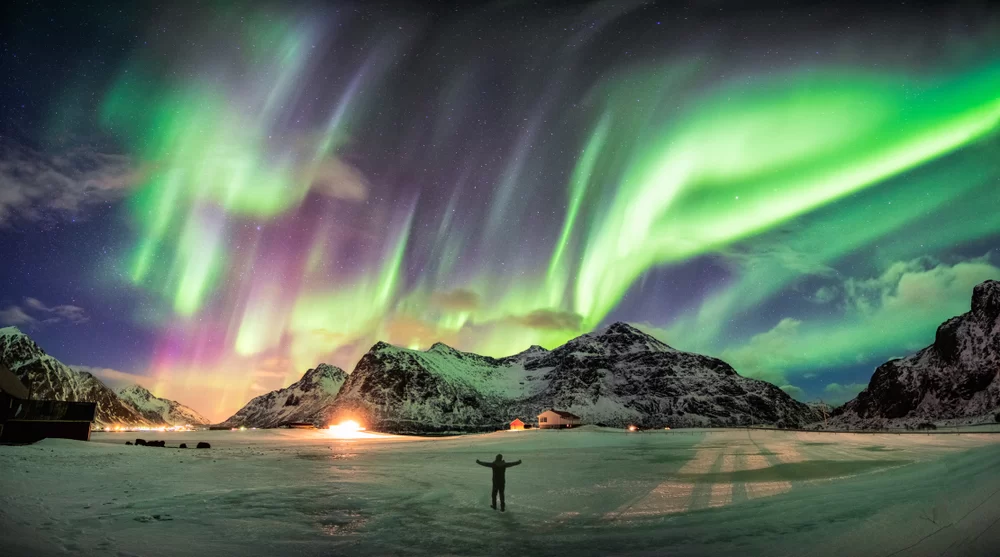 Norway is well-known for its spectacular Northern Lights, and it attracts a large number of visitors from November to March when the chances of seeing the Northern Lights are best. If you're looking for something to do in Norway in winter, witnessing the Northern Lights must be on your go-to list.
Hiking
Pulpit Rock is a fantastic hiking trek that isn't for the faint of heart. This is one of Norway's most beautiful natural attractions.The entire time it takes to climb the hill is estimated to be roughly 2 hours. The views of the fjord from the highest point are just breathtaking.
Ferry Ride
One of the great things to do in Norway is to take a ferry ride. Beautiful coastal villages and gorgeous ferry rides are found throughout Norway. Another excellent reason to visit this absolutely lovely nation is to take a cruise or a ferry.
This ferry ride is also one of the greatest ways to see Norway's magnificent fjords. Around Norway, there are amazing fjords that will make your ferry rides truly spectacular and enchanting.
Skiing
Norway is popular for its snow and skiing here would be the best thing you can do. The Lyngen Alps are a stunning mountain range that is blanketed with snow almost all year. Natural beauty and breathtaking views abound in the area. There are magnificent glaciers, water bodies such as magnificent rivers, fjords, and magnificent mountain peaks. For skiing enthusiasts, this is a fabulous location.
Obtaining a visa for Norway may appear to be difficult and frightening. However, if you follow all of the steps outlined in this blog, you should have no trouble applying for the visa appropriately. Obtaining a Norway visa for Indians is beneficial because the Schengen visa allows you to travel to 15+ different locations throughout Europe. After getting your tourist visa for Norway from India, explore some of the best Norway tour packages to get the most out of your vacation in this beautiful country.