Nepal, also known as the "Roof of the World", is a coastal country in South Asia. It is mostly located in the Himalayas, with a small portion in the Indo-Gangetic plains. It is an untouched beautiful place, officially known as the Federal Democratic Republic of Nepal. Nepal is one of the most sought-after travel destinations due to its snow-capped mountain peaks, pristine rivers, and lush scenery. This mountainous region is also well-known for its trekking opportunities. Pilgrimage is another aspect of Nepal that attracts tourists, with numerous Buddhist and Hindu temples to take a trip.
Nepal, which borders India, is one of the top tourist attractions near India. For a variety of reasons, Indians frequently choose Nepal as their vacation spot. While it is located abroad, it is one of India's closest neighbours. Furthermore, vacations in Nepal are extremely pocket-friendly, which is one of the primary reasons why the country is a popular choice for Indian tourists.
With many Indians planning to visit Nepal, it is extremely crucial that applicable visa requirements are thoroughly understood before venturing on a vacation. Furthermore, because Nepal's immigration rules differ from those of other countries, it is extremely important to have a good understanding of them.
Here are the details of the Nepal visa for Indians.
Nepal Visa for Indians
It is always a good thing to be able to travel to a different country without having to worry about Visa procedures. Fortunately, Nepal is one of the visa free countries for Indians. As a result, you can visit this nation without worrying about visa issues. So if you're an Indian national travelling to Nepal by air, all you need to bring with you and produce is one of the following two forms of identification:
Election Commission Card (Voter's ID Card)
Passport
Is a Visa Required for Indians to Visit Nepal?
No, Indian citizens do not need a visa for entering Nepal. It is worth noting that citizens of the majority of other countries require a visa to enter Nepal. This exception is only available to Indian citizens. Indians, on the other hand, are expected to carry proper documents required to visit Nepal for Indians.
Is it possible for Indians to obtain a visa on arrival or an e-visa in Nepal?
No, because Indian travellers do not need a visa to visit Nepal, the need for such a visa on arrival or E-visa is no longer necessary. Indians can easily travel to Nepal with their passports or other relevant documents to gain entry to the country, whether at the immigration center at Kathmandu International Airport or elsewhere.
Is it necessary to purchase Nepal Travel Insurance?
Nepal immigration rules for Indians do not require them to have a travel insurance policy in place in order to enter the country. Those travelling overseas for trekking, on the other hand, must purchase a travel insurance policy. These policies usually cover medical expenses up to and including hospitalization charges, even if the injury occurred while participating in an adventure sport. These plans typically cover the loss of luggage as well as the application for lost passports. A travel insurance policy not only assists in financially coping with unexpected expenses that may arise while travelling to Nepal; it also helps in providing immediate assistance during an emergency.
Do Indian visitors to Nepal need to have a passport?
Yes, valid passports are required for Indians travelling to Nepal. Tourists from India who do not have a passport for Nepal can enter the country with the help of a few other documents like a visa for Nepal.
Documents Required to Enter Nepal for Indian Citizens
The following are the documents required to visit Nepal for Indians:
While Nepal visa requirements for Indian citizens are unnecessary, the following documents must be carried by Indians in order to gain entry.
Any photo-identification document issued by Central/State/UT authorities.
The Election Commission of India issues voter identification cards.
The Indian Embassy in Kathmandu has issued an emergency certificate.
The following Nepal entrance requirements for Indian citizens should also be taken into consideration.
Indians over the age of 65 or under the age of 15 can enter Nepal by presenting photo-identity proof such as a PAN card, driving license, ration card, etc.
Indians between the ages of 15 and 18 can enter Nepal with an Identity Certificate issued by their academic institution's principal.
What Documents Are Necessary If You Enter by Road?
Indian citizens allowed to enter Nepal by road with their own vehicle must present the following documents at the Nepal border, in addition to their proof of citizenship:
Vehicle registration certificate
Driving License
A Yaatayaat Anumati a vehicle permit
A Bhansar, also known as a customs permit
How to Reach Nepal
Here are some different ways to reach Nepal:
By Air
Nepal is well-connected by air, thanks to its airport in Kathmandu, the country's capital. Tribhuvan International Airport serves as the primary entry point into the country for visitors arriving by air. Air Arabia, Jet Airways, Air Asia X, Qatar Airways, Etihad Airlines, Air China, Fly Dubai, Malaysia Airlines, Oman Airlines, Silk Air, and Thai Air are the main flight operator. There are flights to various destinations around the world, including India, Bangkok, Hong Kong, Dubai, and Kuala Lumpur.
By Rail
Passengers and freight trains run between Sirsiya in southern Nepal and Raxaul in India. Only Indian citizens are permitted to use this line to cross borders by rail.
By Road
To make the journey to Nepal from India by road, take a bus that connects different points between the two countries, such as the Sunauli-Bhairawa border checkpoint from Varanasi, the Raxaul-Birgunj crossing from Patna, Kolkata, the Siliguri-Kakarbhitta crossing from Darjeeling, the Banbasa-Mahendranagar passing from Delhi, and the Bahraich-Nepalgunj crossing from Lucknow. You can also rent a car or cab from a location near the border in India. You must pay a toll of NPR 120 and a transport permit of NPR 50.
Best Time to Visit Nepal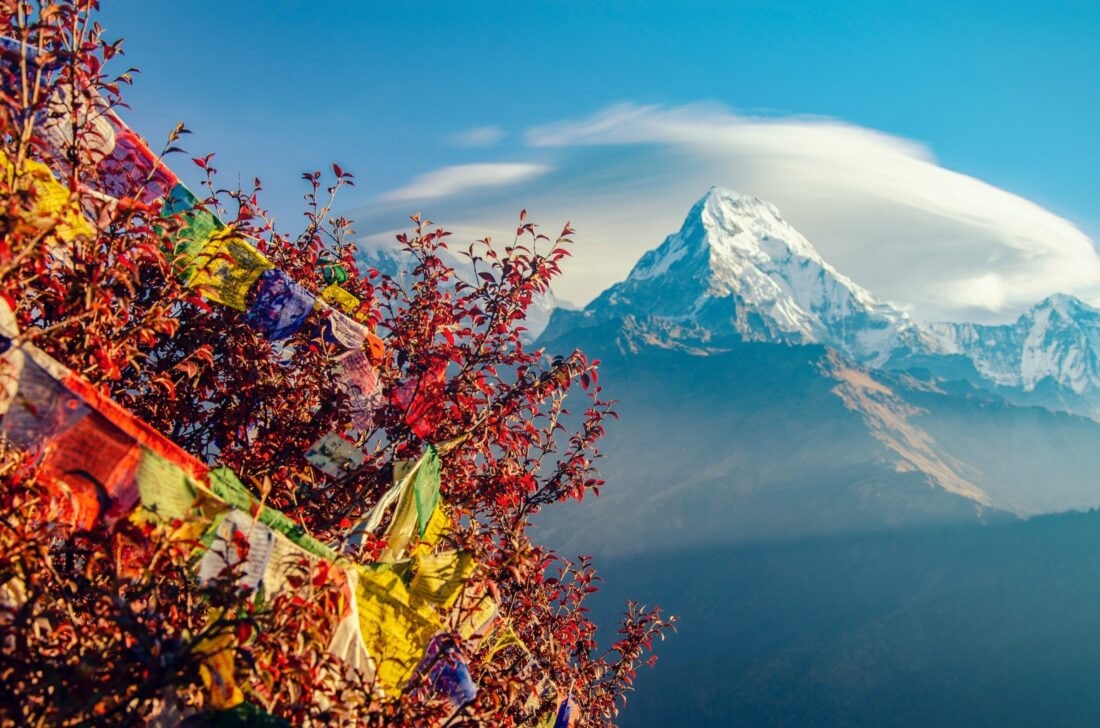 The best time to visit Nepal is linked to the type of experiences you want to have. The months of late September to late November are ideal for visiting Nepal. This is the most popular time to visit the country. Trekkers from all over the world flock to the Foothills of the Himalayas and mountains during the autumn months. The trails are clear, and the sky has been washed clean by the monsoon that has just passed. Visiting Nepal during this time will also allow you to witness three of the country's major festivals, Dashain, Tihaar, and Mani Rimdu.
The spring season, which lasts from the end of February to the end of April, is the second-best time to visit Nepal. The surroundings become lush and colourful, but the sky becomes hazy. Though the pathways are busy at this time, it is still a nice time to trek and relish the breathtaking views of the valley. The weather is also conducive to sightseeing. If you visit during this time of year, make a point of visiting Chitwan National Park in the Terai region. With greenery terrain and wildlife, it truly becomes a perfect destination.
The winter season, which lasts from December to February, is one of Nepal's other seasons. Summer lasts from May to September. Nepal's must-see destinations include Kathmandu, Pokhara, Nagarkot, Janakpur, and Lumbini.
Now that you know how easy it is to get to Nepal and that a visa isn't required for Indians, there's no reason not to visit this captivating paradise. Book a Nepal tour package and enjoy with your family, friends, or partner as soon as possible to explore this hillside destination with them.