Reading Time:
9
minutes
It seems travel will have to wait for some more time. Nevertheless, let's hope it begins sooner rather than later. Until then, let's abide by all the safety measures recommended by the government and the authorities. Let's stay safe today, so that we can travel tomorrow. Until then, let the travel memories transport us to some amazing destinations – the one's we have already visited or even the one's we aspire to visit soon. Probably, that's the best part of travel… It stays with us, long after we have returned home.
In this series of blogs, we bring to you some amazing stories of travellers who were left speechless when they travelled to their dream destinations, but have indeed turned out to be storytellers while narrating and sharing their experiences.
In this blog, we bring to you the story of Ram Jadhav, who reminisces the trip he took almost on the verge of lockdown. Lucky guy, isn't he? Well, let's read on…
1. When and where was your last trip before the lockdown?
My last trip before the lockdown was imposed in India was to Assam and Meghalaya. It was a solo self-drive road trip and I had taken it in the first week of March.
2. What did you love the most?
Just as any other traveller, even I ticked all the popular attractions off my bucket list like Rhinos in Kaziranga National Park, Assamese Folk Dance, Umium Lake, Boating in Dawki River, Mawlynnong Village – which is the cleanest village in Asia, watching silk saree weaving at Saulkuchi Village – endearingly referred to as the Manchester of Assam, and more… And I loved just everything. I had almost been to the Kamakhya Temple which is one of the 52 Shakti Peethas of the Goddess in India and the most important tourist attraction in Assam. Owing to the festivities around Holi, there were huge crowds in the temple. I waited for almost 2 hours in queue but somehow missed the darshan since I had a fixed schedule and therefore had to carry on with my itinerary.
However, still, if I have to choose, I'll say the one-day trek to see the Double Decker Living Root Bridge at Nongriat Village in Meghalaya and visiting the border town of Dawki on the India-Bangladesh border is what I loved the most. These were probably the two ultimate highs I experienced on my trip.
I just can't resist telling you about Dawki. So, as mentioned above, Dawki is the border town on the Indo-Bangladesh border in Meghalaya. The Umngot river here seems to be flowing directly from the heaven. It's crystal clear waters indeed cast a spell on us. I enjoyed boating in these waters. And Just across the river, is the border between the two countries. It probably should be one-of-a-kind borders in the world. You just won't believe, there's a simple demarcation that separates the two countries at this point and people from both the countries can actually get so close to each other that they can have a conversation. Of course, there are soldiers on both the sides who are vigilant of anyone trying to cross over. But all in all, visiting here indeed makes for an experience of a lifetime. And yes, there was one more sight that indeed took me by surprise. There's a road that connects the two countries, which is of course restricted for any kind of tourist movement. But we have a lot of trucks carrying goods from India into Bangladesh. And mind you, by 'a lot', can you guess how many?! What I saw that was a whopping 10 kms. long serpentine queue in which the trucks were lined up… Can you just imagine!
3. More about the trek and your experience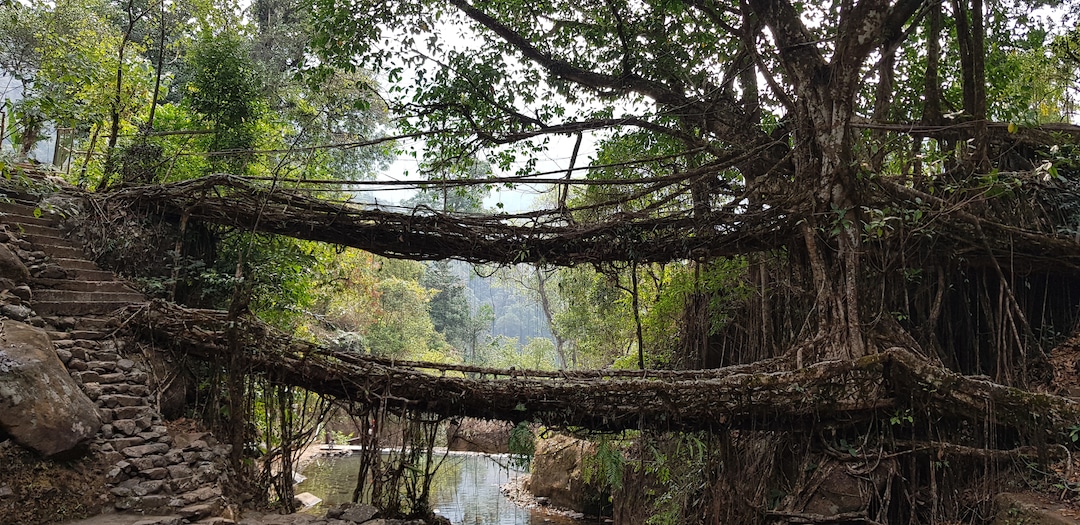 Unlike most other treks, this trek starts in the reverse fashion. It consists of a descent of around 2000 steep stairs from Tyrna Village to Nongriat On our way, we find a smaller living root bridge along with a couple of manmade bridges as well. However, the ultimate goal of the trek is to see the incredible and magnificent Double Decker Living Root Bridge which is made completely by twisting the roots of the living trees. The trek further continues up to Rainbow Falls. Probably the waterfalls of Meghalaya are the most beautiful in India. Rainbow Falls is called so because you can always see a rainbow over it when there is sunshine. The entire trek can be done in a day or even two, in case you aren't pressed for time.
Just the night before the trek I had arrived in Cherrapunji. It so happened that a night curfew was imposed in Cherrapunji and surrounds owing to some protests that took place in the region earlier that week. The next morning, I started early for the village of Tyrna, some 14 kms. from my hotel. I'll admit, it was a bit scary, since I was driving alone in the wake of some ongoing tensions and more so since it was a completely alien territory for me. It was just me driving on the road and there was hardly any vehicle even passing by. After a few curves on the narrow hilly road, I saw a bus coming from the opposite direction. I reversed my car to make some room for it to pass by when a guy alighted the bus and asked me whether I was heading to Tyrna. He warned me not to continue with the journey since there was still some tension prevailing and that I may not be able to make the return journey, if it gets too late.
That guy just fuelled my fear even further and had left me at the crossroads. So now I could either discontinue my journey and forget about the trek or gather some courage and test for myself, how far am I able to go. I choose the latter. Within a matter of just 20 minutes I reached Tyrna. I met my guide, completed the trek over the next six to seven hours and could safety return to my hotel before the curfew began. It was an experience of a lifetime, indeed.
4. In what way is Northeast different from the rest of India?
Well, the North East of India is a world apart in itself. It's almost a paradise found. It's just lush greenery everywhere. It's different in almost every way. Most of the people there are literate, understand English and are quite friendly and welcoming. The cuisine is quite different from the rest of India. Non-vegetarian preparations form a major part of people's diet and although with a fewer options available, this shouldn't put the vegetarians off. It's not that they'll absolutely starve and of course then there's nature's bounty to feast on.
North East's rich culture is probably India's best kept secret. We know primarily of just one dance of Assam, i.e. Bihu, but in fact there are many more dance forms. Moreover, it's here that we get to experience nature at its best, thanks to the dense forests that form a major part of North East's landscape. Yet, the roads are simply fantastic and an absolute pleasure to drive on. Also, with North East being a hidden gem, we find tourist destinations to be far less crowded. I'll definitely recommend all of you to A. Have North East India on your travel bucket list and B. Along with all the popular places to visit in North East, also go off the beaten track and include some real local experiences in your North East package.
So this was Ram Jadhav, sharing his travel diary with us today. Stay tuned for many more such exciting and captivating stories in the days ahead.