Reading Time:
11
minutes
Few places in India offer as much in the way of natural beauty, history, culture, and hospitality as the city of Udaipur and the town of Jaipur. Both cities are part of the royal land Rajasthan, which is home to several UNESCO World Heritage sites. These two cities complement each other perfectly by offering visitors a complete contrast between the hustle and bustle of city life and the peace and serenity of nature. Both these destinations are easily accessible from Delhi and are perfect for travellers who want to escape from the noise and pollution of a big city. These two destinations have a lot more to offer than just being popular day-trip locations for tourists visiting Rajasthan.
Here's your ultimate travel guide to help you reach Udaipur from Jaipur.
How to Reach From Jaipur to Udaipur
By Plane: The Terminal 2 of the Jaipur International Airport, located in Sanganer, caters to all domestic flights, including flights to Maharana Pratap Airport, Udaipur. The distance of around 390 km between Jaipur to Udaipur is covered within 1 hour by the plane. A Jaipur to Udaipur flight can cost between INR 3500 – 6500.
By Bus: Many bus operators operate between Jaipur and Udaipur, including private travel firms as well as Rajasthan State Road Transport Corporation (RSRTC). It takes 10-12 hours for most of the buses to cover the distance between Jaipur to Udaipur. The ticket cost varies from INR 450 – 1000 depending upon the bus and seating quality. The sleeper seating option owing to its convenience is costlier than the sitting one.
By Taxi: To cover the distance between Jaipur to Udaipur in an adventurous way, hiring a taxi would be the best fit to experience a road trip without your car. You can easily book a one-way taxi on the spot from the Jaipur taxi stand to Udaipur. You can also book through Ola or Uber with their outstation services. The taxi, however, is on the higher side of the cost and may make you shell out around INR 3500.
By Train: One of the most preferred and fastest ways to reach Udaipur from Jaipur is by train. Daily, 4 different trains run from Jaipur to Udaipur, except on Thursdays (when it is only 3) & Saturdays (when there are 5). These trains, as per their design and availability, offer Second sitting, Sleeper, AC Chair Car, AC 3 Tier, AC 2 Tier & AC 1st Class, listed from lowest-priced to highest. It only takes a maximum of 8 hours for the train to drop you at Udaipur Railway station from Jaipur. Due to its speedy and comfortable ride, the train from Jaipur to Udaipur gets fully booked way earlier. Therefore, it is always recommended to book your train tickets in advance. The prices start from as low as INR 200 for the second sitting up to INR 1800 for AC 1st Class.
Book through Travel Agency: One of the best ways to keep your road travel convenient is by contacting a travel agency. Whether a plane, train, taxi, bus, Volvo, rental bike or car, a travel agency can take care of all your transport needs and book the best as per your budget and preference.
By Bike or Own Car: There's something about taking the road less travelled and getting behind the wheel of a car that just can't be replicated by any other form of travel. Whether you are travelling with your family or a group of friends, there's nothing quite like the freedom that comes with driving your own car while you explore a new place. To drive from Jaipur to Udaipur by car or bike, you will have to take one of the two National Highways. The drive from Jaipur to Udaipur will take you about 8 to 10 hours.
Routes for Jaipur to Udaipur Drive
Via NH-48
Total KM: 485
Time Taken: 9 hours approx.
Road condition: Very Good. It is a 4-lane road with less traffic.
Also known as the Chhitorgarh-Bhilwara route, driving on NH-48 to reach Udaipur from Jaipur is a preferred choice by many owing to good pitstops on the way.
Famous Places on This Route :-
1. Ranthambore Fort & National Park
 If you plan to go from Jaipur to Udaipur by road via NH-48, you get the option to explore a world-famous UNESCO heritage site – Ranthambore National Park. Situated in the Sawai Madhopur district of Rajasthan, this national park is famous as a tiger reserve. The district has many economical and luxurious stay options to choose from, making you plan an early morning safari to the national park.
While Ranthambore Fort gives a panoramic view of the entire wildlife sanctuary bustling here, taking a jeep safari into the forest may quench your thirst for a glimpse of the big cat, the royal Bengal tiger. This place is quite famous amongst wildlife enthusiasts, tourists visiting Rajasthan, and nature lovers.
2. Dhundheshwar Waterfalls
In Sawai Madhopur district near Ganganagar City, enchanting waterfalls within a beautiful temple known as Dhundeshwer Dham attracts many tourists and locals. Taking a little break from your road trip and hiking to a small mountain to have mesmerising views of the waterfalls can be quite relaxing.
Via NH-58
Total KM: 454
Time Taken: 8 hours approx.
Road condition: Excellent.
Also known as the Nathdwara-Beawar route, it is a shorter alternative while driving towards Udaipur from Jaipur and takes less time with moderate traffic as compared to the NH-48 route.
Famous Places on This Route :-
1.Kishangarh
90 km from Jaipur, in the Ajmer district of Rajasthan, Kishangarh waits to tell the historic tales of this city to discerning travellers. The city has its name engraved in the history books. It houses Asia's largest marble industry, the temple of nine planets that is the only such temple in the whole world, the architectural marvel Kishangarh Fort which is located on the road connecting India and Pakistan, and much more. If you are en route NH-58 from Jaipur, you get the option to visit Kishangarh before reaching Udaipur without going off the way.
2. Pushkar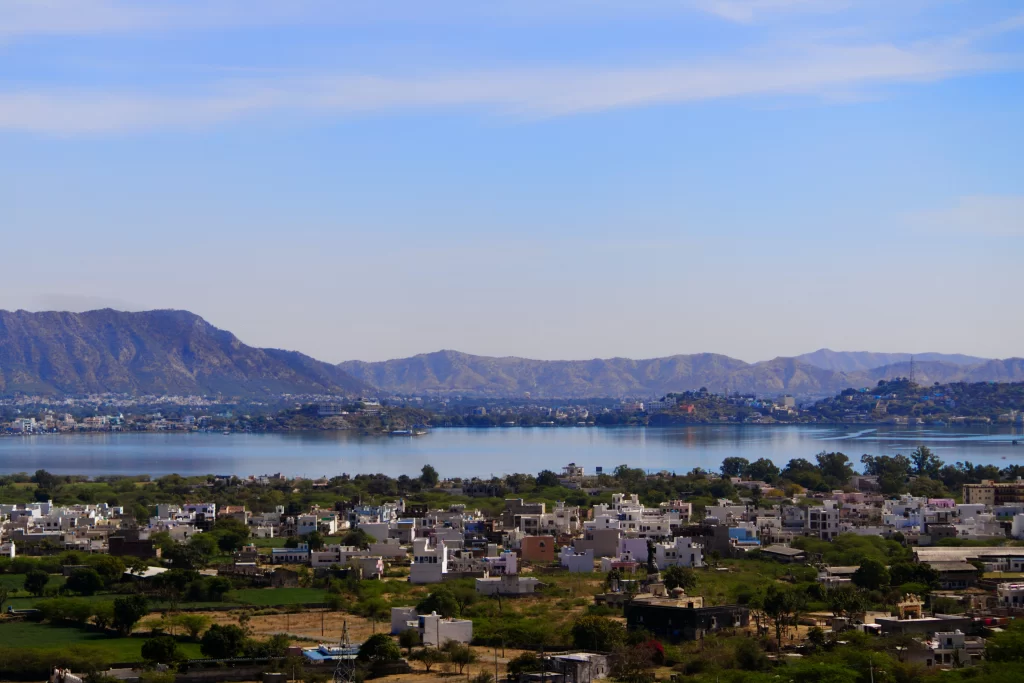 Perched on the Aravalis, another great option to pitstop while going from Jaipur to Udaipur by road is the holy town of Pushkar. Full of ghats and drenched in spirituality, Pushkar is the only place in the world that houses a Brahma temple, one of the most revered deities in Hinduism. A visit to this small divine place, even for a short time, can tug your heartstrings.
3. Birla City Water Park, Ajmer
Another gem of a spot, especially for families and groups, is a water park located in Makhupura Industrial area. It will be a relaxing break after a good and tiring drive of 130+ km from Jaipur. The park has lots of recreational options like water slides, rain dance, wave swimming pool, along with a food court offering tempting delicacies.
Reaching Udaipur
As you move closer to Udaipur, you will find lesser traffic. You can stop by the famous temple town of Nathdwara, which is about 50 km before Udaipur. Besides filling your heart with divinity, Maharaja Dining Hall is a major spot here to stop by and have a stomach full of Rajasthani food with huge Maharaja-style plating.
The city of lakes, as it is mostly known, awaits the traveller in you to offer its natural beauty, wholesome lakes, and friendliest people. The best way to explore the lakes of the city is by taking a ride on a boat. Apart from being a great way to explore the city, boating is also something that you can do with your family or friends.
The best time to visit Udaipur is between October and March. The weather is cooler, and the skies are clear. If you want to avoid the crowd, it is better to book your Udaipur tour package in the off-season.
Places to Visit in Udaipur
1. Visit Bhilu Lake: Bhilu Lake is another popular tourist destination in Udaipur. This artificial lake is located about 10 km from the city center.
2. Visit Jagatpura Bird Sanctuary: The Jagatpura Bird Sanctuary is home to a large variety of migratory birds during the winter season. It is another popular tourist destination in Udaipur.
3. Visit Bagor Fort: This is a popular tourist destination in Udaipur. The Bagor Fort is situated on a hilltop and offers breathtaking views of the city.
4. Visit Pichola Lake: No trip to Udaipur is complete without visiting the famous Lake Pichola. The Pichola Lake is one of the biggest artificial lakes in the country, overlooking small hills at the back. A boat ride at dawn here can become a lifelong memory.
Jaipur & Udaipur are the two must-visit cities for anyone who loves exploring the natural beauty of Rajasthan. And while you can easily spend a couple of days exploring the major attractions in both cities, it's important to remember that you can also explore the smaller places and discover new things about their culture while travelling from Jaipur to Udaipur by road. So what are you waiting for? Get your travel bags ready and explore these two amazing cities.