Reading Time:
8
minutes
 Gwalior is one of the important cities in Madhya Pradesh. Being the tourism capital of the state, this city has a glorious history that is preserved to this day in the form of massive forts, beautiful temples, and magnificent palaces. Jai Vilas Palace is a 19th-century palace situated in Gwalior which currently serves as the current residence of the Scindia family.
History of Jai Vilas Palace
This beautiful palace was originally built in 1874 by the Maharaja of Gwalior, Jayaji Rao Scindia to extend the grand welcome of King Edward VII who was Prince of Wales at that time. Later on, it became an imperial residence for the members of the royal Scindia family. Maharaj Scindia appointed Sir Michael Filose as the main architect as he wanted to build something that is as opulent as the Palace of Versailles, France. At that time, the total cost of this venture was 1 crore INR that is equivalent to around 10,000 crore INR in today's time.
Around 35 rooms of the Jai Vilas Palace were turned into the Jivaji Rao Scindia Museum under the orders of Rajmata Vijayaraje Scindia. This museum was officially opened on 12th December 1964. Here, you can find the Chitrangada Raje Art Gallery and a library comprising over 7,000 books from different genres. This museum has a huge collection of historical artefacts including swords dating back to the times of Mughal Emperors Shah Jahan and Aurangzeb and the original shield that belongs to Rani Laxmibai.
What Is This Palace Famous For?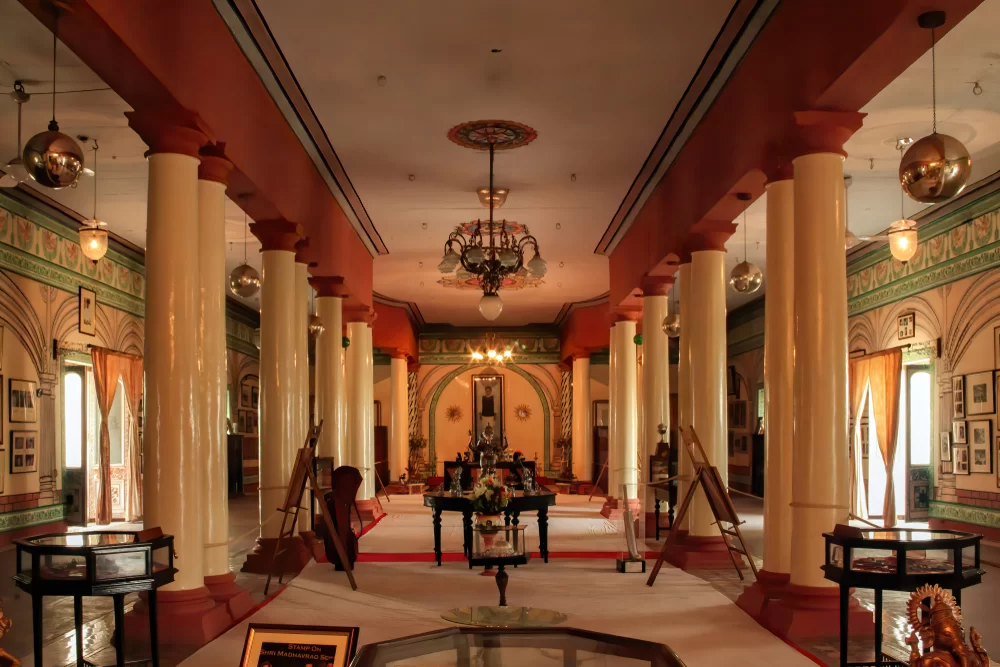 You can see a beautiful combination of the Tuscan and Corinthian architectural styles in the Jai Vilas Palace. Famous for its huge Durbar Hall and its two central chandeliers, each with a height of 40 feet and weighing 3.5 tonnes, this palace is a fine example of rich Indian culture. These chandeliers were custom-made in Vienna on the order of Mukhel Sahib.
The palace has 400 rooms covering a total floor area of about 75 acres. With ceilings filled with gilt, heavy draperies and tapestries, all the rooms of this palace are spacious and feature fine Persian carpets and antique furniture from Italy and France. Other main attractions of this magnificent edifice include an elongated dining table with a serving train made of silver chugging around and a beautiful Italian glass cradle that is used during the Krishna Janmashtami celebrations every year.
Lesser-Known Facts about the Jai Vilas Palace, Gwalior
 The huge, plush carpet adorning the Durbar Hall, which is one of the largest in the world, was fabricated by the prisoners of the Gwalior Fort. They took 12 long years to weave this.
All the chairs featured in the banquet hall have backrests decorated with the Gwalior royal crest.
Here, you can find many unique things like stuffed tigers on the display.
At the time of construction, there were many doubts regarding the strength of Durbar Hall's roof. To check the strength of the Durbar Hall's roof, 8 elephants were hanged before placing the two massive chandeliers.
When to Visit?
 Jai Vilas Palace is open for visitors on all days except for Wednesdays. The opening time of this palace is 10:00 AM and it closes at 04:30 PM. It also remains closed on certain public holidays or occasions for private gatherings of the royal family.
There is also an option for special tours after the regular visiting hours. This special tour includes high tea and/or dinner on the palace lawns. If you want to celebrate any of your special occasions in a royal way, you can venue-hire certain sections of the palace.
Entry Tickets
The entry ticket price of this royal palace in Gwalior is ₹150/- for Indians and ₹800/- for foreigners. There is no entry fee for children up to 5 years and visitors who are differently abled. If you want to carry a still camera or mobile phone, you will have to pay an additional fee of ₹100/- and for a video camera, it is ₹300/-.
How to Reach?
Located in central India, Gwalior is easily accessible via air, rail or road as you have plenty of options that connect it to other major cities of the country.
By Air: If you are planning to come by air, there are daily flights to Gwalior from Delhi and Indore.
By Train: Gwalior is one of the major railway stations on the main Delhi-Mumbai and Delhi-Chennai lines. You have multiple train options no matter where you are travelling from.
By Road: You can opt for either the state transport service or a private bus. MP State Bus Stand is on Link Road and the private bus stand is in Lashkar.
Other Must-Visit Places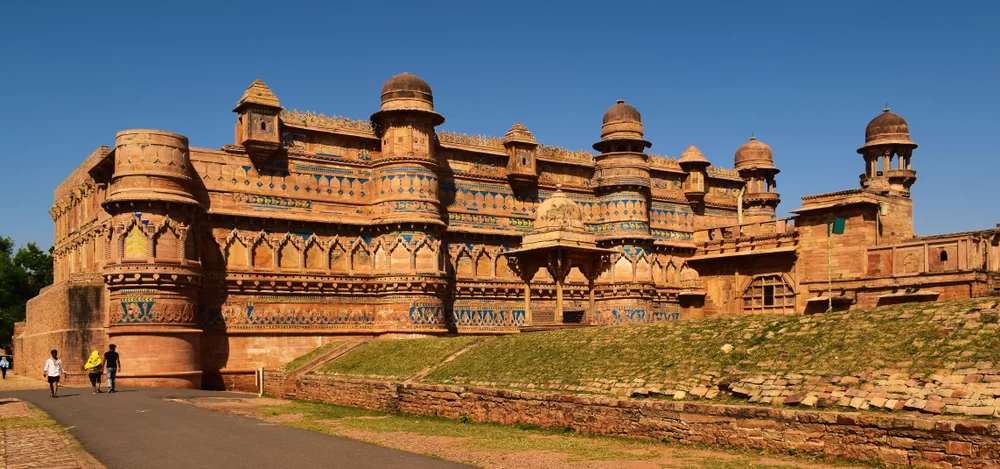 Known for its architectural and cultural splendours, there are many places to visit in Gwalior that you should include in your travel itinerary:
Gwalior Fort: Situated on the top of a hill, Gwalior Fort was built before the 10th century and is considered to be one of the most impenetrable ones in the country. The beautiful architecture and unique surroundings make it a must-visit place. There are no solid proofs about the history of this fort but there are local legends confirming that it was built in 3 CE by a local ruler called Suraj Sen.
Gujari Mahal: Located in the Gwalior Fort itself, this is a historical museum with a huge collection of archaeological things like sculptures and weapons.
Tomb of Tansen: Belonging to the famous classical singer from the Medieval period, Tansen, this tomb is definitely one of the main attractions in Gwalior. Tansen was the lead singer in Akbar's court and also one of his nine gems.
Sun Temple: Built to resemble the Konark Sun Temple, this temple is dedicated to the Sun god. It was constructed by Ghanshyam Das Birla and there is a beautiful garden called Surya Van surrounding the temple.
Sarod Ghar: Sarod Ghar is a perfect place for music enthusiasts. It is a museum set up in the ancestral house of the legendary Ustad Hafiz Ali Khan.
Chaturbhuj Temple: Dedicated to Lord Vishnu, this temple is located in the small town of Orchha. It is famous for its religious significance.
If you are a history buff or have an interest in Indian culture and architecture, it is suggested that you include Jai Vilas Palace in your Gwalior tour packages. The Jivaji Rao Scindia Museum allows you to take a journey back in time and peek into the glorious past of princely India.