Reading Time:
9
minutes
Holi is undoubtedly the most colourful festival in India that brings joy and happiness into everyone's life. The purpose of celebrating this vibrant festival is to revel in the triumph of good over evil. It's rather interesting to know that Holi celebrations in different parts of the country come with their own versions. It is a time when friends, family, and the community come together to colour each other's faces with powder colours known as gulal. The joy of applying different colours, such as red, green, yellow, and pink, to your loved ones' faces cannot be compared with anything in the world. You can feel the vivacity and enthusiasm of the Holi festival in different parts of the country.
However, Holi in Vrindavan is unparalleled. Those who have celebrated this festival of colours in Vrindavan know what a traditional celebration of Holi feels like. You should definitely plan a trip to Vrindavan to celebrate the Holi festival at least once in a lifetime. The city is located on the banks of the Yamuna River and is known to have been the home of Lord Krishna during his formative years. Over the years, the city has been an important place for Krishna devotees.
Vrindavan has its own unique celebration of Holi that spans a period of 40 days. Yes, you heard it right! The boisterous Holi celebration begins on Basant Panchami in Vrindavan and continues until the day of Holi. It's needless to say that Vrindavan has a completely different idea of Holi that you can experience if you visit this divine place during the celebration time. The city has huge historical significance, stories of legends and colourful surroundings to welcome you during the Holi celebration. Want to know more about the Holi celebration in Vrindavan and why you should visit during this time? Here are the top reasons:
To Witness the Holi Celebration with Flowers
When we told you the Holi celebration in Vrindavan is different, we meant it. Vrindavan's "Phoolon wali Holi" is world-famous. Krishna devotees and Holi enthusiasts from different parts of the world visit Vrindavan at this time to enjoy the Holi celebration with flowers. It's really amusing to play Holi with different colours of flowers and bestow your love on Lord Krishna.
This "Phoolon wali Holi" is celebrated on the premises of the very famous Banke Bihari temple. During this celebration, flowers are sprinkled on Lord Krishna devotees who assemble at the temple's premises on Ekadashi before Holi. If you want to take part in the Holi festival celebration with flowers in Vrindavan, make sure to reach the temple early, as this ritual to shower flowers on devotees lasts for only 20 minutes. However, Holi celebrations with colours continue throughout the day.
For Widow's Holi: Breaking the Stereotype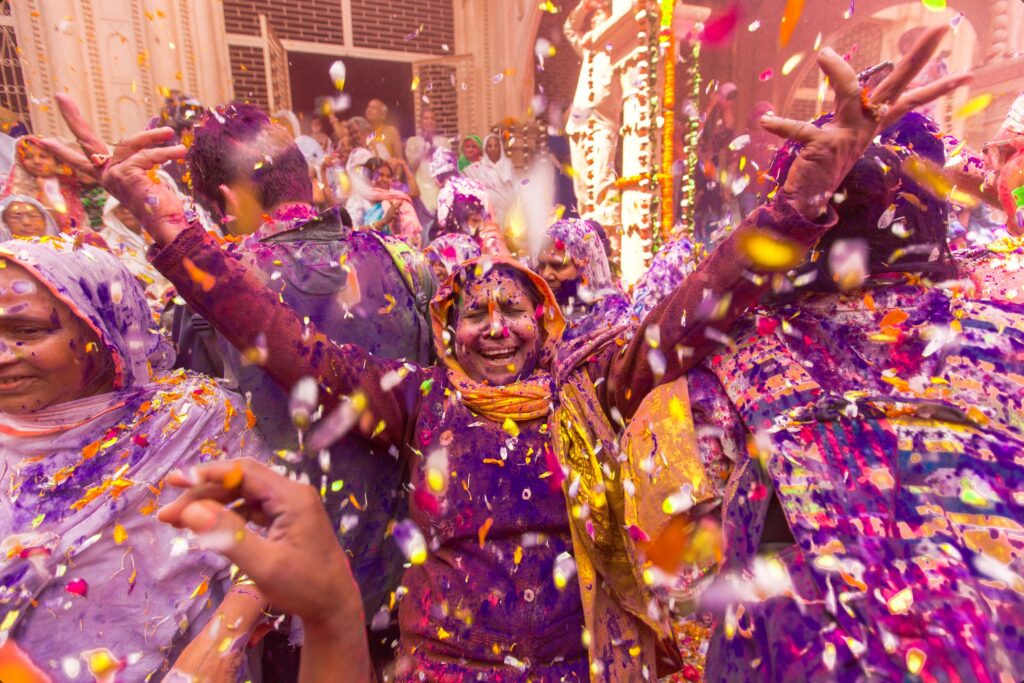 Vrindavan is surely a magical place that breaks the stereotype that widows should not celebrate festivals of colour and wear white attire throughout their lives. Widow's Holi celebration was started in Vrindavan from Pagal Baba Widow Ashram in the year 2013. There are several widows residing in Vrindavan who are abandoned by their families or do not have anyone to look after them. With this massive celebration, they get the chance to celebrate the zest of Holi, which draws inspiration from mythological folklore.
Every year, tens of thousands of widows from around the country come together to play with bright colours and dance together. Year after year, the celebration is held in Gopinath temple. One thing is for sure: this is one of the best Holi celebrations that you will ever witness in your lifetime. The joy on their faces is contagious and it will certainly melt your heart.
For Holi in Vrindavan and Mathura: Holi Procession
Have you ever participated in a parade? If not, here is your chance to participate in a one-of-a-kind parade: "The Holi Procession." The Holi procession in Mathura has been a part of the festivities for the past several years. You can join in this exciting procession with your friends and family to experience a grand celebration.
Tens of thousands of people accumulate at Vishram Ghat in Mathura to begin the Holi Procession. They go around the town celebrating with each other, sprinkling colours, singing songs, and dancing. Some of the highlights of this procession are vehicles decorated with flowers, dance performances by kids, and the high-spirited atmosphere. You can also see kids wearing traditional attire and dressed as Radha and Krishna. It is a celebration where people of all ages come together and have a great time.
For Sweets and Thandai at Dwarkadheesh Temple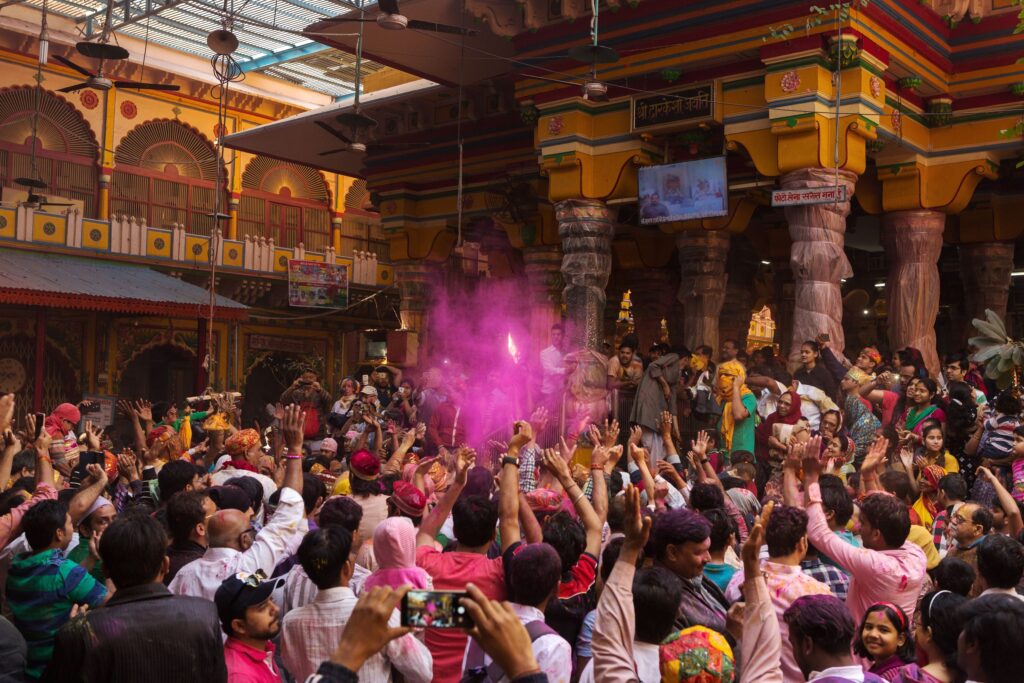 Holi in the twin cities of Vrindavan and Mathura will paint you in their own colours. It is a celebration that never ends. The peak exuberance of Holi is at Dwarkadheesh Temple in Mathura. It brings back childhood memories of eating gujiyas and other Indian sweets prepared at home. The celebration at Dwarkadheesh Temple will surely outdo any other Holi party that you might have attended before.
You can indulge in bhang with thandai, sweets, and other snacks on the premises of Dwarkadheesh Temple. It's fascinating to know that the bhang is prepared by the temple's priest in the morning and distributed to devotees later in the day. Other attractions are the traditional dances and songs that will keep you engaged for several hours. Make sure to reach the place early in the morning to skip the long queue and enjoy the grand feast.
For a Week-Long Holi Celebration
If you want to witness Vrindavan's Holi celebration in all its glory, participate in the extended Holi celebration that goes on for days after Basant Panchami. Usually, people from different parts of the country go to Vrindavan 9-10 days prior to Holi to enjoy the chain of celebrations. It allows visitors to enjoy all types of Holi celebrations in Vrindavan and Mathura with great candour. You can get some of the best tour packages to visit Vrindavan during Holi. Make sure to go to the homeland of Krishna well in advance to make beautiful memories of Holi. It will be a trip that gives you fond memories of dancing, singing, eating sweets and having the best time with your loved ones. After all, it's not every day that you witness the vibrancy of the Indian Holi festival.
For Lord Krishna Leela
During the Holi festival, one of the main events in Vrindavan is Lord Krishna Leela. This Leela is organised in Vrindavan throughout the year. However, the charm of seeing this enactment of Lord Krishna's life events is different during festivities. You will be mesmerised to see stories of childhood and the miracles of Lord Krishna. A special part of him playing Holi with friends is also incorporated into the Krishna Leela. This leela is organised at Guland Kunj in Braj every year. It will be a memorable experience to see Krishna Leela with your family on Holi.
There are various ways to celebrate Holi in Vrindavan, as this place is a colourful paradise during festivities. Make sure to wear comfortable clothes and carry natural colours with you when you participate in the Holi celebration in Vrindavan. It is a place where you can feel the powerful positive energy and bond with people around you. Also, plan your trip beforehand to enjoy a comfortable stay in Vrindavan.