Reading Time:
9
minutes
With stunning chinar trees, crystal-clear lakes, and misty mountains, Kashmir truly lives up to its title of being the 'Paradise on Earth'. Blessed with implausible natural beauty, there are a number of popular tourist attractions in this Indian state. Although it is very difficult to choose, Srinagar, Pahalgam,Gulmarg and Sonmarg are definitely among the best places to visit in Kashmir.
Situated at an altitude of 2730 meters, Sonmarg is anastoundingly beautiful hill station in the Ganderbal district of Jammu and Kashmir, and it enthrals a large number of visitors throughout the year. Adorned with majestic Himalayan glaciers, meadows, dense forests, and towering mountain peaks, itis an ideal holiday destination for every kind of traveller. Whether you want to spend some time admiring nature's beauty, indulge in some adventure sports or enjoy an authentic Kashmiri meal, this is just the right place to be.
If you have enough time, you can plan a week-long vacation and cover Gulmarg, Pahalgam, Sonmarg,and Srinagar all at once as all these places offer different things to visitors. To plan a fun-filled vacation, you can book a tour package that includes Gulmarg, Pahalgam, Sonmarg and Srinagar, along with other popular destinations. Or, if your schedule does not give you enough time to explore all these places, you can also choose a Gulmarg-Sonmarg tour package.
Let's dive deeper and discuss how to plan an unforgettable trip from Gulmarg to Sonmarg:
Best Time to Visit
Sonmarg is a destination that you can visit at any time of the year as it offers different facets in different seasons.
Summers (March to June)
With temperatures ranging between 15 and 30°C, the weather remains pleasant during these months.  This is the best time to visit Sonmarg as the valley gets adorned with beautiful flowers and you get a chance to witness natural beauty at its best. At this time, the weather is suitable for all kinds of outdoor activities, so you can also indulge in various adventure sports like mountain biking and trekking.
Monsoons (July to September)
With infrequent rainfall,the month of July marks the beginning of the monsoonseason. During these months,the average temperature ranges between 13 to 17°C. You can plan a Sonmarg trip during this time and enjoy sightseeing. However, it is not the best time for adventure activities.
Winters (October to February)
The winter season is also a great time to visit Sonmarg as this hill station experiences a huge amount of snowfall. However, the roads connecting Sonmarg to Gulmarg and other places can becomeinaccessible during peak winters, due to heavy snowfall. So, the month of December is the best time to visit Sonmarg.
How to Reach
Being a popular tourist destination, Sonmarg offers decent connectivity to other parts of the country.
By Air: The nearest airport is in Srinagar, located at a distance of approximately 70 km. You can easily find daily flights to Srinagar International Airport from allmajor Indian cities. Once you reach there, take a private taxi to get to Sonmarg.
By Road: Sonmarg is well-connected toGulmarg and other parts of Jammu and Kashmir via road. The distance between Gulmarg and Sonmarg is approximately 124 km, and you can either use a tourist bus or hire a private taxi to get there.
By Train: Located at a distance of 51 km, Srinagar railway station is the nearest to Sonmarg. You can easily find direct trains to Srinagar from all major cities in India. Once you reach there, the best way to get to Sonmarg is by hiring a private taxi.
Things to Do in Sonmarg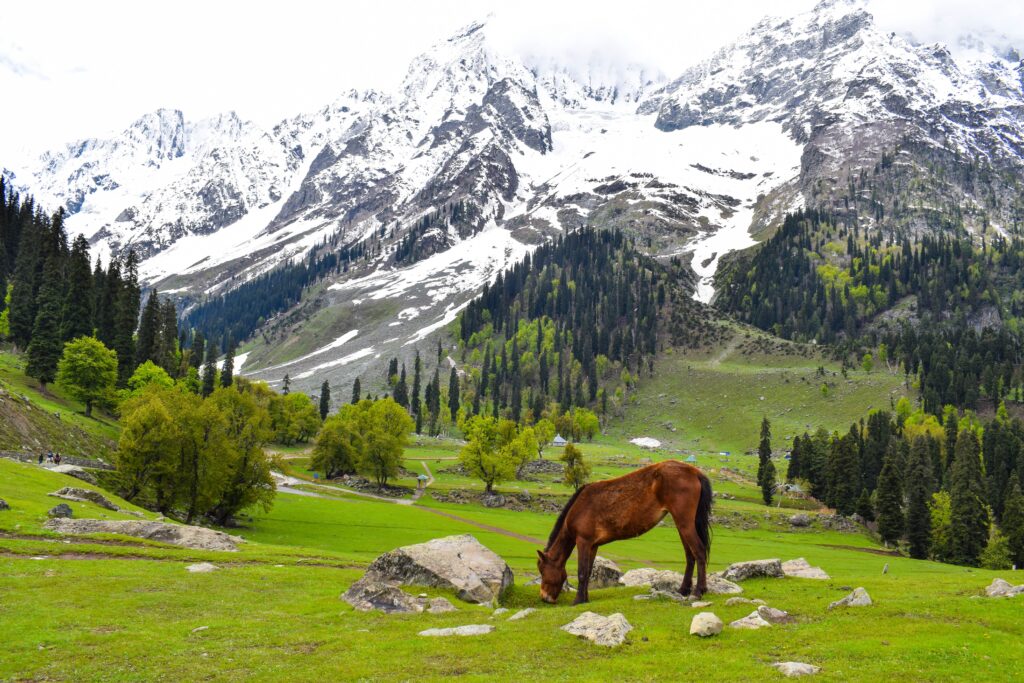 With plenty of tourist attractions, Sonmarg is a place that offers something for everyone. Here is a list of all the must-visit places to make your trip from Gulmarg to Sonmarg a memorable affair.
1. Thajiwas Glacier
Situated at an altitude of 9,186 feet, Thajiwas Glacier is the main highlight of this hill station. This place is famous as the hub for various kinds of adventure activities, along with trekking. In addition to this, it also offers breathtakingly beautiful views of its surroundings. So, whether you want to admire the natural vistas or are interested in any adventure sport, such as hiking, trekking, etc., this is a place you shouldn't miss.
2. Batlal Valley
The 3km-long Baltal Valley is a major tourist attraction near Sonmarg. Located at a small distance of 4 km from the hill station, this flat and wide valley also serves as the base camp for the Amarnath Yatra. This idyllic spot gives you a chance to enjoy mesmerising views of the snow-clad mountains that surround it.
3. Zero Point
It is a snow-covered spot on the way to Zoji La Pass, located 25 km away from Sonmarg. This is the starting point of Ladakh on the Srinagar highway. Visiting Zero Point is an experience of a lifetime because of the astounding views you get to enjoy throughout the journey. You can see how beautiful the huge valleylooks with a snake-like river cutting through it. Also, the mountains turn from bright green to a dry brown as you get closer to zero point.
4. Satsar Lake
As the name suggests, Satsar Lake originates from the confluence of seven small alpine lakes. Situated at an elevation of 3,610 meters, thislake is surrounded by beautiful meadows and misty hills of the Himalayas. Because of the picturesque views it offers, this place has also gained huge popularity as a camping site. This is a place you should definitely visit on your trip from Gulmarg to Sonmarg.
5. Vishansar Lake
Situated at an elevation of 3,710 meters, Vishansar Lake is an alpine oligotrophic lake. It has a maximum length of 1 km and a maximum width of 0.6 km.This lake freezes during winters, but in the summer season, itremains surrounded by green grass and becomes home to some rare migrant bird species. Along with Krishansar Lake, this is also a part of the Great Lake Trek.
6. Nilagrad River
With a scenic setting, this is one of the most popular picnic spots in Sonmarg. Located at an approximate distance of 6 km from Sonmarg, this river is famous for its reddish water which is believed to have some rare medicinal properties.
7. Zoji La Pass
Zoji La, a high-altitude mountain pass, is one of the major tourist attractions in Sonmarg. Located on the Indian National Highway 1D, this thrilling mountain pass connects Srinagar to Leh. It is one of the thinnest roads in the world with hairpin bends and rocky terrain, which also makes it one of the most challenging passes in the world. During the winter season, this road gets blocked due to snowfall. But if you are going from Gulmarg to Sonmarg in the summer season, you can definitely plan an adventurous day trip to the Zoji La pass.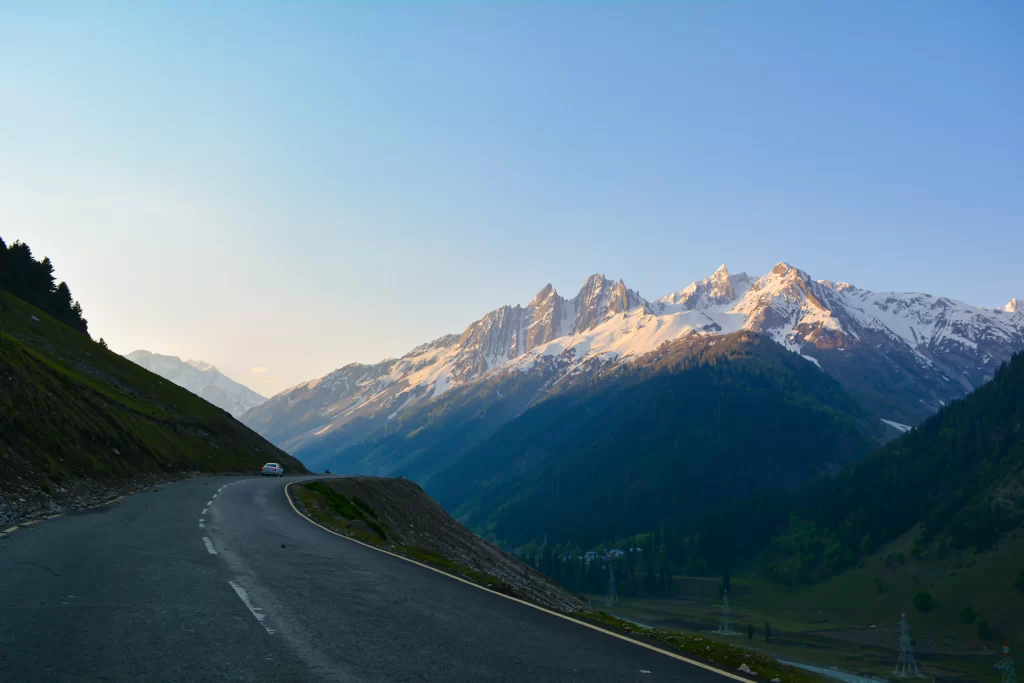 8. Shutkari Bridge
White-water rafting is another reason why Sonmarg is popular among thrill seekers. The Indus River offers grade 4 rapids, and there are a variety of stretches available that you can choose from according to your preference. From experienced rafters to first-timers, everyone can indulge in white-water rafting in Sonmarg and feel an adrenaline rush. If you choose to go for a long rafting expedition, the starting point is Batlal and the endpoint is Shutkari Bridge.
Now that you know why Sonmarg needs to be your next holiday destination, plan your trip now. Veena World offers a wide range of specially curated Sonmarg packages to meet the requirements of different kinds of travellers.