Reading Time:
8
minutes
Food is always an important part of any culture. When we visit a new place, trying the traditional cuisine of that place is always part of the plan. We often spend a considerable amount of time exploring food items in a new place. A vacation is memorable not only for the places we visit but also for the food we eat and the people we meet.
Moreover, what better destination than Nepal to indulge in mouthwatering traditional food items while exploring various attractive places? This country is famous for its rich cultural diversity, natural beauty, and delicious delicacies. If you are curious about the best food in Nepal that you can try on your trip to this wondrous place, then you are on the right page.
Here is the top Nepali food list for you that you must try at least once:
1. Dal Bhat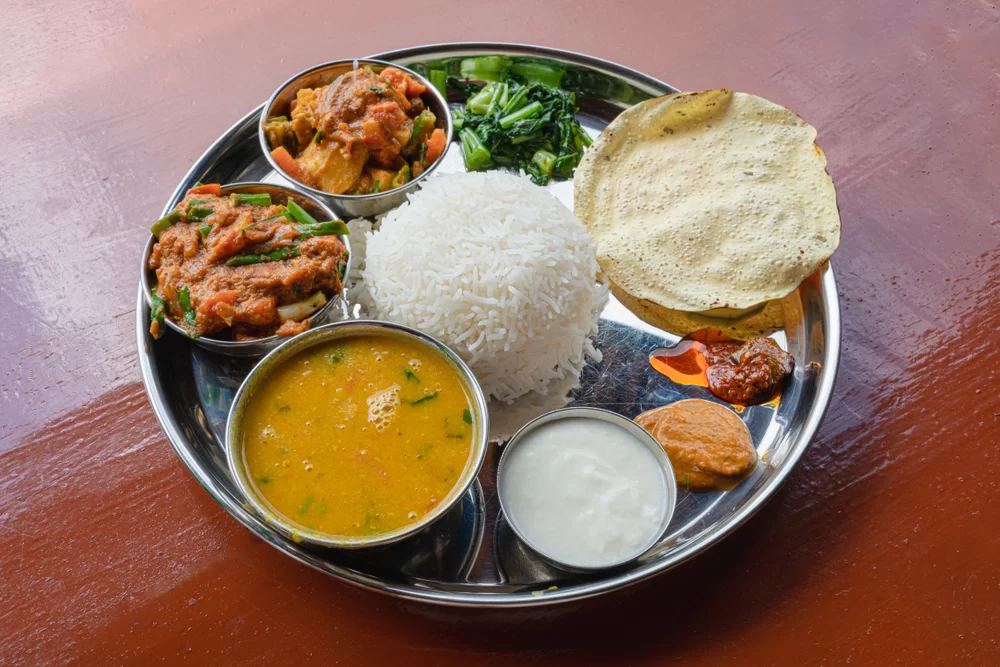 You cannot prepare a list of the best foods in Nepal without including this traditional meal. This is the most common food combo available in every corner of this South Asian country. This meal consists of two complementary dishes, namely rice and dal, that are served along with side dishes. Dal Bhat is the soul food of Nepal that satisfies your taste buds and gives the right amount of nutrients to your body.
If you like a simple and authentic taste, then you must try this national food of Nepal. It is also an excellent source of energy that will keep your tummy full all day long.
2. Momos
If you are visiting Nepal from India and miss the mouth-watering street food, eating momos at a roadside stall will give you a homely feeling. Tiny dumplings are a favourite among the Nepalese. The capital of Nepal, Kathmandu, has many momo points with a lot of variety on the menu. You can also find numerous momo stalls at all the major tourist attractions in Nepal. This famous food item is prepared in rice paper wrappers stuffed with leafy vegetables or minced chicken.You can take a quick break in exploring various tourist places in Nepal and enjoy this Nepali fast food.
3. NewariKhaja
NewariKhaja is one of the finger-licking dishes of the Newar community in Nepal. This is an indigenous group of people located in the Kathmandu valley. Many of Nepal's famous authentic foods originated from this community. NewariKhaja has become very popular amongst Nepali people, which was earlier consumed only by the Newar community. It is a set of khaja that includes Alu tama, Egg Bara, Gundruk, Juju dhau, Chatamari, and more. This is Nepal's special food, which you must try at least once.
4. Sel Roti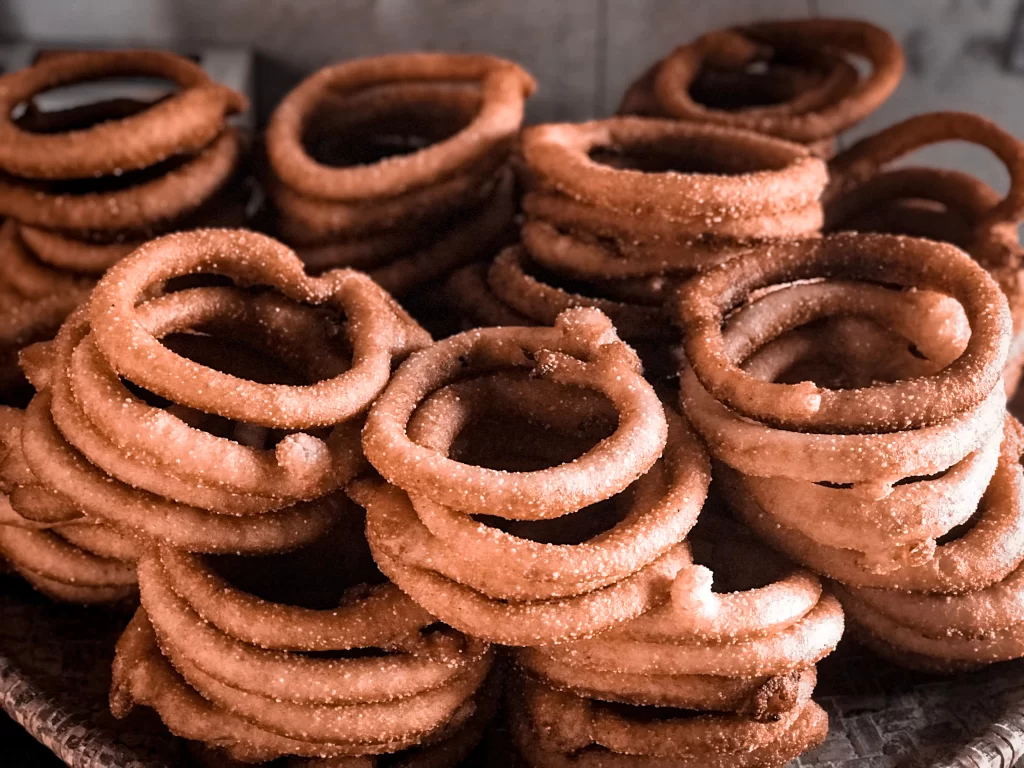 Sel roti needs no introduction to Nepali cuisine. It is a unique Nepali doughnut that is deep-fried and tastes less sweet than regular doughnuts. It is a part of celebrations and festivities in Nepal as local residents prepare this special food at times of celebration. You can find this food item on the sidewalks of the roads.
5. Gundruk
Gundruk is amongst the most popular dishes in Nepal. This Nepali cuisine is made from the fermentation of green leafy vegetables like mustard leaves, cauliflower, and radish leaves. It is a complimentary dish that goes well with curries and daalbhat. You can enjoy this food item as a side dish as well. Thanks to the high nutritional value of this traditional dish, it is very popular in the rural areas of Nepal.
You must taste Gondrukkoachar, which elevates the taste of a basic dish with its flavours. Many famous restaurants in Kathmandu serve this food item with an authentic taste. If you visit popular places like the PashupatiNath temple in Nepal, you can find many restaurants around such areas that serve these traditional food items.
6. Yomari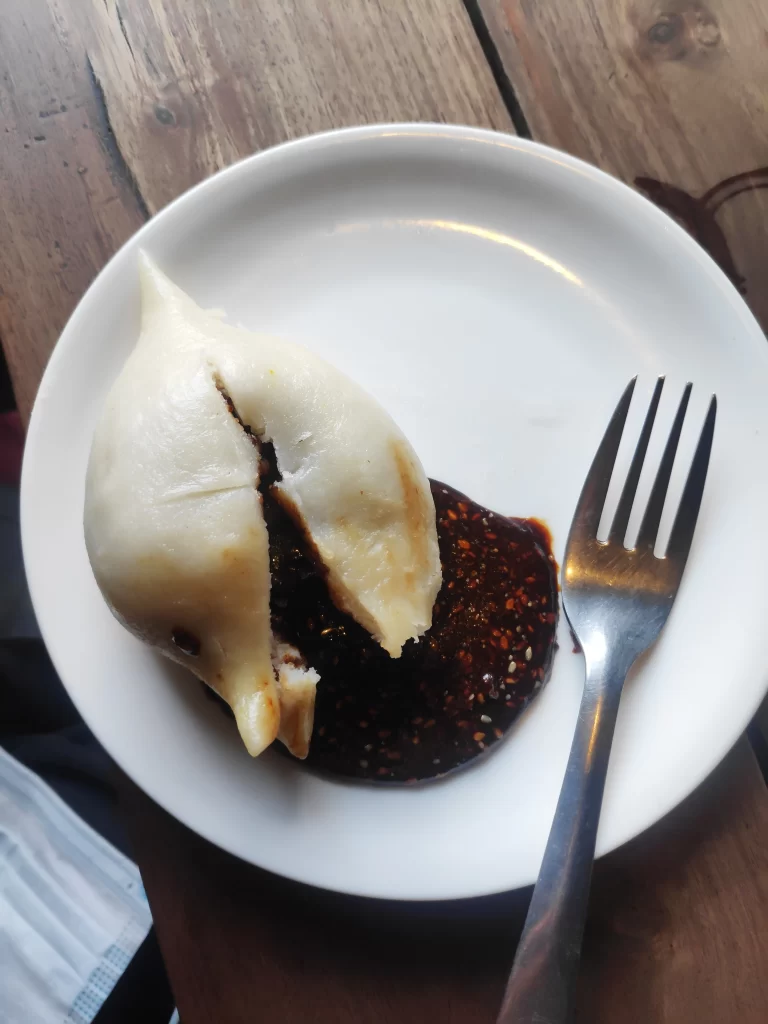 Next in line is yomari, for all the sweet lovers. This is a dessert prepared from rice dough stuffed with coconut paste. Yomari is the most common dessert you will see during the festival season in Nepal. It is one of the finest sweet Nepali dishes and is a must-try for those who have a sweet tooth.
7. Maasko Bara
This is another Nepali traditional food coming from the Newari community. Maasko Bara, also called Bada, is a Newari snack that has a distinct taste. They are light and spongy rice-flour pancakes that are served fresh along with cracked eggs or minced buffalo meat. You can find these pancakes in Newari shops, but make sure to eat them fresh for the best taste.
8. Gud Pak
Gud Pak is one of the most loved desserts in Nepal. A famous dessert is consumed by the masses due to its nutritional benefits. Gudpak is well-known not only in Nepal; it has its dedicated fan base all over the world.Visitors have got it back as a gift from their trips to Nepal. Locally, this sweet dish is eaten by new mothers owing to its high nutritional value.
If you want to take something back as a gift for your relatives, Gud Pak is a good option. It tastes delicious and has a shelf life of a few days.
9. Chataamari
Chataamari is Nepal's famous food, commonly called "Nepali Pizza". It is another Newari item that is made of a thick batter of rice flour. Its resemblance to pizza is due to its shape and toppings. This dish is decorated with vegetables and meatballs, giving it an exotic look. You can enjoy this local dish in any Newari restaurant. You will be pleasantly surprised by its exotic taste.
10. Chatpate
Last but not the least,chatpate is on the list for all the spicy food lovers. This is one of the spicy foods in Nepal that is a mixture of various spices. Chatpate will give you a burst of flavour in your mouth once you eat it. You can compare it to chaat or bhel, with a perfect blend of tanginess, sweetness, and spices. This street food is popular among everyone, particularly children and women of all ages.
Nepali dishes are a melody of textures and distinct flavours. If you are a food lover, there are endless options for you. The best way to explore the food diversity of Nepal is to try local dishes from the street side vendors. These Nepali cuisines suit the palates of most people and give them a memory of a lifetime. You must choose a Nepal tour package that has a leisure day so that you can try the local delicacies of Nepal.