Reading Time:
13
minutes
Whether it's for attending the world-famous Oktoberfest beer festival or to explore the varied landscapes and untapped wilderness for an adventure, places in Germanyhave a lot to offer for all kinds of travellers.However, there is no denying the fact that exploring the cuisine and trying the many amazing foods of Germany is one of the best things you can do to better understand the country's culture. After all, the delicious dishes in Deutsche Küche (German cuisine) reveal a lot about the various regions of the country and what people there hold close to their hearts.
So, get ready and start preparing your list of food in Germany that you simply have to try on your next trip, as we take you through all you need to know to make the best of your German gastronomic adventure.
What You Should Know About the German Cuisine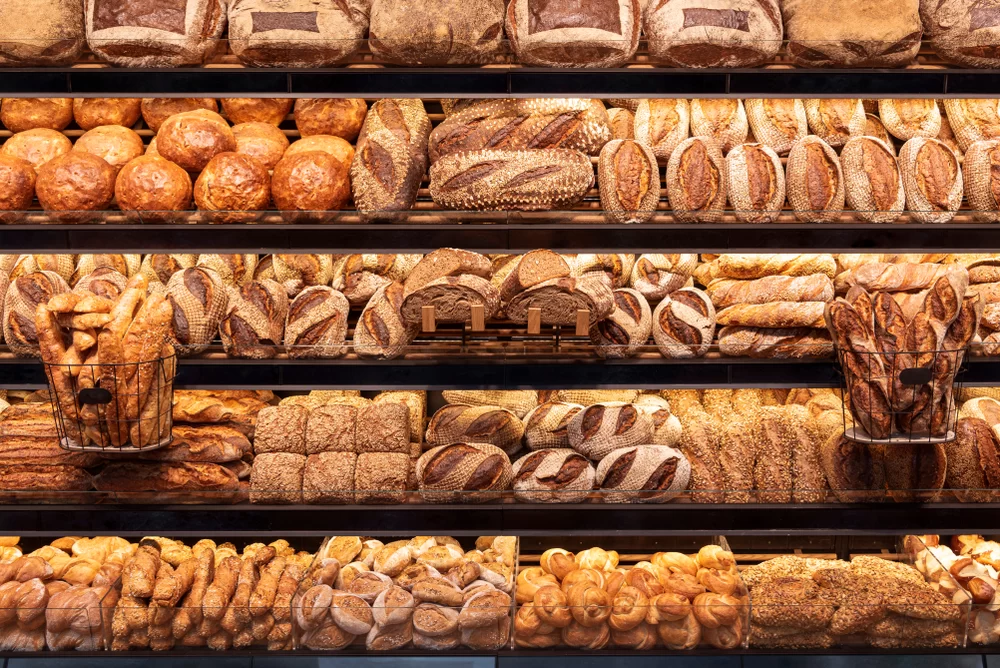 Germany became a unified country in 1871 and was reformed in 1990. Before that, the many counties that today are a part of Germany used to be either their own standalone states or were part of different regionsand had their own cultures and traditions that impacted their native cuisines. Even the national food of Germany, while being the same dish, is prepared differently across different regions of Germany.
While the foods of Germany may vary distinctly across its regions, they have a number of similarities that bind them together in a unique symphony of tastes that form the foundation of Deutsche Küche.
One of the biggest similarities in the regional food in Germany is the preparation of seasonal dishes. All fruits and vegetables that are used in the dishes have their own season and daily meals across the country change with the seasons.
Another fact that many are generally not aware of is that bread is quite the famous food in Germany, where a great baking culture still thrives. People of Germany are extremely proud of this part of their cuisine, and it is extremely easy to find innumerable variations of bread for you to try.Other than this, thecountry's cuisine involves the use of a lot of meat, garden vegetables, bread, and of course, beer and the dishes are mostlysimple preparations thatsatisfy the tastebuds, tummy, and soul.
Regional Variations in the Food in Germany
With their own recipes, flavour combinations, and cooking methods, each region adds its own distinct character to the hearty cuisine of Germany. Some of the main culinary regions of Germany that you can consider adding to your Germany tour packageinclude:
Schleswig Holstein: Their cuisine combines sweet and salty flavours and is mostly fish- and seafood-based.
Hamburg: Proximity to the Elbe River and the North Sea has a significant impact on the cuisine in Hamburg, which champions saltwater as well as freshwater fish.
Berlin: From being known for simple, filling dishes, the capital city of Germany has come a long way and has transformed into a haven for fast-food lovers and foodies from across the world.
Brandenburg: Showcasing an influence of Slavonic food culture, the cuisine here is mostly about potatoes, tubers, root vegetables, and freshwater fish.
Nordrhein Westfalen: With a heavily meat-based food culture in the region, you can find anything from German streetfoodand traditional Dutchdishes to international cuisines here,as this is the most populous region of Germany, home to people from all over the world. Nordrhein Westfalenis also known for its white wine, the grapes for which come from the hills of the Rhine and Moselle Rivers.
Saarland:One of the westernmost provinces in the country, Saarland's cuisine has influencesof the neighbouring country of France, and includes dishes that are refined and down-to-earth.
The Famous Food of Germany That You Just Have to Try
Which dishes and desserts in Germany you get to taste will of course vary based on the region you plan to visit on your trip, but here is some of the most famous food of Germany that you can look out for: 
The National Food of Germany
Sauerbraten, which means "sour roast" in German, is considered to be the national food of Germany. It is a pot roast that was traditionally prepared with beef but is also made using pork, mutton, venison, lamb, and even horse meat. Different regions of course have their own variations of the dish,but it is basically the same ingredients,and is served with red cabbage, potato dumplings, boiled potatoes, and egg and flour noodles.
Unless you are a vegetarian, whenever you visit Germany, your list of food to try must include theSauerbraten. 
The Traditional Food of Germany
Everyone knows the popular German foods like Bratwursts and Schnitzels, but there's much more:
Brot & Brötchen: As bread is an integral part of German cuisine, the Brot (bread loaf) and Brötchen (crusty roll of bread) of course make it to the list of traditional food of Germany that you should try.
Käsespätzle:This dish involves egg and flour noodles, which are layered with grated cheese and topped off with fried onions. Käsespätzle comes from Germany's southwestern regions.
CurryWurst:A popular German street food, this is basically a plate of chopped sausages with spicy sauce, served with chips that the locals prefer to enjoy on the go.
Kartoffelpuffer and Bratkartoffeln:Kartoffelpuffer is a shallow potato pancake that you can have as a side dish, with eggs and bacon, or just some applesauce poured over it. For a Bratkartoffeln, potatoes are cut into chips or chunks that are parboiled and fried with onion (sometimes bacon as well).
Brezel:This is another popular German street food, which you may know better as a 'pretzel'. The chewy crust and fluffy insides of the Brezel can be flavoured with cheese, seeds, etc., served with a little mustard for that extra kick.
Schweinshaxe: This is a pork knuckle dish that is cooked to perfection with juice and tender meat and crisp skin. 
Vegetarian Food in Germany
While German cuisine has a heavy focus on meats, it is not difficult to find some amazing vegetarian food in Germany either. If you are a vegan or a vegetarian you don't have to depend on side dishes alone, as the country has some amazing dishes for you as well, apart from the traditional Kartoffelpuffer, Bratkartoffeln, and Brezels.
Spargelzeit Dishes: The season of white asparagus, the king of vegetables, lasts from March to mid-June, when you can try some amazing white asparagus dishes, cooked with butter, ham, or hollandaise sauce, or a combination of different recipes and ingredients.In the spring season, you can also try wild chives in green sauce (Bärlauch andFrankfurter Grüne Sosse), chanterelles mushrooms (Pfifferlinge) in early fall, or some berry compote (Rote Grütze) in the summer season.
Flammkuchen:An Alsatian-style pizza topped with sliced onions, crème fraîche, marjoram, etc., over a crispy crust.
Bread with Obatzter: Pair one of the many types of bread available in Germany with this special spread that is made using various spices, butter, and cheese.
Semmelknödel mit Pilzen: Potato and bread dumplings that are also available in vegan-friendly options.
Turkish Food: Not exactly traditional food from Germany, the significant Turkish population has also had its impact on German cuisine and the many Turkish restaurants across the country are like paradise for vegetarians. 
Popular Desserts in Germany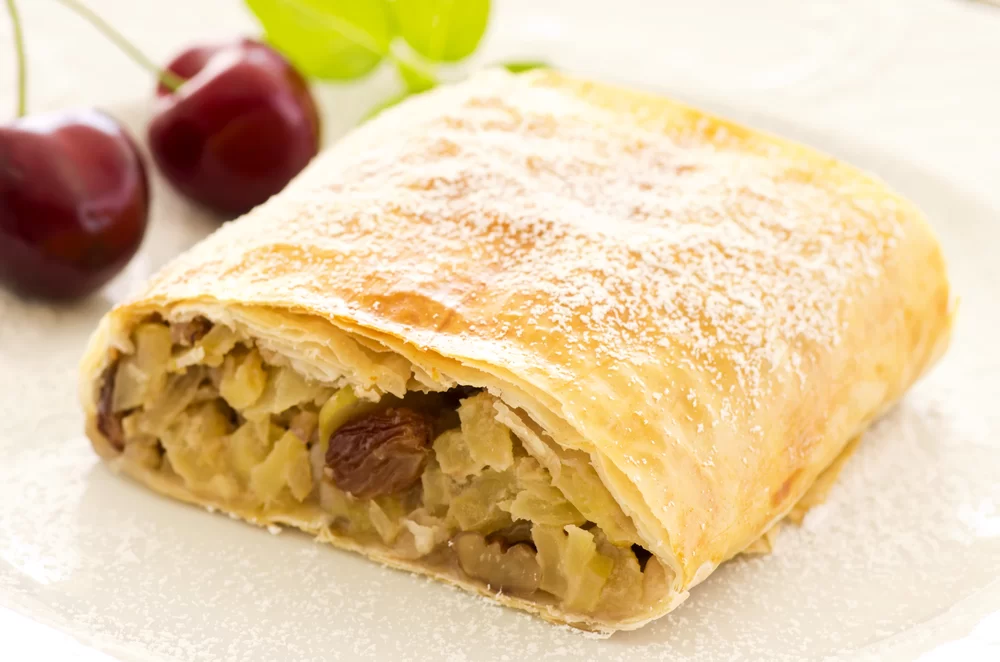 Those with a sweet tooth are in for a treat, for some of the best food in Germany are desserts.
Schwarzwälder Kirschtorte: The most popular cake from Germany, it has layers of decadent chocolate cake, whipped cream, cherries, has a liqueur that is distilled from tart cherriesand is topped with maraschino cherries, more cream and chocolate shavings.
Bienestich:Made using sweet yeast dough with a filling of buttercream, vanilla custard, or cream, and topped with caramelised almonds that are baked onto the dish.
Baumkuchen: Looking like a cross-section of a tree trunk when cut, this cake has extremely thin layers, which are madeusing a rotating spit and baked over fire. The process is repeated for adding new layers until the dish is thick enough.
Apfelstrudel: Apples flavoured with cinnamon, raisins, and sugar, filled into buttery pastries, and baked.
Some Important Etiquettes and Facts about Food in Germany
While you're out and about sampling amazing food in Germany, you need to ensure you follow the expected etiquettes, whether you are dining at a restaurant or at someone's home.
Germans do not use their hands to eat their food and even food like French fries is eaten with a fork and knife.
Remember – fork in left hand and knife in the right.
For the more formal meals, the silverware, bread plates, glasses, and napkins are set in a particular order and arrangement. If there are multiple courses, start using the silverware from the outsidein.
A crossed knife and fork on the plate signifies that you are taking a pause while setting them side by side at the plate's edge means you are finished with your meal or course.
Loud conversations or unnecessary noises are not appreciated during mealtime and conversations are usually held in whispers when dining.
Using only one hand to first cut the food then using the fork to eat it, with one hand in the lap or anywhere else, is considered to be rude dining manners, just like putting your elbows on the table.
If you're dining at someone's home, don't forget to compliment the chef.
Wait for someone to say "Guten Appetit" before starting your meal. It is quite common for the host or a guest to say a few words to toast, congratulate, or thank the host or to acknowledge the person who cooked the meal.
Most German restaurants do not have hosts and patrons are expected to find a free table and seat themselves.
At informal restaurants or bars that are crowded, sitting down at a shared table with strangers is completely OK, as long as you ask them if the seat is free first.
If you order a soda or cold beverage, you will be served a glass of the same with no ice. If you need ice, you must ask for it. Do not expect free refills for drinks.
Baskets of bread or pretzels are usually placed on tables at restaurants, but keep in mind that they are not complimentary treats, and you may be billed upon eating them.
Tips are not an 'unspoken mandate' as they are in countries like the US, and while appreciated, do not have to be very generous. Rounding up to the nearest multiple of 5 or 10 or a 10% tip is the common practice in Germany. For example, if you have a 22- or 23-Euro bill, you can 'make it 25'.
There is almost no culture of 'Doggie bags' and if you ask for the leftovers to be packed for you to take away, you may get some confused looks.                                                                                                                                    Whether you are a foodie or not, you cannot miss out on the best food in Germany, which is sure to fill you up but leave you wanting for more at the same time!