Canada is an intriguing country to visit, with terrain as diverse as its history and people. From elegant, cosmopolitan capitals to mountain resorts and marine communities, Canada's cities and towns provide visitors with a broad range of experiences. The greatest destinations to visit may be determined by your interests and the sort of vacation you want to take. Few places on the planet offer as many natural treasures as Canada. Each province has its own set of distinct treasures from coast to coast. Canada inspires awe and delivers an unforgettable experience, whether it is the pure beauty of a northern lake, the sheer grandeur of the Rocky Mountains, the rolling grasslands of the prairies, the signature red soils and lighthouses of the Maritimes, or the rich history and architecture.
For many reasons, Canada is one of the best places in the world to pursue higher education or vacation. The reasons are numerous, ranging from high-quality education to first-rate facilities. Before purchasing a Canada tour package, you may be interested in learning some unique and intriguing facts about Canada. So, in that case, keep on reading. This blog will go over ten fascinating facts about Canada. Continue reading for more information.
1. Did You Know That Canada is Bigger Than the European Union?
Have you ever been travelling overseas and had someone ask you whether you knew Kimberly from Vancouver or Theo from Montreal after you informed them you were Canadian? For those who haven't seen it personally, our country's immense land size might be difficult to grasp. Here are some intriguing facts about Canada to put its astonishing size into perspective: It is larger than the entire European Union, more than 30% larger than Australia, five times the size of Mexico, three times the size of India, and nearly the size of all 81,975 Walt Disney Worlds combined. In other words, you don't know Kimberly or Theo!
2. Did You Know Canadians Drink More Than 22,700,000 Hectolitres of Beer Per Year?
One of the fun facts about Canada is that Canadians drink more than 22,700,000 hectolitres of beer every year. That's a lot of beer, and beer accounts for around 80% of all alcoholic beverages drunk. This equates to around 79 litres of alcohol consumed per Canadian each year. Yukon has the highest per capita beer consumption in the country, with 128 litres per person per year. Molson, Wild Rose Brewery, Big Rock Brewery, Moosehead, Perth Brewery, Alexander Keith, and Kokanee are just a handful of the most well-known Canadian beer companies.
3. Did You Know That Canadians Purchase More Ice Cream in the Winter than in the Summer?
Canadians sometimes have conflicting sentiments about Mother Nature. While we have wonderful snowy moments in our winter, we also know how long and gloomy it can be. That's why we love to soak up the rays and indulge in all that summer has to offer, including ice cream. What is unexpected is that Canadians actually buy more ice cream during the cold months!
4. Did You Know that Canada is a Polar Bear Capital?
Churchill, Manitoba, is the world's polar bear capital. Due to its proximity to frozen Hudson Bay, where they spend the winter, Churchill is home to around 15,500 of the world's 25,000 polar bears. It's also the only site on the planet with a polar bear jail, and the town occasionally has more polar bears than people. The few people who live there also leave their cars and residences open in case they or a guest have to flee a polar bear.
5. Did You Know That Superman was Co-Created by a Canadian?
One of the interesting things about Canada is that Superman may be considered America's greatest hero, but his roots are in the Great White North. While still in high school, Canadian comic book artist Joe Shuster collaborated with writer Jerry Siegel to develop the iconic DC Comics superhero in the 1930s. The team finally sold their comic strip for $130 USD to Detective Comics Inc. (later renamed DC Comics). On April 18, 1938, Superman made his comic book debut in Action Comics #1, a title that is being published today.
6. Did You Know That There are Millions of Lakes in Canada?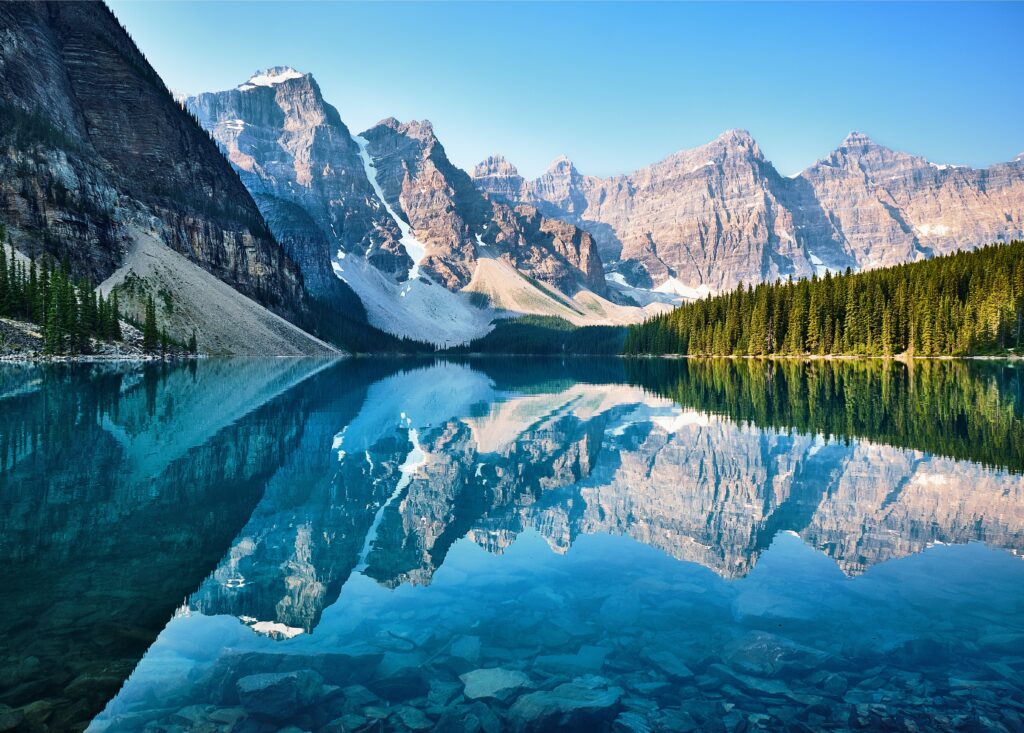 The country of Canada has more lakes than the rest of the globe combined which is one of the amazing facts about Canada. There may have been as many as two million at the last census, with 563 greater than 100 square kilometres. Lake Huron in Ontario, Great Bear Lake in the Northwestern Territories, and Lake Superior in Ontario are among its biggest lakes. There are other huge lakes in Manitoba. Lake Winnipegosis, Lake Manitoba, and Lake Winnipeg may all be found here. Lake Winnipeg is Canada's fifth-biggest lake and the world's eleventh largest.
7. Did You Know That Canada's Lowest Recorded Temperature is as Cold as Mars?
One of the least shocking things about Canada is that it can become rather chilly in the winter (anyone who's ever had to chisel their car out of a block of ice first thing in the morning knows this to be true). The average low temperature in Ottawa in January is -14.4 degrees Celsius (6.1 F). That's quite chilly! A temperature reported in 1947 in Snag, Yukon, on the other hand, makes the rest of Canada's winter weather look like a nice beach vacation. On February 3, 1947, a temperature of -63 C (-81.4 F) was recorded in the small settlement of Snag. That's almost the same temperature as Mars' surface!
8. Did You Know That Canada Has The Longest Coastline?
With 243,977 kilometres of shoreline, Canada boasts the world's longest coastline (151,600 miles). To put that amazing number about Canada into context, it owns 202,080 of the world's total 356,000 kilometres of the coastal territory. Indonesia, with 54,716 kilometres of coastline, is the only other country that comes close. It would take you four and a half years to walk the length of Canada's coastline if you never stopped, not even to eat, sleep, or rest your feet. The coastline is bounded by three oceans: the Atlantic, Arctic, and Pacific.
9. Did You Know That Canada Comes No. 1 When it Comes to Consuming Donuts?
The obvious choice when discussing Canadian facts is to start with doughnuts. Donuts are their favourite! Canada has only 30 million inhabitants, yet we consume 1 billion doughnuts each year. This title is thanks to Tim Horton's which is one of the must visit places to visit in Canada. It is the most popular coffee and donut chain in Canada.
10. Did You Know That Canada Has More Lakes Than the Rest of the World Combined?
If you consider smaller lakes, Canada has almost 3 million lakes. This is more lakes than the rest of the globe put together. Another fascinating statistic is that this area has around 20% of the world's freshwater. Lake Moraine is just one of several Canadian lakes that have been named one of the most beautiful spots to visit in the country.
11. Did You Know That Canada Has Less Gravity Than Anywhere Else in The World?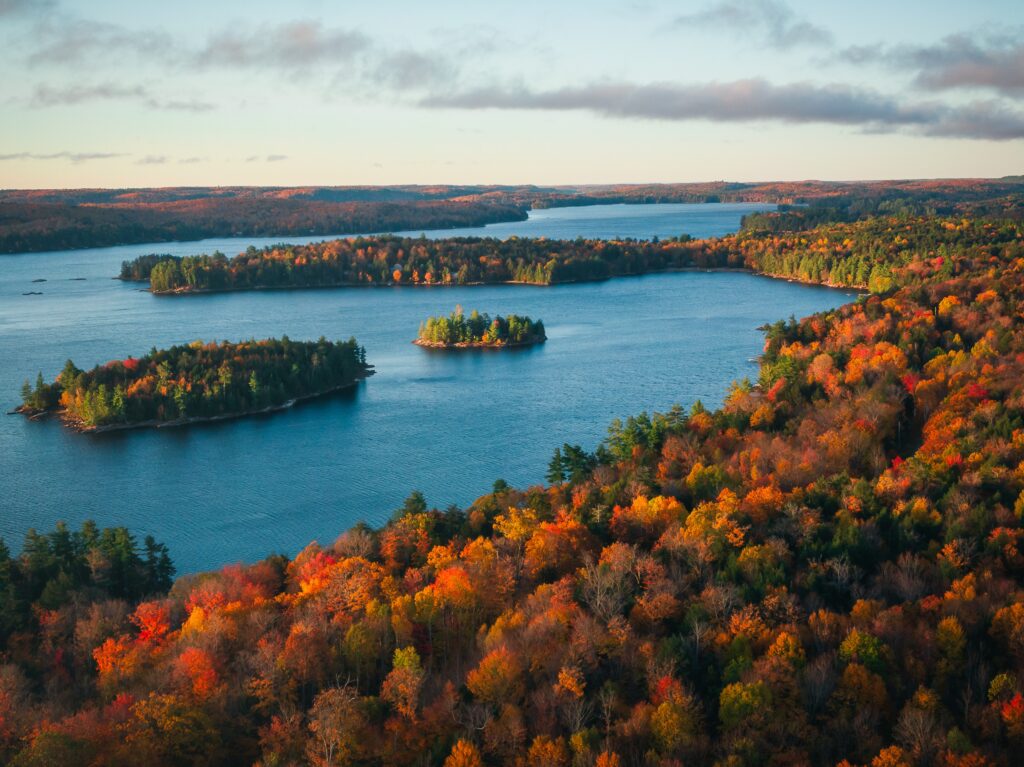 The average person in the Hudson Bay region weighs a tenth of an ounce less than they would somewhere else. Why? It all stems from the previous ice age, which ended more than 11,000 years ago. The Laurentide Ice Sheet covered much of Canada during this time period. Because ice is so heavy, when it began to melt some 21,000 years ago, the Earth underneath it began to gradually rise back. The Hudson Bay region, on the other hand, is still distorted and hence has less mass than it should. Because less mass equals less gravity, you'll weigh somewhat less if you visit this portion of Canada.
Canada is amusing and quirky! That's just how we like it! And now, loaded with all of your Canada facts knowledge, you're ready to hit the road, tour Canada, and meet the locals.