Reading Time:
11
minutes
Snow-capped mountains, beautiful architecture, scenic river valleys, warm people and a backdrop of everything picturesque, this is Manali to Dharamshala package for you. On the one hand, there is Manali, which is home to a number of beautifully crafted buildings dating back to the colonial era and on the other hand, there is Dharamshala which is also known as "Little or Mini Lhasa", situated at Dhauladhar mountain range in the foothills of the Himalayas. Manali and Dharamshala are the two most important towns in Himachal Pradesh which are frequented by tourists all throughout the year. Both Manali and Dharamshala are situated close to each other. The distance between Manali to Dharamshala is approximately 223 kilometres which is filled with an abundance of natural beauty and scenic views. A Manali to Dharamshala tour package is ideal for tourists who want to experience the scenic beauty of Manali and the vibrant history of Dharamshala. The hill stations of Himachal Pradesh are a perfect choice for you to escape the hustle and bustle of city life and relax amidst the natural beauty of the Himalayas. The trail between Manali and Dharamshala is filled with an abundance of nature's bounty and is home to beautiful lakes and waterfalls. If you are planning a Dharamshala tour package anytime soon, we have enlisted an ultimate travel plan that you will ever need.
Best Time to Book a Manali-Dharamshala Package
Manali and Dharamshala are year-round destinations, which is why the places are visited by tourists throughout the year. Soak yourself in the tranquillity of mesmerising spots carpeted by deodar and cedar trees by booking a Manali-Dharamshala tour package.
Summers (April to June)
Dharamshala is a gateway to summer vacation if you are looking for an amazing vacation destination on the foothills of the Himalayas. The weather during the summer season is extremely pleasant and is the best time for you to engage in various in-city tour activities. With the beginning of April month, the snow in the valley begins to fade and the sun peeking out from the clouds makes the city even more mesmerising. You can take part in various activities, paragliding, cycling, riding and sightseeing from Manali to Dharamshala, which you can experience on your tour package.
Monsoon (July to September)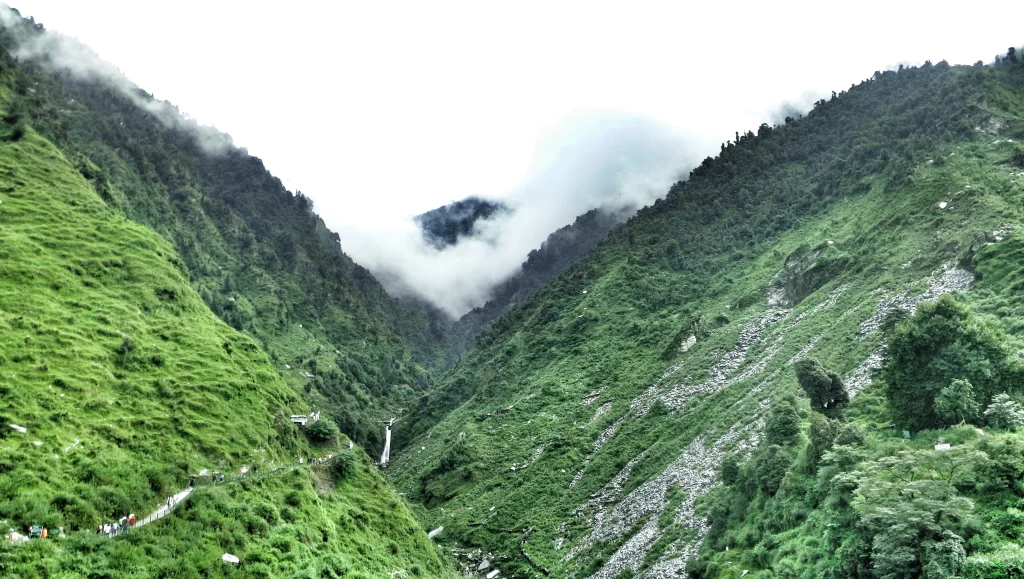 The months between July and September are the best time to visit the forests of Manali. The monsoon season sees less footfall as compared to other months. Hence, you can explore the various tourist spots that Manali and Dharamshala have to offer. Before planning your day-to-day itinerary during the monsoon season, make sure you check the weather forecast and then plan your trip accordingly.
Winter (October to February)
The months between October and February are considered peak season as the place is influx by honeymoon couples, family and even backpackers. The Winter season brings out the best in Manali and Dharamshala, with snow blankets covering every inch of the valley, and the high mountain peaks giving picturesque and magical views like nothing else. With temperatures ranging from 7 degrees to 4 degrees Celsius, you can spend your time partaking in snow trekking, hiking, biking etc.
How to Reach Manali and Dharamshala?
Dharamshala being a popular destination in North India is very well connected to all parts of the country through various modes of transport. To guide you to reach Dharamshala from Manali, here are the best possible ways for you.
By Air
The closest airport to Manali is the Kullu Manali Airport, situated approximately 50 kilometres from Manali town and welcomes flights from Chandigarh and Delhi. The second best option to reach Manali is via Chandigarh Airport. From Chandigarh airport, you can take any airport taxi or bus from Chandigarh airport to reach Manali comfortably.
By Rail
If you wish to travel from Dharamshala to Manali by train, the nearest railway station is the Joginder Nagar Railway Station which is nearly 144 away from Manali city. The Joginder Nagar railway station is very well connected to major cities like Delhi, Amritsar, Chandigarh, Srinagar, Jammu, Kolkata, Bhopal, Mumbai etc.
By Road
The distance between Manali and Dharamshala is approximately 223 kilometres, which can be easily travelled via roadways. The route between Manali to Dharamshala by road is well connected as you can hire a private taxi or bus to reach your destination comfortably. You will be able to find many Manali to Dharamshala buses which are very cost-effective and comfortable to travel. The major cities like Pathankot, Jalandhar, Amritsar, Shimla and Delhi are very connected to Dharamshala from Manali.
Places to Visit Enroute Manali to Dharamshala
The route between Manali and Dharamshala is filled with scenic landscape, magnificent hills, clear blue sky and lush greenery. We have enlisted some of the best places that you can visit when travelling from Manali to Dharamshala. The route between Manali to Dharamshala will be one of the best moments that you will cherish for years to come. Here are the places that you can visit.
Hadimba Temple, Manali
 No trip to Manali is complete without visiting the holy Hadimba Temple situated in old Manali. This ancient temple was built back in 1553 by Maharaja Bahadur Singh and is dedicated to Hadimba Devi, wife of Bheem. The intricate wooden architecture of the Hadimba Temple is very distinct from the rest of the temples that you will come across. The temple is also surrounded by a thick cedar forest with snow-capped mountains serving as a backdrop for the scenic Hadimba Temple.
Solang Valley, Manali
 Solang Valley is a mini valley perched at the height of about 8,400 metres from sea level. The place is famous for adventure activities like skiing, paragliding, zorbing etc. You can even take a ride in a cable car to enjoy the mesmerising views of the valley. If you are someone interested in adventure activities, the winter months are the perfect time to visit Manali.
Mall Road, Manali
 Mall Road is known as the heart of Manali, where you can see colourful lanes studded with hotels, restaurants, local shops and emporiums throughout the walkway. Mall Road is one of the best places to visit in Manali as you can shop endlessly from the local shops, taste the local delicacies and take back souvenirs to gift back to your family and friends.
Triund Hill, Dharamshala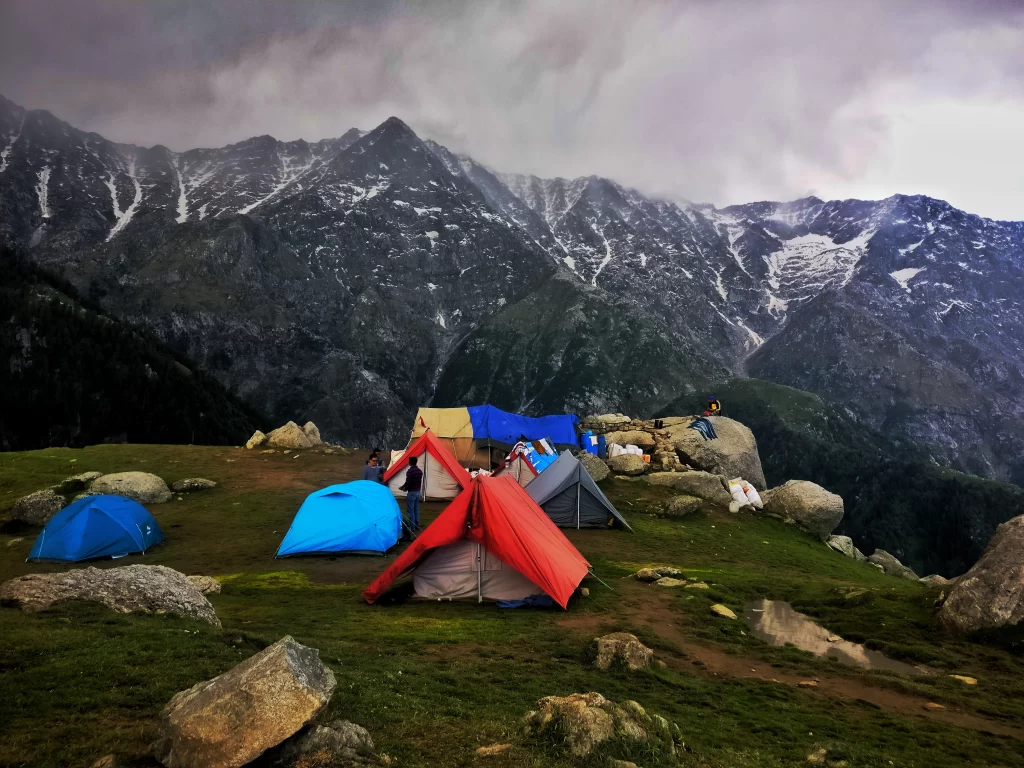 Triund Hill is one of the most beautiful places in Dharamshala that gives you a perfect chance to catch a glimpse of the majestic Himalayas. Perched at the height of 2,828 metres from sea level, Triund Hill is truly a paradise for trekkers and nature lovers alike. While at Triund Hill, don't miss the Galu Temple, Rhododendron and Oak forest.
Dharamshala Cricket Stadium, Dharamshala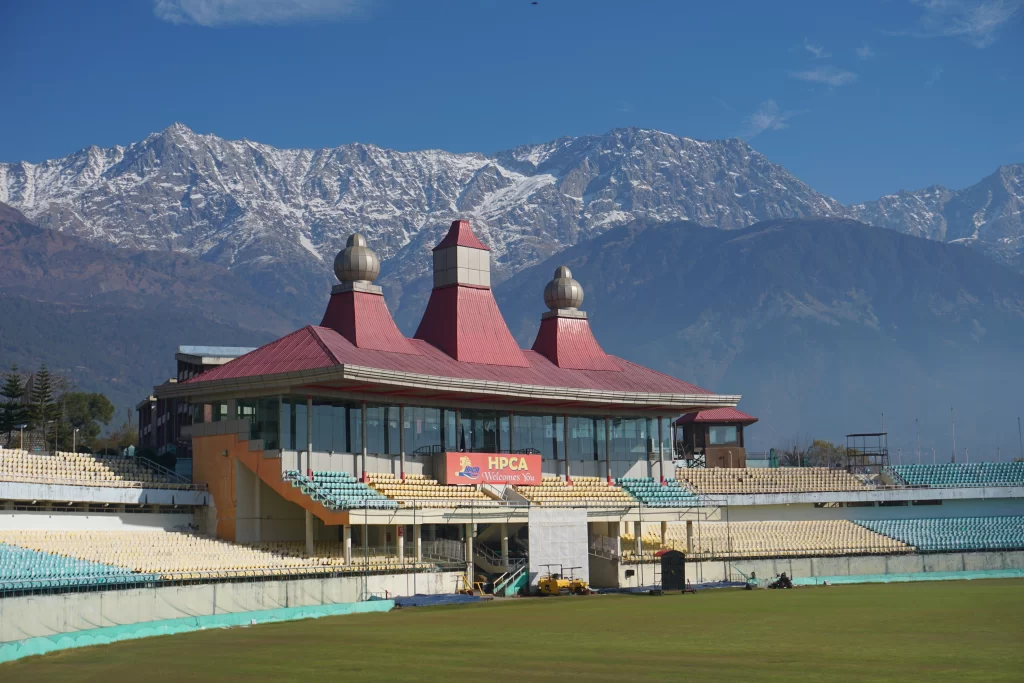 Also known by the name Himachal Pradesh Cricket Association (HPCA) stadium, Dharamshala Cricket Stadium is one of the highest cricket stadiums in the world. The Dharamshala Cricket Stadium is situated at the height of 1,457 metres above sea level amidst the Dhauladhar Range. The cricket stadium is open for tourists as well, so you can visit this scenic cricket stadium even if no cricket matches are scheduled. The Tibetan style of architecture makes the Dharamshala Cricket Stadium stand out and makes it one of the best places to visit in Dharamshala.
Kareri Dal Lake, Dharamshala
Spread over one sq. km. and surrounded by lush deodar trees and rugged mountains, Kaleri Dal Lake is one of the best places to visit in Dharamshala. The place is frequented by tourists all throughout the year. Kaleri Dal Lake is also a site of a base camp for trekkers leading to expeditions on nearby hills. When you plan to visit Kaleri Dal Lake, don't miss out on paying a visit to the Kali-Shiva temple located on the banks of the lake.
Ideally, a week's time is enough to visit all the beautiful places en route from Manali to Dharamshala. But if you have some more days on your hand, you can even visit Dalhousie, which is the birthplace of the great saint Dalai Lama. The distance between Dharamshala and Dalhousie is approximately 117 kilometres. You will see many Tibetan monasteries, beautiful landscapes and mountain peaks on your way, which will make your trip to the Himalayas even more special. With Veena World as your travel partner, you can explore our various Manali to Dharamshala packages which are cost-effective and tailor-made to suit all your travel preferences. You can even choose to customise your Manali-Dharamshala tour package according to your plans with Veena World's customised holiday option. Get ready to pack your bags and plan your holidays to Himachal Pradesh with Veena World.