Reading Time:
10
minutes
Chinatown Kolkata, located near Tangra and Topsia in eastern Kolkata, is the only Chinatown in the region with the highest number of Chinese residents. Chinatown has kept its unique cultural charm. The Chinese migrated to India, in Calcutta in the 18th century. Most of them also have a cultural centre in Chinatown. In Chinatown, with Buddhist temples and an age-old Chinese pastry shop, one can recapture the essence of Chinese society. This small Chinatown is known for serving authentic Chinese cuisine that has been meticulously preserved by the Chinese families who have lived in the neighbourhood for decades. The neighbourhood is studded with fantastic Chinese restaurants and bars. Chinese restaurants serve a wide range of Chinese cuisine.
The perfect blend of East Asia and old Kolkata can be observed in Chinatown. For gastronomes, Chinatown in Kolkata is true bliss. In this blog post, we have outlined 6 irresistible reasons to visit Chinatown in Kolkata to explore diverse cultures.
#1 Chinese Cafes & Restaurants
Authentic Chinese food is one of the main things that make China Town so popular. Many affordable cafes and restaurants in Chinatown Kolkata serve great fried rice, chilli prawns, crab soups, rice noodles, pakchoi, pork soups, fried wontons, dumplings, and other dishes. Most of the restaurants also serve liquor with the meal. Also, you can find an old pastry shop around here. Some of the popular Chinese restaurants in Chinatown Kolkata are:
Kim Fa
After crossing the Chinese Kali temple, you can see the Kim Fa Chinese restaurant across the street. The Indo-Chinese delicacies here especially chilly chicken and chilly prawns are quite famous. Vegetarians can enjoy the fresh light pakchoi and Asian greens and Chinese mushrooms. Also, customers can pre-order their brown chow (caramelised sweet noodles) and garlic noodles, both of which are made from scratch in-house.
Beijing
Beijing has some incredible meals based on the secret recipes of Ms Liu (popularly known as the Queen of Tangra). It prominently includes Fried Meatballs, Thai Chicken, and Peking Chicken with Hoisin Sauce. Don't miss out on the Special Duck Roast; it's extremely delicious. Beijing has it all, from chicken dumplings, spring button mushrooms, and Cantonese chicken to schezwan duck, Peking phoenix emperor prawns, chicken in black bean sauce, and chilli crab claws.
Kim Ling
Kim Ling serves a variety of vegetarian, egg, chicken, and fish dishes. Also, it serves crab dishes such as Crab Claws, Crab Meat with Button Mushrooms, and Crab Meat in Your Choice of Sauce. Steamed Whole Chicken or Fish is a must-order. Kim Ling will compel you to return for more with a range of dishes ranging from Chilli Prawns, Lemon Chicken, and Hot Garlic Mushrooms to Garlic Yam Mein, Kim Ling Special Rice Noodles, and Cantonese choices.
Golden Joy
The ever-expanding Golden Joy (managed by Robert and his kids) is another must-see in Tangra during the Christmas season. There is a family room, a men's only section, and even a private eating space where you can seat wherever you choose. Golden Joy is well-known for its thick Thai soup, massive dishes of Hakka chow, and seafood varieties.
#2 Chinese Breakfast
While Tangra's China Town is well-known for its Chinese restaurants, before heading there for lunch, stop by Tiretta Bazaar to try the authentic Chinese breakfast. However, you must arrive at this breakfast bazaar early in the morning. Chinese vendors begin selling meals such as sausages, momo, zung, pau buns, pork rolls, wontons, and other items from 6 AM to approximately 8 AM.
#3 Chinese Festivals
Chinese residents here celebrate their festivals uniquely. Travellers who witness the celebrations of their main festivals get a lifetime experience here. Here are two main festivals that are celebrated in Chinatown Kolkata:
Chinese New Year Celebration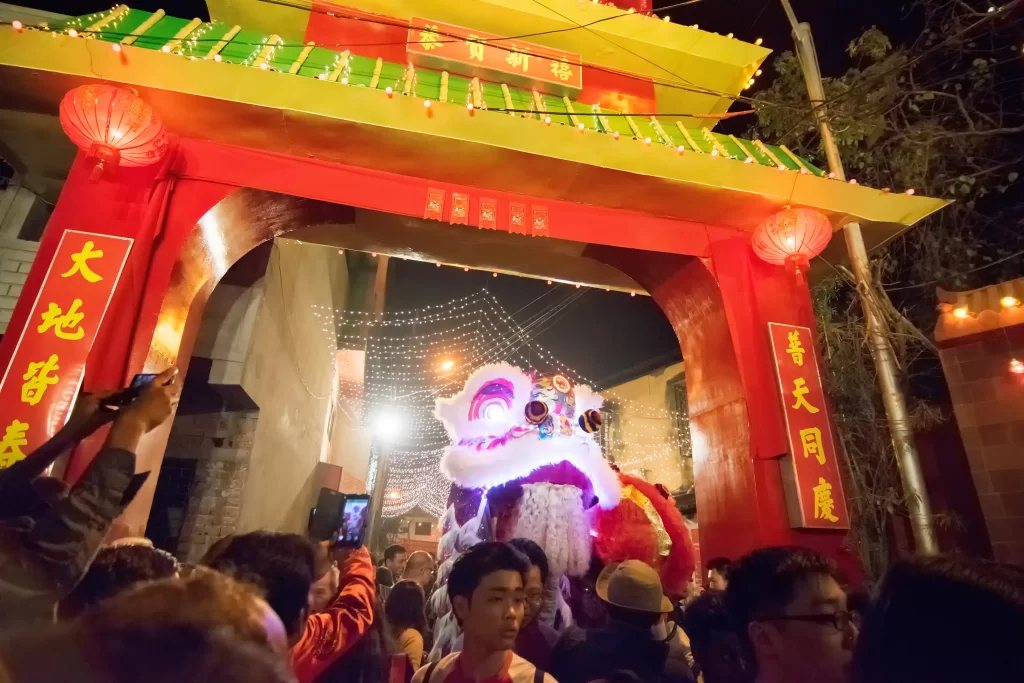 The Chinese community in Calcutta celebrates Chinese New Year in a traditional manner, complete with lion and dragon dances at Tangra and Tiretta Bazar. The festival celebration begins several days before New Year's Day, with stage shows set up at Tiretta Bazar and Tangra. Dragon and lion dances are performed in the streets of Tiretta Bazar and Tangra on the Chinese New Year.
On the Sunday after Chinese New Year, the whole Chinese community of Calcutta gathers in Achipur (near Budge – Budge) to pay heartfelt tribute to Tong Achew, India's first Chinese settler. The Chinese New Year for 2023 is scheduled for 22nd January, Sunday and is the "Year of Rabbit".
Chinese Hungry Ghost Festival
The seventh month of the Chinese calendar is known as the Ghost Month, according to ancient Chinese custom. Hell's gates are believed to be open throughout the month. Ghosts and spirits are believed to wander the earth in search of food and pleasure. These ghosts are believed to represent the ancestors of individuals who died without paying their respects, or who were never given a proper ritual send-off. Because they haven't been fed by their family, they have long needle-thin necks. Family members pray for their deceased relatives and offer them food and drinks.
The Ghost Festival, also known as the Hungry Ghost Festival, takes place on the 15th day of the Ghost Month (a full moon day). This is a day when the spirits are at their peak. It is essential to prepare a lavish feast for them in order to satisfy them and bring good fortune to the family. On this day, Taoists and Buddhists hold ceremonies to ease the deceased's suffering.
 #4 Old Age Heritage Buildings
The Hakka Chinese population relocated to this region of Kolkata after the development of the Chinese-run tannery in Tangra in 1901. Around the time of World War II, in the 1930s and 1940s, China Town received a substantial refugee population from South China. During the Sino-Indian War of 1961-1962, the population declines. Around 5000 Chinese are now carrying the legacy in Kolkata, this historic city. Along with many historical places in Kolkata, Chinatown is filled with age-old colourful buildings, many of which are decorated with charming paper lanterns.
#5 Chinese Temples & Churches
There are a number of lovely Chinese temples in Kolkata, particularly in the Tiretta Bazaar area. Although many of these temples are referred to be churches, traditional Chinese religion is practised in these places of worship. Tangra also has India's only Chinese Kali temple, which serves noodles as prasad. Some of the most popular temples/churches of Chinatown Kolkata are:
Sea Ip Church
One of the most beautiful churches in Tiretti Bazzar is Sea Ip Church, which was built in the year 1905. The temple was made in the name of the Chinese deity Kwan Ti who represents peace, mercy, and war. The two-storey temple comprises a library on the ground floor. Worshippers can come and read the ancient history and people of China.
Toong On Church
Toong On Church is a church that holds a special mention. The church was built upon a restaurant named Nanking but unfortunately, was burned down. The church remains and is still one of the most popular churches/temples in Kolkata. This church is also dedicated to the deity Kwan Ti. The structure of the church is quite simple and there is a giant Buddha greeting statue at the entrance.
Gee Hing Church
This Chinese church in Kolkata is popular for the Mahjong games. Mahjong playboards can be found all around the place, including on your way to the main shrine. The temple of the Chinese God of War, Guan Yu, is located on the top floor and is carved with exquisite golden symbols and metal artwork. This place was used as a residential spot for Chinese visitors, but it was closed down.
#6 Curios
Tiretti Bazaar in China Town is covered with shops where Chinese sellers sell unique and beautiful items that can be collected as souvenirs. These stores sell Chinese artefacts, Chinese spices, and even Chinese medications. Remember to negotiate a little when purchasing souvenirs from the vendors.
Apart from colonial architecture, there is so much more to discover in Kolkata like Bengali culture and traditions. It is true that this city is full of ethnic diversity. So, book your Kolkata tour package to explore the famous Chinatown and diverse cultures.