Fondly called the 'Land of the Morning Calm', South Korea is a beautiful country that is famous for its rich and unique Asian culture. From fast-paced cosmopolitan cities to quaint and small towns, this country offers the perfect amalgamation of old and new. From exciting music to world-class cuisine, an abundance of natural beauty to a rich heritage, there are so many reasons that make it a perfect travel destination. Being home to a number of UNESCO World Heritage Sites, including some ancient temples, magnificent fortresses, and other historical landmarks, there are so many places to visit in South Korea. Whether you are a music enthusiast or a history buff, a nature lover or a foodie, this country has so much to offer.
Although South Korea is a year-round destination with different things to offer in different seasons, spring is still considered to be the best time to plan a trip. Also known as the cherry blossom season in Korea, the spring season is a magical time because this is when the cherry blossom trees burst into bloom. During these months, the winter chills start fading away, and these beautiful flowers turn the country into a pink-white wonderland. This is definitely one of the most spectacular sights you will ever get a chance to enjoy.
Usually, cherry blossom is associated with Japan, where it is commonly known as sakura. The main reason behind this is that cherry blossom is one of the most common flowers in the country. However, cherry blossom trees are very easy to find in Korea as well, and the commonly-used name for this beautiful flower is beot-kkot.
The Best Places to Enjoy Cherry Blossom in South Korea
The blossom typically comes into full bloom for one or two weeks, and during this time, the entire country gets covered in pink-white flowers. However, there are a few places that you can visit to enjoy cherry blossom in Korea. Some of these are:
Jeju Island
Jinhae
Hwagae
Gyeongju
Seoul
Ansan Mountain
Dream Forest
Jeju Island
Jeju Island, the southernmost part of the country, is one of the places to experience the cherry blossom in South Korea. Usually, the expected time of the first bloom is late March. Enjoying the pink spring season along with lush seaside scenery is an experience that is second to none. And the major highlight is that there are plenty of restaurants serving delicious, fresh seafood all the time. This island is dotted with king cherry trees, so you can also witness some of the biggest blossoms here. These stunning flowers are known for their large petals, and they only come into full bloom for two or three days in early April.
Jinhae
Jinhae is a beautiful port city that becomes even more stunning during the cherry blossom season. The expected time of the first bloom is early April, and it is celebrated with a ten-day festival known as the Jinhae Gunhangjae Festival. This is a popular attraction in the country, and Jinhae enthrals a large number of visitors from all across the world. The major highlights of this festival are the military band parade, music performances, etc.
Hwagae
The list of beautiful places to witness cherry blossom in South Korea is definitely incomplete without including Hwagae. Located at a small distance from Busan, Hwagae is also known for being home to one of the most happening cherry blossom festivals in the country. Here, people can also visit several stalls selling unique souvenirs and delicious Korean food. The place where this festival is held is also known as the 'Wedding Road'. According to a popular legend, it is believed that couples who walk down the lane while holding hands get married and live happily together. If you are visiting Hwagae with your partner, taking a leisurely stroll under the archway of cherry blossom trees is something you should definitely do.
Gyeongju
Being home to the largest number of historical landmarks and their remnants, Gyeongju is the perfect destination for history buffs. Also known as the 'Museum without Walls', this city is a favourite stop for people who want to take a closer look at Korean history and are fans of period dramas. Other than witnessing stunning cherry blossoms, you can also sign up for the annual marathon that is held here around this time.
Seoul
Being the capital city of South Korea, Seoul is definitely one of the most happening places to experience the magic of pink spring. There are several festivals throughout the month of April to celebrate cherry blossom. One of the most popular of all is the Yeouido Spring Flower Festival, which takes place on the island of Yeouido on the Han River. Here, you will get to see thousands of cherry blossom trees serving as a stunning backdrop for the exhibitions and performances. Other than this, the major highlight of this festival is the amazing firework show that is held to light up the event. The Seokchon Lake Cherry Blossom Festival is another option one can consider to enjoy cherry blossom season in Seoul. Held at a venue located in the eastern part of the capital city, this event is very popular among tourists and locals alike.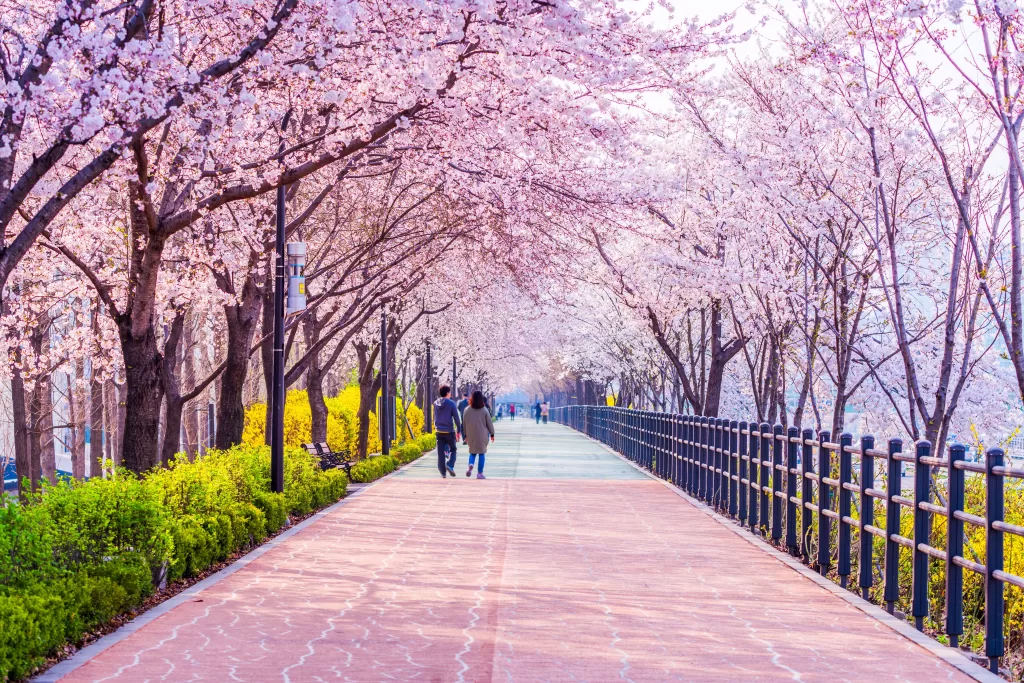 Ansan Mountain
Ansan Mountain is an easy hike, and the best thing about the hiking route is that it is dotted with hundreds of cherry trees. So you will get to see spectacular cherry blossoms all along the way. Other than this, it is a great idea to add a dash of adventure to your trip. For people, who are looking for an adrenaline rush, the Ansan Mountain hike is definitely one of the best options.
Dream Forest
Dream Forest is the fourth-largest park in Seoul and, of course, one of the most popular ones. It is surrounded by two of the most prominent mountains, which are Byeogosan Mountain and Opaesan Mountain. Both of them are dotted with thousands of lush, green trees. Due to the abundant amount of natural vegetation, this idyllic spot is visited throughout the year by a large number of visitors. However, the beauty of this place doubles during the cherry blossom season. The narrow pathway, known as the Cherry Blossom Path, is the perfect place to take some Instagram-worthy shots.
With this list of the best places in South Korea to enjoy cherry blossom, you can definitely make the most of your trip. At Veena World, you can explore an extensive range of all-inclusive South Korea tour packages and choose the one that suits your specific requirements.