Japan's culture, known as the Land of the Rising Sun, extends back 30,000 years. Today, the archipelago combines its rich history with its ultramodern contemporary. While its capital, Tokyo, is a must-see for first-time visitors, Japan has much more to offer visitors and will bring you the best places to visit in Japan.
Japan is quickly becoming one of the world's top tourist destinations. Every year, more visitors visit the island nation, drawn by the promise of delicious sushi, fantastic train journeys, safe towns, unique traditions, and eccentric pop culture. But Japan is more than just kitties and robot cafés; its many islands are surprisingly easy to navigate and well-connected by railroads, ferries, and bus services.
If you are looking forward to a lifetime trip to Japan, there are a few destinations that you should not miss for the world. For instance, visiting Mount Fuji and including the world-famous Japan Cherry Blossom tour, dining at the famous Izakaya restaurant, soaking in an onsen, and participating in a traditional tea ceremony. Honestly, the list is never-ending. Above all, staying in a Japanese sleeping pod known as the capsule hotel is one of the coolest and must-do things in Japan. Despite being a relatively new idea, especially when built to centuries-old Japanese tea rituals, capsule hotels have become synonymous with Japanese culture. They're quirky and different, innovative and convenient. And can you really visit Japan and not try one? Of course, if you've never been to Japan or been in a capsule hotel, you might be wondering where to begin. This is where we step in. We've compiled a handy guide about everything you need to know about capsule hotels in Japan, as well as a list of the six coolest pod hotels in Japan.
What are Capsule Hotels?
A capsule hotel, sometimes known as a pod hotel, is a distinct style of simple, low-cost lodging. Each visitor is assigned a capsule, which is effectively a bed-sized pod that can be closed with a door or a curtain (the door will not lock, as per Japanese law). These capsules are double-stacked and arranged in rows. Your capsule will most likely contain air conditioning as well as electrical outlets for charging your electronics, although this is not guaranteed. Typically, belongings are housed in a locker supplied by the hotel.
What is the History of Capsule Hotels?
What is the answer? It is precisely as it sounds. Capsule hotels are establishments where, instead of regular rooms, visitors are given a small, compact capsule, generally built of a fibreglass unit and a little larger than a bed (around 1.2 metres across, two metres long and a metre tall). They were originally intended for lone male travellers or businessmen and were designed to preserve room in Japan's developing megacities. They were designed to be functional and handy (basic places to sleep for the night) rather than extravagant, but they have varied and developed over time.
Now, there are mixed (and women-only) capsule hotels, as well as capsules for couples (such as UNPLAN in Kagurazaka). Each capsule has a light, a door or curtain for seclusion, and occasionally other amenities such as a TV or alarm clock. Nowadays, they generally offer free internet inside the capsules as well, but when visiting Japan, we always recommend PocketWifi to stay connected without incurring any unexpected expenses. Other than that, capsule hotels have all of the amenities you'd expect from a budget hotel or hostel, such as restaurants and laundry facilities, as well as communal baths, lounges, and internet kiosks, while others have spas and treatment rooms, and some have uniquely Japanese extras such as Manga libraries.
The Coolest Capsule Hotels You Can Stay At
1. 9H Nine Hours
The futuristic capsule hotel 9H Nine Hours is one of the most famous pod hotels in Japan as this futuristic capsule hotel in Akasaka is one of several Nine Hours hotels found around the country. The hundreds of lined-up pods inside resemble something right out of a science-fiction movie and give you the impression that you are staying on a space station. The hotel is open 24 hours a day and has two different pod sections for men and women.
The distinctive feature of Nine Hours is that it analyses your sleep: Your sleeping state will be thoroughly measured by our capsule unit. You will then receive a report detailing your health state based on the capsule's analysis.
2. Resole Poshtel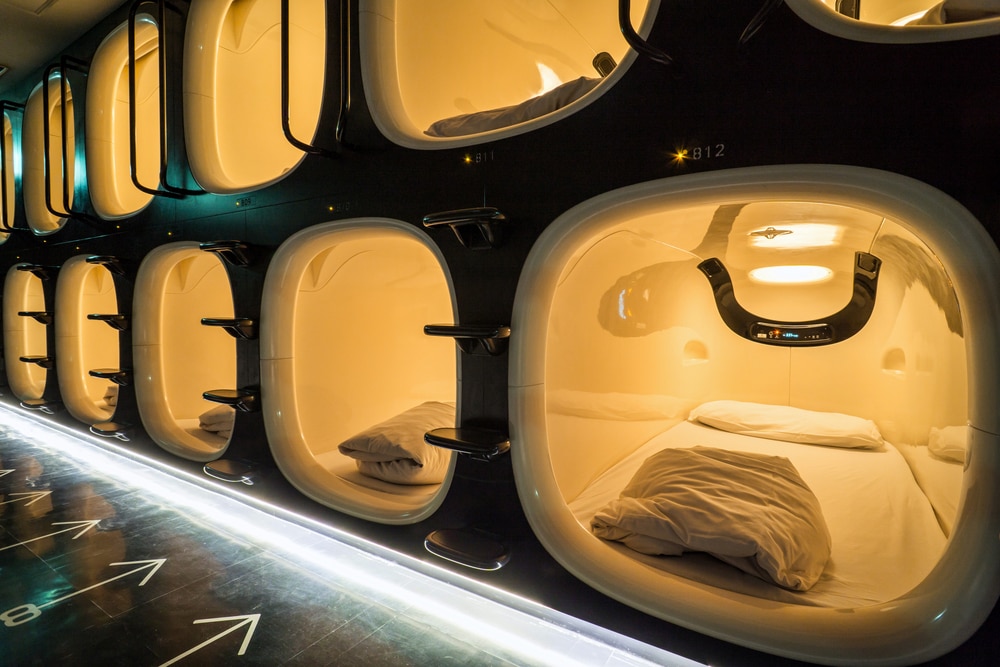 The Resol Poshtel Tokyo Asakusa demonstrates that Japanese sleeping pod hotelsare more than simply human-sized shelves where you can catch a few budget-friendly winks or cosy cubby holes for employees who missed the last train home. This well-located establishment mixes a hostel-style atmosphere with Japanese touches like tatami-mat-floored social rooms and a mist-drenched Mt. Fuji feature wall. The comfy pods are basic, but the bases are covered with double-layered curtains for superior sound insulation and a better night's sleep.
3. Shinjuku Kuyakusho
Shinjuku Kuyakusho is one of the famous pod hotels in Japan which is located literally 4 minutes away from the JR Shinjuku station. It doesn't get much better than this in terms of convenience and accessibility for sightseeing, travelling around, and dining out. The motel offers free WiFi, and each room includes a television. The public bath and sauna are also free to use, and there is also a bar and restaurant where guests may eat and relax. A "Female Only" floor is also available.
4. Capsule Inn Kinshincho
The Capsule Inn Kinshichou, located in the Kinshicho neighbourhood, provides a homely ambience where female travellers have their own floor and may enjoy their vacation to Kyoto and the Japanese hotel pod in safety and comfort. Kinshicho is a vibrant area with vibrant nightlife (ranging from peaceful pubs to thrilling clubs), delicious international cuisine, and convenient transportation. Furthermore, you can enjoy a glimpse of Tokyo's newest attraction from your hotel: the Tokyo Sky Tree is only a 15-minute walk away!
5. Oak Hostel Cabin
The budget-friendly Oak Hostel Cabin, located near Tokyo's Sumida River, is praised by HotelsCombined guests for its comfy mattresses, gorgeous city views, and helpful staff. This capsule hostel features big dorms with separate pods, lockable lockers, and free Wi-Fi. Each pod comes with its own hanger, light, a power outlet, and mirror.
The hostel provides a coin-operated laundry, a community kitchen, and a lobby with a computer, in addition to communal bathing rooms, including three female-only shower rooms. Just outside is the Eitai Bridge, which is lighted with magnificent lights at night, as well as the Nihonbashi Auditorium.
6. Book and Bed
Have you ever wondered what it's like to sleep in a bookcase? Well, Japan has a propensity for making things that are beyond your wildest thoughts. Climb amid rows of books to an alcove with a comfortable bed. These capsules have the coffin vibe we discussed before, but staying at Book and Bed is more about the novelty of the whole thing. Cosy up with a warm beverage and read bedtime stories before falling asleep.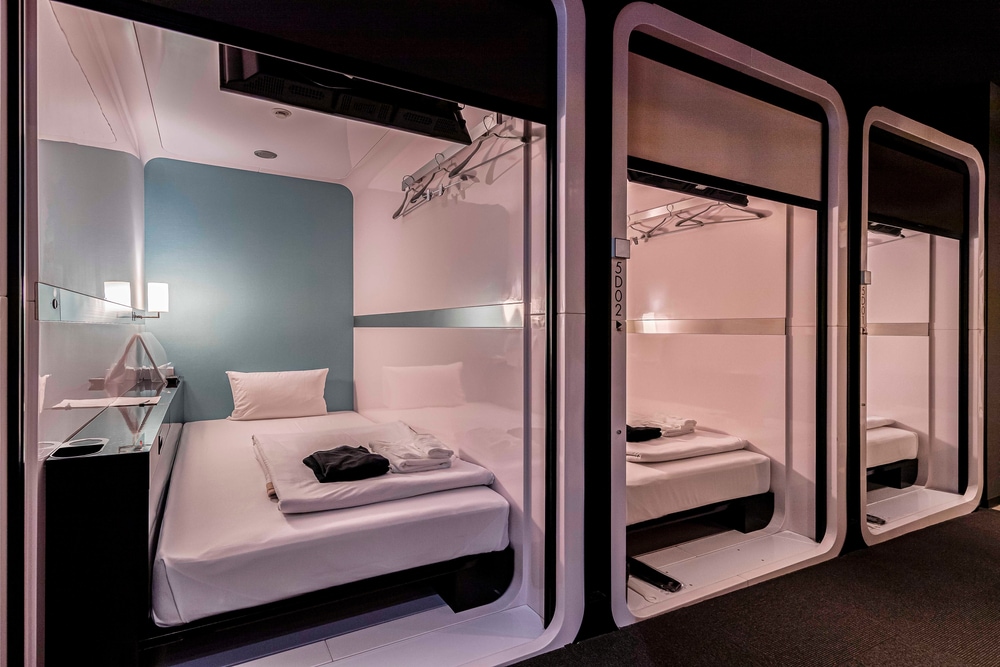 Overall, capsule hotels provide a unique experience for tourists searching for an affordable place to stay in Japan for one or two nights. They are ideal for people looking to experience something new or those on a tight budget who do not want to spend too much money on a hotel room. So, if you've ever wanted to spend the night in a capsule, why not try one out the next time you book a Japan travel package?!