From the clean crisp air to the magnificent Himalayan Mountains, everything about Shimla makes it the perfect holiday destination. Groups of friends, families and young couples often plan their trip to this hill station in Himachal Pradesh because of its regal charm, snow-capped hills, and breathtaking valley views. It is also true that a Shimla holiday package is incomplete without some delectable food. You cannot just rely on pahado-wali maggi and pakoras all day long, can you? So, trying out the roof-top cafes in Shimla is a must!
Here are 14 cafes in Shimla that you need to try on your next vacation:
1. Cafe Sol Shimla
One of the most iconic cafes in Shimla has to be Cafe Sol. You will not find a single youngster in this hill station who does not have fond memories of chilling with their buddies at this beautiful cafe. Cafe Sol, Shimla is the best place to devour some mouth-watering international fare that has an old school taste to it. Set inside one of the most celebrated mall-road hotels, Hotel Combermere, Cafe Sol's position as the best Mall Road cafe in Shimla still remains undisputed.
Recommendations: Vegetable Au-Gratin, Fish & Chips
2. The Devicos Restaurant & Bar
The Devicos is among those cafes on Shimla's Mall Road that have something for everyone. Be it South Indian, North Indian or Chinese, they dish some of the yummiest delicacies in town. The best part about this cafe is that it becomes a raving party hub, so you will surely have a gala time with your friends here! The Devicos is a famous cafe in Shimla also because it offers mouth-watering food at affordable prices. So, if you are craving some sambar vada or handichicken with garlicnaan, then this is the best cafe in Shimla for you!
Recommendations: Bhuna Paneer Tikka, Mutton Karahi Chaap
3. Café Shimla Times
You might have heard the name of this cafe located on Shimla's Mall Road, but did you know that it was named after the first newspaper published, The Shimla Times, in this hill station? That's right! Café Shimla Times is a true treasure that you absolutely need to try on your next vacation. Artsy, serene, and eclectic, this is one of the most popular multi-cuisine cafes in Shimla for not just one, but multiple reasons.
Recommendations: Loaded Potato Wedges, Crispy Honey Chili Chicken
4. Hide Out Café
Set close to the fire station on Mall Road, Hide Out Café is touted as Shimla's hidden gem. As far as mountain cafes go, Hide Out Café in Shimla is quintessentially just that! If you are a desi burger addict, then your time at this cafe would be amazing. Folks who would like to enjoy their food with the best view of the hills in Shimla should try out Hide Out Cafe for sure.
Recommendations: Mixed Sauce Pasta, Royal Chicken Burger
5. Café Under Tree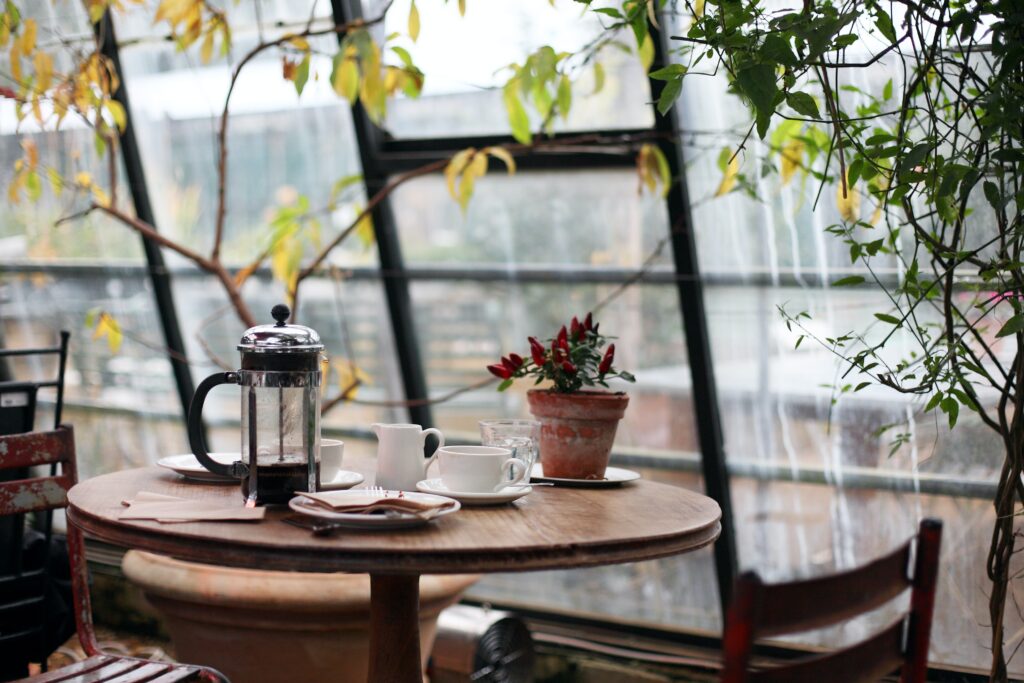 If you are searching for top cafes in Shimla because reaching greater heights is your thing, then Café Under Tree is perfect for you. As the highest cafe located in Shimla, it is the most peaceful place to relax and unwind with a hot cup of chai. Cafe Under Tree is situated very close the Shimla's famous Jakhoo Temple, so locating this eatery would not be a concern.
Recommendations: Summerbliss Salad, Pahari Chai
6. Indian Coffee House
Some cafes have legendary status in their city and Indian Coffee House in Shimla has just that. The no-nonsense vibe of this decades-old haunt is very endearing. The locals consider this one of the best cafes on Mall Road as it has become a landmark in Shimla. Hey, if Prime Minister Narendra Modi can enjoy a cup of chai here, so can you!
Recommendations: Masala Dosa, Mutton Cutlet, Tray Coffee
7. Wake and Bake
Wake and Bake is yet another cafe on Mall Road, Shimla that will make you fall in love with the hills. While you are exploring things to do in Shimla on your vacation, make sure to dine at Wake and Bake at least once. Set in 2011, this eatery is fairly new in the city but still has a special place in the hearts of the locals. There are so many breakfasts, lunch, and dinner options here that you will end up overeating!
Recommendations: English breakfast, Schnitzel Lafa
8. Honey Hut
Eco-friendly cafes in Shimla are less but pretty darn amazing. Honey Hut is one such place to enjoy a hot beverage in the cold winter months. Situated next to the Khadi Bhavan, Mall Road, it would be best to visit this cafe in Shimla on a crisp evening and take a table in the outdoor seating. Everything on their menu has honey in it, so you will leave from here on a very sweet note.
Recommendations: Honey Cappuccino, Honey Cheese Butter Toast
9. Wood Street Café
Everyone who has been to Shimla knows that shopping at the Lakkar Bazar is customary. After buying wooden ornaments and kitchenware, you might want to devour some delicious food at Wood Street Café. A hip place to hang out with friends or that special someone, Wood Street Café is seen as one of the best cafes in Shimla for its appealing ambience and multi-cuisine dishes.
Recommendations: Ramen Khao Suey, Churros
10. Eighteen 71
By now, you must have figured out that Shimla's Mall Road is the hub for cafes. Eighteen 71 at Hotel Willow Banks is another delight that you can enjoy while vacationing in this hill station. The USP of this cafe is that it dishes out Bengali, Rajasthani, and various other cuisines that are rarely available anywhere in the entire state. You will feel transported to another era when you enter Eighteen 71 as it exudes regal nostalgia.
Recommendations: Burmese Curry, Chicken Ghee Roast
11. Café Argyle House
One of the busiest cafes near the Tourism Life at Mall Road in Shimla is Café Argyle House. Nestled in a British-era building, this cafe is apt for taking a break from all the shopping at Mall Road and grabbing a quick bite to eat. Make no mistakes, the food is lip-smackingly fabulous, so your time here would be memorable too.
Recommendations: Crispy Chili Cauliflower, Nutella and Banana Pancake
12. 45th The Central
Are you in the mood for eating North Indian, Chinese, and Continental foods at the same time? Fret not! 45th The Central will make you everything you want and more! Propped in the middle of Mall Road, this one's a huge hit among tourists and locals alike. The interiors are tastefully done, so you can also have a date here with your partner.
Recommendations: Kolhapuri Special, Chopsuey
13. The Que Cafe
Away from the hustle and bustle of Mall Road, there lies a cafe where you can enjoy some peace. The Que Cafe at Torrentium Lodge in Chota Shimla is for people who would like to enjoy their vacation amidst tranquil surroundings. But this does not mean that there is any compromise done on the food! You can enjoy multi-cuisine appetizers and mains at fairly affordable prices at the Que Cafe, Shimla.
Recommendations: Tandoori Momos, Chicken Tikka Gol Gappa
14. The Corner Cafe
While going to Shimla via Delhi, Chandigarh or any other city, you will cross Sanjauli. The Corner Cafe is a favourite among the people of Shimla who often get bored of hanging out in touristy spots. You can enjoy a fantastic meal here and then head towards the upper hills.
Recommendations: Nutella Waffle Sandwich, Crumb Fried Prawns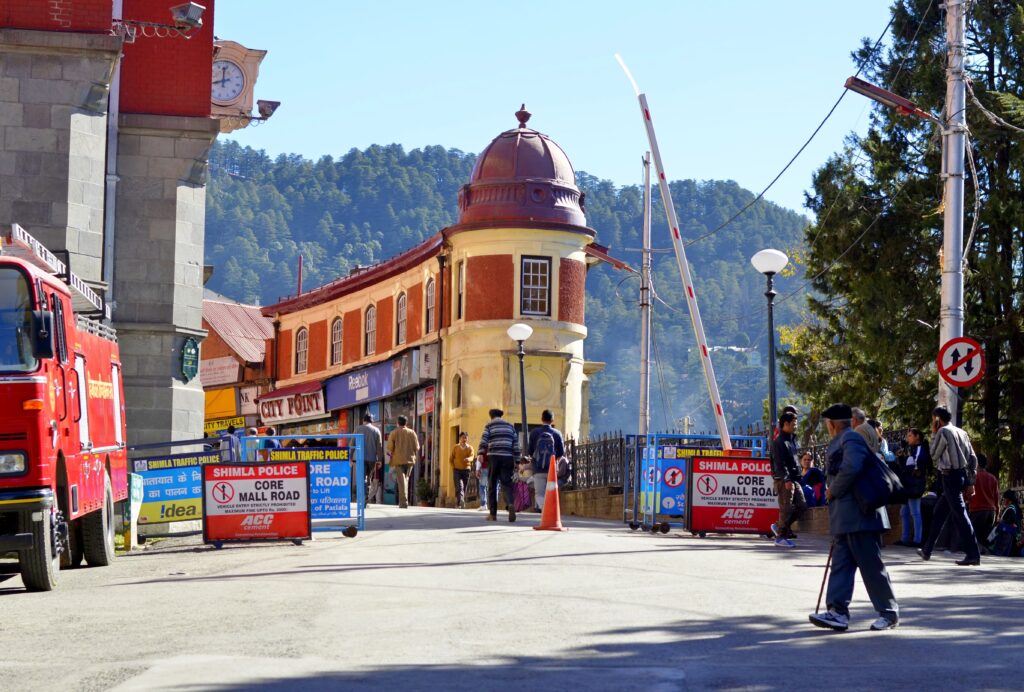 Shimla and its cafes tell a story that you will never forget. The experience of dining out in the hills of this beautiful city is an experience that you need to have right away. Toh Chalo Chale Shimla!