Reading Time:
22
minutes
Bollywood movies have always been our perfect escape from the mundane daily routine! The three hours that we spend in the air-conditioned confines of a theatre strangely liberate us and transport us into a world of glamour, fantasy and entertainment. A joy that can perhaps only be matched to packing your bags and setting off to explore new destinations that transport you to a world of leisure, relaxation and new experiences!
Well, Bollywood movies do more than just entertain! How many times have you seen movies and not been enthralled by the enchanting locations and picture-perfect landscapes that they are shot in? Sometimes, it's not the story, not even the actors or the entertainment on the screen that we find ourselves falling in love with but the beautiful locales and destinations that we dream of travelling to, at least once in our lifetime.
Here is a list of 15 Bollywood movies that will surely inspire and encourage you to travel, explore and celebrate life at the destinations, they have been filmed in:
1. Dil Chahta Hai (2001)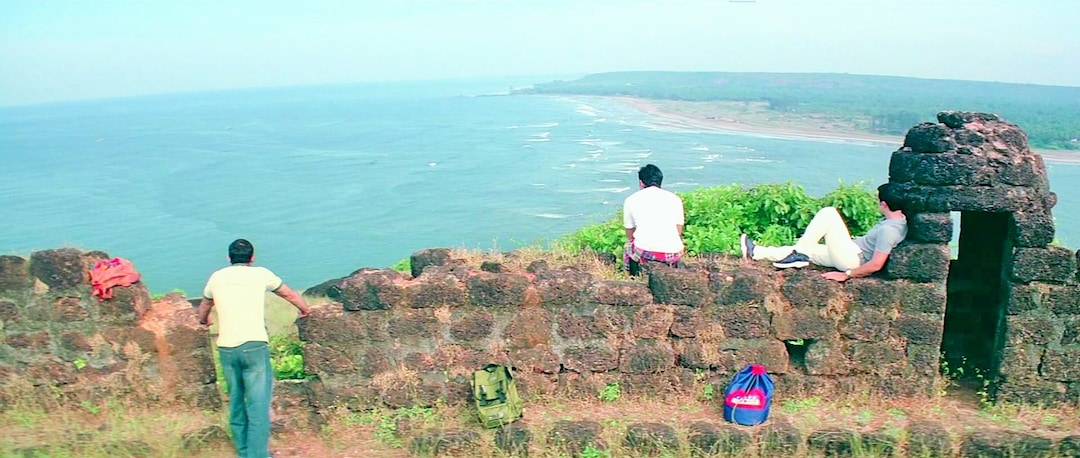 A movie that set benchmarks and inspired a whole new generation to travel to Goa! Anyone who watched this incredible movie released in 2001, wanted to pack their bags and head off for a road trip to Goa with their friends. This destination, with its superb beaches, palm-fringed coastlines, heavenly Goan cuisine, friendly locals, iconic churches and relaxed beach towns became the favourite spot for youngsters and continues to remain so, even today. Along with Goa, the movie also featured the beautiful city of Sydney, Australia and probably gave many of us their very first glimpse of the Sydney Opera House and the fascinating 'Opera' performance. This beautifully shot movie, not only featured some iconic scenes of Goa and Sydney but also explored the beautiful relation of friendship! Also, who can forget that iconic pose of Akash, Sameer and Sid at Chapora Fort?
2. Hum Tum (2004)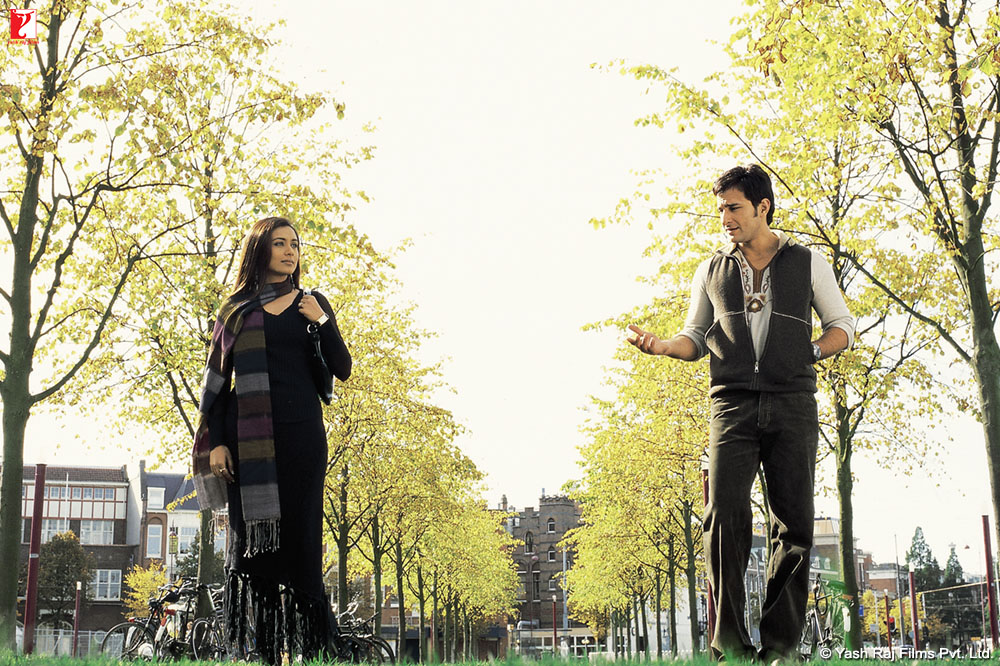 'Yeh Zindagi Bahot Lambi Hai Aur Hamare Pass Waqt Bahot Kam'! A dialogue from the movie, Hum Tum that Karan (Saif Ali Khan) uses to assure Rhea (Rani Mukherjee) that they will definitely cross paths in their lifetime. If you think about it, this dialogue could also be your inspiration to travel! This movie travels along with its characters to the amazing destinations of Amsterdam, USA, Paris, Delhi and Mumbai. The characters keep meeting at different intervals in their lives and their interactions further spark off their unique chemistry and shape their story. In the very first meeting, they travel around the wonderful city of Amsterdam. Their next meeting happens in Delhi where they develop an amicable friendship. Paris proves to be a turning point for them as they discover each other better and form a healthy bond. In Mumbai, they finally realize their love for each other and every time the city they are in, plays an important role in defining or developing their relationship. This wonderful movie, inspired from the Hollywood film, 'When Harry Met Sally' is definitely watch-worthy and one that will urge you to travel to Paris & Amsterdam!
3. Rang De Basanti (2006)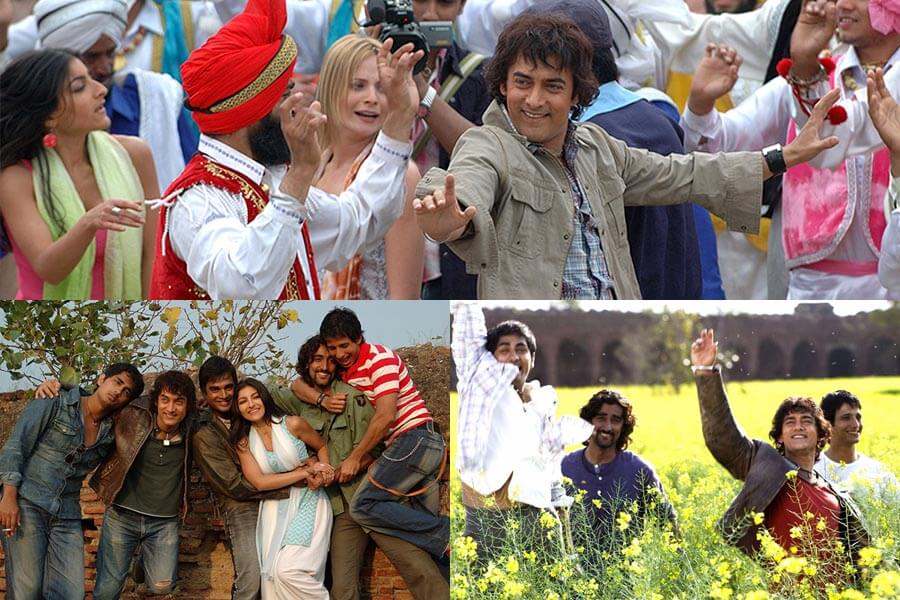 This movie was an awakening in itself! A revolutionary concept that highlighted patriotism, sacrifice, history and politics, in a whole new light. Apart from the brilliant performances and riveting storyline, the movie is also remembered for its honest and sublime portrayal of Delhi and Punjab. The film is primarily set in Delhi with all its characters belonging to the esteemed Delhi University.  All of us wanted to be part of DJ and his gang, as they rode off into the sunset on their bikes and gave heartfelt tributes at the India Gate while taking a victory lap around it! Who could ever forget their unique hideout where they discussed life and swayed to the beat of 'Masti ki Paathshala'? This famed location was the 'Nahargarh Fort' in Jaipur, where the gang enjoyed the occasional free fall into the lake below. Punjab was prominently picturised in the movie with stunning glimpses of the Golden Temple, the Hola Mohalla festival of Anandpur Sahib and the legendary Durga Sarai Fort of Ludhiana, which even came to be known as the 'RDB (Rang De Basanti) Fort'.
4. Jab We Met (2007)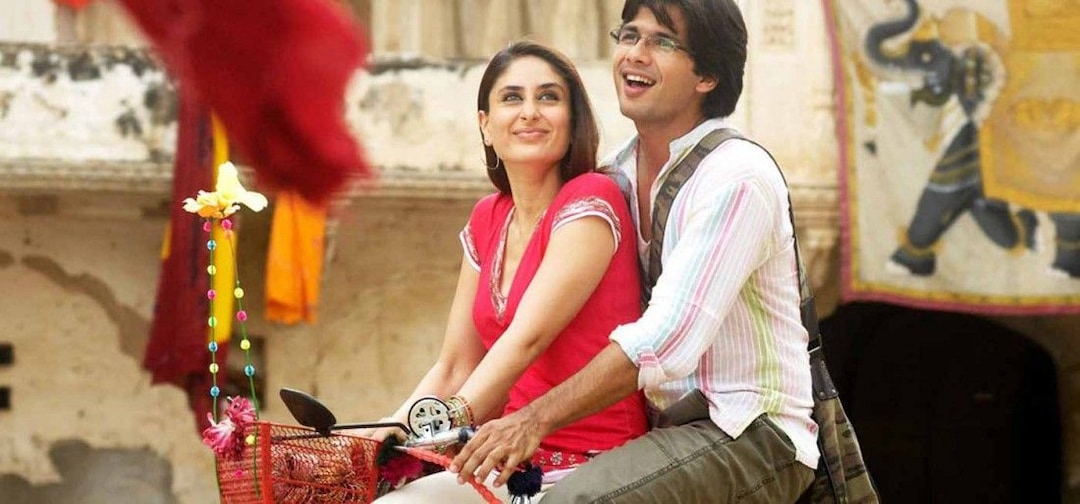 Train journeys have never been this interesting! This movie traces the path of its two main characters, Geet & Aditya, who meet on a train in Mumbai and then embark on a journey that changes their lives forever. After an epic introduction in Mumbai, they make pit-stops at Ratlam, Kota, Bhatinda, Manali and Shimla, each time encountering amusing situations that leave us in splits. As they go about these small cities and towns, they travel by different vehicles such as bus, rickshaw, truck, cycle, jeep etc. and they make you realize the sheer fun and excitement you can experience while travelling on road. The movie also introduced us to the amazing 'Rohtang Pass'! The song, 'Ye Ishq Hay' was shot in the snowy landscapes of Rohtang Pass with white icy walls on either side. The song also featured the 'Naggar Castle', a popular tourist spot in the Kullu district. So, grab the Geet's and Aditya's in your life and embark on an epic journey right away…
5. Love Aaj Kal (2009)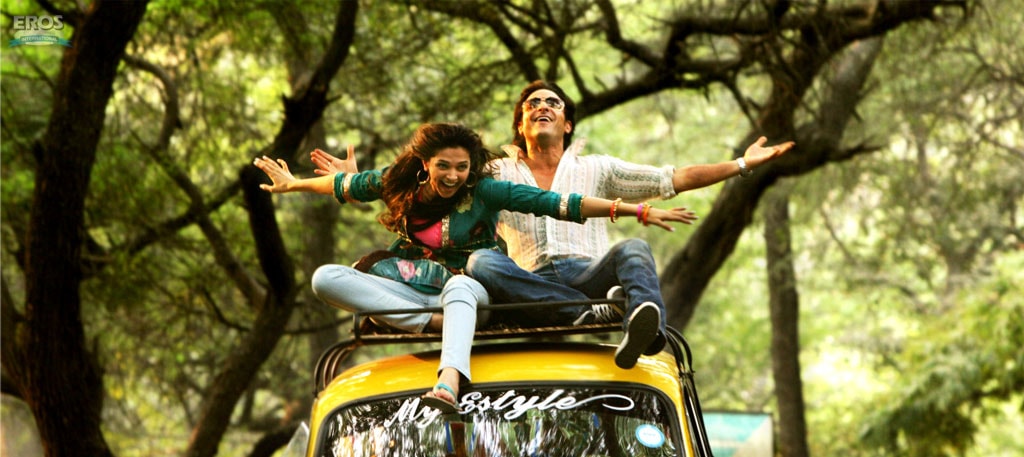 Love sure travelled a lot of places in this one! The quirky romantic dramedy (drama-comedy) takes you on a whirlwind ride through London, Delhi, Kolkata, Punjab and even, San Francisco. The movie portrays its lead actors grappling with modern day commitment issues as they keep travelling and living far away from each other for the most part of the movie. It also has another flashback storyline which takes you to the villages of Punjab, the streets of Purani Dilli and gives you a glimpse of Kolkata. The modern-day characters fall in love with each other at London but amicably break up when careers take priority over everything else. One moves to Delhi while the other eventually move to San Francisco, but their connection remains strong as ever! With beautiful locales of London, charming streets of Delhi and the glorious sights of the Golden Gate Bridge in San Francisco, this movie definitely gives some serious travel goals to explore the world.
6. 3 Idiots (2009)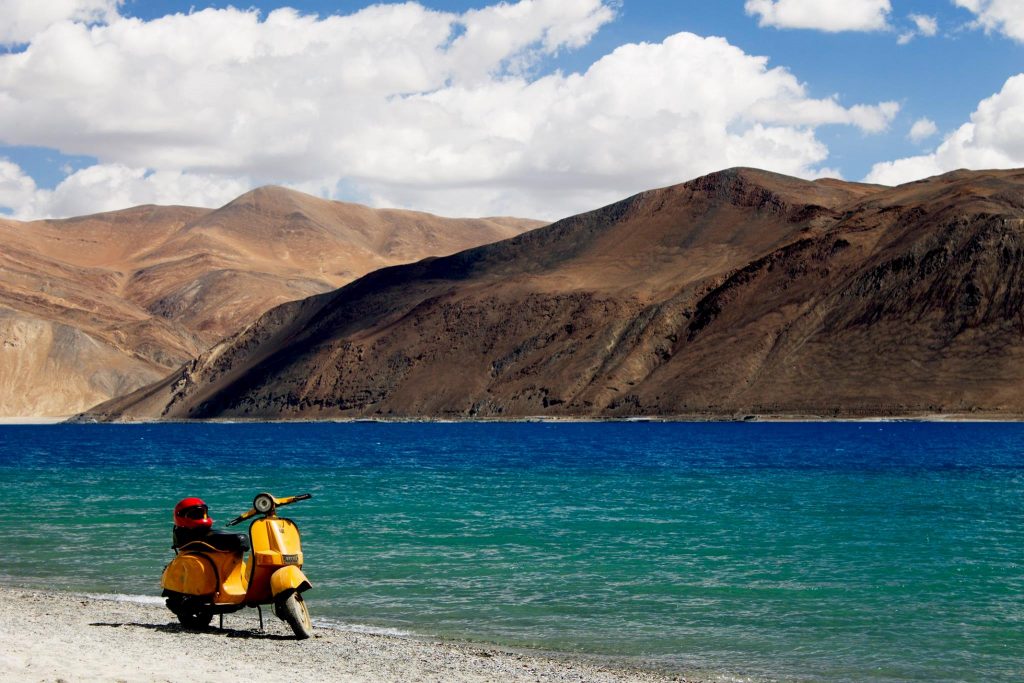 Which pristine location comes to mind when you think of 3 Idiots? That's right! The one & only, Leh Ladakh. This movie played an important role in popularizing the tourism of Leh Ladakh. The final climax of the movie, where Pia (Kareena Kapoor) finally meets Rancho (Aamir Khan) takes place on the banks of the Pangong Lake – a stunning Himalayan Lake that stretches between the expanses of two countries, India and China. The lake is well-known for its ever-changing shades of vibrant blue waters and the surrounding scenic landscapes that result in some unbelievable photographs. The movie made Pangong Lake so famous that most of the local eateries, small restaurants, hotels, lodges, camp stay along the banks are named after the movie title '3 Idiots'. The lake also features movie memorabilia where travellers can pose and get their pictures clicked, for e.g. the eco-friendly yellow scooter or the funny chair from the popular song, 'Aal is Well'. Some scenes from the movie were also shot in Druk White Lotus School which is also popularly known as the 'Rancho School' now!
7. Zindagi Na Milegi Dobara (2011)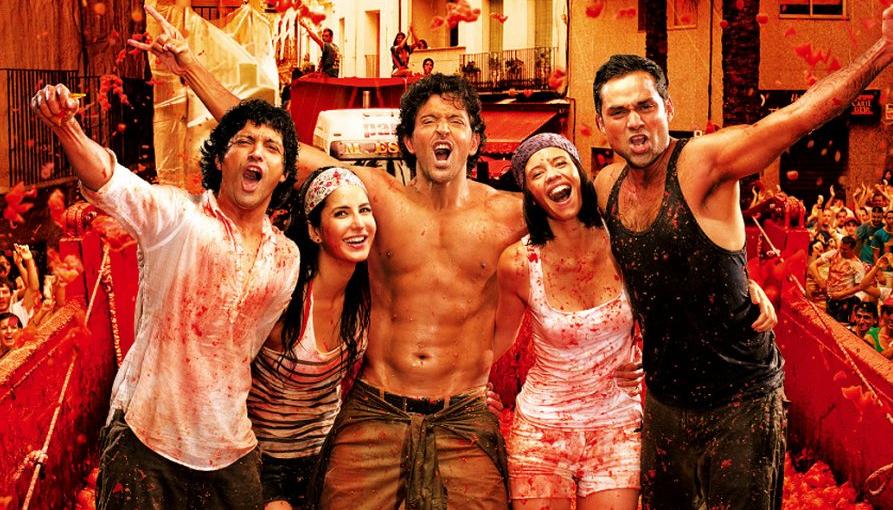 3 friends, 1 trip, 1 EPIC journey! This movie about 3 friends going on a bachelor trip, strengthening their friendship along the way and gradually overcoming their fears, introduced us to the stunning country of Spain. Their journey from Barcelona to Costa Brava to Buñol en route Seville and finally to Pamplona featured some of the best locations and scenic landscapes, seen in recent times. Their adventures of deep-sea diving, skydiving and the exhilarating 'Bull Run' and 'La Tomatina' festival gave travellers some serious adventure goals to experience in Spain. 'Seize the day my friend! Pehle Is Din Ko Poori Tarah Jiyo, Phir Chalis Ke Bare Mein Sochna'. One of the many inspiring dialogues from this movie perfectly described the need to live life to the fullest every day! So, what are you waiting for? Plan your Spanish holiday today and make your travel dream come true…
Also Read – Paint It Red: Celebrate Travel Along With Spain's La Tomatina
8. Barfi (2012)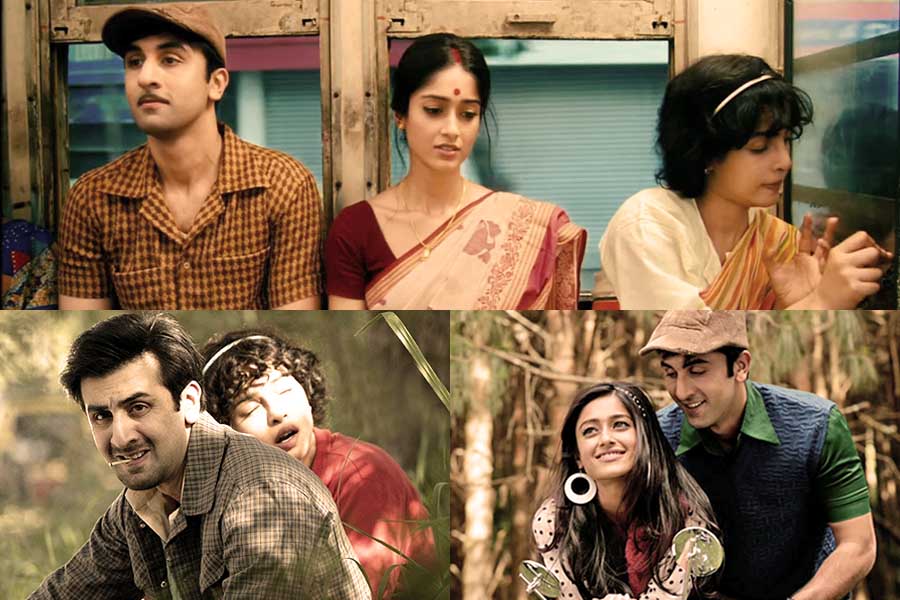 This movie is like a beautiful song that plays smoothly and makes a place in your heart with its stellar performances and breathtaking visuals! Barfi is a deaf and mute boy whose life is set in the picturesque hill station of Darjeeling. The mist-clad mountains, quaint landscapes, lush tea estates, emerald green forests, fenced pathways and charming villages play an important role in narrating the coming-of-age story of Barfi. The movie later takes place in Kolkata and showcases the colonial charm of the city along with the mature nuances that develop in Barfi's character. The movie presents the hill station of Darjeeling in the best way possible as it features some of the most famous landmarks of the town – the Clock Tower, Glenary's Cafe and the Darjeeling Himalayan Railway. A treat for the eyes with its stunning locations and a treat for the heart with its touching story, Barfi is definitely a journey worth experiencing!
9. Chennai Express (2013)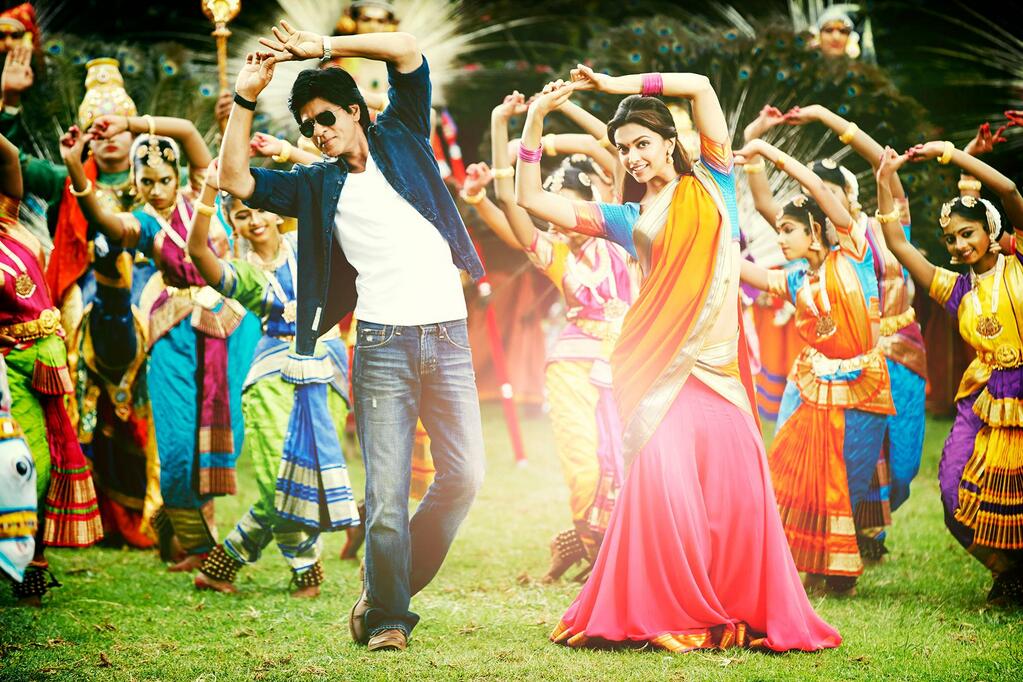 'Kashmir Main…Tu Kanyakumari!' North meets South in this quirky movie that takes you on an epic journey from Mumbai to Rameshwaram in Tamil Nadu. On this amazing train journey, you get a chance to witness the breathtaking Dudhsagar Falls of Goa and the rolling lush green tea estates of Munnar. The movie also gives us a glimpse of the picturesque Devikulam hill station in Kerala, Pollachi town in Coimbatore and the Vattamalai Murugan Temple in Tamil Nadu, where Rahul (Shahrukh Khan) carries Meenamma (Deepika Padukone) up a long flight of stairs. The famous Pamban Bridge is also featured in the movie, which is India's first sea bridge that connects the town of Rameshwaram on Pamban Island to mainland India. The movie is what you would call a perfect 'Bollywood Masala' movie with action, adventure, drama, romance, music, entertainment and makes for a fun-filled 3-hour cinematic ride where you get to experience the best of South Indian landscapes! If you ever needed a reason to visit the beautiful region of South India, then this is it…
10. Highway (2014)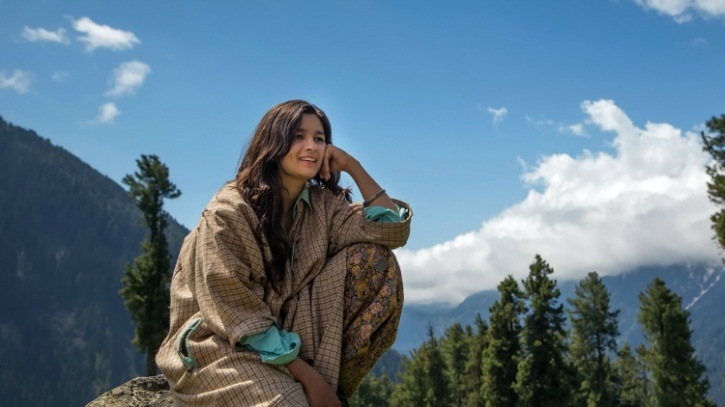 The movie 'Highway' released a couple of years ago and stood out from mainstream cinema due to a lot of reasons. The story of Veera and Bhati is fondly remembered today for its unconventional story, ground-breaking performances from the lead actors, but most importantly for its picturizations of the beautiful locales of Kashmir and Himachal. The movie featured beautiful locales of Pahalgam, Aru Valley, Spiti and many such hidden gems situated around the hilly regions of the North. Highway would not have been the movie we know today, if not for the snow-clad mountains, the hills and valleys of Pahalgam, the wide highways of the North, the trundling noisy trucks, the ever-flowing icy-cold rivers and the lush greenery of the beautiful Aru valley, which had a story to tell of its own. When was the last time we escaped from the hum-drum of our city life to just sit back, relax and take in the natural beauty around us? Too long… isn't it? It's time now to kick off all our worries and take a journey through mountains like 'Veera' from Highway…
11. Queen (2014)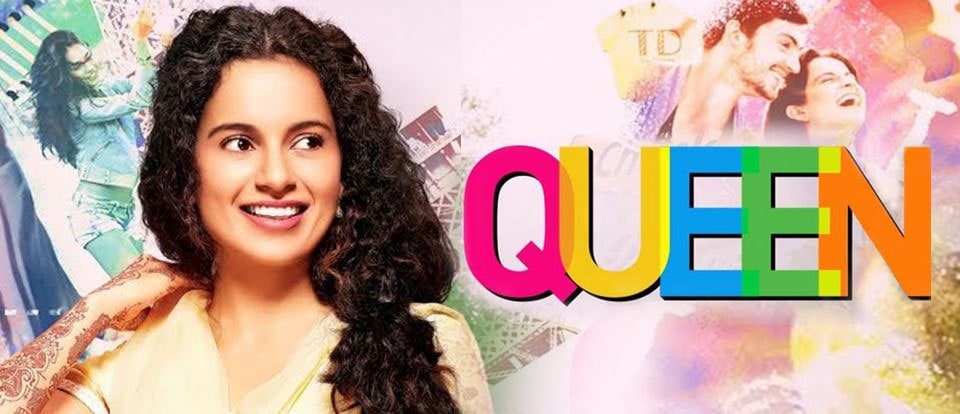 This movie redefined solo travel and gave many solo women travellers, the much-needed boost they were waiting for! 'Queen' showed us that it is okay to travel solo and how your experiences can build you as a better person while you discover yourself. Queen narrates the story of Rani (beautifully portrayed by Kangna Ranaut) who is abandoned by her fiancée, a day before the wedding; however, instead of wallowing in self-pity, she takes the bold decision of going on her honeymoon trip alone. She travels to Paris & Amsterdam and as she falls in love with these glorious cities, she also learns to fall in love with herself! The same 'Eiffel Tower' that scares her at first and brings about unsavoury memories, later enchants her and overwhelms her, as she admires its splendid spectacle by night. Taking us through the beautiful lanes of Paris, Amsterdam and even Delhi, this movie taught us that sometimes the journeys we take by ourselves are some of the best experiences of our lives.
12. Yeh Jawaani Hai Deewani (2014)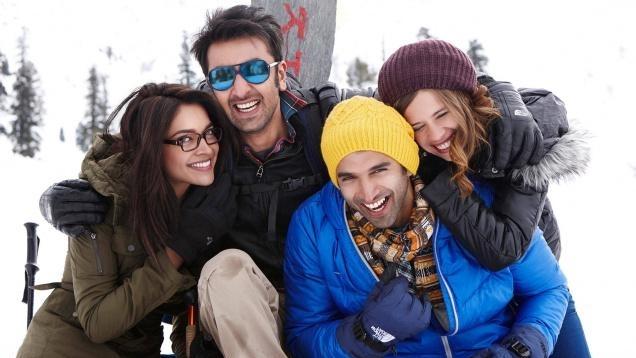 Admit it! You watch this movie every time it comes on TV and you probably even know the dialogues by heart, as you mime them along with Naina and Bunny. Such is the beautiful charm and nostalgia of this wonderful movie that it brings along a breath of fresh (mountain) air, very much like the snowy hill stations featured in the movie. The first half of the movie took us through breathtaking landscapes of Gulmarg, Kashmir (portrayed as Manali in the movie) and urged the traveller in us to go hiking and trekking through the snowy hills of the Himalayas. The second half charmed us with royal palaces, magnificent forts of Rajasthan and managed to give us some serious destination wedding goals. The movie also inspired many of us to take up travel journalism and live a wanderlust life like Bunny! Capturing Srinagar, Gulmarg, Manali, Rajasthan and France like never before with an engaging storyline and amazing actor line-up, 'Yeh Jawani Hai Deewani' is an absolute feel-good movie that inspires us to catch up with long-lost school buddies and just travel…
13. PK (2014)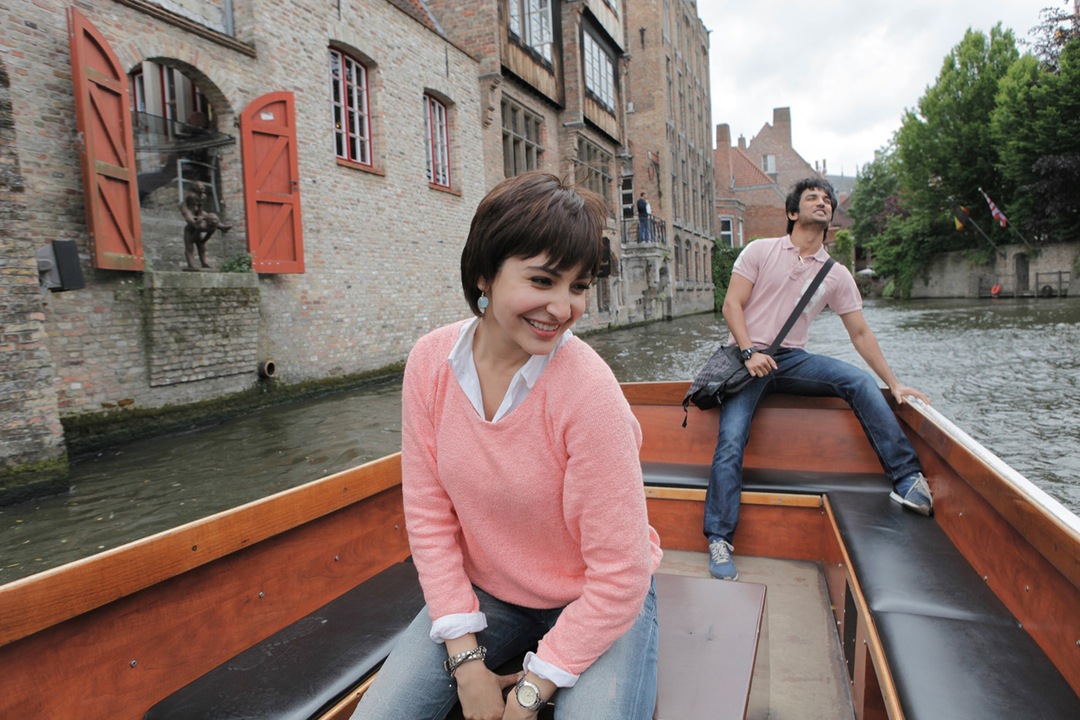 Sure enough, the movie scores brownie points for Aamir Khan who perfectly portrayed an alien trying to make his way back home; but what we also loved about the movie is the picture-perfect city of Bruges, Belgium which served as the setting for a beautiful love story between the characters of Anushka Sharma and Sushant Singh Rajput. PK created a milestone as it proved to be the first Bollywood movie that was shot here! The splendid canals, beautiful landscapes, colonial buildings and cobbled streets, made us fall in love with this city instantly. We even imagined cycling through the charming streets of Bruges, as we wished for our own love story to blossom in these picturesque landscapes. The movie also took us through the lanes and by-lanes of Delhi featuring some very popular and interesting sights such as Agrasen ki Baoli, Chandi Chowk, Connaught Place etc. The first few scenes of the movie, where PK (Aamir Khan) lands on Earth and begins exploring the place, has been filmed in the colourful and rustic town of Mandawa. A gem of a location that beautifully showcases the rich culture of Rajasthan, Mandawa is slowly becoming a popular tourist destination.
14. Tamasha (2015)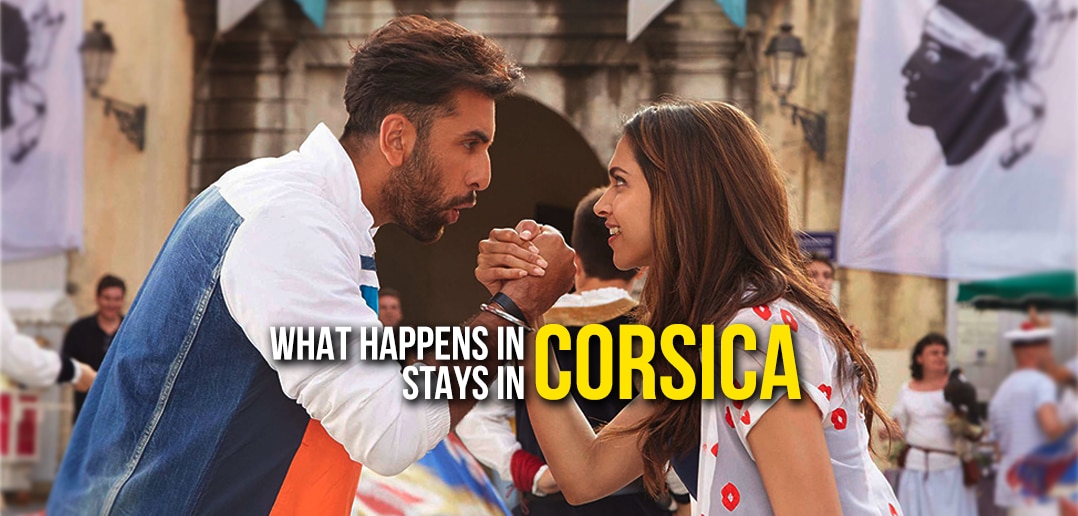 What happens in Corsica, stays in Corsica! This movie showcased the picture-perfect landscapes of Corsica and India fell in love! The beautiful locations and mesmerizing views were enough to make this beautiful island in France, a part of our travel list. We couldn't believe an island could be so perfect; turquoise blue waters, glittering bays, stunning landscapes, lush greenery, craggy peaks but most of all, a unique culture bursting with local flavour and medieval charm. It seemed like the perfect getaway for the main characters of the movie and it seemed like the perfect vacation spot for everyone who watched this movie! The movie also featured the cultural hotspot of Delhi, Hauz Khas village which was featured in a heartfelt song. Interestingly enough, the female lead character's inspiration to visit Corsica came from the famous comic book, Asterix in Corsica. Now, it's time to make 'Tamasha' your inspiration and visit the breath-taking island of Corsica!
15. Piku (2015)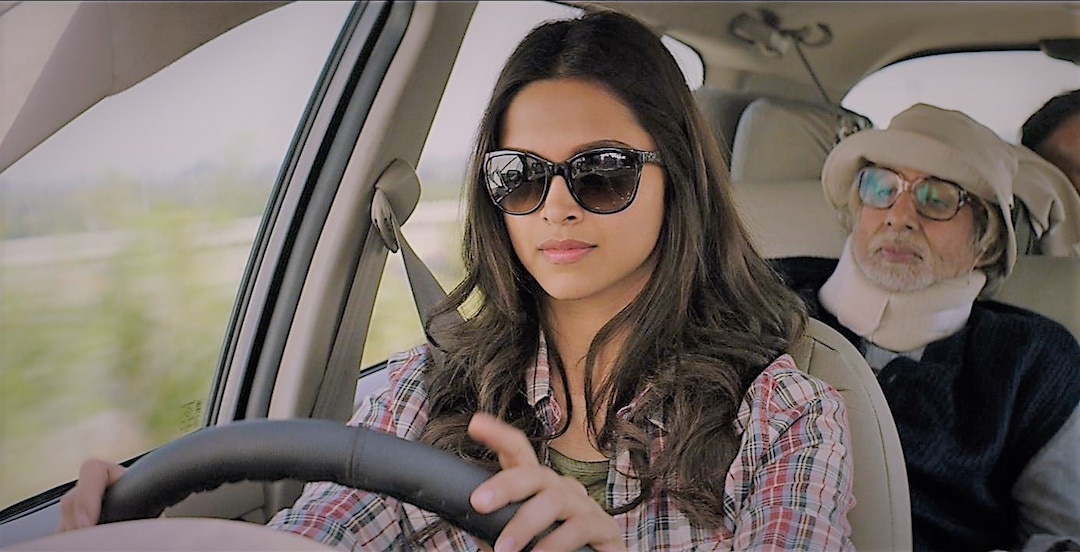 Piku touched hearts, in a way which we did not know was possible! It explored a turbulent yet beautiful father-daughter relationship set against the backdrop of modern, fast-paced Delhi and the quaint yet beautiful, Kolkata city. Rarely has a movie ticked all the right boxes when it comes to an engaging story, great chemistry between its actors and beautiful picturizations which slowly transcend into the story and become the soul of the movie. The road trip from Delhi to Kolkata tests the patience of the lead characters and yet manages to bring them together, by the end of the journey. The pit-stop in between at Varanasi not only explores the quiet charm of the spiritual city but also serves as the perfect setting for a heart-to-heart chat between the lead characters. Finally, the city of Kolkata, replete with its old world colonial charm manages to take our breath away and we have Piku, the movie, to thank us for that!
With so many amazing destinations and movie inspirations that encourage us to travel, it is difficult to sit still and settle down in one place! Someone has rightly said, "If we were meant to stay in one place, we'd have roots instead of feet." If you are waiting for that one day when you can set off to explore the world, these Bollywood movies will surely give you the push that you need to travel and explore the world!