Reading Time:
15
minutes
The happy country of the world hides the simplest mysteries of happiness in every soul and every heart of its people. Our neighbour, with whom we share the border is so strikingly different than us, that once we cross the border, we feel like we have entered a parallel universe. The first thing anybody notices with any of our Bhutan tour packages is that everything in this place is so organised that the entire country seems synchronised in one pattern. The people here are so heart-warming and disciplined that Bhutan has no traffic or traffic signals! Nobody honks or breaks any rules! The neatness and the cleanliness of this country are strikingly prominent that it's the first thing anybody notices stepping across the border. Bhutan is a land of tradition, culture, and mythological mysteries yet one of the most memorable factors of this land is its people that leave a mark right in the heart, merely by a soft stroke of warm smiles. The perfect combination of these places to visit in Bhutan will be a part of every Bhutan tour packages. Bhutan's architecture, landscape, and the prominent attractions are like no other in this world! The Land of Dragons has left every visitor spell-bound, as each one's visit is completely different than the other.
The country of Bhutan considers India as their big brother, yet it seems so much more in a symphony that it makes every traveller from India think! Bhutan travel packages take you on a journey that displays this particular factor elaborately. Here at Veena World, we encompass these ideologies to frame handcrafted Bhutan holiday packages for every traveller. The politeness of the locals here reflects immense pride in their Bhutanese culture and tradition. They love and respect every aspect of this country. Bhutan's connections with India are so strong that the handicrafts, trade and overall relations are consistently growing and flourishing giving so many options for the things to do in Bhutan. Be it the mountain peaks of the Himalayas or the centuries-old ancient temples, the lush green forests or the quaint Buddhist monasteries, Bhutan travel packages include travel experiences for anyone and everyone.
Bhutan is located in the midst of the Eastern Himalayas, it is bordered by Tibet, Sikkim, Chumbi Valley, Arunachal Pradesh, Assam and North Bengal. Explore Bhutan's unique geographical and climatic variations with our Bhutan tour packages, due to its location makes it one of last remaining biodiversity hotspots of the world. Because of its geological features, the two seasons that are the most requested ones are spring and autumn. Bhutan tourist places display pristine environment with high rising mountains and deep valleys. It encompasses ecosystems that are both rich and diverse making every time as the best time to visit Bhutan. The pleasant climate of this land is so breathtakingly peaceful that it is honeymooners' favourite choice which can be opted for along with our customized Bhutan honeymoon packages. Inspired by its neighbours and especially with a strong influence of Tibet, the culture of Bhutan is purely divine which can be explored with Veena World's Bhutan travel packages. The pride of their ancient culture and traditions are so strongly rooted in the hearts of the Bhutanese people that they present it happily in and around their life. Along with our Bhutan tour packages notice how even their houses are decorated with prayer flags everywhere. The culture of Bhutan is very colourful and is observed in their traditions. The colours of their culture can add up a whole new shade in your new beginning with our customized Bhutan honeymoon packages.
Best places to visit in Bhutan for special seasons:
Undeniably Paro will be one of the most spectacular places of your Bhutan trip. While exploring Paro get a chance to visit Drukgyel Dzong, Victory Fortress, Paro Dzong, Ta-Dzong, National Museum, Kyichu Lhakhang one of the oldest and most sacred shrines in Bhutan. Enjoy Bhutanese cultural program and also one of the most iconic identities of every Bhutan tour, the Taktsang Monastery which is also known as Tiger's Nest. This Himalayan Buddhist sacred site and the temple complex has a quirky reputation of puzzling you of how uniquely aesthetic harmonised architecture can be with nature.
Bhutan tour includes Punakha as one of its star highlights. Enjoy white water rafting, visit Dochula pass and 108 memorial Chortens also known as Druk Wangyal Chorten. Explore the city of Punakha in its true shade as you visit a local traditional village, Punakha Dzong and Punakha suspension bridge. Punakha's monastery is one of a kind, postcard-perfect monastery. With Mochu-Pochu Rivers and purple Jacaranda trees, this monastery looks as if it is straight out of a fantasy story. Best time to visit Bhutan's Punakha to witness this scenic phenomenon is during April's blooming season.
Bhutan places to visit include its enchanting capital, Thimphu. Tamzhing Lhakhang monastery and oldest bridge can be explored in Thimphu along with our Bhutan tour. Explore the city of Thimphu, visit Motithang mini zoo, Buddha Dordenma Statue, Chang Gangkha, Tashichho Dzong, National Library and also the Handicraft Centre. Experiencing the art and culture of this land reveals the true soul of the destination.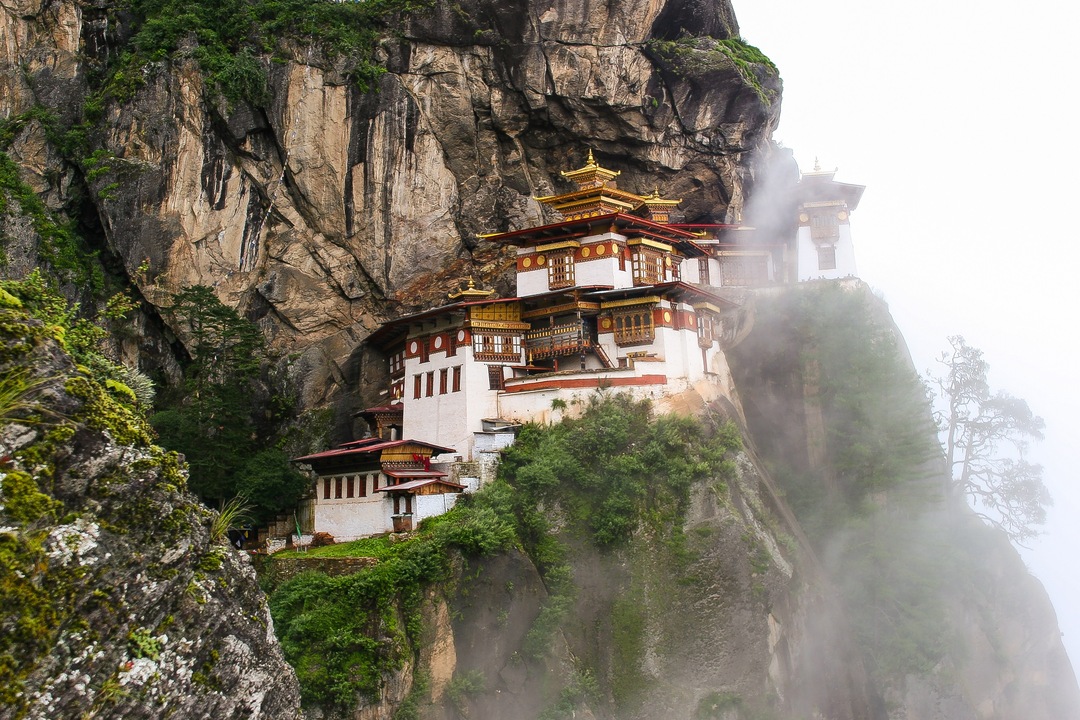 Favourite picks:
Paro Taktsang the Taktsang Monastery which is also known as Tiger's Nest. This Himalayan Buddhist sacred site and the temple complex has a quirky reputation of puzzling you of how uniquely aesthetic harmonised architecture can be with nature. Tiger's Nest is a perfect ambience of peace. Away from hustle towards harmony and into the embrace of natural peace this surely is one of the best picks. Hidden in the mist it is one of the most rewarding experience which can be achieved after a trek. Vibes of the atmosphere and the people of the monastery is very holistic making it a must visit attraction!
Dochula pass and 108 memorial Chortens
Dochula pass and 108 memorial Chortens also known as Druk Wangyal Chorten is popularly known to attract a lot of tourists in Bhutan. The crisscross roads of the Dochula pass, taking you on a trail to be amazed by 108 memorial Chortens. The perfectly crafted nature is seen as you witness the incomparable Himalayan skyline. This panoramic masterpiece giving you 360-degree view of this breath-taking land is an aspect that cannot be forgotten for the entire lifetime.
In the land of Buddhist monasteries and holistic nature, this victory fortress stands out as one of a kind experience. Being there in Drukgyel Dzong is a living memory which brings the history back to life. The story narrated by the guides take you back in time to witness the events and the glorious victories reverberating right in the walls of the ruins.
Buddha Dordenma Statue is one of the most iconic representations of Bhutan. The image of Bhutan is reflected here in this approximately 52-meter tall statue. The tall statue that makes you feel how insignificantly small you are in front of it is yet humble as carved in the true expressions of Buddha. It truly represents the idea of being larger than life & down to earth.
Tashichho Dzong is a fortress and area of government buildings. Witness politics that represent discipline and respect. A place which will confuse you to be a temple as you will be surprised how extraordinarily different the neighbouring country can hold a completely different yet inspiring ideology behind the governance and welfare of the country.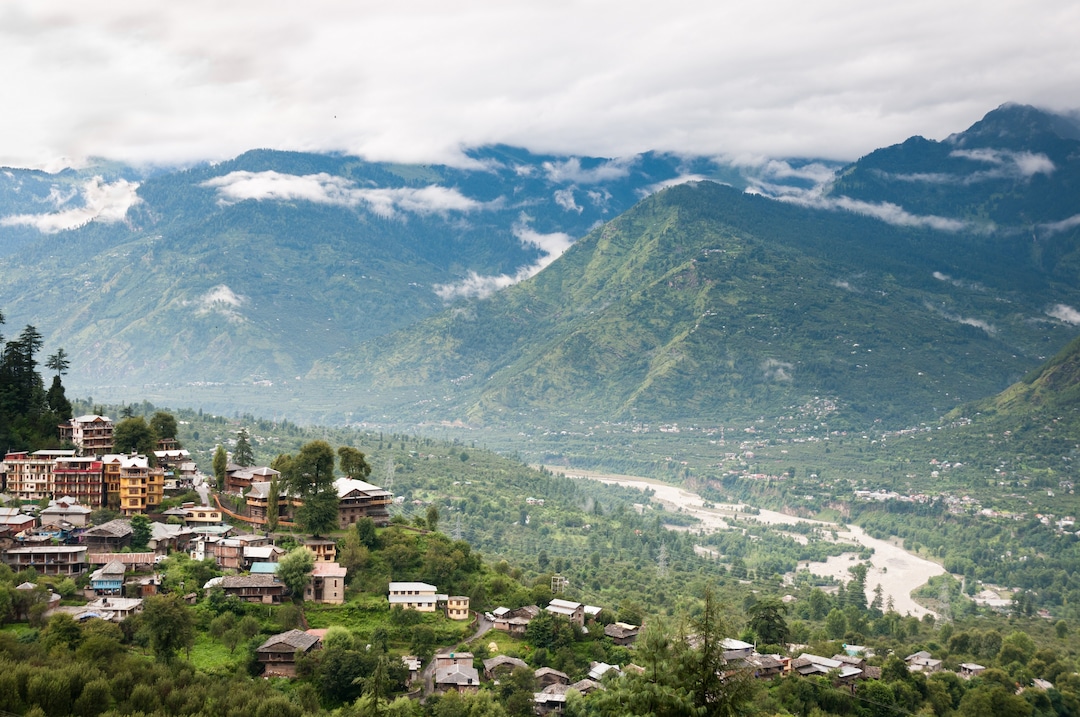 Tips for your bewitching Bhutan trip:
The best time to visit Bhutan can depend upon your choices of experiences and also your budget. The tourist peak seasons of Bhutan is around March, April, May, September, October & November. Going on the other months may lead to offbeat travel and cheaper options. Although, places like Tiger's Nest can be inaccessible during monsoon. Consider these factors while picking your perfect season.
The things to do in Bhutan truly range from exploring the best of the attractions with the guides to understanding the in-depth significance of each one. Exploring what this harmonious land of balance has to offer is surprising in all the Bhutan tourist places. Going offbeat or travelling solo can change the entire nature of experience that awaits you.
Bhutan places to visit takes a lot of planning and is possibly a destination that will redefine backpacking for you because really you cannot explore Bhutan unplanned! Bhutan can get budget-friendly depending solely on how well you planned it. Going solo here might enrich your experience but might get expensive! Going with a group and with a contact of a travel agency is usually preferred to avoid the hustle.
You require permits and guides or private tours pre-booked for the exploration of few Bhutan places to visit.
Cost cutting of your budget can be done by going local and trying local cuisine, transport and stay.
If you're a first time traveller on this land, reading and researching for more knowledge about this remarkable place and its essential aspects will help you connect more with the destination.
Bhutan is country which will impress you for its welcoming nature and the safety aspect. Bhutan is popularly known for being an extremely safe for a solo female traveller as well.
Trying Bhutan's local food will take you through the flavours of their culture and traditions which are clearly reflected in their cuisine. It will help your budget and give you a raw experience.
Bhutan's accessibility isn't so frequent and easily available, hence pre-booking or pre-arrangements is mandatory to avoid the hustle.
The guides of Bhutan know their country so well and represent their happy country so proudly that they are also a true deserving part of their heritage, which will make this mandatory rule most favourite one of yours too!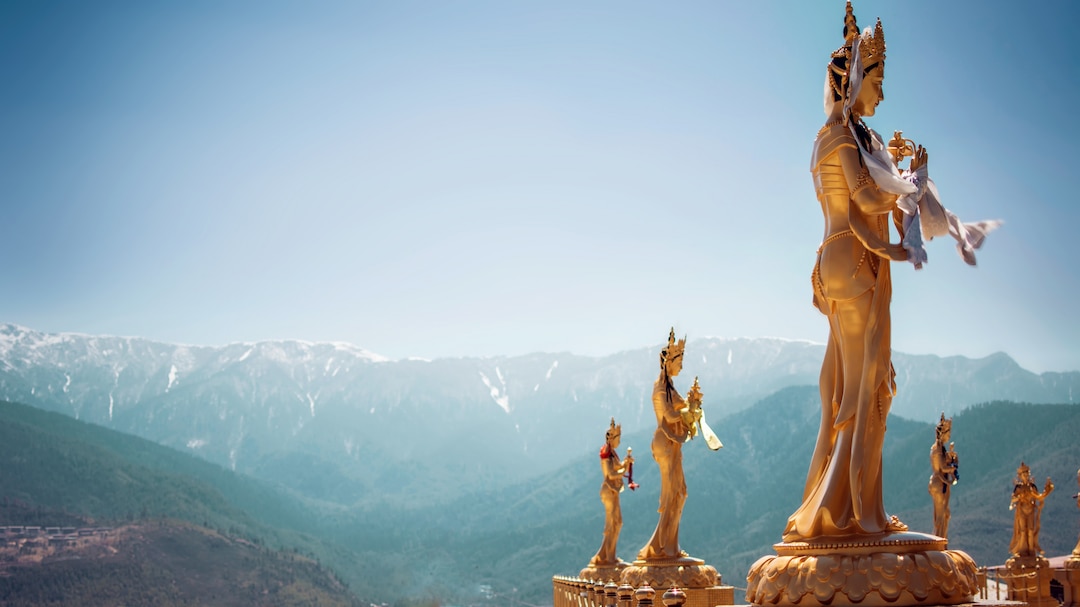 Awaiting experience of pleasant greetings of fresh mountain air, clean roads, zero pollution, zero traffic, a simple yet beautiful culture and happy, content people lies in Bhutan. Straight out of a fable, this mystic kingdom stands as of the best choices for a honeymoon, with our customized Bhutan honeymoon packages. This deep-rooted Buddhist land will let you witness a lot of monks and their disconnected yet a deeply connected lifestyle. Abundant natural beauty, breath-taking landscapes, magnificent monasteries, ancient Buddhist temples, fluttering prayer flags and smiling faces of the Bhutanese people make the Bhutan holiday packages a completely enchanted experience!
Travelling here is not only culturally drifting but also morally uplifting! The organised development of this land is noteworthy. A trip here is very homely yet awakening as it has a lot to teach every soul that steps in here. This land is very welcoming, even for its small size and visiting it once seems never enough. This region is heart-warming and makes a special mark on the heart of any passionate traveller. This peaceful and very true to its name, happy country of the world leaves every visitor with happening vibes, and inspirations to share. The simplicity of this land and its people leaves you spellbound with every Bhutan trip. They are detached with worldly influences; it's very recently that they were acquainted with television sets at their homes. The roads of this country are smooth and flawless, they surely surprise every traveller for an unlikely traditional destination. Even the airport of Paro will amaze you, as its one of the most scenic & challenging airports in the world. These unusual features are the ones that hold your attention and stay along as experiences of the world.
This magical and mystical land of Bhutan breathes Tourism and Agriculture, making it a very naturist destination. The mystical secrets of happiness and content of the land lie in this mythical land, which reverberates its music of peace in every stroke of its breeze can be explored with our Bhutan holiday packages. This region full of picturesque, popular and yet offbeat places lies in this mystical land, full of flawless natural treasures. The world of new experiences awaits you in this land of surprises with our intricately crafted Bhutan holiday packages. This land will never disappoint you with its remarkable scenery and cultural significances that amaze you.