Reading Time:
9
minutes
One of the largest states in India, Gujarat is beautiful yet among the most unexplored destinations in the country. With the longest coastlines of 1600 km, this bright and beautiful state is home to many picturesque beaches and temples. The beaches in Gujarat are untouched and explored by most travellers, making them the perfect places to enjoy a serene vacation with family and friends. Most beaches of Gujarat are home to some famous temples as well. These include Koteshwar Temple, Gopnath Mahadev Temple, and Somnath temple. The cold wind, the sound of sea waves, and the relaxing sounds of bells and chanting mantras floating from temples on the shore create an amazing vibe to help you enjoy an eclectic journey.
Here is the list of the top 10 beaches in Gujarat that you must visit on your next trip.
1. Mandvi Beach, Kutch
Located in the Kutch district, Mandvi beach is one of the most popular places to visit in Gujarat among tourists. With calm surroundings, striking natural beauty, and less crowd, Mandvi Beach in Gujarat makes a perfect vacation spot for those looking forward to escaping from busy life. You can relax, enjoy laid-back vibes, admire nature, and hear waves hitting the seashore. Apart from that, you can participate in many thrilling activities such as swimming, water scooter, horse riding, camel riding, zorbing, and quad biking and take your beach experience to the next level.
2. Nagoa Beach, Diu
One of the best beaches in Gujarat, Nagoa Beach is quite popular among tourists from across the world. Situated on Diu Island, it is a horseshoe-shaped beach famous for its exotic ambience and picturesque beauty. With its striking sandy coastline, clear blue water, and swinging palm trees, Nagoa beach is a perfect spot to laze around and relax your mind and soul. Nagoa Beach, Diu, is a unique beach as it is lined with rare Hoka trees that are not found in any other place in the country. Make sure you enjoy water sports like banana boating, jet skiing, parasailing, speed boating, and water scooting to make your trip more memorable.
3. Dwarka Beach, Dwarka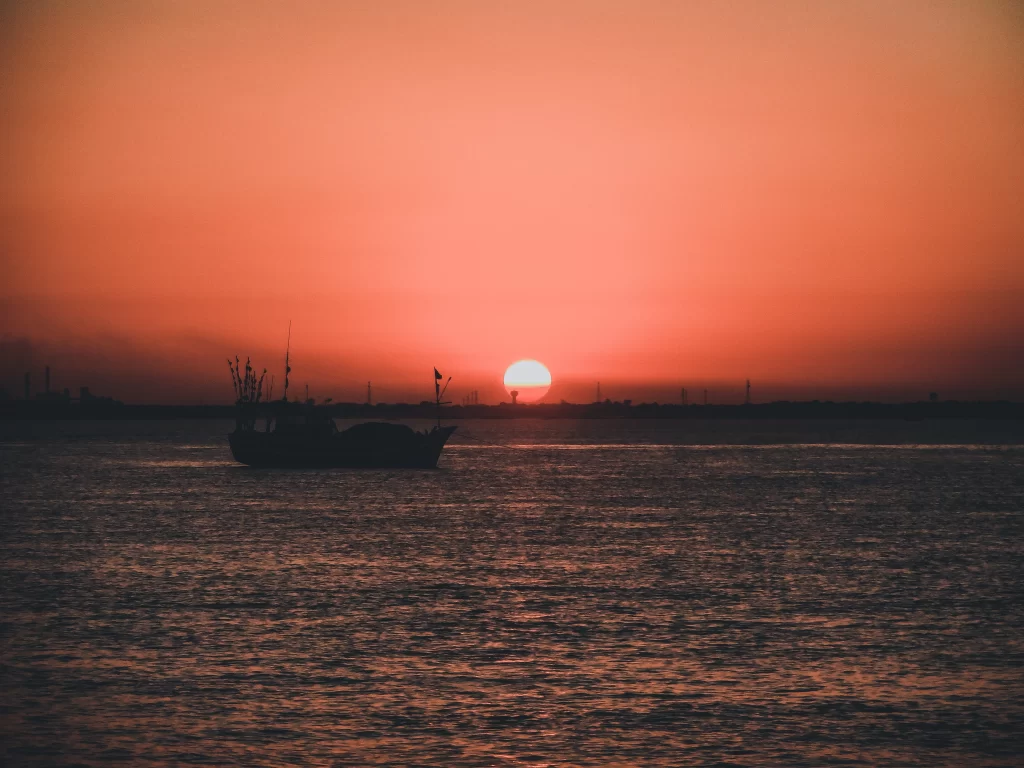 Located just 1 km from the famous Hindu pilgrimage Dwarkadhish Temple, Dwarka Beach attracts tourists with fascinating marine life, striking views, and deep religious sentiments. With white sand, turquoise waters, and a calm environment, Dwarka Beach is worth visiting at least once in your lifetime. Situated along the Arabian Coast, this beach is close to many temples. While for devotees, the prime attraction here remains the Dwarkadheesh temple, beach activities ensure that you enjoy the best time at the seashore. Dwarka Beach is a perfect place to take a refreshing break from the humdrum of daily life.
4. Gopnath Beach, Bhavnagar
Gopnath Beach, another famous beach in Gujarat, is a perfect spot for enjoying a relaxing family-friendly beach vacation. Located in Bhavnagar, this gorgeous beach is popular among Indian and international tourists. Along the coast of the Gulf of Khambat, Gopnath Beach was once the summer home of Maharaja Krishna Kumar Singh of Bhavnagar. With exquisite, firm sands for walking, serene natural beauty, limestone cliffs, and captivating flora and fauna, Gopnath Beach is a place where you can experience the cool breeze and catch the glimpse of colourful birds.
5. Tithal Beach, Valsad
One of the most visited attractions in South Gujarat, Tithal beach, is located on the coastline of the Arabian Sea. Located in the Valsad district, this beach is famous for its brownish-black colour sand. Tithal Beach in Gujarat is the first disabled-friendly beach in India that is equipped with all the required infrastructure. Along with walking and relaxing on the beach, you can also enjoy fishing, horse riding, and swimming here. Those interested in adventurous activities can experience water sports like speed boats, skiing, parasailing, and banana boats. Also, you can visit Shri Swami Narayan temple and Shri Sai Baba temple, located in proximity.
6. Dandi Beach, Surat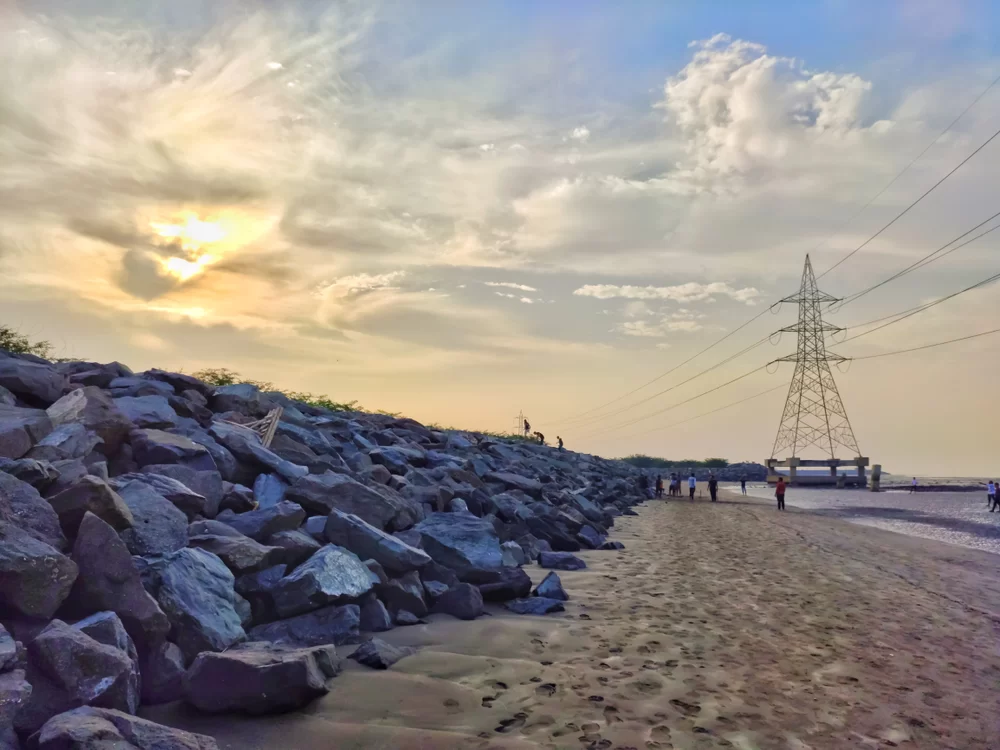 Another name in the list of the best Gujarat beaches, Dandi Beach, is situated on the coast of the Arabian Sea near Navsari city. The Dandi beach welcomes you with serene and pristine beauty and a glorious past. It is famous for the historical Salt Satyagraha Movement that was initiated by Mahatma Gandhi in 1930. This movement stretched all the way from Sabarmati Ashram to Dandi beach. It is amongst the cleanest beach in Gujarat. It is an ideal spot to spend quality time with your loved ones.
7. Madhavpur Beach, Porbandar-Veraval Highway
One of the most popular beaches in Gujarat, Madhavpur Beach, is just 58 km away from Porbandar. Situated on Porbandar-Veraval Highway, Madhavpur Beach is famous for its long coastal route and is the most beautiful sandy seashore in Gujarat. Featuring a sandy coastline, blue water, coconut trees, and fertile agricultural land, Madhavpur Beach is worth a family vacation. It is said that Lord Krishna married Rukmini in Madhavpur town, and this event is celebrated with a colourful fair held every year. So, if you want to enjoy a beach vacation and learn about the culture and lifestyle of Madhavpur, visit this place in April month.
8. Somnath Beach, Veraval
Located 750 m from the world-famous Somnath Temple, first among the twelve Aadi Jyotirlingas of Shiva, Somnath Beach is a vital part of many Gujarat tour packages. This beautiful beach is popular among tourists for its thunderous waves, clear water, and golden sands. It is not perfect for swimming as the sea waves are high and violent here. However, the sight of witnessing the spectacular rise and fall of thunderous waves can be an exhilarating experience. If you are planning to visit the famous Somnath Temple, do plan to spend some time in the serene atmosphere of Somnath beach.
9. Chorwad Beach, Junagadh
Located 37 km from Somnath, Chorwad Beach is another great option for beach lovers. Once home to the royal palace of the Nawab of Junagadh, Chorwad Beach is a paradise for those looking to spend some time away from the busy city life. With blue waters and a tranquil and pristine environment, Chorwad Beach exhibits a rejuvenating vibe. It is a perfect spot for enjoying beach strolls and gorgeous sights of sunrise and sunset. However, if you are here for an adventurous vacation, you can spend the day enjoying water sports activities like scooting, skiing, parasailing, and more.
10. Ghogla Beach, North of Diu
One of the most beautiful beaches in Diu, Ghogla Beach is among the less explored beaches in Gujarat. Situated on the coast of the Arabian Sea, Ghogla village is known as the cleanest beach in Gujarat. As Ghogla Beach is a less explored place in Gujarat, it attracts those who want to spend time in serenity and solitude. One of the well-maintained beaches in Gujarat, this Diu beach is a perfect spot for enjoying time with family and friends. While it is located on the outskirt of the city, the beach has a tourist complex providing all the basic amenities like food and accommodation. You can also indulge in sports activities, like surfing, parasailing, and banana boating. Ghogla Beach offers striking sights of churches, fishing villages, and forts scattered around the area.
Be it serenity or excitement, beaches in Gujarat have something for all kinds of tourists. With mesmerizing landscapes, sparkling blue water, and a serene atmosphere, beaches in Gujarat are waiting to be explored. So, next time you plan to visit relaxing beaches, do not forget to include these beaches in your package.