Reading Time:
8
minutes
Our world is made up of nothing but wonders. Be it the super-diverse flora and fauna or some stunning geographies around the globe… There's every reason to be wonderstruck with the many miracles of nature. Over the years of evolution, humans with their scientific inventions and architectural and engineering marvels have only added to the wonders of the world. Nevertheless, the magic of nature seldom loses its charm and no matter how much of the world we discover, Mother Nature stuns us every time, with something we never ever expected or knew that it existed.
Mark Twain has so rightly said in his eternal travelogue, Following the Equator: A Journey Around the World, "Truth is stranger than fiction, but it is because Fiction is obliged to stick to possibilities; Truth isn't."
In this blog, we bring to you the story of Vishakha Shah, that seems directly out of a fairy tale. It's what she has experienced herself and indeed fills us with wonder all over again. Read on for the magic to unfold…
1. Never heard about this festival… But the name sounds quite intriguing. What is it exactly all about?

I'll say, Fireflies are those bugs which have tickled the curiosity bugs in us since we were kids. Colloquially known as 'Jugnu' in Hindi and 'Kajwa' in Marathi, probably not many of us residing in the cities have been fortunate enough to catch a glimpse of these magical creatures in our lifetime. However, on our camping in the forests, holidays amidst natural environs of a hill station or on our stay at our native place, probably we have seen flashing lights cruising around in the nights. Fireflies produce a chemical reaction inside their bodies that allows them to light up. This phenomenon is called Bioluminescence.
India celebrates various festivals throughout the year. We always look forward to one of our favourite festivals be it Diwali, Christmas or Holi. Similarly, I look forward to a unique festival called 'The Fireflies Festival' ever since I have visited one.
2. When and where is this festival held?
Unlike many other festivals, it doesn't fall on any particular date. But we can witness this event before the arrival of monsoon, from mid-May until the first week of June, which is also considered to be the mating season of these little beetles and therefore the best time to visit. These cute little lightning bugs attract the mate by flashing the lights to go on a date. Camping is organised every year by many travel groups to see these Little Flying LED Lights and this is what many travellers refer to as 'Fireflies Festival'.
This festival can be experienced mostly in the lesser-known places to visit in Maharashtra. Fireflies can be spotted in dark spots around the state like Lonavala, Naneghat, Purushwadi, Siddhagad Fort, Kothaligad Fort, Rajmachi Fort, Bhandardara Dam, Harishchandragad Kalsubai Forest Area, Ghatghar Dam, Samrad Village, etc.
3. How was your experience at the festival?
A couple of years ago, I decided to be a part of this magical festival along with a few fellow travellers at a Lakeside Camping near Karjat. We reached the campsite early evening and started setting up our tents. By the time we finished, the sun was down, it was quiet all around, and our excitement to see those little bugs was at the peak. None of us wanted to miss the opportunity to be a part of a magical night. But it was almost midnight and still there was no sign of fireflies around. We lost our hope to see those bugs and decided to snooze. We thought, maybe we weren't lucky enough this time around.
But as luck would have it, I woke up in the middle of the night to unzip my tent door to let in some cool breeze and the moment I unzipped the door, I was awestruck with the view outside, neon yellow lights were twinkling and flying all around the pitch dark canvas. I stepped out of the tent and was surrounded by thousands of glowing flies. I shouted at the top of my voice "Everyone step out of your tents, get up… the magic has begun". All of them immediately stepped out and stood still, just thrilled to see the magical moment. It was a heavenly experience as if the golden glitter is sprinkled on you. I felt like I was in the clouds surrounded by millions of twinkling stars all around me. I tried catching a few but couldn't succeed initially. Later, I was just standing there with my arms open as if I was to hug them and that's when one of those tiny babies landed on my palm. Slowly I moved closer to have a better look, it was so tiny just as my little fingernail and it glowed exactly the way the LED lights glow. My happiness knew no bounds and I was smiling wider than ever. This tiny little creature made me feel blessed, lucky and special.
4. Wow! That's indeed magical! What happened next? Can't wait to hear it from you!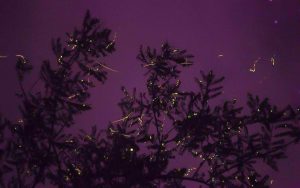 Sometime later these little stars started vanishing and we all cheered and clapped with happiness. I was lucky to witness these celebrities who made this moment magical. I was no longer sleepy and all I could think of was the fabulous moments I had experienced just a little while ago. I decided to take a walk around the campsite, and while I was just wandering, I saw a tree, just a few feet away from the campsite, and believe me, that tree was literally glowing! I wasted no time and rushed near it. The magic hadn't ended yet for me. It was mesmerizing, the tree was full with millions of these twinkling flies. One of my friends, quietly setting up his camera was trying to capture this beautiful scene in his frame.
I was engrossed in my own thoughts trying to capture the sight in my heart forever and wondered whether I'll ever be able to put these moments in words. The sun was just about to rise and the darkness was fading away and so was the magic of this night. It was time for those little shiny cuties to leave. This was one of the most magical moments I had experienced in my life so far. Even though it had no real magical powers, yet it was Truly Magical, something I will cherish forever.
Guys, it's Lit, quite literally, isn't it? So this was Vishakha Shah, sharing her travel diary with us today. We are pretty sure, the next time you think of planning a Maharashtra trip package for yourself and your family and friends, catching the Fireflies festival is definitely going to be on your mind. Until then, Celebrate the Magic of Nature! Celebrate Life!