Reading Time:
9
minutes
Did you know Valentine's Day is actually religiously related? This day originated as a Western Christian feast day honouring early saint named Valentinus. This day is recognized as a significant cultural, religious and commercial celebration of romance and love in many regions around the world. It is such beautiful sync that on the 14th century day first became associated with romantic love within the circle of Geoffrey Chaucer. According to historical records, that's when the tradition of courtly love flourished. For the most, that just adds in a special touch to the idea of Valentine's. It indeed brings more meaning to the day of celebration of love.
Every year on 14th February it is a real task to come up with innovative ideas to express your love. How about deciding on a trip every time! This way you are full of options and it can be different each time. Adding up a new charm with every new destination and something more to try every Valentine's. If you haven't thought about a perfect gift to give this Valentine's and wish to start it from this year itself, then it's not too late! Here is a photo trail of 14 destinations you could go to on the 14th! They're divided into various categories for you to choose from.
---
14 Destinations for your Valentine's on 14th
---
Reasons are many, we picked 14. Blend them into your themes and decide where to head on this Valentine's Week!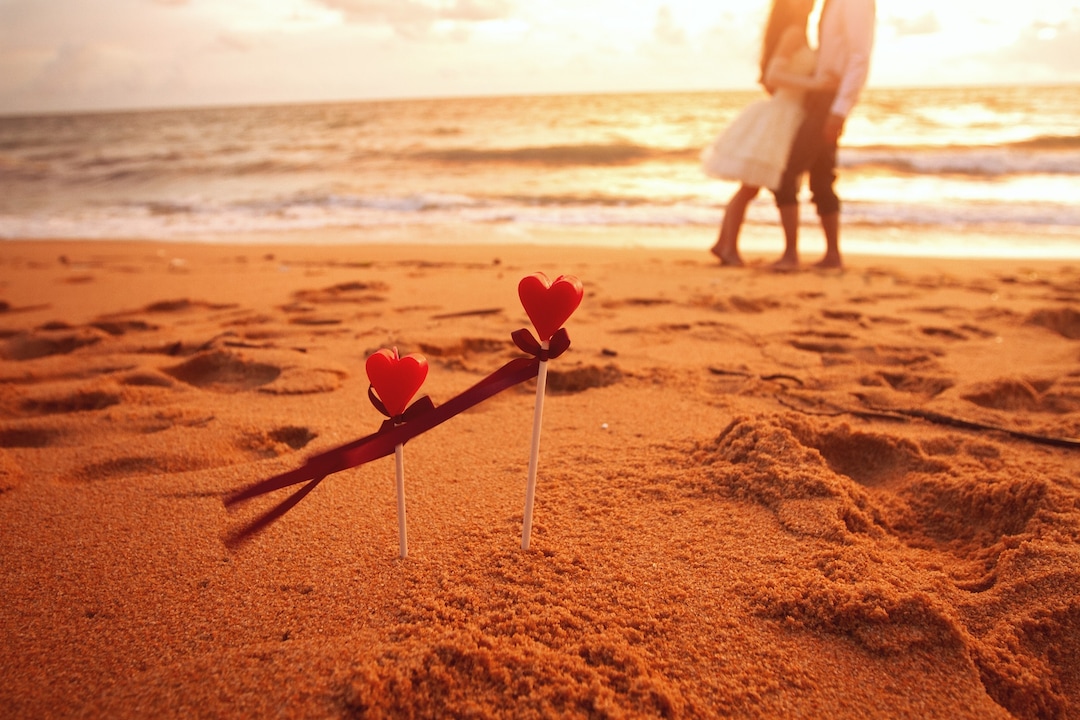 ---
Beachy & Colonial
---
Adding history to the beachy places and the colonial touch with some blended cultures, gives you perfect picks for a romantic week!
Pondicherry
---
Time slows down here, makes you aware of the simple joys of life. Perfect for you and your partner, especially when you think of an escape.
Fly to: Chennai
Time To Reach:  2 hours
Highlights: Laid back lifestyle, relaxing beaches and classic attractions
Goa 
---
The well excepted all time easy getaway can get special with exotic hotels and leisure itineraries.
Fly to: Goa
Time To Reach: 1 hour 10 mins
Highlights: Perfect beaches, panoramic landscapes and exotic hotels
---
New Trend
---
For the ones who prefer to follow the trend, yet something offbeat. Find the two picks that will encourage exploration and special experiences.
Gokarna
---
The lesser known trend that will remind you of the tranquil peace with the lesser crowd and blissful exploration options! Here too, you can try some exotic hotels.
Fly to: Goa
Time To Reach: 1 hour 10 mins
Highlights: Offbeat locations, exotic hotel options and panoramic sceneries
Rishikesh
---
Popular within the young blood and special pick for the power couple. Try some adventure activities, get closer to nature and add a whole new theme to your love!
Fly to: Delhi
Time To Reach: 2 hours 20 mins
Highlights: Blue waters, peaceful getaways and adventure experiences
---
Iconic
---
Symbolic identities so well associated with India sometimes are the best escapes to be at. Celebration of love will never go wrong with the historic icons.
Hyderabad
---
City with perfect attractions, lively bazaars, delicious food and a theme park that will give you a glimpse of a whole new world. It can be an easy and yet worthwhile Valentine's break.
Fly to: Hyderabad
Time To Reach: 1 hour 30 mins
Highlights: Historic attractions, exciting theme park and exceptional food
Agra 
---
Home to the Symbol of Love can't just afford to not be in the list. It not only adds some history to it, but this place also will add a whole new charm to your Valentine's.
Fly to: Delhi
Time To Reach: 2 hours 20 mins
Highlights: Symbolic monument of Love, architectural marvels and Agra sweets
---
City Getaway
---
Right in the hearts of the states and in the buzz of the lively locations, you may find a perfect story for your Valentine's!
Indore
---
A city which hasn't been on too many travel list, but has so much to surprise one! Explore the hidden natural gems and explore this city with a splash of Nature!
Fly to: Indore
Time To Reach: 1 hour 20 mins
Experience: Unexplored natural gems, architectural landmarks and lively city lanes
Lucknow
---
This Land of Nawabs have written history and filled it with landmarks that take you in a whole new offbeat journey! It is also a popular shopping hub, and the food is a must try!
Fly to: Lucknow
Time To Reach: 2 hours
Experience: Land of Nawabs, historic landmarks and shopping hub
Varanasi
---
Known to be one of the holiest lands, this city is a lot more than spiritual sojourn. It is a journey of witnessing beautiful landscapes and peaceful vibes.
Fly to: Varanasi
Time To Reach: 2 hours 10 mins
Experience: Spiritual vibes, holy river and exceptional landscapes
---
Royal
---
What is better then the Royal chivalrous lands of the Rajputs? They wrote some of the most iconic Love stories of our nation!
Jaipur
---
The 'Pink City' will very well add a whole new blush to your romantic break! Be in the land where chivalry looked royal and expressions were grand!
Fly to: Jaipur
Time To Reach: 1 hour 55 mins
Experience: Unrivalled architectural designs, undying history and perfect climate
Udaipur
---
 The 'Blue City' will add in a new shade to your love and take you to the golden era! Celebrate Valentine's week with a touch of Royalty and breathtaking landscapes & structures.
Fly to: Udaipur
Time To Reach: 1 hour 25 mins
Experience: Romantic city, Royal feels and perfect memory lanes
---
Nature
---
Amidst nature's embrace there can be nothing that won't remind you of the simple pure joy of love!
Rann of Kutch
---
This unique white desert and the tent stays are truly exciting! The sunsets and sunrise get extra romantic and they're picture-perfect for your special Valentine's moments.
Fly to: Bhuj
Time To Reach: 1 hour 20 mins
Experience: Perfect atmosphere, white panoramic sites and tent experiences
Coorg
---
This green haven is for the ones who need complete detox and a perfect break. This is a  choice for the ones who want to enjoy solitude!
Fly to: Mangalore
Time To Reach: 1 hour 35 mins
Experience: World of Green, closest to nature and picture-perfect landscapes
Cochin
---
This old world charm with a pleasant vibe takes you on a cultural journey. The beaches and the coastline will sway you away to a whole new level of romance!
Fly to: Kochi
Time To Reach: 1 hour 55 mins
Experience: Cultural land, perfect temperatures and nature's loving embrace
---
Pick your theme for your Valentine's. Sometimes, last moment, is still not too late to make love special. With all the 14 destinations just within the reach of 2 hours, you can explore so much more. After all, some of the best plans are the spontaneous ones! Don't let the time tick away while you keep contemplating of how and why, just pick a destination and change how you celebrate your Valentine's.

Like the wise man David Wilkerson said, "Love is not only something you feel, it is something you do."