Silicon Valley of India, Garden City of India, Startup Hub of India; Bangalore is known by so many names because of its vast cultural diversity and for being one of the ten most preferred entrepreneurial cities globally. Adding to the city's illustriousness is its pleasant all-year-round weather that makes Bangalore one of the most frequented metropolitan cities. Most of the students and professionals fly to Bangalore because of its calm and pleasant weather and rich amalgamation of modern culture with a traditional touch. Bangalore is also well-connected to many beautiful places around the city that are frequented by the Bangaloreans and people from around the globe. Some of the most famous hill stations near Bangalore are Nandi Hills, Chikmagalur, Horsley Hills, Coorg Ooty, and more.
Bangalore is the third-largest city in India and has expanded in all directions to what it was many years ago. Today, Bangalore has a lot to offer to anyone visiting the city, whether it is for relaxing amidst nature, witnessing the wildlife, eating fine south Indian delicacies, enjoying adventure sports or shopping where the people of Bangalore love to shop. Whether you are a shopaholic, an impulse shopper, a brand enthusiast or just want to enjoy some window shopping; we have curated a list of the top ten malls in Bangalore for an exceptional shopping experience.
1. Phoenix Market City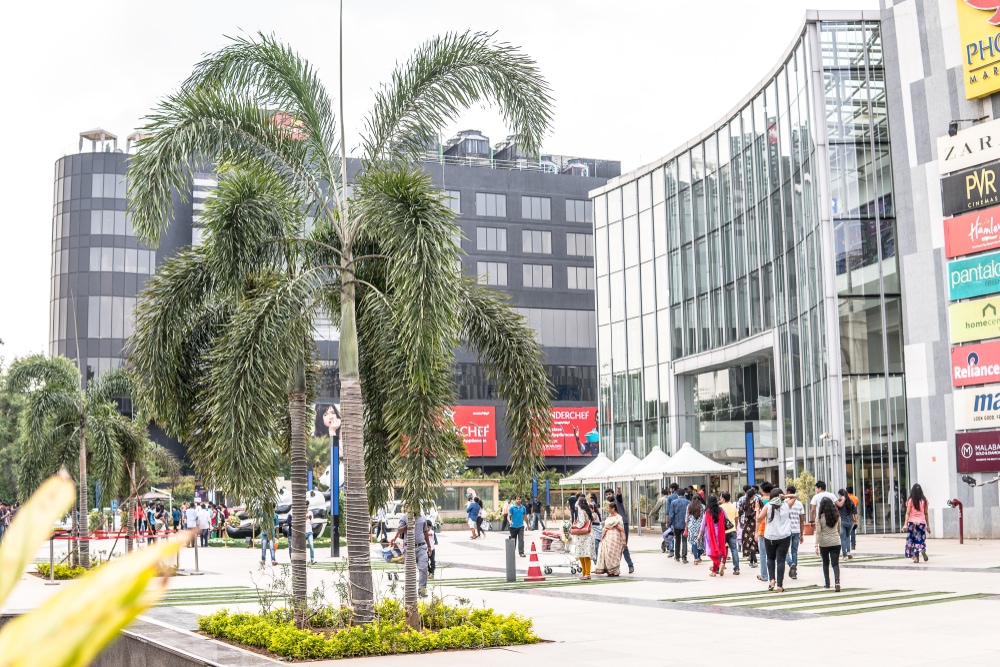 Phoenix Market City is the biggest shopping mall in Bangalore, which hosts over 300 brand outlets on four floors. You can fill your shopping bags with anything you like, be it apparel, accessories, or home decor items from high-end brands like Mango, Zara, Steve Maddens, Homecentre, etc. The Phoenix Market City Mall, Bangalore was inaugurated in October 2011, and today it has become a hub of shoppers from diverse and discerning clientele. Apart from shopping, you can also relax and grab a bite of Indian and international cuisines from some of the city's best restaurants, bakeries, and eateries.
Where: Mahadevapura, Whitefield Main Road
2. Garuda Mall
No list of malls in Bangalore is complete without mentioning the Garuda Mall. Garuda Mall is one of the best shopping malls in Bangalore and is close to one of the busiest shopping streets of Bangalore, the MG Road market, one of the best places to visit in Bangalore. The multi-level shopping mall is home to some of the most popular brands of clothing, footwear, beauty products, eating joints, play arenas and whatnot. Garuda Mall is also one of the biggest malls in Bangalore that has a huge parking complex.
Where: Magrath Road, Ashok Nagar
3. LuLu Hypermarket
Adding to the landmark destinations in Bangalore, the Global Mall is another popular shopping destination for city shoppers and people across the city. The multinational supermarket chain, LuLu group has opened the LuLu Hypermarket in Bangalore in the Global Mall after its flagship stores in UAE and Kochi. The Global Mall also consists of first of its kind entertainment zones, Funtura, the biggest entertainment zones in Bangalore. The LuLu Hypermarket is one of the biggest hypermarkets in Bangalore, spread across 8 lakh square feet with over 130 stores and 17 kiosks. Do visit the LuLu Hypermarket in the Global Mall in Bangalore to experience an exceptional shopping experience in the city.
Where: Okalipuram, Rajajinagar
4. VR Mall
Popularly known as the "black box on Whitefield Road", VR Mall is another popular shopping destination in Bangalore that hosts some of the best known international brands and India's only concept store of Adidas. VR Mall is also just next to the famous Phoenix Market city. So if you are in Whitefield, then VR Mall is worth the trip to explore and shop from some of the best brands like H&M, Marks & Spencer, Adidas, Puma, Superdry and much more. Apart from that, you can also enjoy events that happen on the property ground from time to time.
Where: Mahadevapura, Whitefield Main Road
5. Mantri Square
One of the unique things that make Mantri Square stand out from the rest of the malls in Bangalore is the fact that Mantri Square is directly connected by the Bangalore Metro. You can deboard at the Mantri Mall Metro Station and directly reach the first floor of Mantri Square to shop from some of the best brands or eat at popular eating joints like Mc Donalds, Chaayos, Dunkin Donuts etc. The Mantri Square mall also has a six-screen multiplex theatre if you want to enjoy some movies after a tiring day around the city.
Where: Sampige Road, Malleshwaram
6. Forum Mall
Forum Mall, Kormangala, is Bangalore's first full-fledged mall and is one of the popular shopping and entertainment spot for people living around Kormangala and other parts of the city and beyond alike. The Forum Mall, Kormangala, was inaugurated in 2004 by Prestige Group, and today there are many popular clothing brands and eating joints that are spread across five floors on the property. If you are in the city, do check out the Forum Mall in Kormangala to do some shopping and relax over a coffee.
Where: Hosur Road, Kormangala
7. Bangalore Central Mall
Central is probably one of the most preferred shopping destinations for shoppers for being a perfect mix of the different brands under one roof. Bangalore Central Mall has over 1000 brands and is frequented by the people of Bangalore to shop for branded clothing, accessories and footwear from known brands. The Bangalore Central Mall also has a dedicated floor for home decor items if you are someone who loves to shop for home decor pieces and like to jazz up their houses with unique designs. The Bangalore Central Mall is one of the most famous malls in Bangalore and one of the most preferred shopping destinations for a variety of shoppers.
Where: KSRTC Layout, 2nd Phase, J. P. Nagar
8. Vega City Mall
Another popular shopping mall in South Bangalore is the Vega City Mall, which has everything from popular clothing brands to popular eating joints to please your taste buds. The Vega City Mall also has a multiplex of eleven screens, where you can spend the rest of your day catching up on the latest movie. For grocery shopping, the Vega City Mall also hosts an expansive daily needs store, SPAR, where you can find everything you want to shop for. The Vega City Mall, being on Bannerghatta Road, is just a 30-minute drive from the famous Bannerghatta Biological Park. After enjoying your day shopping in the Vega City Mall, you can also visit the Vega City Mall, which is one of the best places to visit near Bangalore to enjoy the wildlife.
Where: BTM Layout, Bannerghatta Road
9. Orion Mall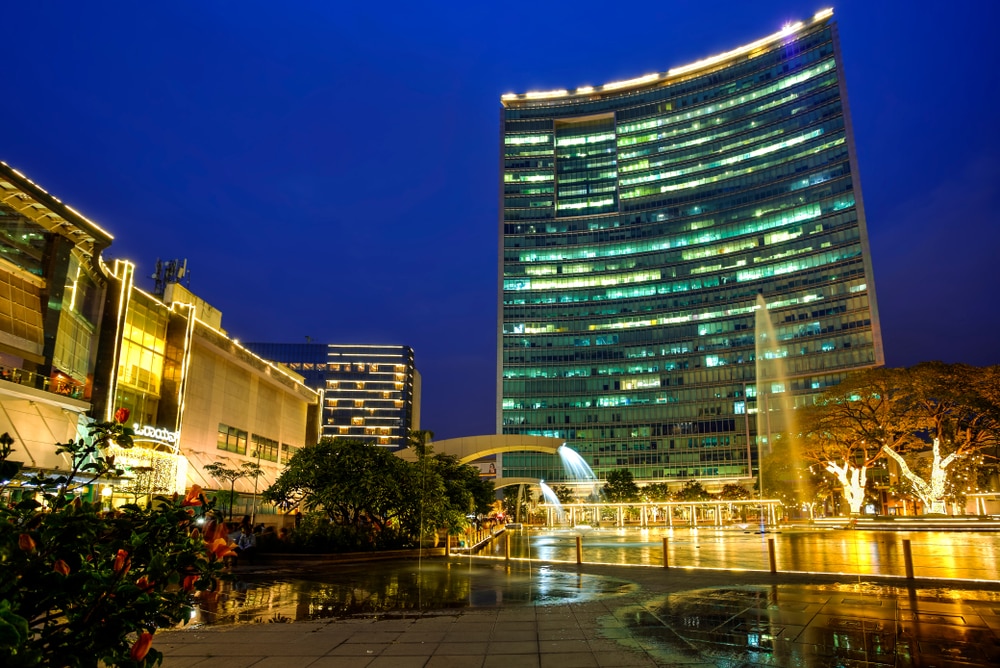 The Orion Mall is Bangalore's well planned and well-designed shopping mall that has everything from the best apparel brands to eating joints in a four-storied building. The Orion Mall is spread across 1.1 million square feet and is the third-largest shopping mall in Bangalore. The Orion Mall is a part of the Brigade Group and has won many awards and recognitions from India's recognised industry associations. You can even enjoy and spend some time at the lakeside promenade to enjoy the rest of the day and experience something unique in the city.
Where: Dr Rajkumar Road, Rajajinagar
10. UB City
Saving the most expansive and expensive malls in Bangalore for the last is the UB City mall in Bangalore. The UB City Mall is owned by the renowned business tycoon Vijay Mallya, and you can find all the international brands to shop from under one roof. Burberry, Michael Kors, Louis Vuitton, Rado, Emporio Armani, Jimmy Choo, you name it, and the UB City mall has it. The UB City Mall is one of the best malls in Bangalore and is also India's first luxury mall for very obvious reasons. Do visit the UB City Mall in Bangalore, one of the largest malls in Bangalore, if you want to shop from some of the finest international brands or want to spend some quality time with your family and friends in the city eating at fine diners and restaurants.
Where: Vittal Mallya Rd, KG Halli, D' Souza Layout, Ashok Nagar
This list of some of the best shopping malls in Bangaloreis sure to entice you. Explore our Bangalore tour packages that fityour budget and plans, and head out on a shopping spree in Namma Bengaluru!