Reading Time:
11
minutes
A vacation in London is bound to be exciting because this city is filled with tourist attractions, fun activities, markets, shopping malls, and eateries. If you are a foodie, then London will make you a little weak in the knees. The variety of cuisines available in the city of London is simply beyond comparison. You can check out UK tour packages that let you explore the food scene of London. The ultimate choice should be made based on your budget and positive reviews of the travel company. Here are 20 restaurants in London that you need to try out on your next vacation, come what may: –
1. Sushisamba Covent Garden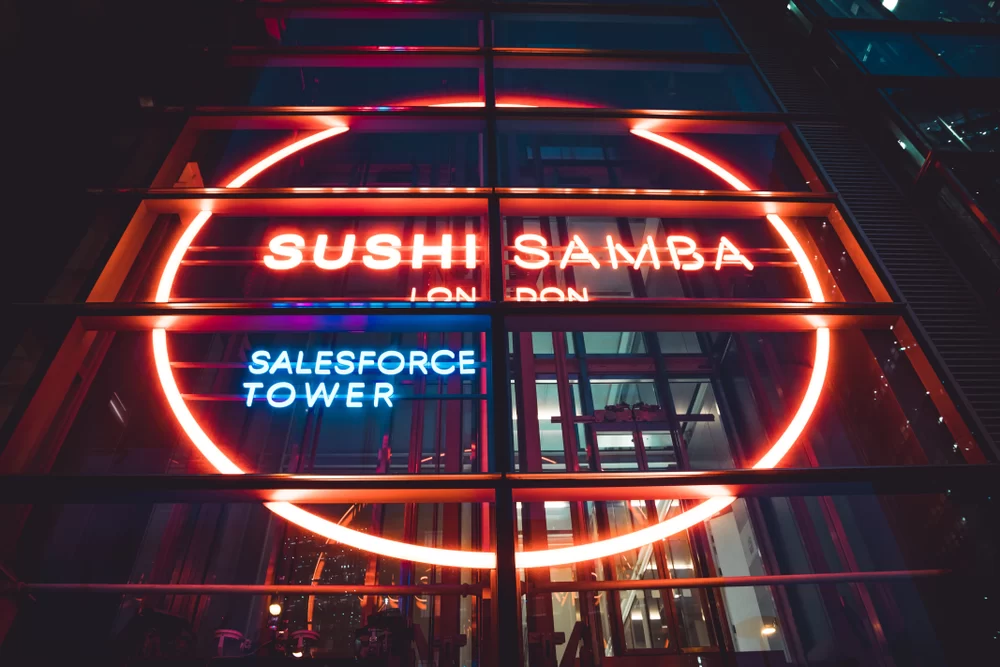 Reputed as one of the best restaurants in London, Sushisamba Covent Garden celebrates Japanese and Brazilian cuisines like no other eateries! Set at the Opera Terrace, this sushi bar provides a dining experience that you will remember for a long time to come. If you have a big group of friends and family, then you can opt for their exclusive private dining space that has a terrace of its own.
Recommendation: Shrimp Tempura, Strawberry Mojito
2. Chiltern Firehouse
Situated in one of the poshest areas in the city, 1 Chiltern Street, Marylebone, Chiltern Firehouse is a boutique hotel that has a restaurant with the same name. Touted as one of the most famous restaurants in London, this one's a favourite among people who love Portuguese cuisine. Spotting a celebrity at this fine-dining restaurant is a big possibility too!
Recommendation: Steak Tartar, Scottish Salmon, Bloody Mary
3. Sexy Fish 
If the name didn't catch your attention, the delicacies of this restaurant surely will! Berkeley Square's latest edition, Sexy Fish is a haven for seafood lovers. Travellers who wish to try out fancy restaurants in London must make a reservation at this restaurant. After getting a good dose of the London nightlife, you can chill at its bar which is open till 2 am.
Recommendation: Crab Udon Noodles, Asparagus Maki, Seedside
4. The Ivy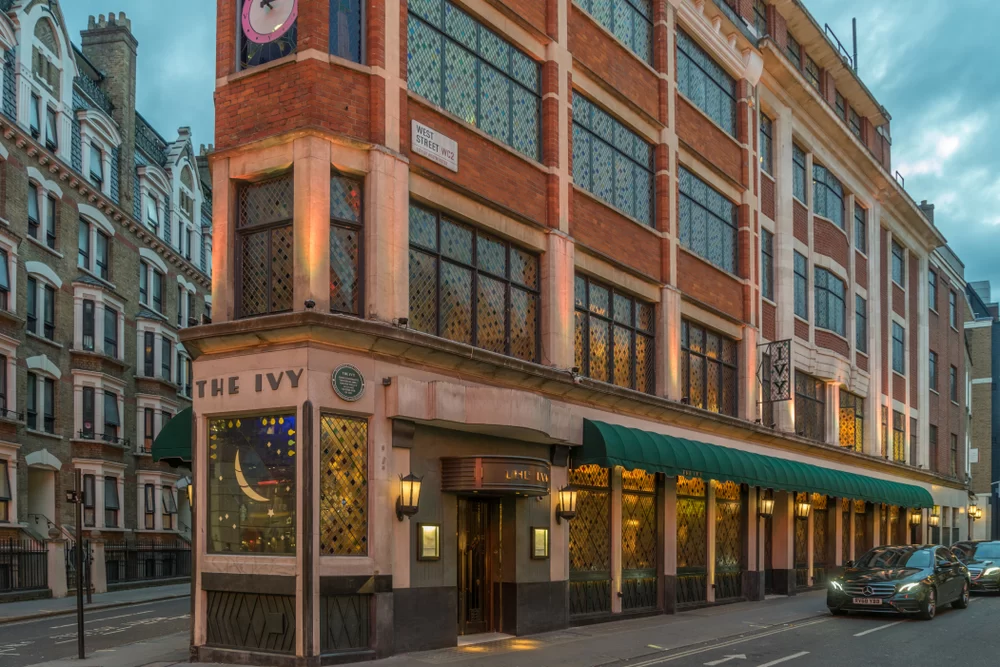 When we talk about the best restaurants in London, it is almost impossible not to mention The Ivy Collection Restaurants. In this list, we will give praise to the first outlet that opened in 1917! Situated in Covent Garden, The Ivy exudes elegance in its ambience and food alike. Every Brit in this city has a fond memory of dining out at this restaurant, so you surely need to have one too.
Recommendation: Seared Foie Gras, Icky Sticky Barbecue Pork Ribs
5. The Ledbury
Exploring London and eventually ending up in Notting Hill because you are a fan of the movie named after this region is very normal. Brett Graham's The Ledbury is one of the most popular restaurants in this part of London because of its 2-Michelin star status. Who knows, you might catch a glimpse of Hugh Grant too!
Recommendation: The Tasting Menu
6. Duck & Waffle 
Craving for a classic British breakfast spread? Duck & Waffle is the answer! Reputed as the highest eatery in the city, it is situated on the 40th floor of 110 Bishopsgate. This is one of the few restaurants in London that are open 24 hours a day. Besides brunch, lunch, and dinner delicacies, you can also try out the artisanal cocktail menus prepared by the barkeep.
Recommendation: Duck Benedict, Spring Fever Elvis, East End Eels
7. Rules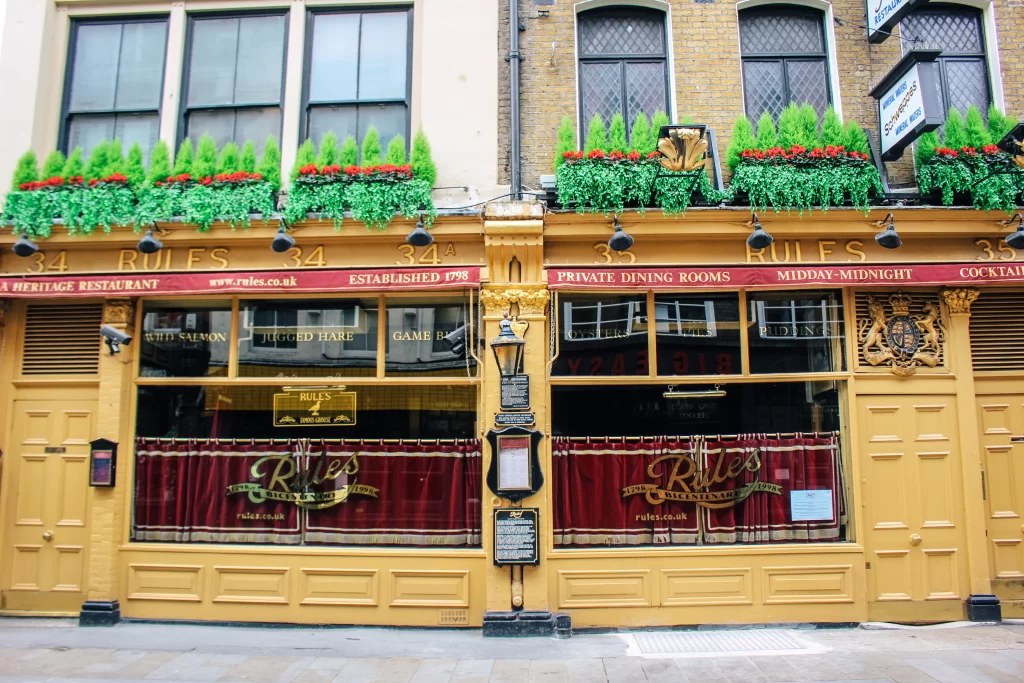 Rules has been of the top-most restaurants in London since its establishment in 1798. Several generations of English families have dined at this legendary outlet and swear by their quality of food. You can try out traditional British dishes at this restaurant and marvel at the old-school charm with your friends or family!
Recommendation: Jersey Rock Oysters, English Charcuterie Board, The Dandy
8. Bocca Di Lupo
The number of awards won by Bocca Di Lupo is proof enough that is one of the most delightful Italian restaurants in London city. Situated in the heart of Soho, this restaurant's curated menu will win over your heart. Jacob Kenedy and Victor Hugo, the two founders of Bocca Di Lupa are wine aficionados, so you can choose your favourite wine from their collection.
Recommendation: Tagliatelle Ai Finferli, Canneloni, The Rum Baba
9. Gymkhana
Highlighting the colonial Indian food culture, Gymkhana is a restaurant located in Mayfair, London. A lot of tourists flock to this eatery mainly because of the lip-smacking preparations that remind them of their homeland. A Michelin-start restaurant, Gymkhana is open for lunch and dinner service all days of the week.
Recommendation: Saag Paneer, Tandoori Masala Lamb Chops
10. Hoppers 
Dishing out the best Sri Lankan and South Indian delicacies in London is a restaurant called Hoppers located on Frith Street, Soho. Jam-packed with locals and travellers alike, getting a table at this tiny Michelin-starred restaurant is challenging but worth it! You can even buy some traditional spices and herbs from this outlet.
Recommendation: Masala Dosa, Crab Kari, Carrot Sambol
11. Benares
Benares takes a unique take on Indian delicacies that no other restaurant in London even attempts to do. This eccentric quality attracts thousands of foodies to this eatery in Berkeley Square all year round. The owner of this Michelin-starred restaurant, Sameer Taneja, has showcased the spirituality of Benares city through his food in the best possible way.
Recommendation: Tandoori Chicken Pie, Haveli Kofta, Bhapa Doi
12. Trishna
The owners of Gymkhana and Hoppers have yet another Indian restaurant in London that will make your soul dance in delight. Trishna offers coastal delicacies of southwest India in Marylebone Village. You can expect a myriad of dishes flavoured with coconut, kokum, curry leaves, and tamarind. A Michelin-starred restaurant, this place is known for its fresh ambience and delectable food.
Recommendation: Nariyal Scallops, Podi Paniyaram, Double ka Meetha
13. Tayyabs
A Pakistani treasure in the east end of London is Tayyabs where people can get mouth-watering Halal delicacies. This is one of the most sought-after restaurants in Whitechapel, London because of its casual dining atmosphere and Punjabi Dishes. What's more? It is a BYOB (bring your own booze), so you can get some cold beers and have a gala time with your friends or family.
Recommendation: Nihari, Saag Aloo, Lamb Chops
14. Restaurant Gordon Ramsay
As far as famous restaurants in London go, it is almost impossible to miss out on the French delicacies served at Restaurant Gordon Ramsay. No, you will not be shouted at by the infamous celebrity chef because he happens to be quite friendly in person. This Michelin-starred restaurant is located in Chelsea with Clare Smyth MBE as the Chef Patron.
Recommendation: Dover Sole, Smoked Eel, Pavlova
15. Barrafina 
Spanish Tapas is ideal for travellers who wish to keep their tummies light while exploring the city of London. Barrafina, Covent Garden is one of the best restaurants that you can find in the UK serving traditional Spanish treats. Another Michelin-starred restaurant with two more branches in the city is a must-try for foodies who would like to experience unique and modern delicacies from Spain.
Recommendation: Queen Scallop Ceviche, Stuffed Courgette Flower, Salt Cod Fritters
16. Umu
The evolution of traditional Japanese food to modern fare is the philosophy followed by this two-Michelin star restaurant on New Bond Street, Mayfair. Umu is known for its hyper purity as the finest ingredients are used for preparing delicacies at this restaurant. Yoshinori Ishii, the Chef Patron of Umu, dishes out Kyoto-style dishes that will you make come back for more.
Recommendation: Wild Cornish Lobster, Umu style Nigiri, Winter Black Truffle
17. The Ritz Restaurant
London is a city full of classic places to eat and The Ritz Restaurant is one of the finest examples. Expect the epitome of elegance and grandeur at this fine-dining restaurant in Piccadilly. The ambience, food, and service of this one-Michelin star restaurant depict the English way of dining in all its glory. This one's a no brainer, especially if you wish to splurge a little.
Recommendation: Ceviche of Scallop, Heritage Potato, Crepes Suzette
18. Poppies
How can you roam around the city of London without trying out fish and chips? This might not interest vegans and vegetarians, but for people who love fried chips and potato wedges with some delicious tartar dip, Poppies is the place for you! This food joint on Hanbury Street has been dishing out fish and chips for more than eight decades, so you can expect the best here.
Recommendation: Cod Fish and Chips, Hot Seafood Platter
19. Clos Maggiore 
A dinner date at Clos Maggiore with your partner will make your vacation in London memorable. One of the finest roof-top restaurants in the city, Clos Maggiore is also known as the most romantic place to dine in style with your beau. Elegant French dishes and an extensive selection of wines will make your night simply spectacular at this restaurant.
20. Hawksmoor Seven Dials 
Londoners have developed a unique culinary habit known as "pre-theatre dining" when they have an early supper before going to the theatre. Hawksmoor Seven Dials is a very popular steak restaurant for pre-theatre dining in London. So, before you hit a play in Covent Garden, have a juicy steak at this fine-dining restaurant!
Recommendation: T-bone Steak, Sticky Toffee Pudding
With so many restaurants in London awaiting your arrival, how can you procrastinate anymore? Book your tickets and devour awe-inspiring delicacies in the capital of the UK.