Reading Time:
10
minutes
Located in Himachal Pradesh, Kasauli a small hill station is famous for its architecture, amazing viewpoints, and trekking, and it is a paradise for nature lovers. Thousands of tourists visit this small town in Solan every year. This town offers some of the best places to visit in and around the arms of nature.  Around 60 km from Chandigarh, Kasauli is one of the famous places for weekend getaways. Now it's an era of staycation or work-cation, people tend to work from different places to stay near nature and feel calm.
Places to Visit
This small town in Solan Valley has something for everyone. Here we have listed the best places to visit in Kasauli. Hope this helps you with your next trip!
1. Monkey Point
Kasauli's Monkey point also known as Manki Point is one of the most famous attractions in the town. This destination has a small temple dedicated to Lord Hanuman that is filled with monkeys. On a clear day, tourists can spot a snow-covered peak of 'Choor Chandni', the highest peak of the Lower Himalayan range. The townspeople say that while bringing the Sanjeevani herb for Laxman, Lord Hanuman's foot touched this spot. People get surprised when they reach here as the top of the hill is shaped like a foot and the temple is said to be engraved with footmarks of the Lord. You can reach this temple via taxi or a bus as it is near to the bus stand.
2. Mall Road
This place is more unusual than the whole of Kasauli as the town is silent, but this market is full of hustle-bustle. This mall road provides lots of options for shopping and eating out. It also consists of numerous local Tibetan shops selling small handicrafts, woollens, hand-woven shawls, stoles, and scarves. These markets also sell fresh seasonal fruits such as apricots, plums, and peaches picked from the orchards.
3. Gilbert Trail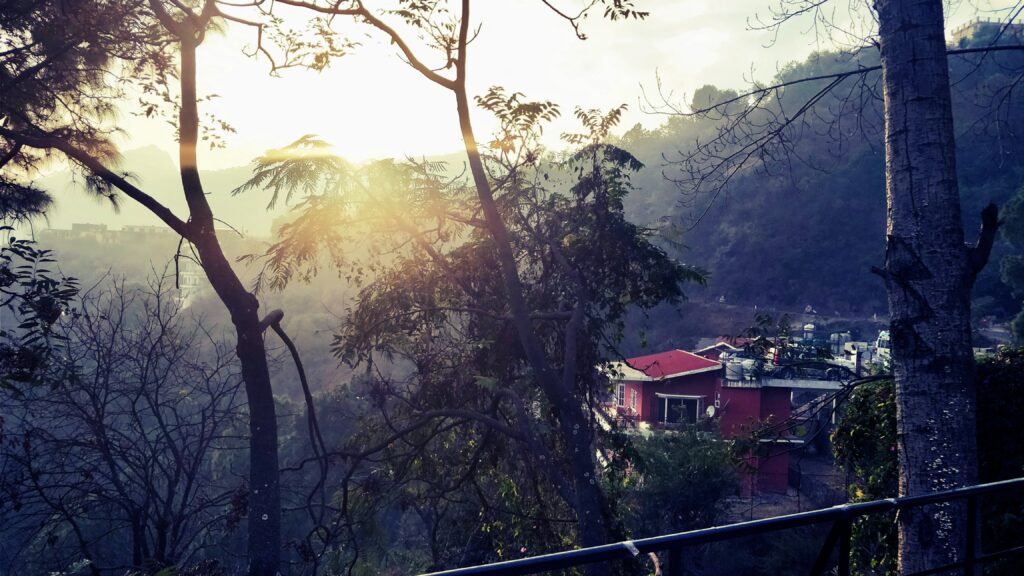 Gilbert Trail is an easy 1.5 kilometres hike and is among the best adventure activities to do in Kasauli. The trail starts from Kasauli Club and ends at the Air Force Station, near Sunset Point. The kaccha walkway is wide at the start and gets narrow after a while with rocky cliffs, and it is said to be very slippery. Also, Gilbert Tail is known for its views and for finding different species of birds. Thus, it is advised to be extra cautious while strolling along this trail. Make sure that you wear sturdy, comfortable shoes and also, stay on the lookout for prickly bushes.
4. Lover's Point aka Sunset Point
Sunset Point in Kasauli is a popular quiet spot to enjoy the sunset, pine-laid landscapes, valleys and sceneries. It treats travellers with a refreshing hike and a mesmerizing view. Near Sunset Point, is a trail known as the Lover's Lane which is a quiet walk through the valleys and some of Kasauli's most calm and breath-taking sceneries. The name 'Hawa Ghar' given to this place is due to the constant and cool air flows that you can enjoy here all year round. This place also offers the most breathtaking sunrise views over the misty Kasauli hills or the illuminated views of this city at night. Undoubtedly, this is one of the best things to see in Kasauli.
5. Trekking
Amazing views, twisting and winding trails, cool and pleasant weather, and a less crowded environment make hiking tours one of the most visited places in Kasauli. A stroll along Lower Mall Road to scenic Kasauli attractions such as Manki and Sunset Point is relaxing and revitalizing. Don't forget your walking shoes and comfortable clothes.
6. Nature Walks
Kasauli has a romantic vibe, which is why nature walking amidst the most perfect surroundings is one of the best things to do in Kasauli. Enjoy the weekend break with your spouse on a stroll from Lower Mall to Kimmughat & Sunset Point and around the Sanatorium, Lover's Lane and the Canton area. The ride is smooth and refreshing, offering the best panoramic views of the Himalayan peaks in the distance. This place is also surrounded by some of the top luxury villas in Himachal Pradesh.
7. Toy Train Ride
The best way to travel from Kalka to Shimla is by toy train, which runs on a narrow gauge railway and is known for its spectacular views of the surrounding hills and villages. The historic Kalka Shimla toy train is part of the UNESCO World Heritage List and takes people on a ride among vast green hills and forests of pine and cedar. Crafted through the lush nature of Himachal Pradesh during British rule, the Kalka Shimla Toy Train is sure to take you back to a completely different era in history and through one of the most scenic train journeys in India. The 5.5-hour toy train ride offers special services and is one of the best places to go in Kasauli.
8. Gurudwara Shri Guru Nankji
One of the best places to visit in Kasauli is this pristine and beautiful shrine of Guru Nanak Ji where travellers come to seek his blessings. Gurudwara Sri Guru Nanakji is essentially an ancient Sikh holy site located on the outskirts of Kasauli. Apart from the blessings of the Lord, this place provides lodging, offices and food for devotees who come from distant places to enjoy its peaceful aura and see the holy book of Guru Granth Sahib. This dedicated shrine also offers accommodation.
9. Baptist Church
The architecture of this church, built by the British in 1923, is influenced by a mixture of Indian and Victorian styles. However, the church was damaged by fire in 2008 and the entire interior was destroyed. This place represents a lot of history in itself.
10. Shri Baba Balak Nath Temple
This temple is dedicated to Baba Balak Nath, an ardent devotee of Lord Shiva. It is 3 km from Kasauli and one can easily reach here by bus or taxi. The belief surrounding this temple is that childless couples who come and pray here will be blessed with children.
11. Gurkha Fort
This place is for people who are fascinated by the past and history. Gorkha Fort is situated on a small hill in Subathu, 16 km from Parwanoo. The fort is believed to have been founded by Gurkha army chief Amar Singh Thapa to fight against the British and today shows strength even through its ruins. With spectacular views of the dense forest that surrounds it, travellers can also visit the Gurkha Museum to witness the area's past with exhibits dating back to 1815. You can also walk to the nearby towns, which are pretty quiet and beautiful.
How to Reach Kasauli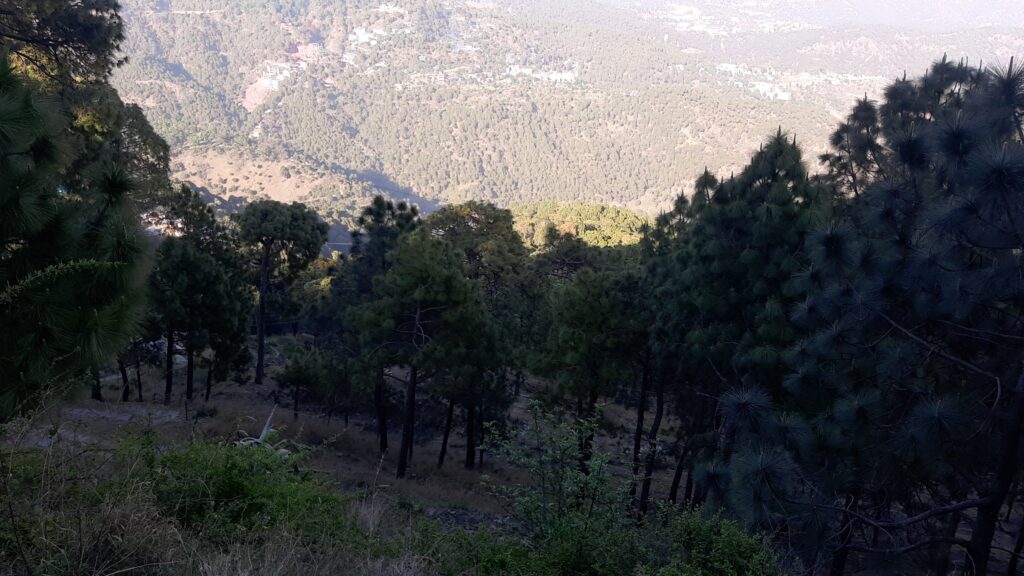 Kasauli is the best hill station near Chandigarh with a distance of 60 km and is near Kalka. Kalka has the nearest broad-gauge railway station and Chandigarh has the nearest airport. New Delhi has the nearest international airport and is only 280 km from Kasauli. Road access to Kasauli is very good and buses and taxis are readily available from nearby locations to get here.
Reach Kasauli by flight
The nearest airport Chandigarh is well connected to all major cities through many regular flights. If you want to reach Kasauli in the shortest time then you should go with this mode of Transport.
Reach Kasauli by road
The Himachal Pradesh State Transport Corporation runs several buses between Kasauli and the other cities in the state and also nearby cities like Chandigarh. Though the bus journey is tedious, the beautiful scenery makes it an enjoyable ride.
Reach Kasauli by train
The Indian Railways offer a number of express trains to reach Kalka. You can easily access this route too. A train ride through the hills of Himachal is a rejuvenating experience in itself.
Best Time to Visit Kasauli
Kasauli is a treat to visit throughout the year, March to June is considered the best time since the weather remains pleasantly cool. Make sure you must include this hill station in your Himachal holiday packages.