"When the sun falls and the dark night rises, the lights paint the sky in new colours. So mesmerising that you'll question what's real?"
The Earth's magnetic field interacting with charged particles from the sun on the poles of the planet create this phenomenon of Northern Lights or Aurora Borealis. They are so spectacular that you'll rub your eyes twice to just be sure if what you see is not a dream. In 1619, 'Aurora' was coined by Galileo, named after the Roman goddess of the dawn and the Greek name for the north wind. Witnessing these mystical and very much fictional like the phenomenon of Aurora Borealis caused by the celestial alignments of sun and earth, makes you think about how small the existence of humankind may seem to be in the scale of this universe. Sometimes experiences like these are important as they make you forget about anything that holds you back and gives you a perfect solace of the magical kind. Travel is about such aspects which turn into travel wisdom, isn't it? Probably the urge of knowing more and seeing it all has brought the concept of travel to such a level. And with such aspects like Northern Lights, it's like the Mother Earth giving her children reasons to find their escapes and stitch their journey!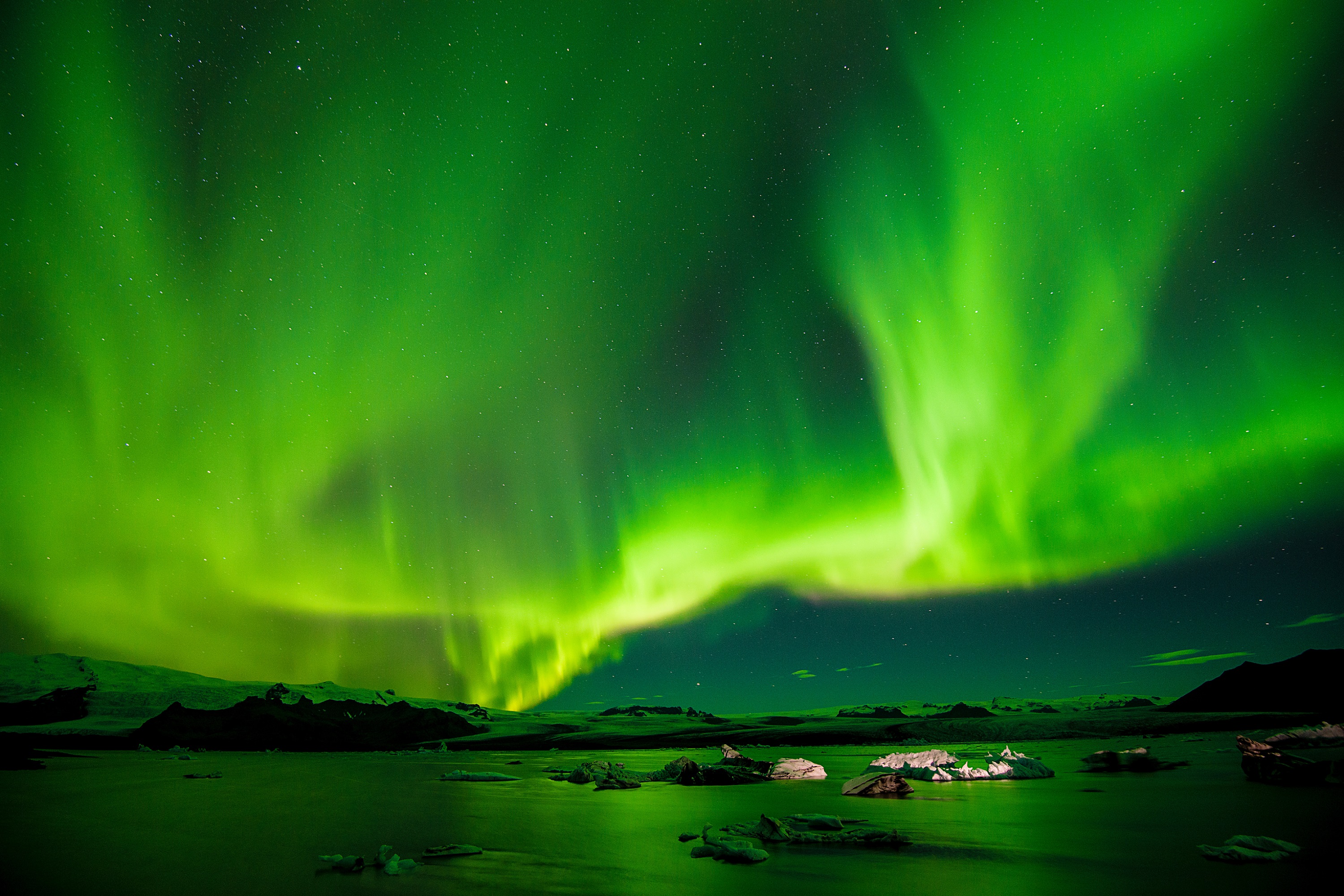 The natural phenomenon which truly defines the trademark of this land making it an unrivalled identity in the world of travel! Experience the phenomenal magical lights famously known as Northern Lights in different shades right from luminous green, often with a hint of pink along the edge, and occasionally with a deep violet centre. The experiences of this quirky phenomenon have a vibrant nature which ranges in all possible shades to match the desires of every kind of traveller. One of the best place to witness this beauty is Iceland. Reason being, Icelanders are extremely privileged when it comes to the Northern Lights! They are blessed with visibility of the Northern Lights for over eight months a year, giving you more scope for the best time to see Northern Lights in Iceland! Right from early September to the end of April, you've a chance to witness the most spectacular phenomenon known to mankind!
Why Iceland?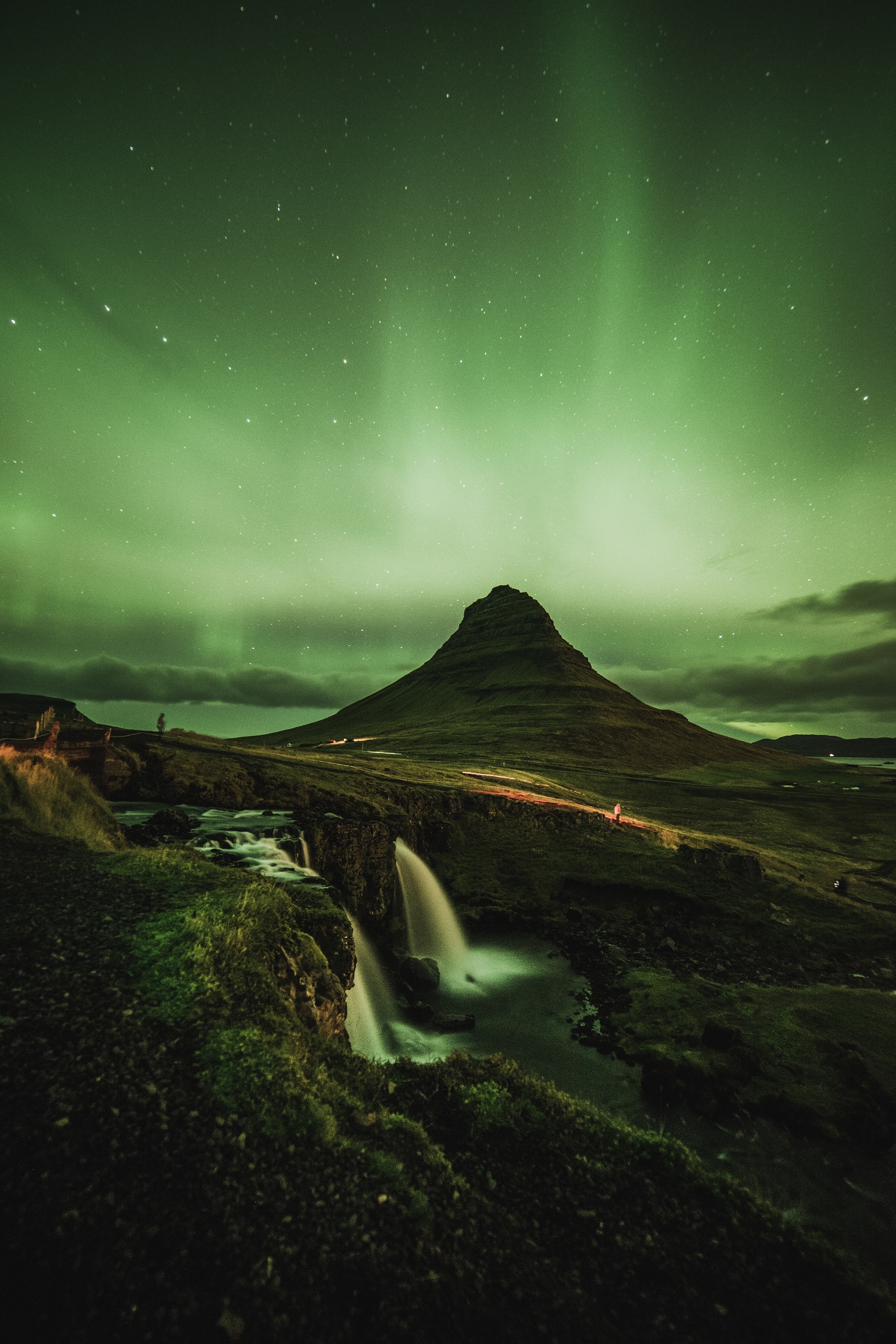 The peaceful Nordic island country of Iceland is extremely welcoming and life changing! The legends and myths attached to this country of beautiful charms are still singing their victorious saga at every corner and welcome you for some wonderful and incredible Iceland tours. Yet the silence and tranquillity of this land will only surprise you! Enjoy the lovely ambience and the soothing aura that is brilliantly brought together in this land. Painted in perfect strokes of auroras with an extraordinary marvel of nature called the Northern Lights, this land awaits to surprise you with our customised Iceland holidays package. It is a picture-perfect destination to capture your memories for a lifetime! All of these amazing experiences are made possible with our Iceland tours. They are intricately handcrafted to gift you the experience you have been dreaming of!
Iceland tours let you witness the rich literary heritage dating back to the 12th century. The country is rich with the cultural heritage of Norse mythology and Icelandic sagas. Blended with modern outlook and lifestyle, the touch of their culture and tradition is observed in almost every Icelander. Explore this unique land of beautiful and warm-hearted people along with our Iceland tour packages. The cultural and traditional drift is felt when you step into this land. The land is full of experiences and highlights, which lighten up the cultural symbolism that can be lived along with our Iceland tour packages from India.
Where in Iceland?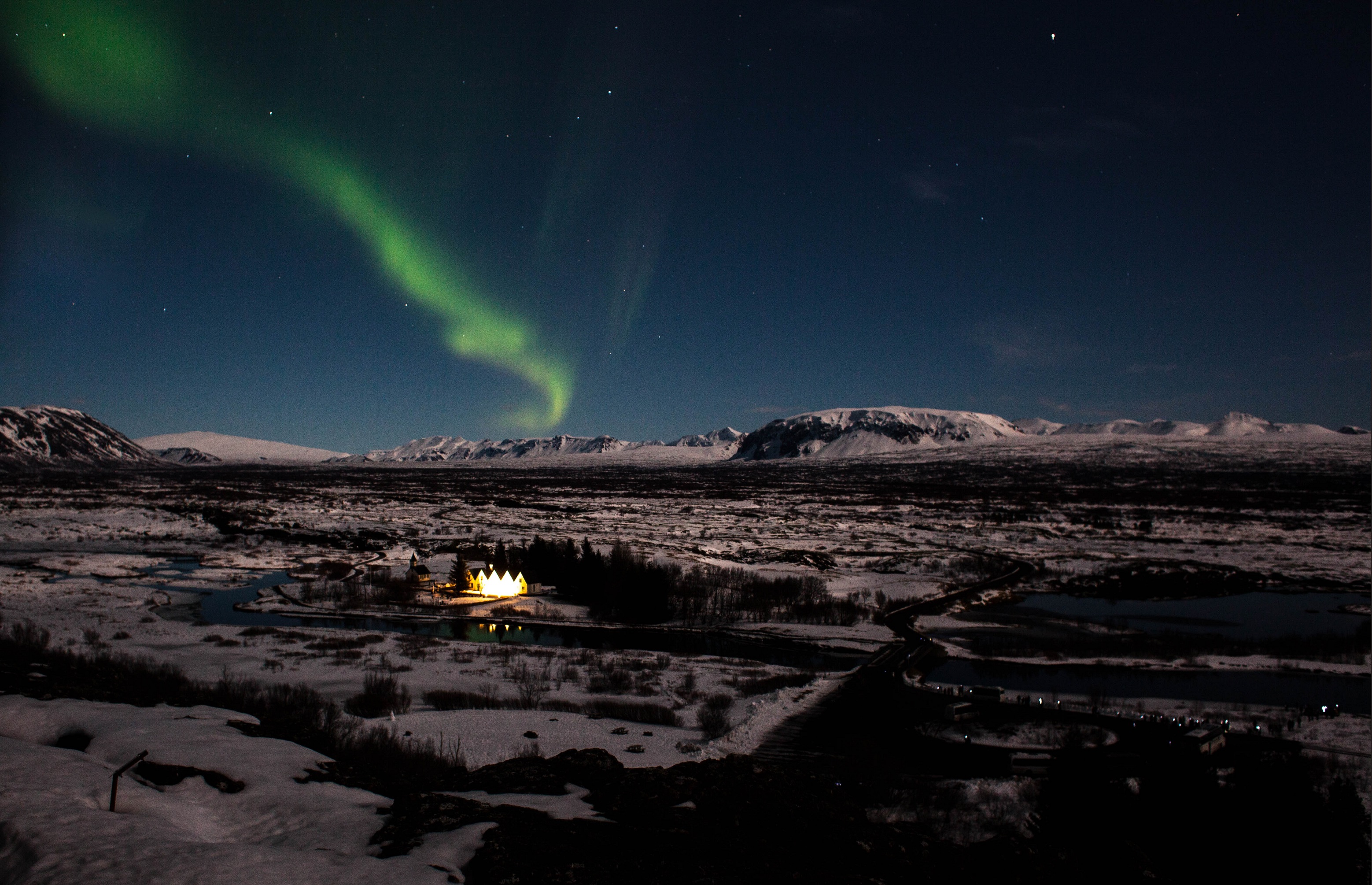 One of the best places where the Northern Lights Iceland can be experienced is Jökulsárlón Glacier Lagoon! Proudly titled as the crown jewel of Iceland, Jökulsárlón Glacier Lagoon is a spectacular natural landmark which is mystically painted in blue waters and dressed in glaciers and icebergs! Two of these exceptional identities of Iceland when framed together, results in the unrivalled Iceland tours! Plan your visit in Jökulsárlón Glacier Lagoon located on the borders of Vatnajökull National Park in South Eastern region of Iceland.
Drive to Egilsstadir and visit two of the most beautiful places in Iceland - Skaftafell National Park and Jökulsárlón glacier lagoon along with our uniquely priced Iceland tours. Start with Jökulsárlón Glacier Lagoon – one of the most spectacular sights in Iceland. Witness enormous icebergs that constantly break off the glacier into the lagoon, melting slowly as they drift towards the sea nearby.
Aurora Borealis Iceland gets more special because of the Icelandic experience that follows along with it. Find your theme or create your own! Combine unique passions with this unique destination along with your Iceland tours.
[tabs]
[tab title="Photography Tour"]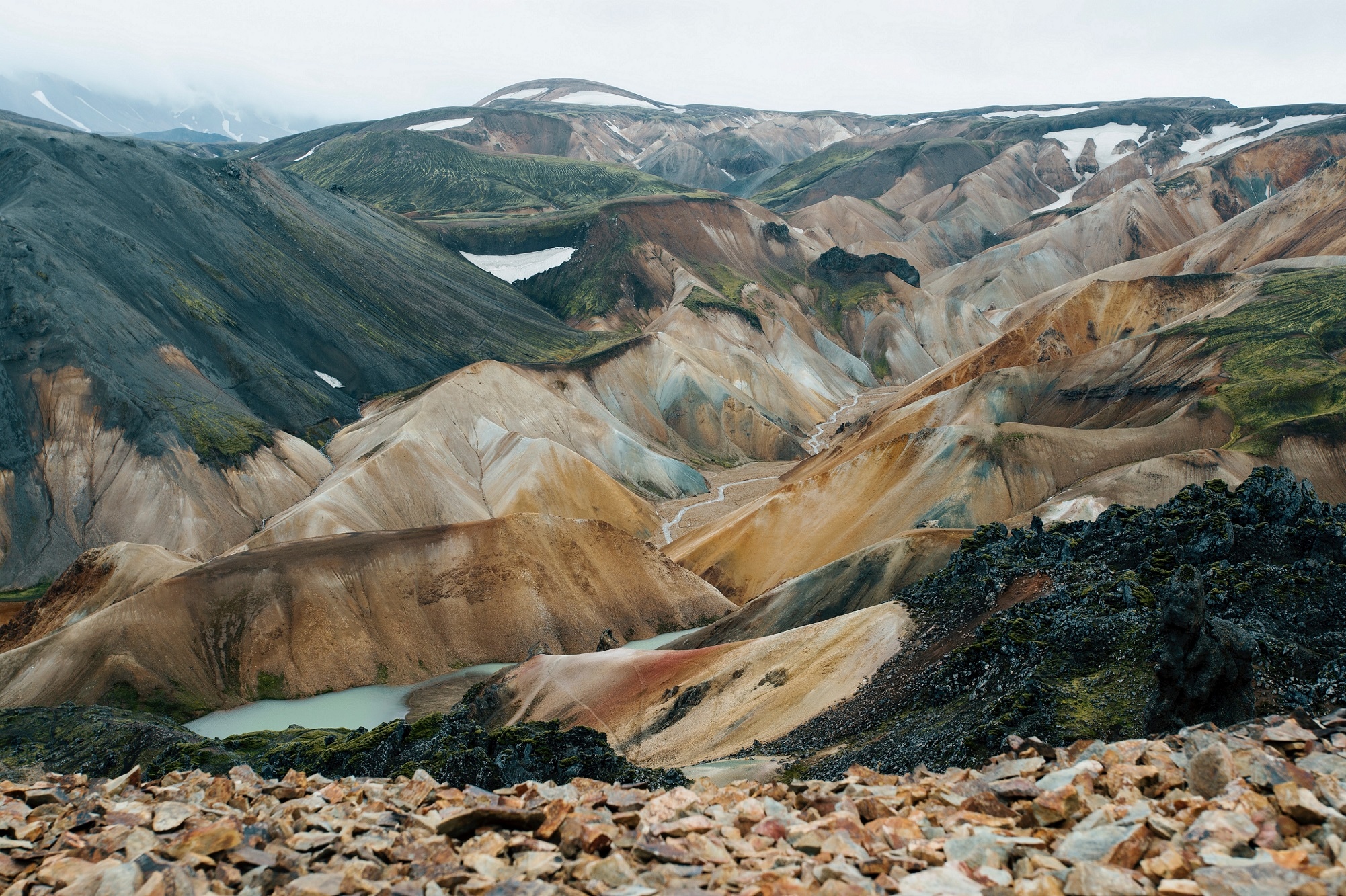 Journeys meant for shutterbugs who wish to get the opportunity to capture the moments and make them immortal into their frames! Explore the beautiful Jökulsárlón Glacier Lagoon, let the Northern Lights bring more life to this Icelandic charm and become a perfect setting for most picturesque captures of the lifetime!
[/tab]
[tab title="Star-gazing trip"]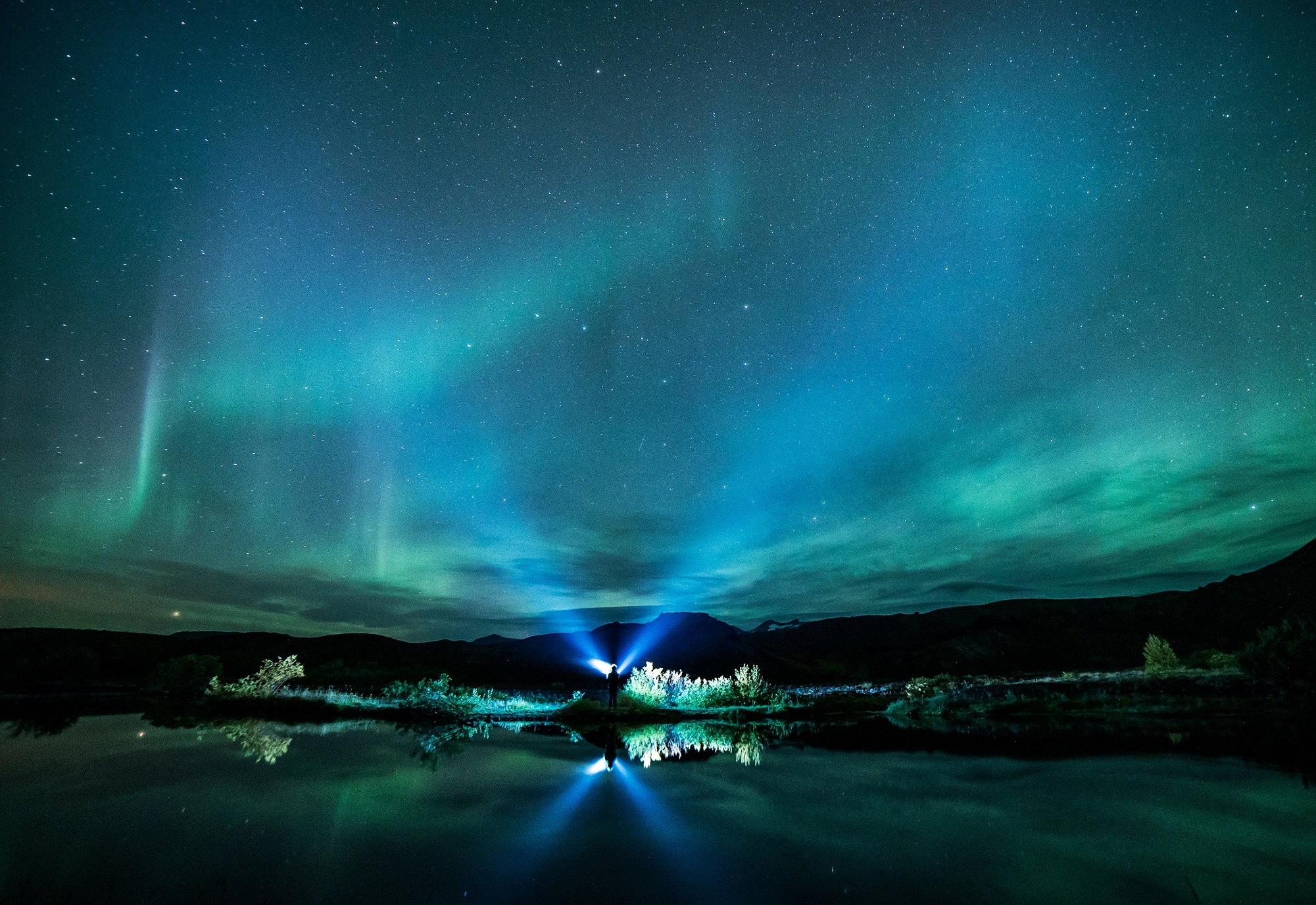 The celestial phenomenon of Aurora Borealis which triggered the curiosity of Galileo can be your point of inspiration too. Indulge yourself in stargazing and witness the phenomenon unfold in front of you! Understand the mysteries and how mere photons, neutrons, the magnetic field of Earth and the sun can create such a spectacular aspect!
[/tab]
[tab title="Adventure exploration"]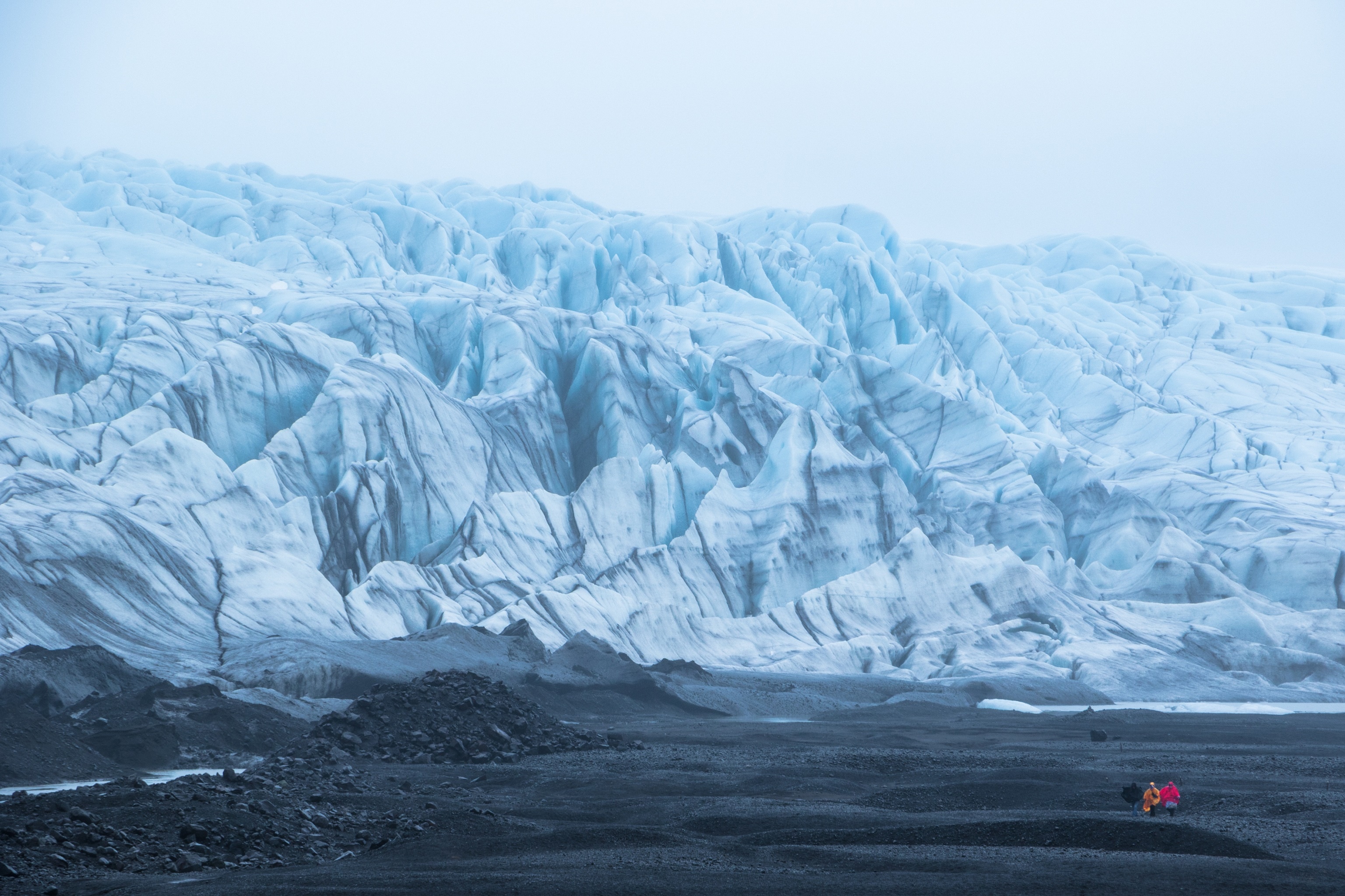 Plan your adventure trip involving glacier walk. Traverse through the stunning Jökulsárlón Glacier Lagoon and pick your best spot to witness this charm of the sky!
[/tab]
[tab title="Icelandic honeymoon"]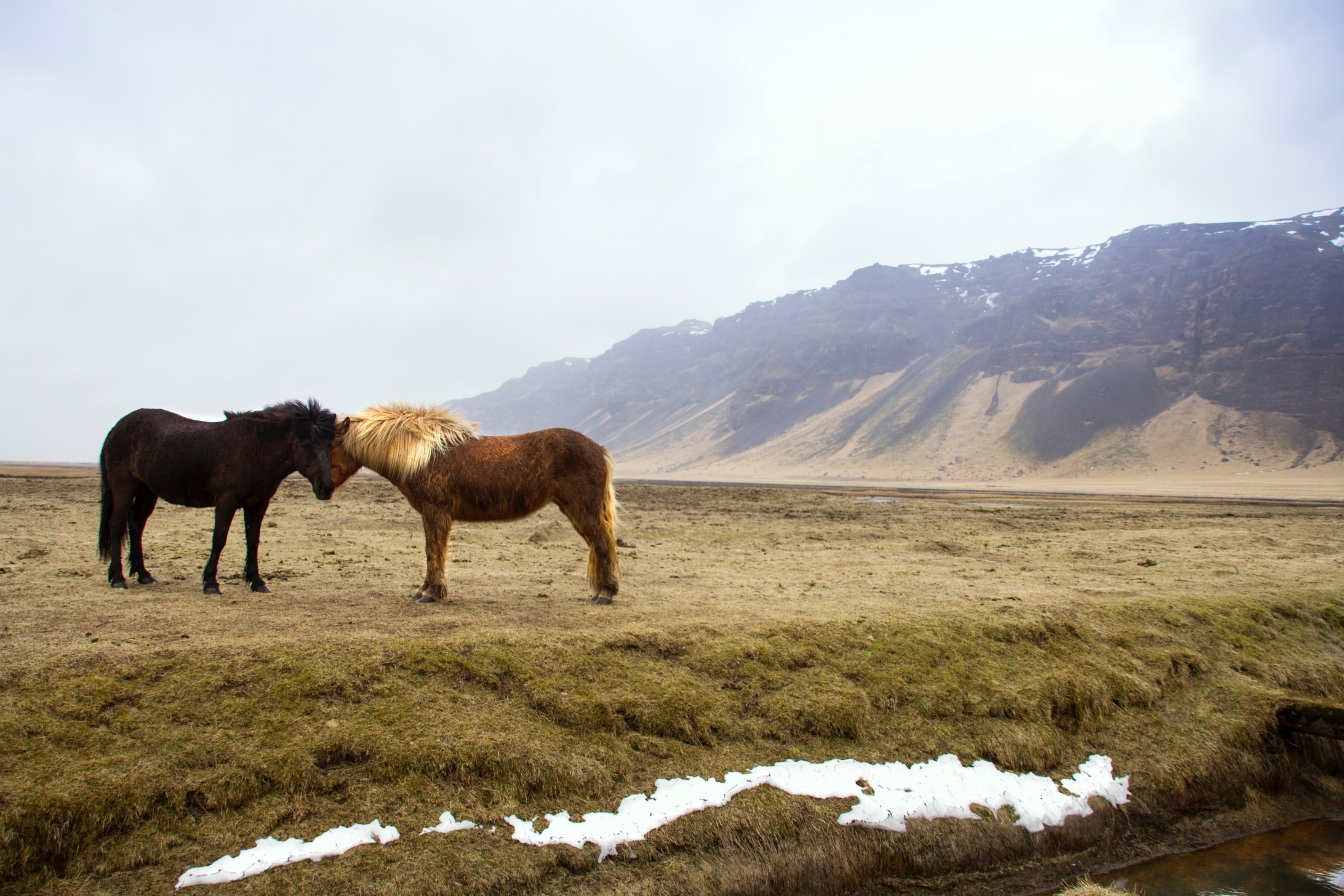 Make your new beginnings like any other. Northern Lights will add true magic to your new journey together. It will paint a new dream for you two!
[/tab]
[/tabs]
Best time to see Northern Lights in Iceland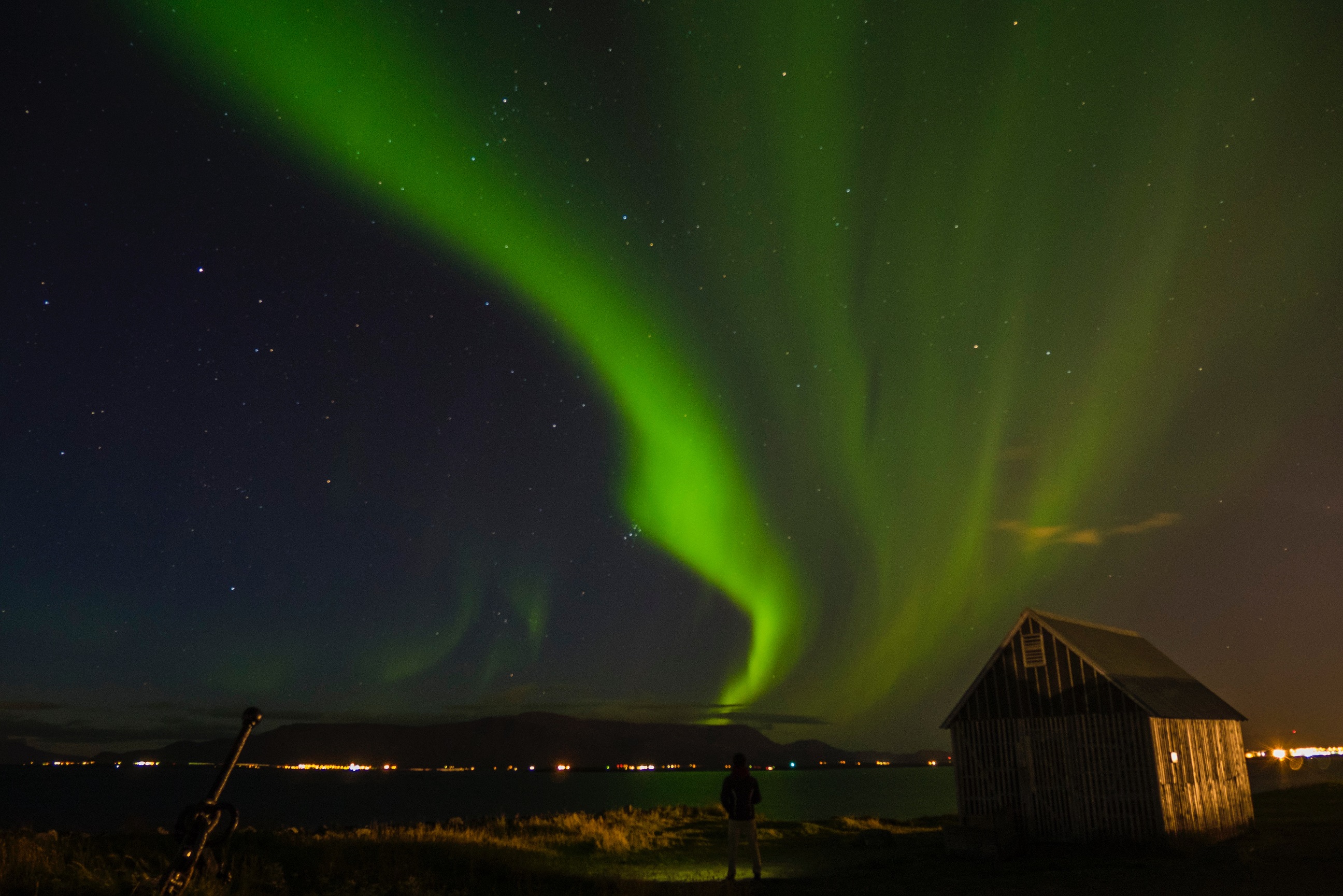 Along with our Iceland tours, explore the Nordic island country which is defined by its cinematic landscapes with volcanoes, geysers, hot springs and lava fields. Iceland is at the confluence of two oceans, North Atlantic and Arctic Oceans, located to the east of Greenland and immediately to the south of the Arctic Circle. With the popular tourist season at its peak from mid-June to August, Iceland's dramatically kaleidoscopic spring, fall and winter are equally breath-taking and incomparable! Iceland is a destination that should be explored all around the year, as it has so much to offer every time! Discover more such season special options of our uniquely priced Iceland travel packages from India! If you're planning your Icelandic trip for Aurora Borealis, make sure you avoid summers. Dark skies are the most important factor for you to be able to see the northern lights. Places in the zones of auroras have precisely little of it during the months of summer.

Add more experiences along with your Northern Lights Iceland tours:
Along with Veena World Europe tour, combine the experiences of Aurora Borealis along with the remarkable highlights of Iceland to make your trip one of a kind.
Experience North Iceland's most famous Diamond Circle tour.
Witness the majestic Godafoss waterfall along with our Iceland tour packages.
The waterfall of the pagan gods along with Lake Myvatn, which is one of Iceland's most interesting regions with fantastic volcanic formations, geothermal activity and Dimmuborgir lava formations can be explored with Iceland tours.
Take an amphibian boat tour and then walk around the lagoon to enjoy this amazing landscape followed by a visit to the Diamond Beach along with our affordably priced Iceland tour packages.
Along with our online Iceland tour packages from India, take a drive to Reykjavik and go on Golden Circle route, where you get to visit Þingvellir National Park. A park is a place of great beauty located on the biggest lake in Iceland, Silfra Lake. Here the Tectonic Plates of North America and Euro Asia continent drifts apart each year. The park is a UNESCO World Heritage Site completing your Iceland tours.
Continue your journey of

Iceland tours

, by moving towards Geysir which is home to the Little Geysir and the great Strokkur Geyser which erupts about every 8 Minutes.
Explore horse breeding farm with an exothermally heated greenhouse and learn about the Icelandic horse and its special qualities along with Veena World Europe tour.
Visit the thunderous and stunning Hraunfossar and Barnafoss waterfalls. Clear, cold springs of subterranean water seep through the lava and run as tiny waterfalls and rapids into the Hvita River.
Witness Langjokull Glacier known to be the second largest glacier in Iceland along with Veena World Europe tour. Here you get to visit the unique manmade ice tunnel which is around 1200 meters above sea level and take a guided tour by monster truck through the glacier cap.
Visit the amazing boiling mud pools and steam vents of Namaskard and then the Krafia area along with Veena World Europe tour. This area is known for a series of volcanic eruptions took place from 1975-1984 along with Dettifoss, which is the biggest and most powerful waterfall in Iceland.
The Black Sand beach at Reynisfjara welcomes you to surreal landscapes and huge basalt rock columns (famous location of the Bollywood song, Gerua) and then proceed to see the spectacular Skogafoss Waterfall.
Visit the famous Blue Lagoon, set in the middle of the black lava field.
Visit Gullfoss Waterfall (Golden Waterfall) one of the most impressive waterfalls in Europe that fall in two folds.
A shimmering and beautiful array of lights painting the Arctic Sky in unbelievable colours. These gracefully dancing phenomena are something that is must have experience, at least once in the lifetime! Veena World's hand-stitched Northern Lights Iceland tours are traced on these very lines to give you a chance to live this dream and witness this unbelievable natural wonder! It is rightly said, how much ever you read, browse the internet for this supernatural marvel, being there and actually witnessing it, is what makes the difference! Experience what it means when people say 'don't believe until you see it' with our Aurora Borealis Iceland tours from India. The hypnotising aspect of this phenomenon has a corny reputation of luring every traveller and every explorer to witness this at least once in their lifetime.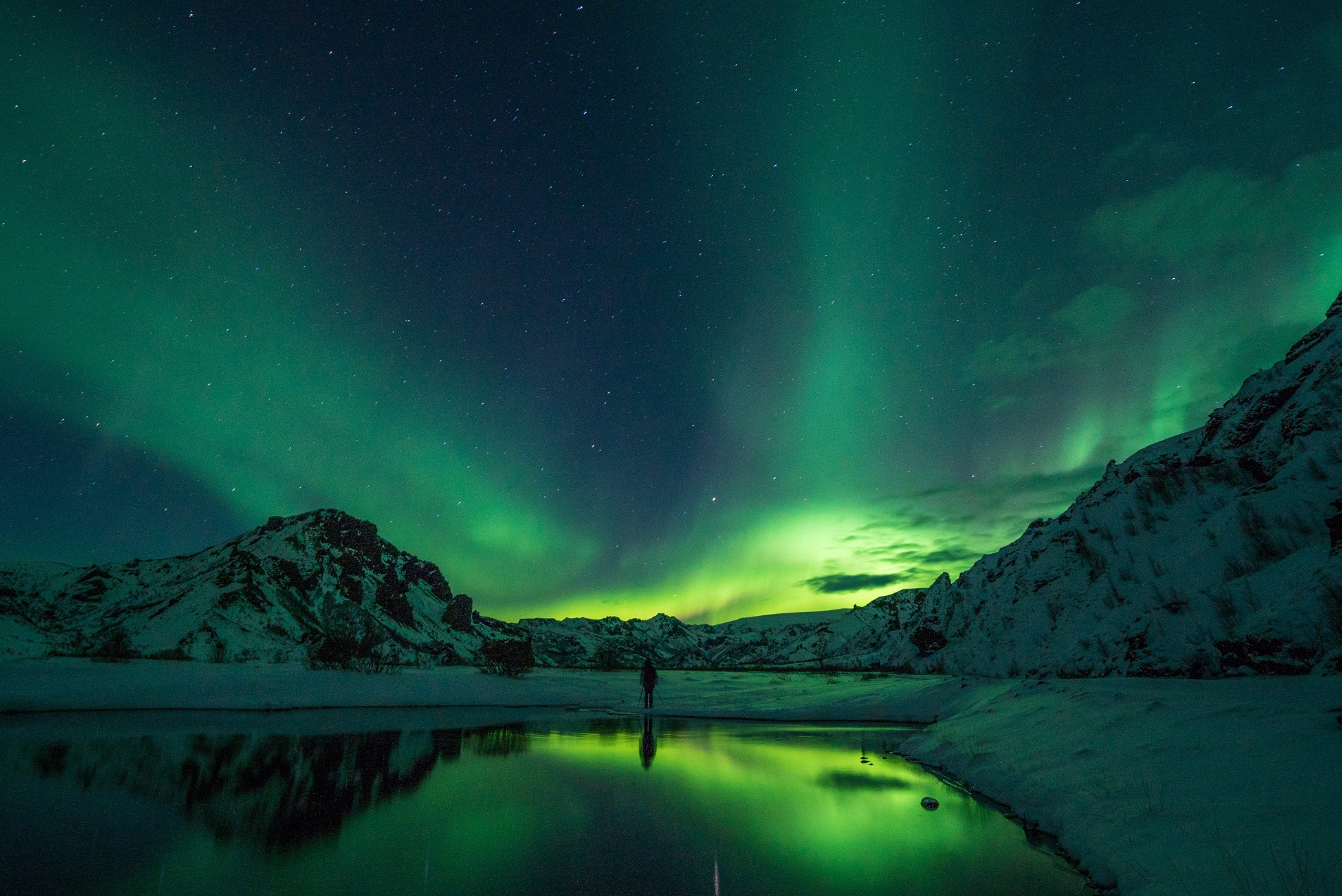 The temptation of witnessing this sky wonder, gracefully dancing over the starry heaven can be achieved with our Northern Lights Iceland tours available online. For starry-eyed gazes, there are a lot of heavenly places to explore and fun things to do for intimate and memorable escapes in the heart of Scandinavia. The natural phenomenon which truly defines the trademark of this land making it an unrivalled identity in the world of travel! The experiences of this quirky land have a vibrant nature which ranges in all possible shades to match every kind of traveller. The distinctive attributes of this land from leisure to adventure trails are so unmatched that they leave you spoilt for varied choices! Plan your Iceland trip for Aurora Borealis this season and cross it off your bucket list soon!