Reading Time:
7
minutes
Having visited Dubai and Istanbul both recently, I personally find both the cities very similar. While both the cities have put themselves on the map of 'Modern Cities of the World' with their development, their heart still lies in the old part of the city which says the story of their history.
Istanbul is one of those places where each different neighborhood is almost a separate city in its own right, and where you could spend a few months and still only scratch the surface. But what if you only have one day?
Whether it is the final stop on your cruise itinerary around the Eastern Mediterranean or if you have a layover while on your way to Berlin, this one-day itinerary will help you get through the city for a perfect day. Make sure you have some currency exchange done at the airport if you are there for a quick layover.
A visit to the city of Istanbul is a complete dip in a totally unique culture, with good gastronomy and many possible destinations. But to live the city in a day, you need to waste no time in heading towards Sultanahmet. Located on a peninsula, this part of Istanbul is the old heart of the city. Formerly Constantinople, it was once an entire city protected by water on three sides and city walls on the other. Today it's only one part of modern Istanbul, but is home to some of its most famous and historic sights all within a short walk of each other.
Although you'd need more than a day to see them all, you can easily combine a few to create your own one-day tour of old Istanbul.
Visit the Blue Mosque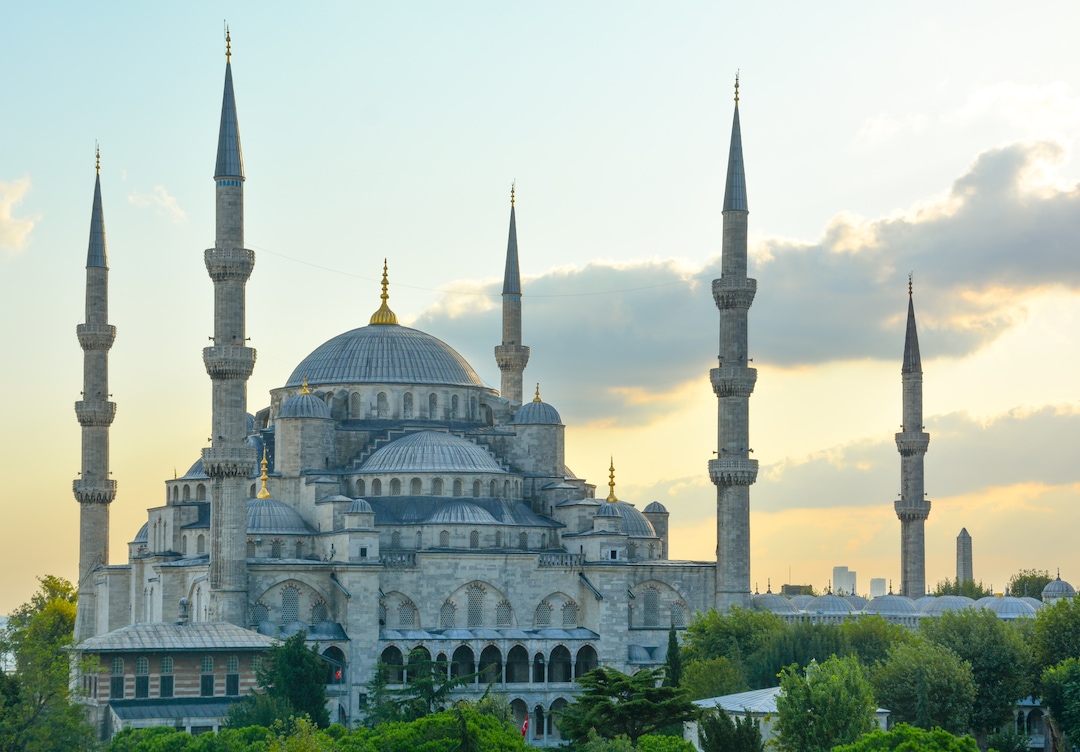 The Sultan Ahmed Mosque – aka the Blue Mosque – is one of the most recognisable buildings in Istanbul, with its minarets visible from across the city. But when it was built in 1609 it caused uproar as it had six rather than the usual four minarets. Legend has it that the architect misunderstood the Sultan when he asked for golden (altin) minarets and thought he said six (alti), ending up with one of the world's grandest mosques. The mosque gets its name from the huge domed ceilings inside that are covered with over 20,000 ornately patterned blue Iznik tiles. Take time to walk around the perimeter of the accessible area of the mosque to view the smaller prayer rooms, including the ones open to women. Chances are you'll see people praying during your time in the mosque and it's a divine experience.
Shop at the Grand Bazaar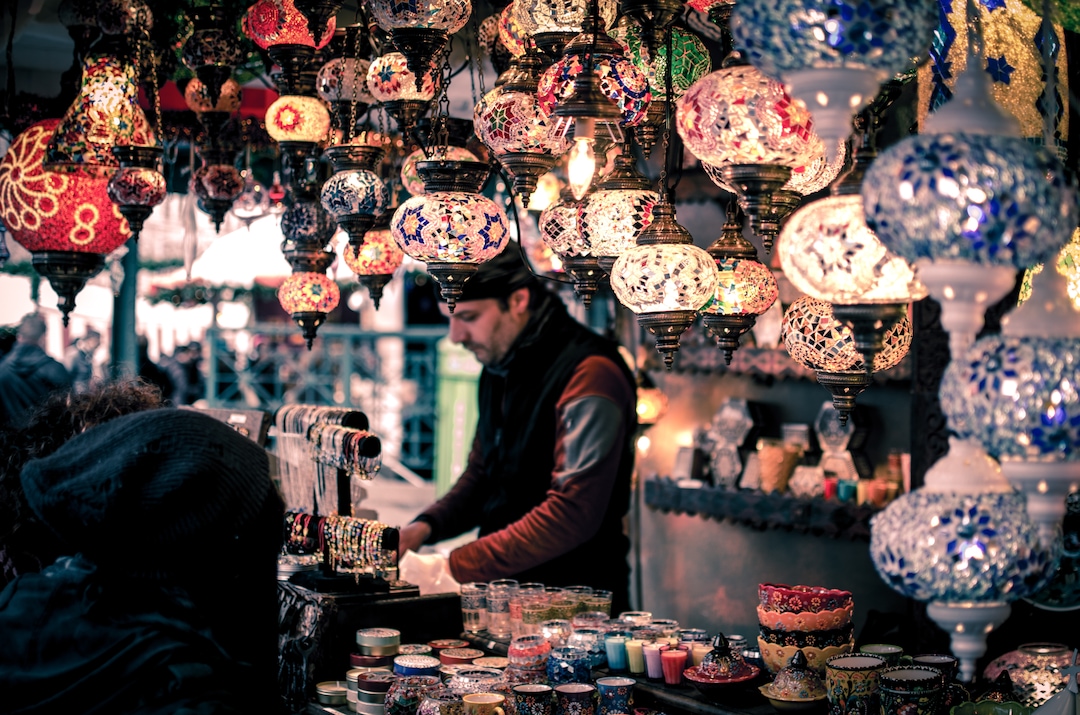 How can a day at anywhere in the world end without shopping? Istanbul's Grand Bazaar is one of the world's oldest and largest covered markets with more than 3000 shops. It started off as a 15th century trading post between Europe and Asia, and has spread into a labyrinth of stalls along twisting and turning narrow streets. It's a colourful and chaotic experience, with a footfall of 250,000 visitors a day. From carpets and leather to ceramics and jewellery, you can pick up a range of local handmade goods. Make sure to bargain when buying anything if you don't want to pay a price of INR 5000 for something that you could buy for INR 500. Pro tip: Do not lose sight of the Exits here or else you are sure to spend one extra hour in finding your way out of the market. And we're sure you don't want to do that when you just have a day at hand.
Experience Royalty in the Topkapi Palace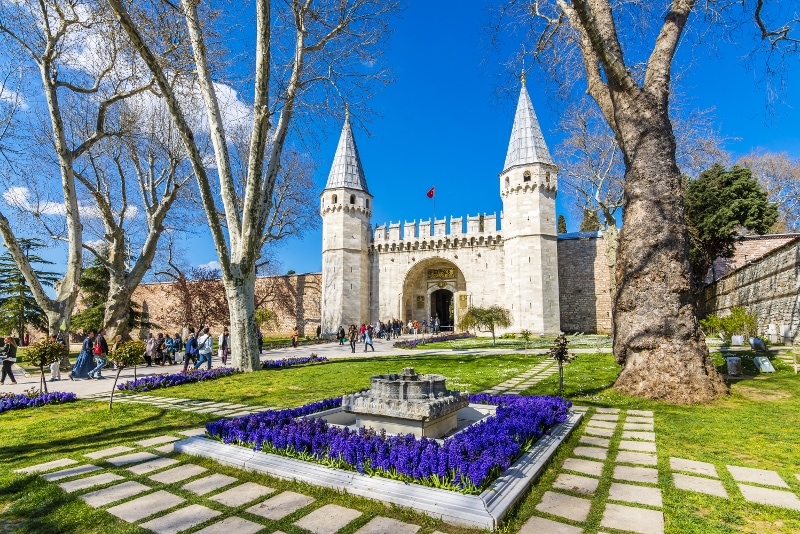 This mid-19th century palace sprawls across a gorgeous part of Istanbul full of flowers and trees and bordering the sea. Due to its expanse and multiple buildings, the palace takes a couple hours to truly see everything and even if you only one day in Istanbul, it is worth it to give yourself time to stop and appreciate the views. Many of the buildings and rooms house ancient artifacts. The Topkapı Palace was the main residence of the Ottoman Sultans for over 400 years. At its peak it housed 4000 people with its own mosques, hospital and mint. It's now a museum, with some of the grandest rooms open to the public. Around four main courtyards you can see treasures like jewellery, calligraphic manuscripts and porcelain. The palace has fantastic views across the Bosporus from its gardens and terraces.
Stroll Through the Basilica Cistern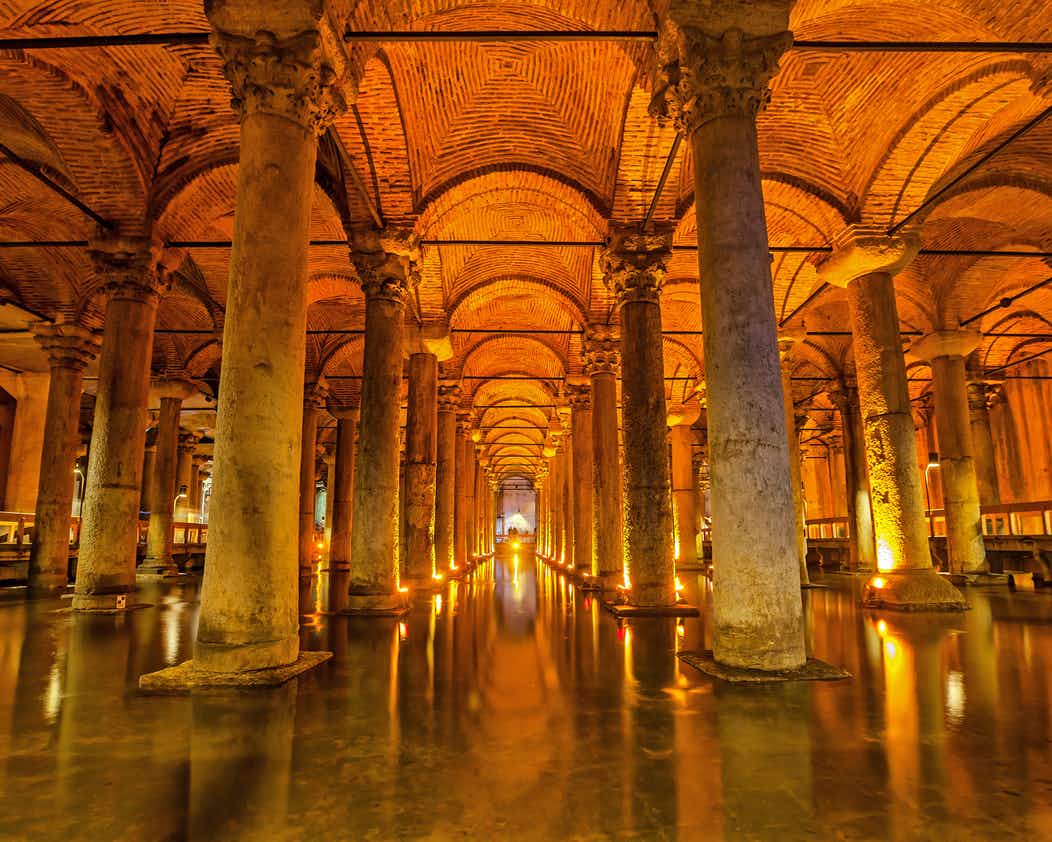 An underground cistern isn't the most obvious tourist attraction, but the Basilica Cistern is not your usual water tank. This subterranean structure was commissioned by Emperor Justinian and built in 532. The largest surviving Byzantine cistern in İstanbul, it was constructed using 336 columns, many of which were salvaged from ruined temples and feature fine carved capitals. Its symmetry and sheer grandeur of conception are quite breathtaking, and its cavernous depths make a great retreat on summer days.
Sail through the Bosporus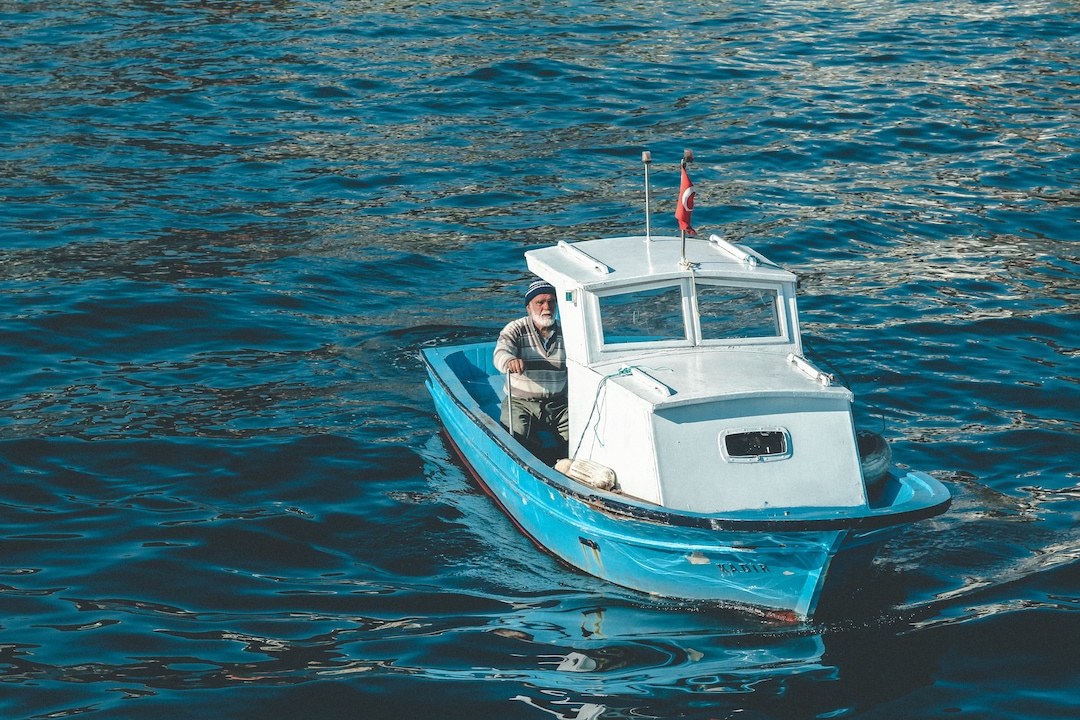 One of the most intriguing things I like about Istanbul is the fact that it is included in both major continents – the Europe and Asia. The Bosphorus Strait is about 20 miles long and divides Asia from Europe, joining the Black Sea to the Sea of Marmara. The shimmering expanse of the Bosphorus strait divides Istanbul's European and Asian sides. Viewing this mesmerising city from one of the many ferries and tour boats that continually cross the Bosphorus offers a new dimension to this destination. The vibrant Bosphorus waterway is a busy commercial shipping route, yet one that is also crossed constantly by passenger ferries and tourist vessels. Viewing Istanbul from the water offers the finest panorama of this amazing city, bringing to life Asian and European cultures and a shore that is lined with palaces, stunning mosques and colourful, majestic public buildings.
Soak in the Beautiful Sunset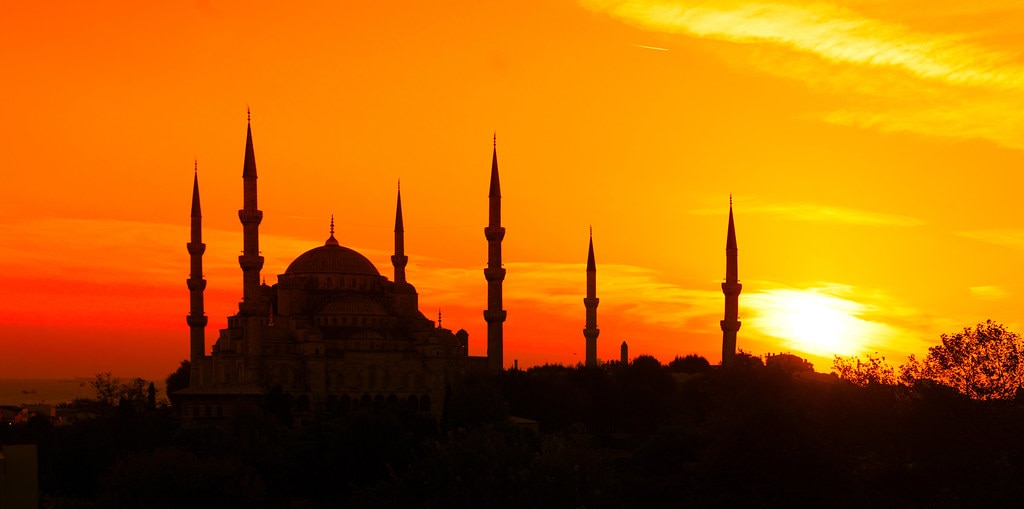 Connecting the old part of Istanbul – Sultanhamet with the more modern Beyoglu area, the Galata Bridge is more than just a way of getting across the water. The current bridge was built in 1992 on the site of three older bridges. Its top level buzzes with constant traffic from cars and trams. But underneath there's another level right on the water, lined with restaurants and quaint little cafes where you can eat and drink all day and night. In the daytime you can watch the fishermen and the ferries going past, and in the evening you can enjoy a drink or a sundowner while the sun goes down forming a silhouette of mosques and palaces. Watch the city lights as the monuments illuminate in the dark and soak in this beautiful city that's all about culture and cuisines – only to come back again for an extended experience.
What Not to Miss Eating on a Day Trip to Istanbul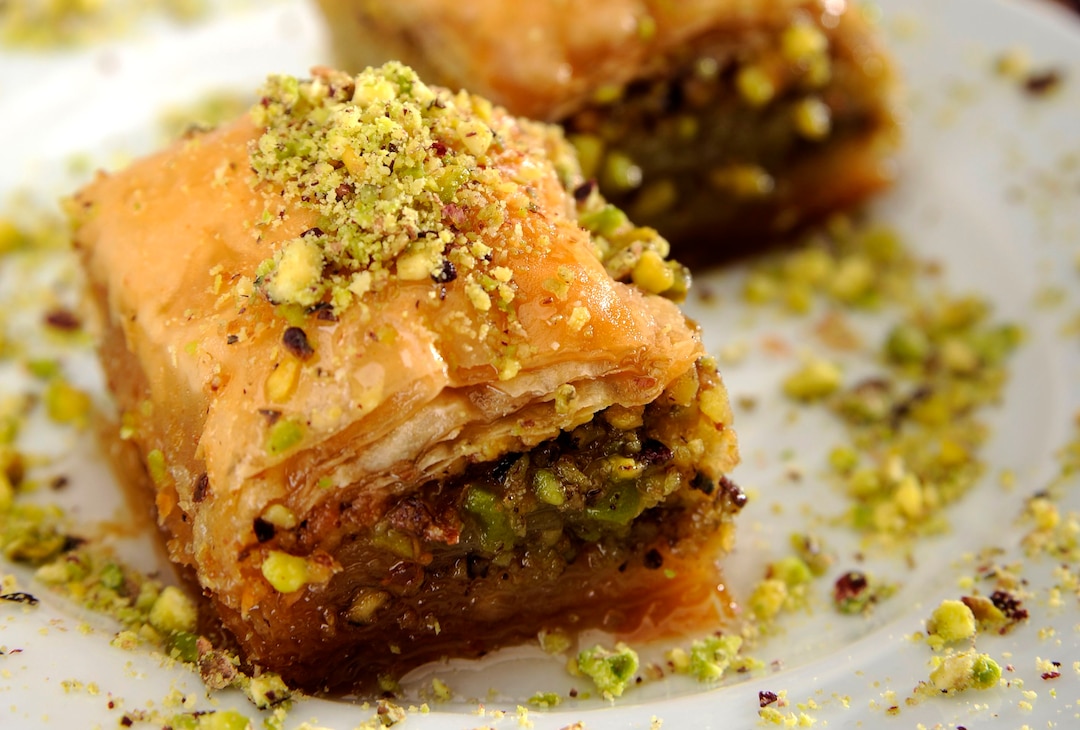 End your day with sunset, but we cannot end this itinerary without giving you tips on what NOT to miss gorging on when in Istanbul – just for a day.
Turkish cuisine is very diverse and world renowned. Istanbul is a melting pot of cultures, and all these influences pleasantly affect the food scene. So, forget about the international (fast) food chain while you're here, and experience real Turkish food. Try delicious Turkish style omlette – Menemen, which comes handy when you're exhausted from all the walking. Turkey serves the best meze which you can try at a number of small cafes and street stalls. Gorge on kebap which is a must if you are a meat enthusiast. It takes its name after the city of Adana, located in the southeast of the country. End your one-day trip with a plate of baklava – a sweet dish which is the Turkish dessert.
THINGS TO KEEP IN MIND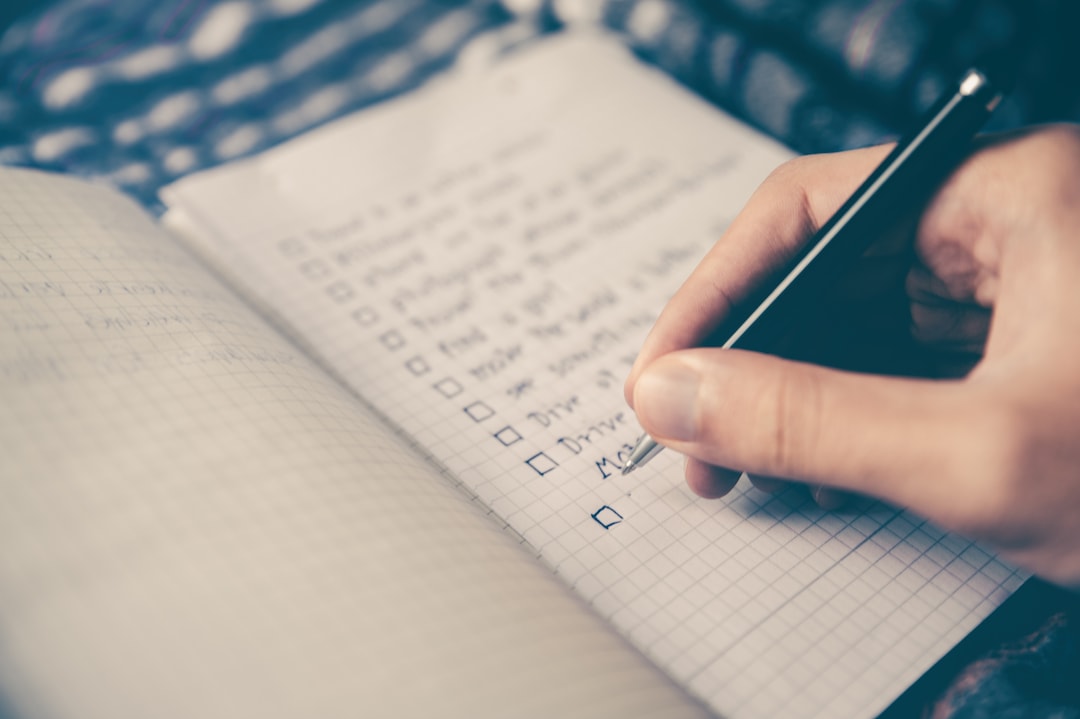 Get a Turkish visa – You need a visa to get out of the airport, even if it's just for a day. Good thing: you can get an e-visa online!
Plan it right – Get to know what days things are open and what days they're not. You can refer to these interesting Turkey itineraries and packages for the same.
What to bring – Do not forget a scarf if you're a woman because entry to the mosques require covering your head. Also do not wear shorts or skimpy clothing or pack an extra pair of tracks or pants if you are going to visit the mosque.
Getting money – Before you leave, call the bank that issued you your debit card or the travel, and tell them that you will be traveling to Istanbul and using the card.
Currency exchange – Make sure you have some cash in hand from the airport's currency exchange kiosk as most of the street stalls or ferries won't accept card.
Written by: Aashima Kadakia
Creative ninja and a true follower of 'Work, Save, Travel, Repeat', I love to travel, experience places and bring back stories for a lifetime. Born and brought up in Ahmedabad, I like to visit the same old places, the same cliched tourist spots and destinations, but choose to see the unexplored in the old places. Always inclined towards the mighty mountains in their debate with the beaches!