Reading Time:
11
minutes
Prague is one of Europe's most beautiful cities and is ideal for a lovely weekend getaway. Prague is famous for its opulent Baroque, Gothic, and Early modern architecture. It has one of Europe's best-preserved historic hubs, hundreds of cultural sites worth seeing, and millions of tourists visiting each year. If you're looking for a European vacation spot that combines natural beauty, heritage, cultural legacy, and lively nightlife, you've chosen the right destination. There are many stunning and remarkable places to visit in Prague. If you're wondering where to stay in Prague in 2022, here are some of the best hotels in Prague. Stay at one of these and you'll have a fantastic time in the city.
Radisson Blu Hotel Prague
This modern hotel in a regal old building features Art Nouveau aesthetic appeal and a slew of premium amenities for guests. The Radisson Blu Hotel Prague, located between New Town and Old Town, is close to a variety of shops and restaurants. A 20-minute walk will take you to the Charles Bridge, Old Town Square, and the Astronomical Clock. The sights of Old Town are also not far away. The Radisson Blu Hotel in Prague is built in an authentic Art Nouveau building with perfectly preserved features that blend with modern touches.
In 2019, the entire place was carefully renovated with traditional elements. The 160 rooms and suites feature a stunning combination of modern design, an upscale colour palette of grey shades and navy blue, and natural stone and copper accents. Air conditioning, flat-screen televisions, individual climate control, a seating area, coffee and tea-making machines, and high-speed Wi-Fi are standard in all rooms.
Grandium Hotel Prague
Located in the heart of Prague, just steps from Wenceslas Square. Grandium Hotel Prague is a nature-themed upscale hotel that is excellent for young couples. The traditional facade of this hotel contrasts sharply with its modern interiors. Regardless of this oddly complimentary aesthetic contrast, guests are pampered with first-rate amenities and beautifully styled rooms. The Grandium Hotel Prague is a Prague hotel with spacious rooms decorated in a clean and regal modern style. The use of neutral colour palettes and large windows creates a light and airy atmosphere.
With crisp white linens and grey headboards, modern IKEA-style furniture surrounds beds. Noodles, the hotel's lovely in-house restaurant, serves multi-cuisine with indoor and outdoor seating options on warmer days. Guests can exercise in the on-site fitness room, which has cardio and weightlifting equipment. Grandium Hotel Prague is conveniently located near some of the city's most popular entertainment and cultural sights. The Powder Tower, Old Town Square, and the Church of Our Lady are all within a 15-minute walk.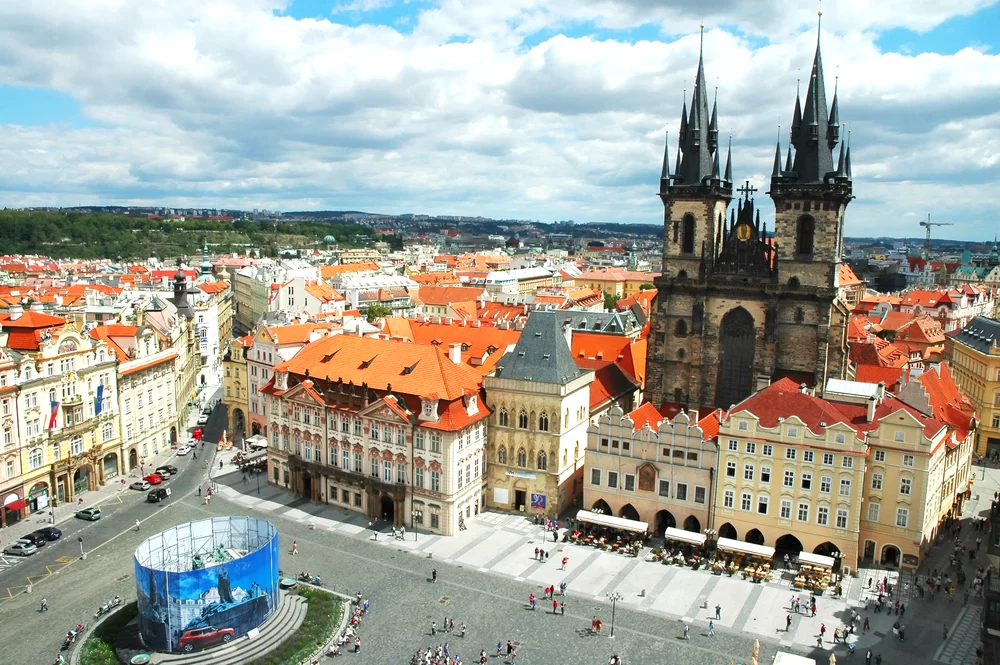 Hilton Prague
The Hilton Prague is a powerful presence on the banks of the Vltava River. This enormous deluxe hotel in central Prague, part of the Hilton group, is commonly visited by business travellers. This contemporary hotel is situated between the business and historic districts of the capital city. Only a five-minute drive away from Hilton Prague is the historic Old Town.
You can spend a few hours exploring the city's tourist attractions, shops, and eateries. Other attractions, such as Prague Castle and the Charles Bridge, can be reached in less than 10 minutes by car. The Hilton Prague Hotel, similar to other Hilton hotels, has modern interiors with a dash of refined decor. With its huge auditorium, ascended glass ceiling, and ample greenery, the lobby feels like a majestic outdoor courtyard.
Hotel Novotel Praha Wenceslas Square
The Novotel Praha Wenceslas Square is a contemporary, non-smoking hotel with recently renovated public areas. The hotel is located in the historic district of Prague, a 5-minute walk from Wenceslas Square, the National Museum, and the Prague Convention Centre. The hotel is ideal for both leisure and business trips, with free Wi-Fi and four meeting rooms. After a long day, freshen up in the gym, indoor swimming pool, and sauna, as well as the bar and restaurant serving international and local cuisine.
Best Western City Hotel Moran
Best Western City Hotel Moran in Prague is a captivating 4-star property nestled within walking distance of the Vltava River and Karlovo Namesti. It is located in a calm and peaceful area. Couples and families are drawn to this hotel by its Victorian architecture, splendid views of the city, proximity to major public transportation and popular tourist attractions. Guests can enjoy a wholesome breakfast from the hotel's abundant American breakfast buffet, which also includes six different types of coffee, ranging from Italian cappuccinos to continental filter coffee.
There is a mini market on-site, as well as vending machines for refreshments for guests. The hotel also has a gift shop for those looking for souvenirs to take home to friends and family. The accommodations' elegance, beauty, and ambience simply add to the hotel's serene and peaceful atmosphere. A garage is available across the street (with an extra charge) from the hotel for guests who bring their own cars.
Four Seasons Hotel
This 5-star hotel admiring the Vltava River is located on a busy street on the outskirts of the Old Town and exudes royal charm. The entire property is made up of four interconnected buildings. The Four Seasons Hotel Prague is conveniently located near several of the city's main attractions, including Old Town Square and Wenceslas Square, which are both less than a 10-minute walk away.
The rooms are spacious and elegant, with many upscale amenities that discerning guests will undoubtedly appreciate. Traditional touches such as thick carpets and crystal chandeliers can be found in all 157 rooms. Flat-screen TVs, DVD players, coffee machines, and well-stocked minifridges are among the standard amenities. The more expensive rooms include extras like flat-screen TVs in the bathrooms and stunning views of the Prague Castle and Vltava River.
Holiday Inn Prague Congress Centre
Hotel Holiday Inn Prague is a breathtaking 4-star property located near the Vysehrad Castle in the heart of Prague. This hotel, with its well-kept gardens and wonderful views of the city, attracts both leisure and business travellers looking to explore the city's uniqueness. The hotel has luxury rooms and suites that are decorated in colonial brilliance. The warm-toned decor, combined with modern amenities, sets up a sumptuous ambience for guests.
At this upscale property, guests can expect incredible luxury and hospitality. The Hotel, which is close to Wenceslas Square and Old Town Square, facilitates guests to make the best of their trip. The Vaclav Havel Airport is 12.5 kilometres away from the hotel, and guests can reap the benefits of airport shuttle services to make travel easier.
Corinthia Hotel
Right next to the 5 Kvetna, another of the city's major streets. The Corinthia Hotel Prague is conveniently located near Vysehard Castle and the Prague Congress Center. The Charles Bridge, the Prague State Opera, and the Old Town can all be reached in under 20 minutes by metro.  The sleek exterior of this hotel reflects the business-like atmosphere found inside.
Marble floors, wooden sections with mirrored doors, opulent chandeliers, and printed carpets grace the lobby. The rooms have a more understated design with tan carpets, large windows with beautiful city views, curtains, and a seating area. Here, dining options range from lavish breakfast buffets to impressive salads and croissants. Head to the award-winning Rickshaw for Asian food culture or The Grill for the global grilled fare.
Prague Marriott Hotel
On the outskirts of the capital city's Old Town, this business-chic smart hotel offers travellers spacious, advanced rooms as well as a variety of corporate attributes for meetings and events. The interior design is sleek and modern, with neutral colours, marble floors, decorated carpets, and wonderful armchairs that add pops of colour. Storage safes, flat-screen TVs, minifridges, coffee and tea-making amenities, ironing services, and bathrobes are standard amenities. While there are no wellness facilities at the Prague Marriott Hotel, guests can relish a comfortable, well-equipped fitness centre with weight-training and cardio equipment.
This hotel has many dining options and business services, making it an excellent choice for business travellers. The Midtown Grill Restaurant serves traditional American fare, while the Bourbon Bar serves martinis, bar chow, and fine wines.  You are also relatively close to a number of Prague's best shopping facilities. Palladium shopping centre and Parizka Street are both within a 10-minute walk and are excellent shopping locations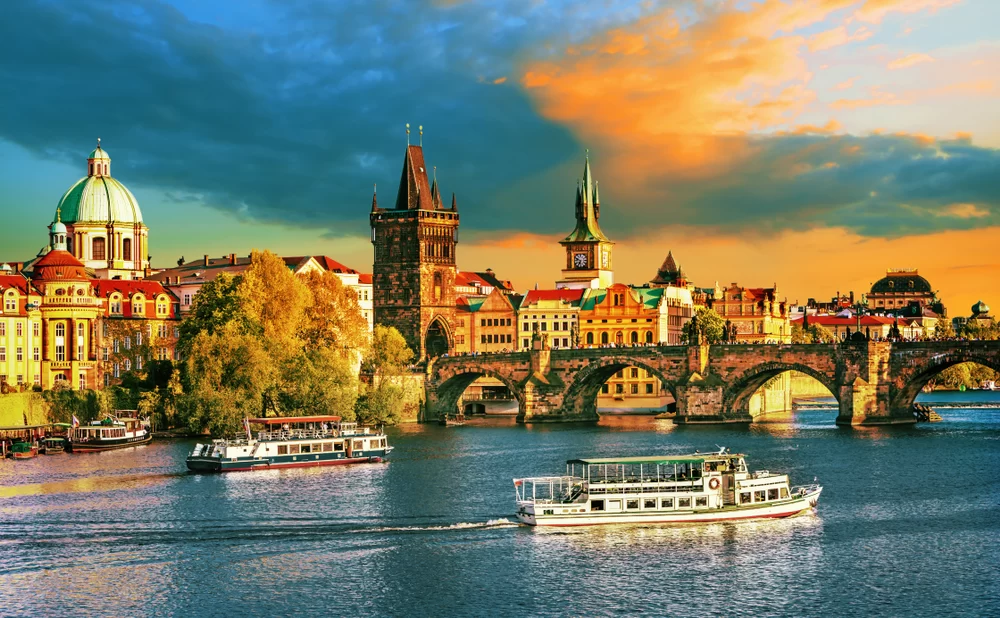 Prague has it all – lavish five-star hotels, fine dining restaurants, and exquisite excursions. You can take relaxing walks through the Old Town, take a riverboat ride, or participate in active sports. The above-mentioned hotels in Prague will help you to choose where to stay in this beautiful city. Book your Prague tour with us and enjoy your trip to this wonderful city!