Reading Time:
12
minutes
"A concerted effort to preserve our heritage is a vital link to our cultural, educational, aesthetic, inspirational and economic legacies; all of the things that quite literally make us who we are" – Steve Berry
When we talk about India, the first thing that comes to our mind is its rich culture and heritage! A diverse country with traditions as old as time, India has had a colourful history with Emperors, Maharajas, Shahanshahs, Sultans and Nizams. Their luxuriously grand palaces are just cherry on top of the metaphorical cake that is their legacy and equally opulent way of living and lavish lifestyle. But as time passed, many of these havelis turned to ruins due to lack of attention and neglect in maintenance. We, however, have picked out a few 'Heritage Hotels' which were grand palaces, fortresses, forts once and just could not be allowed to turn into dust. They were harnessed and developed from their shells to reflect not just the modern and contemporary features of our society today, but in fact, to display the cultural wealth that our royal history left behind.
Let's have a look at 6 Heritage Hotels that were carefully preserved, renovated and created from the magnificent forts and palaces of India:
1.) Taj Faluknama Palace, Hyderabad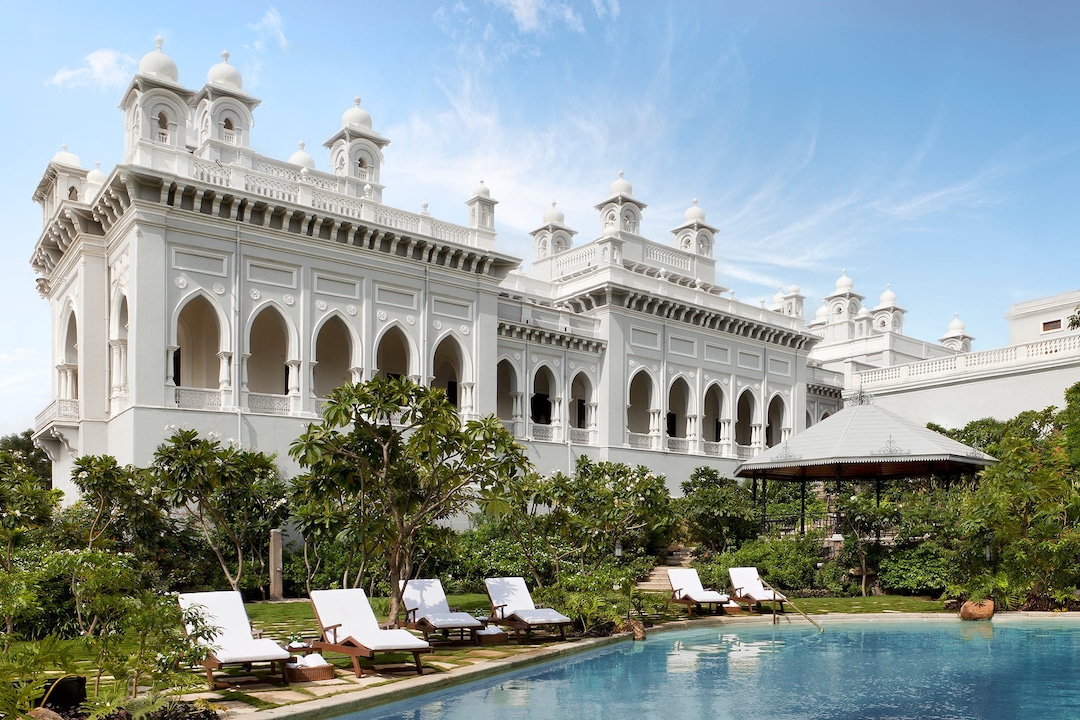 Nestled high up on a 2000-foot hill, overlooking the beautiful city of Hyderabad is the Falaknuma Palace – 'Palace in the Sky'. This stunning palace was built in 1894 by Nawab Vikar-ul-Umra, the then Prime Minister of Hyderabad and the brother-in-law of the 6th Nizam of Hyderabad, Nizam Mehboob Ali Khan Bahadur. The Nawab called in an English architect to get the best design for this dreamy palace. It took 9 years to complete this stunning palace and furnish it. The Nawab gifted this palace the Nizam in late 1897. In the 1950s, the marvel of the palace faded away due to poor maintenance. It wasn't until 2010 that this palace was restored after being leased to the Taj Group of Hotels. It was managed by Her Highness Princess Esra Jah, first wife of the 8th Nizam. The Taj Group of Hotels restored it to its full glory and the stunning palace reopened its doors as a Heritage Hotel in November 2010. The palace has 60 rooms, 22 halls and a beautiful collection of the Nizam's artefacts including paintings, statues, furniture, manuscripts, books and an extensive jade collection! The Heritage Hotel also hosts a live Sufi performance every evening. Enjoy soulful music while you look out at a stunning view of the Hyderabad city!
2.) Neemrana Fort Palace, Alwar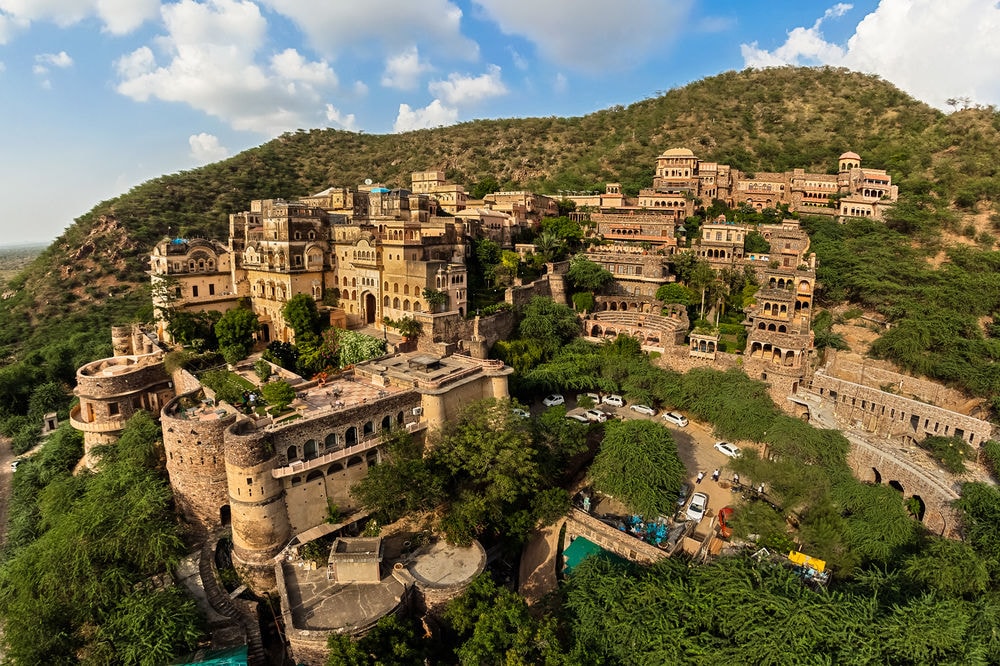 At a distance of about 125 km from Delhi is one of the oldest Heritage Hotels in India, the Neemrana Fort Palace. Located on the Delhi-Jaipur highway in Alwar, Rajasthan and built in the year 1464, Neemrana Fort was the 3rd capital of the descendants of Maharaja Prithviraj Chauhan III. However, due to neglect, the fort had lost its grandeur and was beginning to give way, by the year 1947. After decades of neglect, Neemrana fort was acquired for restoration in 1986. And finally, in 1991, Neemrana Fort stepped out of the shadows of history in its new incarnation as a heritage hotel. Restored to its previous grandeur and beauty, Neemrana fort now houses 72 rooms/suites with beautiful rampart gardens. Nestled in the Aravalli ranges, it offers its guests the most iconic and stunning views from its roof-top gardens! It is a destination in itself and guests can enjoy activities like zip-lining around the fort.
3.) Kathiwada Raaj Mahal, Kathiwada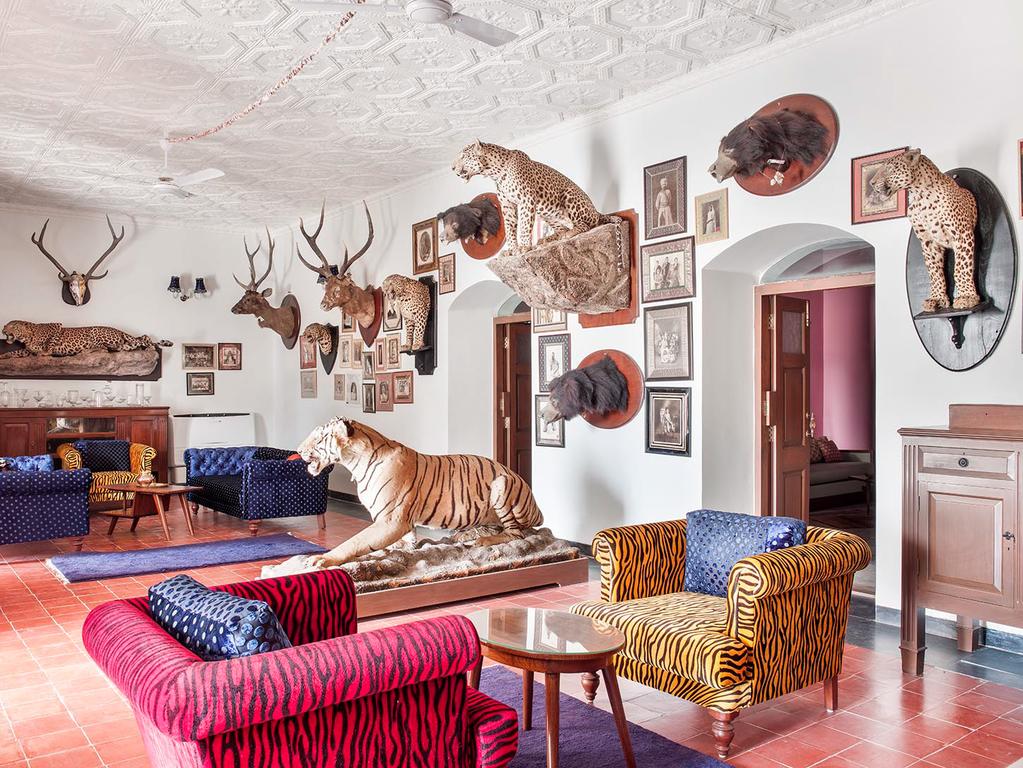 Built in 1895, the Kathiwada Raaj Mahal is the palace of the Kathiwada royal family and was originally used as a hunting lodge. This ancestral property is located in Madhya Pradesh, just a 2 hour's drive from Vadodara. It was bequeathed to the late Yuvraj Bharat Sinhand and his wife, Sangita Devi Kathiwada at the time of their marriage. The grand Mahal fell into decay due to years of neglect, and finally, in the year 2007, Sangita Devi Kathiwada and her son Digvijay Sinh began the restoration of this magnificent hunting lodge. They brought in Professor Rabindra Vasavads, conservation expert of the Indian National Trust for Art and Cultural Heritage (INTACH). Skilled artisans were called in from the states of West Bengal, Gujarat and Rajasthan to fortify the Mahal. Covering an area of 181 sq.km of dense forest, the Kathiwada Raaj Mahal is surrounded by the Vidhya Ranges and offers spectacular views in every direction. The walls of this beautiful palace are adorned with hunting trophies. Today, the heritage hotel is home to some incredible pieces of Art Deco furniture and a suite of 36 original pieces of Wedgewood furniture and an antique Japanese bridal bed!
4.) Raas, Jodhpur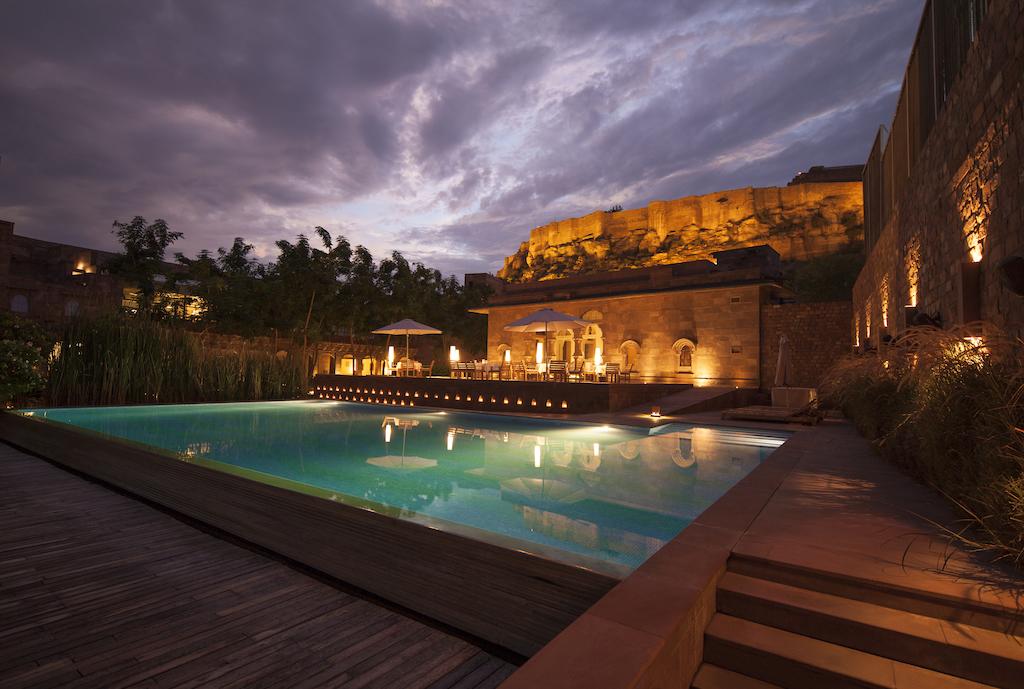 Originally built in the 18th century, the fortress of Raas is situated in the Walled city of Jodhpur and surrounded by the magnificent Mehrangarh's Victory Gate and Palace. At the time of its construction, the royal fortress consisted of four buildings which were built using Jodhpur's very famous 'rose-red' sandstone. The first building was the residence of the Thakurs while the last building constructed served as an entertainment zone to the Thakurs. The second and the third building complexes consisted the Dari-Khana also known as the 'Chamber of Carpets', a tiny temple and the horse stables. The Chamber of Carpets was used to accommodate the royal guests of the Thakurs. The fortress is built in a typical Rajput architectural style with intricately carved stone panels to antique shrines and beautiful arches. The Raas today includes 39 rooms and suites delectably designed to give a royal feel to all the guests. The original stables have been converted into a cosy corner for reading and relaxing. The Raas is known to provide views of the majestic Mehrangarh fort and reflects a rich heritage and history of Jodhpur.
5.) Ranvas, Nagaur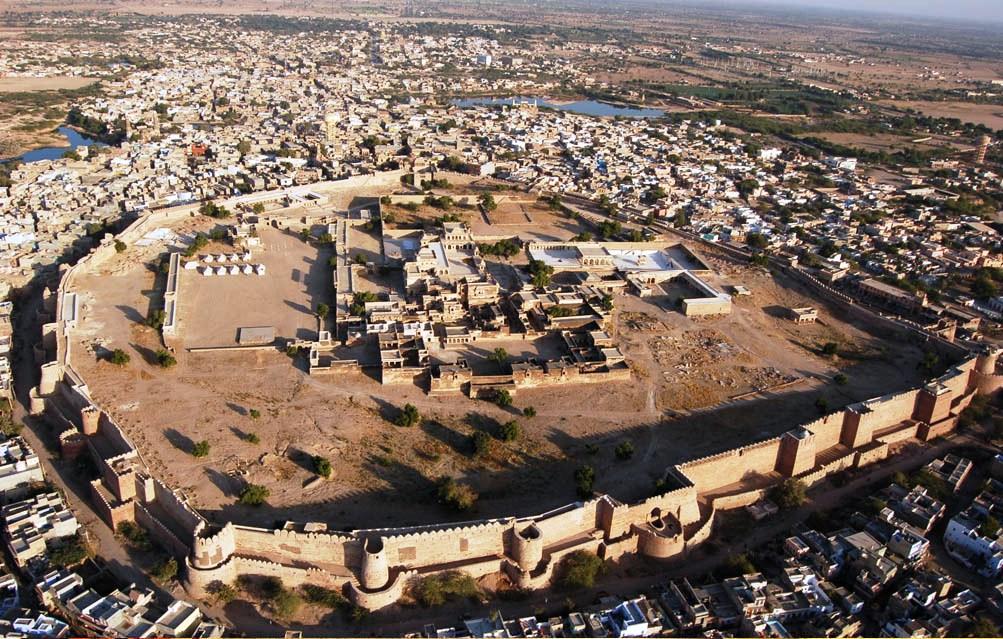 A 12th-century haveli, Ranvas was the former zenana (women's quarters) of the mighty Ahhichatragarh Fort. The Maharaja of Jodhpur, Maharaja Bakhat Singh had 16 wives and hence he built the Ranvas haveli for all of his wives. It was also known as the Abode of Queens. Located in the town of Nagaur, this haveli is a short drive from the Thar Desert.  The construction of this haveli took 20 long years and each queen had her own haveli. 300 years later, this haveli was turned into a lavish heritage hotel with a beautiful blend of rural and authentic elements of the state for the 21st-century traveller.  This beautiful property spans across 35 acres and includes decorated halls, temples and gardens with peacocks strutting by! Of all the havelis, 10 have been restored and has 3 rooms or more, totalling around 30 rooms and suites. Each of the rooms has a quaint 18th-century charm and yet do not lack in any modern convenience. Each haveli is accessed via a narrow alleyway. And for history lovers, there is a museum next door for a quick lesson! The Ranvas portrays Jodhpur heritage's interesting climax.
6.) Fort Jadhavgadh, Maharashtra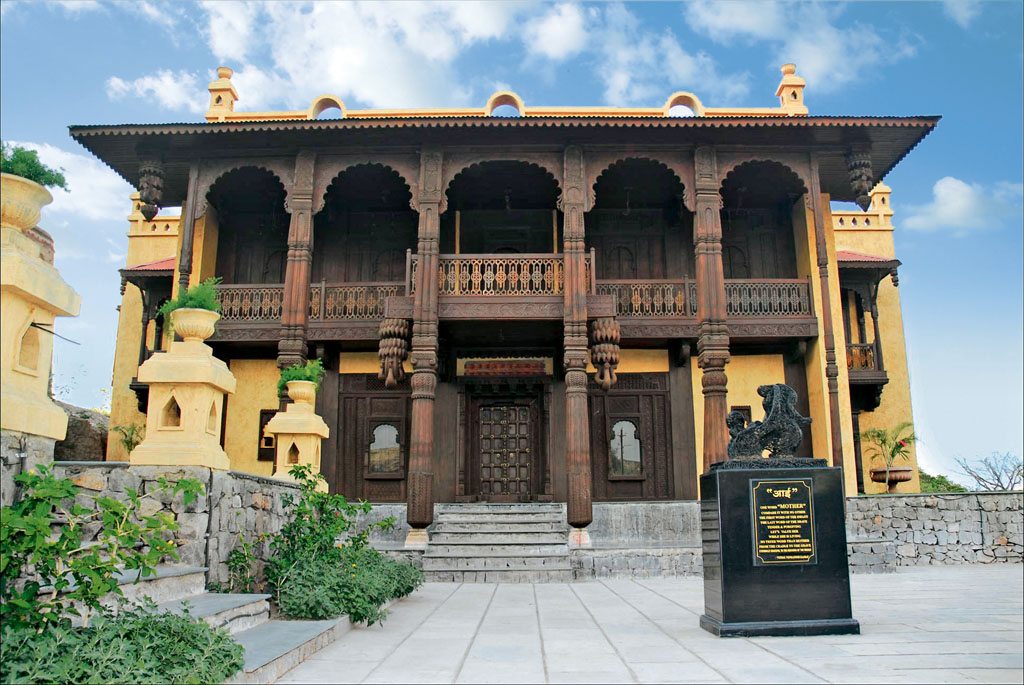 The only one of its kind in the prosperous state of Maharashtra! The legendary Fort Jadhavgarh is one such fortress that takes you on a remarkable journey through 300 years of history. Experience the luxury and grandeur of the Maratha rule that resonates in every aspect of this fort. This strong fortress was built by Pilaji Jadhavrao, a brave Maratha war general in the army of Chhatrapati Shahu Maharaj. Pilaji was instrumental in rallying forces across Jadhavgadhi and Saswad near Pune to fight against the Mughals. It was due to the efforts of brave warriors like him, that Chhatrapati Shahu Maharaj was able to rule the Maratha Empire, thereafter. The fortress that Pilaji left behind is as strong-willed and well-fortified as Pilaji himself! This is quite evident from the tagline of the fort-turned-heritage hotel that claims 'Ladh, Jhagadh, Aage Badh…' which means 'Fight, Struggle, Keep Moving Ahead…'! Located just 22 km away from Pune, this heritage property is well-equipped with 58 rooms that include royal suites, royal tents, deluxe rooms, neem cottages and 3 delightful restaurants – Paytha, Chhajja and Aangan. Fort Jadhavgarh also houses a museum and offers perfect opportunities for tourists to experience the Maratha way of life with various traditional activities. What's more? This hotel has become a favourite weekend getaway from Mumbai & Pune, a popular one-day picnic destination, the perfect venue for hosting corporate events and an ideal location for a spectacular destination wedding!
For history lovers, India is a gold mine! With historical sites, luxurious palaces, formidable forts and fascinating stories and legends, it is just not possible to stay away from this beautiful land. And with such magnificent forts turned into heritage hotels, it is now time see the royal life for yourself. So, live life king-size and experience these opulent spaces that offer a window back into the royal times!
*Co-Authored By Rasika Wakankar                                                                                                        *Feature Image Courtesy: tajhotels.com