Reading Time:
11
minutes
Fascinating history and intriguing mythology meet at the crossroads of this beautiful hill station bordered by the holy Ganges and Yamuna river, one of the most popular destinations for family and backpackers in the country. Just 240 km away from Delhi, nestled in the picturesque Doon Valley, Dehradun is surrounded by high mountains and dense Sal forests. The city is known for its pleasant year-round weather and scenic surroundings. The capital city of Uttarakhand is a gateway to several popular hill stations around Dehradun like Mussoorie and pilgrimage sites like Haridwar and Rishikesh.
One of the oldest cities in the country, Dehradun is a beautiful blend of unparalleled landscape and modern amenities. Once a retirement haven, today it buzzes with travellers coming from all parts of the world. Quaint cafés and lounges serving hot chocolate and brownie, rub shoulders with heritage monuments and bazaars. Being a shopper's delight, the city has several markets, streets, and shopping malls where you can spend time and take back souvenirs to gift your friends and family.
When to visit?
Dehradun is pleasant throughout the year but is ideal from March to June and October to December if you are planning to book your itinerary for the Uttarakhand tour package. The city is surrounded by numerous beautiful hill stations near Dehradun within 100 km that offer some of the most spectacular sights and Himalayan adventure that one may seek. Some visit these hill destinations to relax their mind and bodies and restore their energy while some visit to take a plunge into a world of adventure.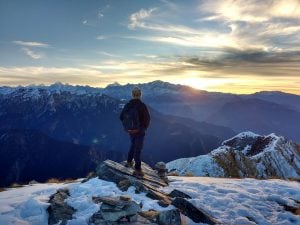 Let's have a look at what all is there to discover in these tiny pieces of paradise for a mountain adventure.
1. Mussoorie – Queen of the Hills
Perched atop a mountain valley in Uttarakhand, Mussoorie is one of the most captivating and nearest hill stations to Dehradun. The hill down attracts a considerable influx of tourists every year with its majestic hills, old-world colonial architecture, stunning waterfalls, blooming diversity of flora and fauna, and enchanting landscapes. Mussoorie is the best hill station near Dehradun that provides an ideal escape for leisurely travellers and honeymoon couples from the unforgiving heat in the plains in summers and an ethereal white wonderland in winters. The Queen of hills, Mussoorie overlooks the alluring Doon valley and is a perfect spot for trekking and adventure sports.
Things to do in Mussoorie: Ropeway rides, Sky Bridge, trekking, rafting, paragliding, shopping
Distance from Dehradun: 34 Km
Famous for: Trekking
2. Lansdowne – Newly Added Treasure
The hill station Lansdowne near Dehradun is located on the Kotdwar-Pauri road. This beautiful hill station was known by the name of Kaludanda during the British colonial rule and is one of the closest hill stations from Dehradun. Travellers can visit temples, indulge in jungle safari as well as enjoy bird watching in the tranquil ambience of this hill station. If you're looking for a place to relax, then you'll love a visit to Lansdowne for its leisurely walks and lazy sunsets.
Things to do in Lansdowne: Camping, boating, nature walks, birdwatching
Distance from Dehradun: 159 km
Famous for: Camping
3. Kasauli – The Coziest Hill
This pretty cantonment town is one of the most peaceful places to visit in Uttarakhand. This town offers the perfect blend of Victorian-era buildings and lush green mountains to tourists, leaving them awe-inspired. These structures from British times exude colonial vibes and simply transport you back to the old colonial times. The mystical and magical ambience present in Kasauli is enough to make one embrace a serene vacation away from the bustles of life.
Things to do in Kasauli: Shop at Mall road, visit Timber Trail, Monkey Point, Sunset Point
Distance from Dehradun: 181.4 km
Famous for: British colonial vibes
4. Dhanaulti – For Cloud Kissed Valleys
A small but one of the beautiful places near Dehradun, Dhanaulti sits amid lofty Himalayan peaks and cloud-kissed valleys. Earlier it was just a serene pit stop for solo travellers engaging in longer journeys in Uttarakhand, but now it has turned into a holiday destination in itself. Located around 2,286 m far away from the city's hustle-bustle, Dhanaulti's handful of beautiful valleys offer solitude and peace to nature lovers. For those looking for nothing but relaxation amid hills, Dhanaulti makes up for some of the best-unexplored hill stations in Uttarakhand.
Things to do in Dhanaulti: Camping, trekking, flying fox, river crossing
Distance from Dehradun: 36.5 km
Famous for: Trekking
5. Rishikesh – White-Water Paradise
Rishikesh is one of the major pilgrimage destinations in India. Soak yourself in the charm of the glistening Ganges and immerse in the deep chants of Hindu prayers that touch the soul. The scenic backdrops of the holy place tend to refresh the senses with the myriad adrenaline-pumping adventures that it offers. Often a highlight of most Uttarakhand tour packages, Rishikesh is a fusion of thrill and piousness. It is the best hill station near Dehradun, for adventure activities like river rafting and cliff jumping, as well as pilgrimage.
Things to do in Rishikesh: River rafting, bungee jumping, camping, flying fox, cliff jumping
Distance from Dehradun: 45 km
Famous for: Water sports
6. Uttarkashi – Spirituality All-Around
Often named Devbhoomi, Uttarkashi is among the most spiritual towns of Uttarakhand. It is a quaint town that is famed for being home to two out of four holy shrines according to Hindu mythology. The divine town attracts devotees under the divinity and the remarkable experience that it has to offer. Apart from embracing a religious significance, the town is also famous for spectacular adventurous trekking opportunities to thrill-seekers. Uttarkashi is yet to be touched by industrialism, which is the best thing about this spot.
Things to do in Uttarkashi: Visit Dodital Lake, Shakti Temple, Nachiketa Lake, Dayara Bugyal Trek
Distance from Dehradun: 144 km
Famous For: Hindu landmarks
7. Har Ki Dun – The Absolute Escape
Commonly known as the 'valley of gods', Har Ki Dun is a paradise on earth for nature lovers and spiritually inclined travellers. This is the town where one can simply feel an essence of spirituality exuding from every nook. The hills are covered in thick towering pine forests that are a treat for the eyes and soul of many. Har Ki Dun is one of the remotest areas of Uttarakhand and hence among the perfect hill stations near Dehradun for those who wish to do something off track. The rustic lifestyles of the locals here add to the charm of this spot.
Things to do in Har Ki Dun: Trekking, visit Robber's Cave, Mindrolling Monastery, Tapovan Temple, Lachhiwala
Distance from Dehradun: 98.7 km
Famous for: Sprawling valleys
8. Chamba – Boasts About Pines And Deodars
This beautiful place is just 90 km away from Dehradun and is a source of awe for many travellers. The town is home to beautiful forests of pines and deodars, which look beautiful when the sun shines over them. It is very similar to Mussoorie but is quiet and without the throngs of crowds. Hence, it is an excellent place to relax and wash off the hustle-bustle of cities.
Things to do in Chamba: Visit Surkanda Devi Temple, Ranichauri, New Tehri,
Distance from Dehradun: 89.0 km
Famous for: Pine forestations
9. Kanatal – Picturesque Suburb
Snuggled on the Chamba-Mussoorie road, Kanatal in Uttarakhand is unbeatably a picturesque suburb that boasts incredible scenic views, striking greenery, and bountiful adventure activities. Though it's not as popular as other hill stations near Dehradun, it makes up for that with its peaceful environment and untouched landscapes. It's also a great place for various adventure activities if you enjoy nature and a little thrill. So, if you are looking for a getaway that offers solemn peace and a bucket full of adventure, plan your weekend to Kanatal and discover why it's among the best hill stations around Dehradun.
Things to do in Kanatal: Trekking, valley crossing, camping, rock climbing, rappelling, jungle safari
Distance from Dehradun: 76 km
Famous for: Adventure sports
10. Chakrata – Offbeat Hills
Chakrata is a gorgeous hill station in Uttarakhand surrounded by the Himalayan range on top of the Yamuna valley. Known for its lush green pine forests, caves, and ancient temples, this small place is among the most famous hill stations near Dehradun. The hill town is located at a height of 7,000 ft and serves as a popular picnic spot for those who are looking down upon the Yamuna valley.
Things to do in Chakrata: Trekking, skiing, birdwatching, cave tours, river rafting
Distance from Dehradun: 88 km
Famous For: Waterfalls
You might not realize how much beauty lies in the mountains of Uttarakhand in the first instant. These stunning lush green hill stations near Dehradun will allow you to discover a large part of its charm. If you wish to relax and enjoy Uttarakhand sightseeing, book your trip right away and begin exploring!