Reading Time:
5
minutes
Dubai is a very futuristic city with innovations and developments cropping up on the basis of ideas, which are quite ahead of their time. This futuristic land which seems straight out of a magic lamp is often seen as the first international trip option for many Indian travellers. Right from the entertaining Bollywood Parks to thrilling Desert Safari or even Burj Khalifa or the stunning Miracle Garden, this land will not fail to surprise you with what it has to offer along with our Dubai tour packages. This energetic attraction is newly defining the trademark of an unrivalled identity in the world of Dubai travel! Above all, this land is a unique combination of beautiful manmade beauties, amazing amusement parks and some very unique and exotic experiences.
For starry-eyed gazes, there are a lot of interesting places to explore and fun things to do for intimate and memorable escapes into the magical desert land of Dubai! The sheer excitement that arises with these unbelievable experiences lures in the calling that every explorer aims to achieve! Experience the land that appears to have come straight out of a future fantasy! The land full of man-made wonders which have left the world awe-struck with its mesmerizing arrays of creations.
One of the creation being the paradise of JA Jebel Ali Beach Hotel! Explore one of the most popular Emirates of UAE to discover the magic of the Middle East. Dubai has a history of travellers, explorers and business travellers, which makes it one of the prominent hubs of travel. Experience luxury of the paradise in one of the best UAE resorts, at the 5 Star Dubai property – JA Jebel Ali Beach Hotel. Decorated with perfection, the dream rooms are endorsed with stunning views of the resort's splendid gardens or the glistening ocean backdrop. Discover cuisines from around the world, experience horse riding, waterpark action, seaplane flights and clay shooting. All in one property of JA Jebel Ali Beach Hotel! Take that perfect break that you've been waiting for so long! Certainly with excellent luxury that will leave you spoilt for choice here at JA Jebel Ali Beach Hotel!
Facilities and Benefits at JA Jebel Ali Beach Hotel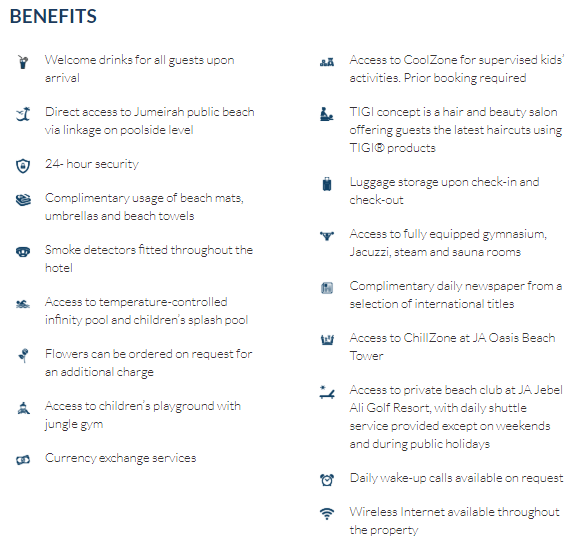 Experiences at JA Hotels
Find Your Fairy Tale at JA Hotels
With countless exclusive options to choose from! JA Jebel Ali Beach Hotel will open a whole new world of experiences waiting for you. Experience everything from cycling to kayaking in Dubai. Things that are not a part of the usual itinerary. Not long when the cravings for experiences will hold more value than the destination itself. At the stake of a generation that is about to witness that happen, JA Jebel Ali Beach Hotel is set to redefine Dubai as a destination for you.
Find Your Youth at JA Hotels
"Luxury is in each detail."

– Hubert de Givenchy
Right to the words, JA Jebel Ali Beach Hotel will leave you spellbound. All with their quirky reputation of paying attention to details. So, if you're looking for making your vacation so much more about the experience than an itinerary, then their precision to details is all you need to achieve that! Dive in the absolute relaxation and absolute idea of a vacation.
Find Your Perfect Unwinded Relaxation at JA Jebel Ali Beach Hotel
Because now closer to us, in the land so known to us, there is a paradise waiting!