Reading Time:
12
minutes
With a unique mixture of modern-day city features, decorative bridges, historic architecture, tranquil riverside and lush green spaces, it is very easy to fall in love with Dublin. It's no wonder that some of the world's great novelists, poets and authors have found inspiration from this capital city of Ireland. Dublin has a long and fascinating history of producing incredible writers. The city has produced George Bernard Shaw, Oscar Wilde and WB Yeats, to name a few. Another fascinating thing about Dublin in Ireland is that the city is voted as the 'friendliest city in Europe'. Not only this but the city has been ranked as the 6th friendliest city in the world. No matter you go, people will greet you with warm gestures and will help if you need any assistance. As soon as you stumble down the airport, you will find yourself next to the Airlink bus, which will take you to all the famous places to visit in Ireland. Dublin is the first city you must begin your Europe journey with. You just simply can't go wrong with planning a few days in this beautiful and incredible city of Ireland in Dublin.
If you are planning a trip to Dublin in Ireland anytime soon, we suggest using this blog post as your guide to visit Dublin. Whether you are interested in Irish culture and its history, see some of its coolest pubs or walk in the lush gardens, Dublin has it all. This city on the River Liffey blends a cosmopolitan lifestyle with old-world charm, and its endless list of things to do, see, eat and enjoy in Dublin will make you come back to this city again and again. Here is your ultimate guide to Dublin city, including experiences that are a guaranteed good time.
When to Visit Dublin in Ireland?
Dublin's mild and temperate climate makes the city an ideal place to visit year-round. The summer months between June and August are the warmest, which means you can enjoy the city at its liveliest. The average temperature during this time is between 13 to 20 degrees Celsius and can go up to 25 degrees celsius or more. The winter months in Dublin can be drizzly with short daylight hours, but the temperatures rarely fall below freezing. It's advisable to carry warm clothes during the winter months as the weather can be quite chilly, grey or grim.
An important day you cannot miss is Saint Patrick's day in March, during which Dublin city becomes crowded with locals and tourists all ready to set their party modes. During this time, the accommodation option in the city fill up quickly, so it is advisable to make your bookings in advance. Temperatures during this time of the year are still mild, and the city looks just as beautiful as ever.
How to Get to Dublin in Ireland?
Dublin is home to one of the busiest airports in the country, where flights come and go from all around the world. Hence, getting to Dublin is pretty easy. Once you land the Dublin airport, you will see various options that will take you from Dublin airport to the city centre. You can hire a taxi from the Dublin airport or walk to your next destination. The best thing about Dublin is that it is very compact, making it easy for you to walk around from one place to another. On top of that, Dublin has an excellent public transport system that can take you anywhere where you can't walk to.
Currency used in Dublin and Budget Tips
The main currency used in Dublin is Euros. When you plan to visit Dublin, you can find plenty of ATMs, banks and money exchange places to easily exchange currency. Most credit and debit cards are also accepted throughout Dublin city. Another useful thing you must be aware of is that the currency differs if you travel from the Republic of Ireland to Northern Island. In the Northern Islands, the official currency is Pound Sterling, as it is part of the United Kingdom.
When planning your budget wisely, Dublin, being Ireland's capital city, can be quite expensive. But not with some of the tips we will share with you. Dublin in Ireland is filled with tourist attractions that can make your trip to the city a wholesome experience. Make sure you check all the free tourist attractions and things to do in Dublin. If you are a reading enthusiast, you can visit Chester Beatty near Dublin Castle, where you can sit and immerse yourself in amazing collections of manuscripts, prints, early printed books and much more from around the world.
Dublin also has some of the most stunning parks, including St. Stephen Green and Phoenix Park. You must pay nothing to wander through the parks and admire their beauty. You can indulge in many relaxing walking tours around the city that are free for people to participate in.
Places to Visit in Dublin
For all good reasons, Dublin is a great place to begin your journey to Europe, which is absolutely bustling with some of the best places to visit. The things to do in Dublin can get quite overwhelming for first-timers. Hence we have a list of places for you to visit, not in any particular order to enjoy your trip to Ireland to its fullest.
1. Guinness Storehouse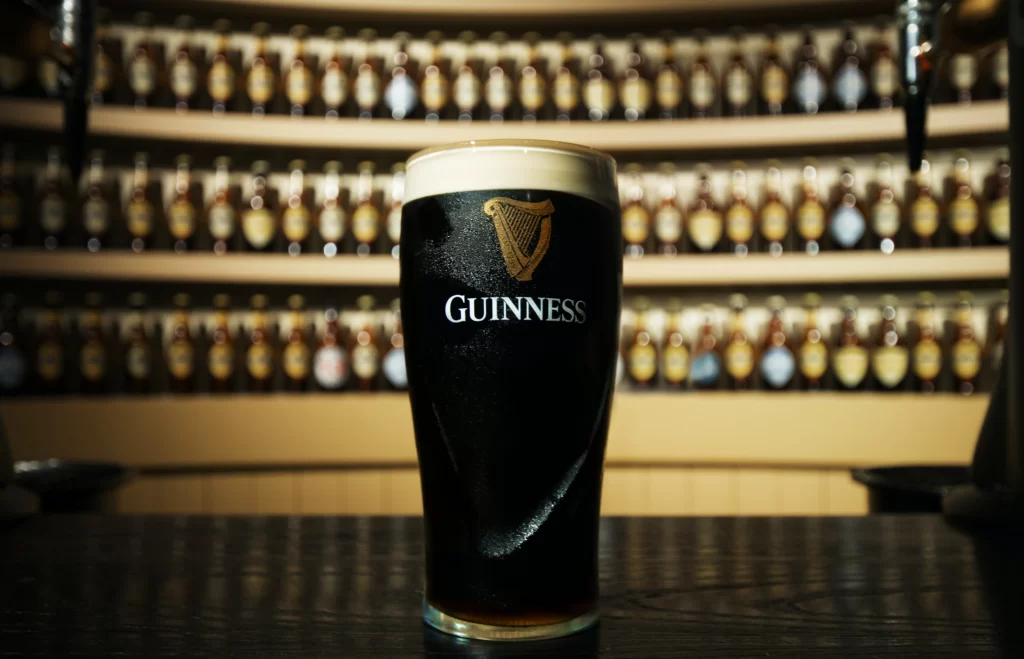 A trip to Dublin is incomplete without visiting the world-famous Guinness Storehouse, built-in 1904. The Guinness Storehouse is one of the city's biggest attractions, located in the heart of St. James Gate Brewery. The fun part about visiting this iconic location in Dublin is that the storehouse is meant to actually look like a pint of Guinness. The Guinness Storehouse is a seven-storey building where you can learn everything about the brand and serve yourself a free pint of Guinness.
2. Trinity College Library
If you ever wanted to visit the iconic library in Harry Potter films in real life, Trinity College Library is one of the best things to do in Dublin. The Trinity College library is the oldest in Ireland and comprises over 2 lakh books. The library's awestruck architecture and incredible book collection will inspire you. The Trinity College Library is also home to the famous books of Kells which are over 100 years old. Unsurprisingly, the manuscript's presence in the Trinity College library draws a non-stop stream of visitors daily.
3. Christ Church Cathedral
The Christ Church Cathedral is Dublin's oldest medieval cathedral, which dates back to the year 1028. Many visitors coming to Dublin stop to marvel at the cathedral's stunning facade. But the exterior only tells half the story. Stepping inside the Christ Church Cathedral is like stepping back in time, almost 1,000 years to the cathedral's founding in the year 1028. Visiting the Christ Church Cathedral is one of the best places to visit in Dublin.
4. Temple Bar
Whether you want to sip Irish whiskey, listen to a traditional Irish fiddle or follow in the footsteps of Irishmen to frequent the Temple Bar, this vibrant place is a must-visit destination. The Temple Bar is the party capital of Dublin. If you want to experience Dublin in its true Irish sense, the Temple Bar is a place in Dublin that you must definitely plan to visit.
5. Dublin Castle
At the heart of the city lies Dublin Castle, which is a government building and a popular tourist attraction in Dublin. The castle was built as a defence against future invasions and now serves as one of Dublin's most iconic tourist attractions. The castle has gardens, a tower and much more to explore. You can book the tickets online for your convenience.
6. Ha'penny Bridge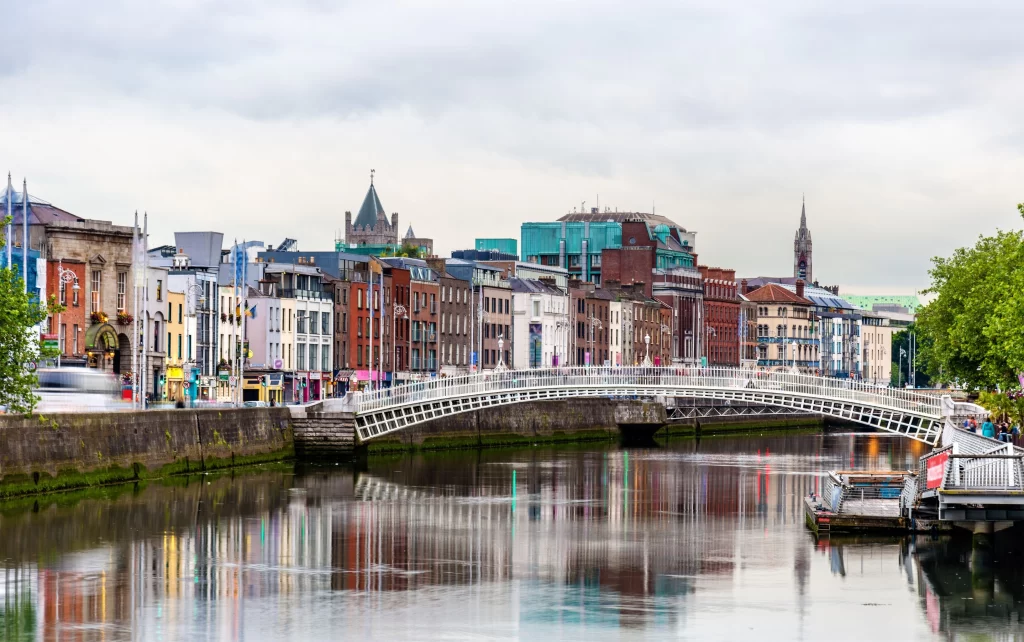 If you are looking for an iconic backdrop of Dublin's picturesque architecture, then you must plan to visit the stunning Ha'penny Bridge. Fun fact, the bridge was the first pedestrian bridge, which was actually built to cross the river Liffey. The Ha'penny Bridge in Dublin, Ireland, is worth a stop and click for beautiful pictures.
7. St. Stephen's Green
St. Stephen Green is a small garden park in Dublin at the end of Grafton street and is one of the most relaxing places to visit in Dublin. The garden is a popular summertime destination but is equally stunning in Spring and Autumn. The garden comprises beautiful walkways, scenery and even a playpark for children. You can pack a picnic lunch and spend some hours relaxing in St. Stephen's Green.
8. St. Patrick's Cathedral
If you want to visit another popular cathedral in Dublin, you can visit St. Patrick's Cathedral. This marvel is the tallest and largest cathedral in Dublin, so it's definitely worth a visit. The cathedral is stunning from the outside and inside. Ensure that once you visit the Christ Church Cathedral, St Patrick's Church is also on top of your list of must-visit places in Dublin.
9. Kilmainham Gaol
Kilmainham Gaol is another place to visit in Dublin, which is situated further out of the city but is worth a trek if you have time. Ireland has a rich and interesting history, and the Kilmainham Gaol will give you some insight into the story. Kilmainham Gaol is a former prison from the 18th century, which is currently run as a museum by Ireland's Office of Public Works. When in Dublin, don't miss out on learning about the vast history of Ireland by visiting the Kilmainham Gaol.
10. National Museum of Ireland
Lastly, the National Museum of Ireland is a must-visit beautiful place in Dublin in, Ireland, with four branches, including its archaeology branch in Dublin on Kildare Street. The museum is considered one of Ireland's leading institutions for national and international archaeology, Irish history, art and natural history. Entrance to all four sites in the National Museum of Ireland is free of charge for all visitors.
We hope this ultimate Dublin travel guide will help you to plan an incredible trip to Ireland's capital city. There's not much we haven't covered; hence, we would want you to plan a trip to Dublin and explore the hidden treasures the city offers. You can search for your suitable Ireland tour packages on Veena World, where we ensure that each package is tailored to suit your preferences. In case you want to plan your own travel itinerary, you can also explore Veena World's customised holiday option.