Reading Time:
8
minutes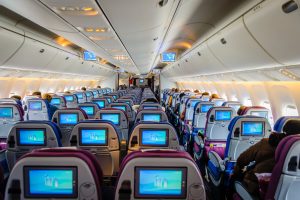 I was once scheduled to travel from Melbourne to Bangkok on a Thai Airways flight. And let's just say, that very instance, I wasn't a smart traveler and forgot to do the web check-in. What did that mean? For a 6ft 1 tall human like me, it was a nightmare! Why you ask? Well, because I did not do the web check-in and since the Melbourne Bangkok route being a super popular route, all of the seats on the plane were pre-blocked and I ended up in the middle seat on a 9-hour flight to Bangkok. Yup, the longest 9 hours of my life, but that also taught me a valuable lesson, and that is to always plan seating arrangements by pre-blocking your seat and also made me believe that it would really take someone to have lost a bet to a friend, to actually want to be on a middle seat on a plane. So, with that background, it's safe to say that the middle seat is the worst. So that begs the question, which seat is better: window or aisle? Let's debate on this today, I am Neil and welcome to 5-minute travel tips.
When someone asks me: Which flight seat is better, the window seat vs the aisle seat? My answer is almost always, it depends. And let me tell you, this debate is as hot as the iPhone vs Android debate as both sides have their pros and cons. In other words, when it comes to choosing between these! The debate is real.
Fans of the window seat in airplane will tell you that they well and truly enjoy the view and like having the fuselage or the side of the plane to sleep against.
On the other hand, people who are in favor of the aisle seat in airplane will tell you that it certainly offers easy access to the restrooms, can also sometimes give you a little more legroom and also the option to exit the airplane faster than people in the window seat.
So let's look at a few numbers. A number of surveys and studies conducted researching this topic has often concluded that the aisle seat is more popular among frequent air travelers. Another finding has often been that for tourists like you and me, the window seat is more preferable. And why not, when you sit on the left side of an aircraft, in other words, the A-series, and if you are flying out of an airport like Mumbai you get great views of the bay and the sea link once up in the air.
Like I said earlier, the answer really is – it depends. The window gives you great views and supports to rest your head against. Additionally, if you plan to have your laptop on and work on the plane, there is no one to bother you asking you to get up, like how when you are in an aisle seat you are always asked to get up if people in your row want to use the restroom.
On the other hand, the aisle seat does indeed give you freedom. You are using the restroom when you want, you can stand up and walk around and you are always able to stretch one leg out in case you are like me who just can't fit in a normal legroom seat.
A rule I often follow regarding the seat in airplane is that if I am on a long-haul flight where I plan to sleep, the window seat is the way to go. Whereas for flights within India or with a duration of a couple of hours or slightly more, I certainly prefer the aisle seat.
Now that we have discussed this, let's come with a few tips and tricks. What do you do about the seat in airplane if you are a couple? It will always mean that one of you has to sit in the middle seat, and come on, we have already established that the middle is a no-go. One thing you could do is that you block one window and one aisle seat in the same row. Now, you may ask why? Well, not all flights are always full. If you are among the lucky few, then there is a chance that the middle seat is assigned to no one and is empty. Which will only mean that the both of you have the entire row to yourselves. Wohoooo…
Taking this a little further, nowadays airlines like Indigo and GoFirst have started offering double seat tickets. This means that you can block two seats instead of one, thus giving you ample legroom room even in economy class. Thus, giving you the best seat on the plane.
Another point to note, having a window seat pre-blocked does not always guarantee that the window seat will always have a window. There are times when people have posted negative reviews about a flight because they were actually in a window seat that had no window. Now how do you find this out? It's simple, the bible for this is seatguru.com. I always check my aircraft seat map on this website before blocking my seats through web check-in. Trust me, this website is super-helpful.
And finally, if you plan to not web check-in and hope to go to the counter and ask for an aisle or a window seat, good luck. Because now, with airlines offering all fliers the option of blocking seats for a small fee, these seats get pre-blocked almost immediately. So be a smart traveller and ensure that you have the best seat on the plane. Maybe your choice is the best seat on a plane for view such as a window seat so that you get exceptional sunrise, sunset, skyline views. Or maybe you are someone who just loves the freedom to walk around on a plane at any given time. I love flying and I'm sure you do too, so let me know which seat you prefer while on a plane by writing to me at neil@veenaworld.com. Would love to hear from you about your picks and also about any new travel trends that you would like us to cover on this podcast. Thank you for listening in, see you next week! Take care, to infinity and beyond!!!